According to data from eMarketer, over 85 percent of new product searches begin on some kind of search engine–be it Amazon, Google or an alternative platform.
Moreover, research from Forrester highlights that 74 percent of shoppers report leveraging search engines to research products and compare items from different companies.
While most consumers tend to turn to Amazon or Google for their product research needs, hundreds of millions of consumers the world over also check out various comparison shopping services to help solidify their purchasing decision.
For retailers who can stand out in the decision-making process, there is a good chance that they will earn a new customer. In fact, comparison shopping services are fantastic drivers of customer acquisition.
However, if sellers can't get their products in front of consumers at that critical moment, they will ultimately lose market share to the competition.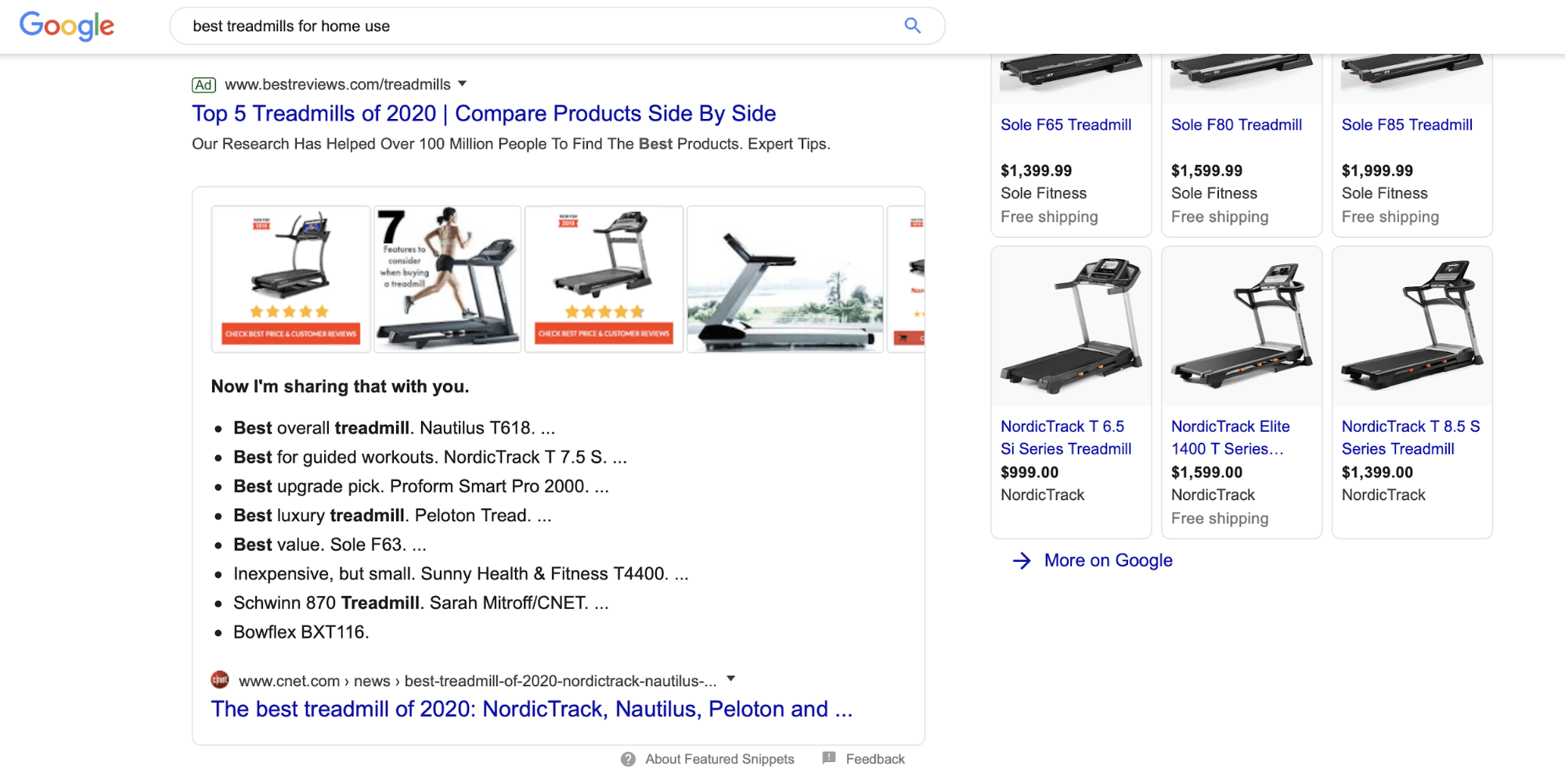 The point here is that comparison shopping services not only provide a valuable service to consumers looking for the best price available, but they also serve as an essential method for generating visibility and increasing ecommerce sales.
Given their importance, here we will explore exactly what comparison shopping services are, the role they play for shoppers, the benefits retailers receive from them and some of the most popular ones sellers can integrate into their online strategies.
How Consumers Comparison Shop
Most are familiar with the concept of comparison shopping. According to BusinessDictionary, comparison shopping is defined as:
"The practice of comparing prices in advance of actually shopping in order to achieve the best deals and pricing on merchandise and services."

Thanks to the advent of the internet, this process is easier than ever. Moreover, shoppers have an increasing number of tools at their disposal as well. While the paths to purchase are now seemingly endless, there are three core methods consumers use to comparison shop, which are:
Review websites
Standard search engines
Comparison shopping services
While the first two are self-explanatory, fewer folks are familiar with comparison shopping services. Which begs the question:
What Are Comparison Shopping Services?
Google defines comparison shopping services (CSS) as "a website that collects product offers from online retailers and then sends users to the retailers' websites to make a purchase."
As far as consumers are concerned, this definition is spot on as shoppers go to comparison shopping services to conduct a product search and, as a result:
A list of products from various brands is returned
Consumers click on the one they want to view and are rerouted to the company's product page
Shoppers can then purchase directly from the merchant's site
In a nutshell, comparison shopping services collect information on millions of products across the web from a multitude of brands and present those items to consumers in a way that allows them to compare and contrast their options easily.
This dynamic allows consumers to get a sense of what is available to them online, as opposed to just a single webstore. They can then compare products based on various features and characteristics to help identify precisely what it is they are seeking.
Additionally, those who know the exact product they are looking for can use a comparison shopping service to juxtapose prices from a variety of retailers so that they can snag the item at the best possible price.
Therefore, retailers who are not getting their products found through the multitude of comparison shopping services online are missing out on a considerable amount of potential sales.
But, with how many product searches start on Amazon, the question is: Are comparison shopping services really worth the added effort?
How Many Consumers Comparison Shop?
The fact of the matter is that most consumers engage in comparison shopping. In fact, 80 percent of shoppers compare prices online.
However, even when we drill down a bit, most folks still partake in this practice. For instance, as Forbes reports on millennial shopping behaviors:

"72 percent of Millennials research and shop their options online before going to a store or the mall."
Yet, it isn't just in-store purchases that are impacted by this behavior. According to research from UPS, 57 percent of shoppers abandon carts to conduct comparison shopping.
This is a significant problem for retailers as reducing cart abandonment is a vital objective for all merchants.
With the prevalence of comparison shopping established, let's go ahead and explore the benefits that retailers receive from these comparison shopping services.
How Merchants Benefit from Comparison Shopping
As far as retailers are concerned, there are several key areas in which online store operators reap advantages from comparison shopping. Those benefits include:
Elevated Visibility
The fact is that eCommerce is a highly competitive industry. Therefore, getting product pages to rank higher in Google is not always the easiest of tasks.
As a result, merchants tend to have to pay for exposure through the use of Google Shopping Ads (which is a great tool).
Moreover, the same tends to hold true for Amazon in that ranking can be difficult, and sellers will often have to pay for advertising space.
However, by ensuring that a seller's merchandise is present on various comparison shopping services, retailers can have an easier time getting noticed and driving qualified traffic to their stores.
Fewer Abandoned Carts
When shoppers utilize comparison shopping services, they have most of the information they require right in front of them.
Therefore, when a consumer clicks one of the product links, they have likely made their decision and do not need to conduct any further research. This means that shoppers who click through from comparison shopping services are less likely to abandon their cart than those who arrived at a site from other means.
Increased Ad Presence
Comparison shopping services can show Google Shopping Ads the same way that a retailer might. As Google states about advertising with comparison shopping services:
"Comparison Shopping Services can bid to place Shopping ads on Google general search results pages on behalf of merchants they represent. Google Shopping bids on behalf of merchants it represents in the same way acting like any other CSS. This means that as a merchant, you can choose to participate in Shopping ads on the Google general search results page in various ways: you can provide your product data to any CSS, including Google Shopping, and you can also use multiple CSSs at the same time."
While in rare cases this may result in the same product from the same merchants showing in a single ad unit, Google tries to ensure that this does not happen.
However, different products from the same sellers can appear through various comparison shopping services simultaneously. This means that merchants dominate more of the ad retail available, thereby increasing their chances of earning a conversion.
Less Expensive Bids
When using a comparison shopping service alongside Google Shopping, it is generally expected that sellers will receive a 20 percent reduction in cost-per-clicks. As Econsultancy reports on Google Shopping reduced CPCs:
"Google Shopping…rapidly gained a monopoly in the sector, which led to the EU slapping the tech behemoth with an enormous antitrust fine. In response, Google has taken steps to increase competition in its Shopping results with the creation of Comparison Shopping Partners, certified Comparison Shopping Services (CSSs) that help businesses make the most of its shopping ads with a discount on CPC (Cost-Per-Click) ad spend to retail clients."
Opportunity for Growth
With the reduction in bidding costs, retailers have more room to grow their Google Shopping or marketplace advertising efforts.
By reinvesting the savings back into effective ad campaigns, retailers can grow their customer base, sales and business.
Finding the Right Comparison Shopping Service for a Company
Before diving into the various comparison shopping services available to merchants, it is essential to consider how each might impact a business's performance.
The fact is that each service is unique in various ways, including the audience it caters to, the kinds of products it promotes, the information included in the listing and so forth.
All these variances can be pros or cons, depending on the brand.
Therefore, things that sellers will want to consider when looking at potential comparison shopping services include:
Its potential reach
Competition levels
The cost of listing products
Additionally, merchants will also want to take into consideration how each service lists products to consumers as this could impact the shopper's perception of a retailer's site.
A few incredibly significant things that sellers must consider when engaging with comparison shopping services include:
If a merchant aims to consistently have the lowest prices to draw in customers, this could do considerable damage to the brand in the long term as they are constantly engaged in a race to the bottom.
If sellers use cheap products as their unique selling proposition, there will be countless others doing the same thing, thereby resulting in a selling proposition that isn't so unique.
Bargain hunters aren't usually the best customers to possess, as they only care about the lowest price. Therefore, establishing brand loyalty will likely be out of the question.
Given these points, before diving headlong into any comparison shopping service, retailers should aim to experiment with:
The number of products offered
The types of products promoted
Different levels of price reduction
Furthermore, sellers will also want to experiment with various services to establish which prove more fruitful for an individual retailer. The fact is that certain comparison shopping services will provide a better ROI than others. The only way to figure out which is best is to try different ones.
Finally, while there are free comparison shopping services that merchants can leverage, these destinations tend to be much more crowded, so take that into consideration.
With that said, let's explore some of the most popular comparison shopping services available to online retailers.
Popular Comparison Shopping Services
While there is a slew of comparison shopping services available online, some of the more favored ones include:
Amazon Ads
Yes, Amazon is not just a comparison shopping service. It is an entire online marketplace. That said, Amazon is one of the most visited digital destinations for comparing products, no matter if shoppers make the purchase through Amazon in the end.

While it is entirely possible to generate visibility in the marketplace by engaging in Amazon SEO best practices, retailers can also utilize Amazon's PPC services to reach customers through the company's SERPs, on individual product pages and third-party affiliate sites.
Google Shopping
Google Shopping campaigns are likely the most widely referenced comparison shopping service in the world. Through this ad set, merchants can supply shoppers with tons of information about their products prior to visiting the merchant's site.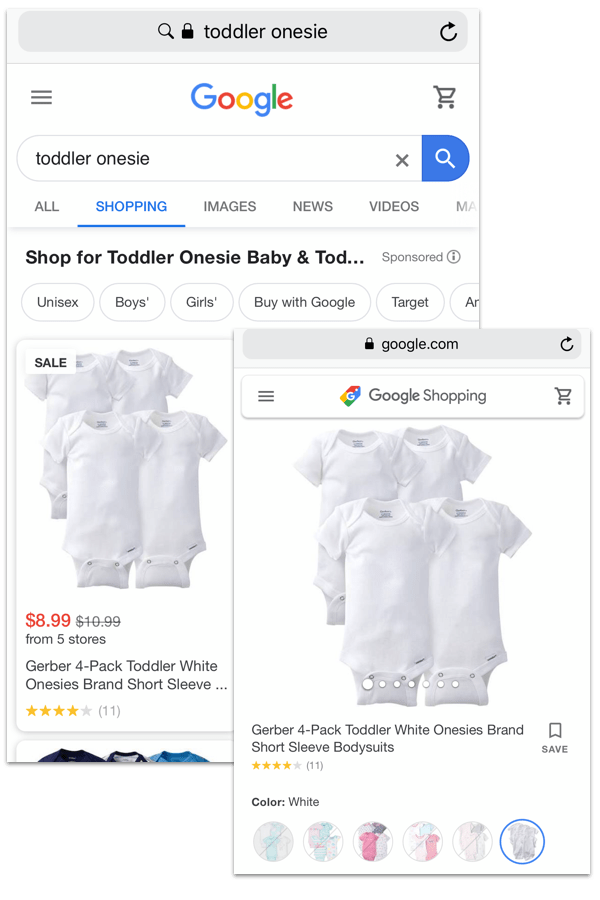 That said, this is a highly-competitive space considering the number of merchants who use Shopping ads because of their tremendous reach and remarkable effectiveness.
PriceGrabber
Another of the more popular comparison shopping services is PriceGrabber.
One of the perks of this service is that PriceGrabber and Yahoo have a partnership that dictates that PriceGrabber listings are automatically submitted for inclusion in Yahoo Shopping, thereby significantly increasing the platform's reach and the seller's visibility.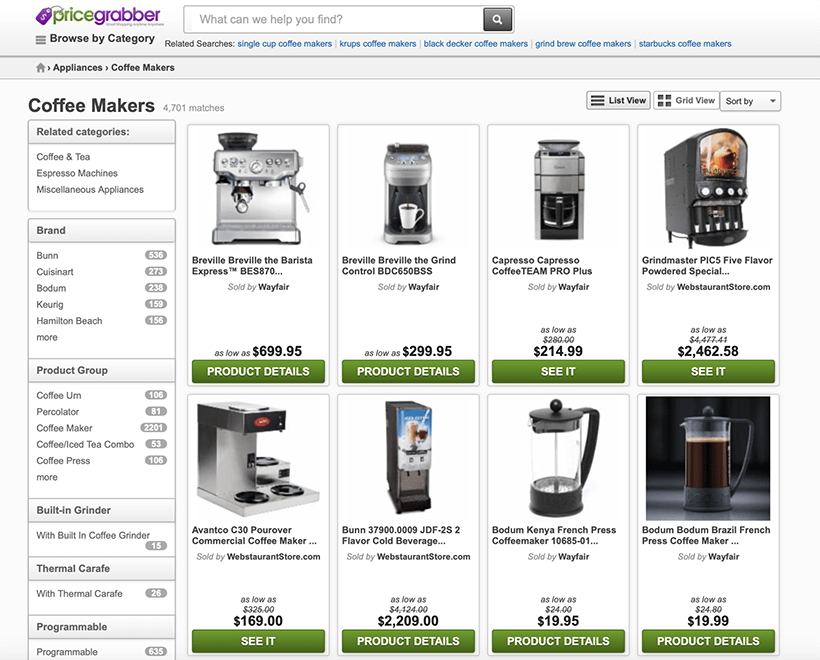 Moreover, PriceGrabber enables retailers to track various pricing trend data and audience behaviors, thereby providing valuable insights that could help to increase sales.
Shopping.com
Shopping.com is another highly popular comparison shopping service that helps to elevate brand visibility across a variety of industries including, but not limited to:
Books
Clothing
Home and Garden
Electronics
Pet supplies
Musical instruments
Toys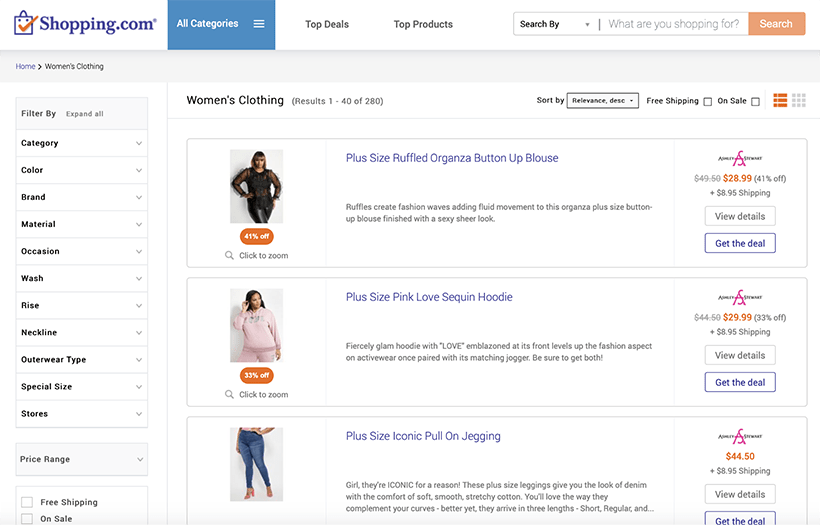 However, since Shopping.com is owned by eBay, the product listings featured on this site come exclusively from that marketplace.
ShopSavvy
ShopSavvy is likely the most unique of all the comparison shopping services listed here as:
It is an application, not a website
It caters to both online merchants and brick-and-mortar retailers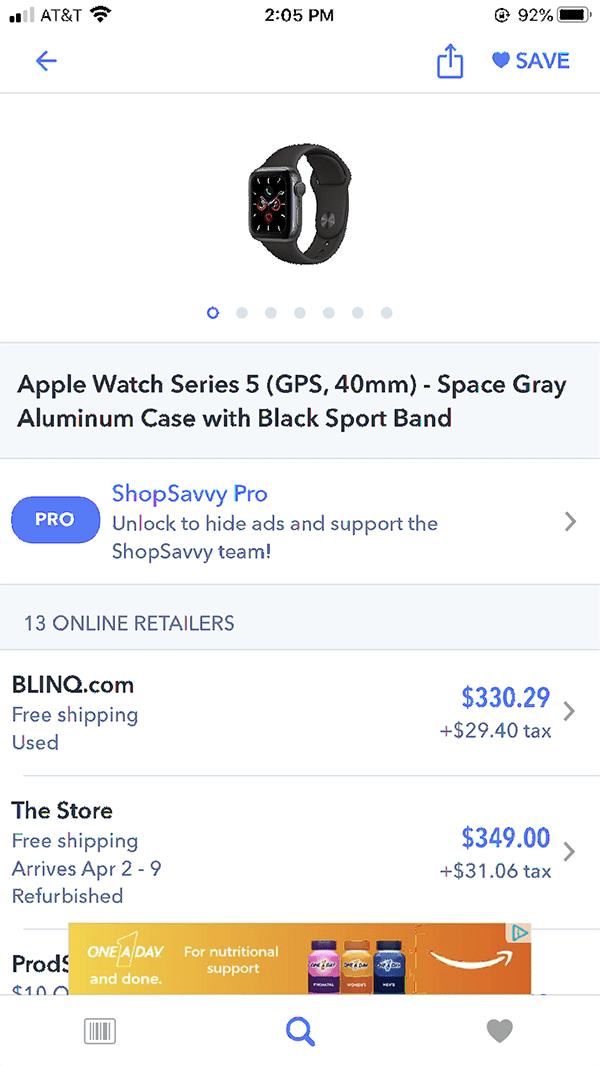 One of the app's most notable features is a barcode scanner that allows shoppers to compare the prices of products from a physical store with those listed by online merchants.
Therefore, obtaining visibility on ShopSavvy can be a powerful means of acquiring customers from across the world.
Shopzilla
Like some of the other comparison shopping services listed here, Shopzilla features an extensive product category list, thereby making it a useful platform for most merchants.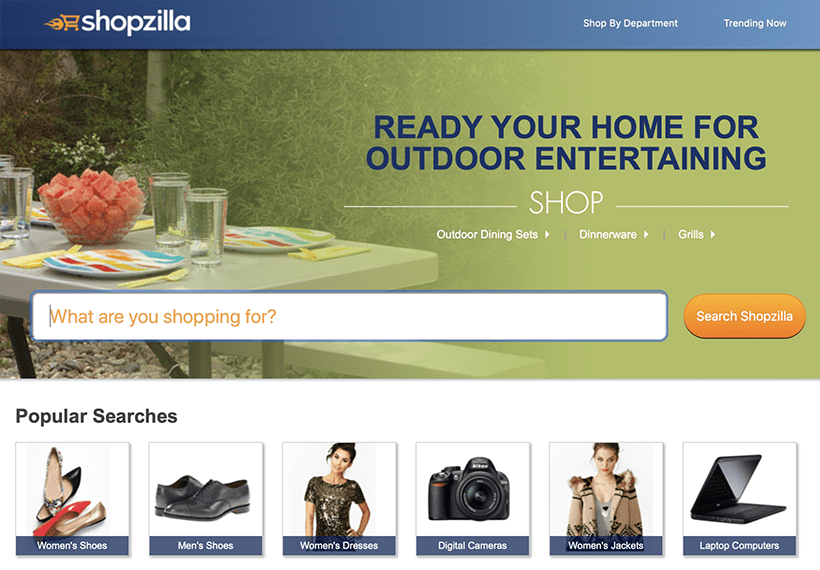 Additionally, Shopzilla partners with a variety of other comparison shopping services such as BizRate, thereby vastly increasing a retailer's potential reach.
Wanelo
Wanelo, short for "want, need, love," markets itself as a digital shopping mall. As the company's about page states:
"A regular mall has 150 stores, but on Wanelo you'll find over 550,000 stores which include all the big brands you know, as well as tiny independent boutiques and sellers you've never heard of."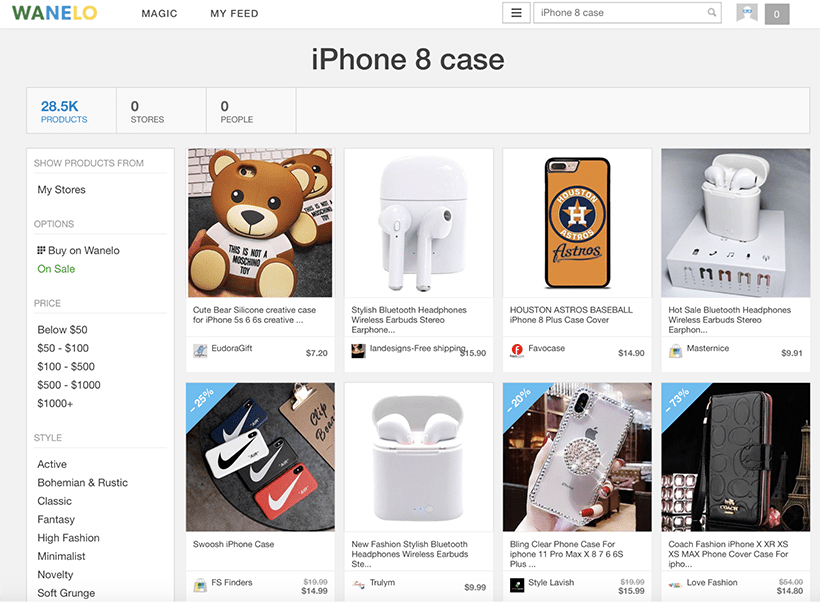 While this comparison shopping service is much more niche than some of the others listed here, those who fit with the company's audience are likely to find the site quite useful.
Comparison shopping has become a staple in today's omnichannel eCommerce environment. Therefore, optimizing a product's visibility requires more than just a robust social media presence, SEO best practices and a few Amazon adverts.
To truly maximize your store's potential, it is necessary to get in front of customers at every possible turn. While this can certainly be quite the challenge, utilizing these comparison shopping services provides sellers with a significant advantage over those who are still struggling to gain the visibility necessary to drive sales.
However, if your brand feels overwhelmed with optimizing all the different portals and touchpoints today's customers utilize, check out Wpromote's integrated digital marketing services. We can help your brand develop a powerful presence across all potential places where shoppers search for solutions.