Retail media is one of the fastest-growing segments of US digital advertising, expected to top $52 billion in 2023, according to eMarketer.
While Amazon continues as the top option for brands in the retail media space, Walmart is quickly gaining market share by investing heavily in its digital marketing offering. Walmart generated $2.1 billion last year in advertising, in large part due to its digital retail network, Walmart Connect.
Marketers have been learning the hard way that diversifying spend should be a key priority in the next year as performance on platforms like Facebook and Google has been impacted by privacy regulations. Overreliance on a tiny amount of channels ends up putting brands in a reactive position that leaves marketers with fewer options in a fast-changing market.
As you explore the retail media opportunities at hand, Walmart's expanding capabilities should put it squarely in your consideration set for media spend.
Although Amazon's offering is more mature, Walmart offers opportunities to connect with different audiences that can position your brand for dominance across multiple platforms.
Let's take a closer look at Walmart and whether it's the right fit for your brand so you can decide if you should start allocating budget and test into the channel.
How Walmart followed Amazon's playbook to offer options to brands and capture market share
In 2021 alone, Walmart increased the number of advertisers using its services by 136%. Much of that growth can be attributed to significant core retail media technology development by the retail giant, particularly around automation.
Walmart has been particularly smart in learning from what has worked for the frontrunner in the space, learning from Amazon's successes and what has drawn marketers to the platform (and kept their ad spend there). That's not a knock on Walmart.
If there's one thing we've learned through the past several years of intensive digital transformation across industries, it's that being first in a particular space comes with both significant advantages and disadvantages. Competitors and disruptors have the opportunity to learn from what goes right and wrong, and build a roadmap based on those insights that can offer a shortcut to growth.
Walmart was able to leverage learnings from both Amazon's retail media offering and its own in-store experience in a couple of key areas that positioned them for success.
Walmart focused on offering more options to advertisers in key areas:
On the digital side, Walmart is still catching up with Amazon when it comes to the sheer volume of variety of ad placement options, but they have been upping their game, especially around display ads and options that mimic organic results like Sponsored Product Ads and Sponsored Brand Amplifier Ads. Ad types include:
Search In-Grid Results
Carousels
Buy Box Banner
Search Brand Amplifier
Offsite Display Advertising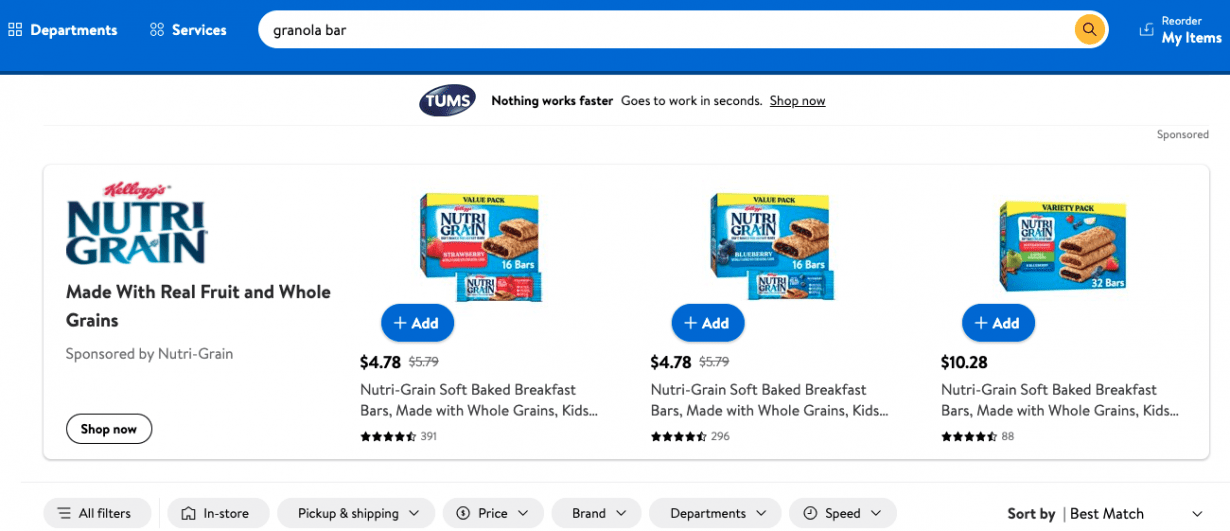 Example of Walmart Brand Amplifier Ads
Walmart is also pioneering leveraging its brick-and-mortar stores for additional advertising opportunities through Connect, planning to selling ad space on 170,000+ screens inside more than 4,700 stores, including TVs and self-checkout kiosks.
Walmart partnered with The Trade Desk to launch a new demand-side platform:
This (DSP): Retail advertisers have been waiting for Walmart's promised DSP, which allows advertisers to purchase off-site ad inventory, for quite awhile. But the retail giant managed to exceed expectations by partnering with ad tech powerhouse The Trade Desk to bring a more mature offering to the market that gives advertisers the opportunity to build and scale more holistic campaigns beyond advertising on Walmart's site.
"By connecting the dots and closing the loop — from ad purchase, to consumer purchase, to look-a-like modeling, to repeating the process — the brand's media sales are optimized to sell more product at Walmart," – Jeff Green, Co-Founder & CEO, The Trade Desk
The Trade Desk is the biggest independent DSP out there, and advertisers on Walmart now have access to a bespoke version of The Trade Desk that is powered by a combination of Walmart's enormous cache of valuable first-party data and advertisers' own first-party data and offers access to a different network of ad inventory. Walmart's first-party data store is a massive competitive differentiator that allows for more precise ad targeting as advertising options relying third-party data narrow in light of changing data privacy regulations.
Walmart invested in changes to attribution, fulfillment, and partnerships in response to retailer needs:
Until recently, Walmart used a 30-day view or click-through ad attribution model, while Amazon offered a 14-day click-through default. But retailers wanted to be able to easily leverage apples-to-apples comparisons, and Walmart (and other retail media platforms) are following Amazon's lead and adopting 14-day click-through attribution reporting. Retailers now have a clearer window into how their ads are performing across platforms.
Walmart also grew its third-party fulfillment services by nearly 500% in gross merchandise volume in 2021. Providing retailers with more fulfillment options is a key component of bringing more sellers to the platform by going toe-to-toe with Amazon's robust logistics network, Fulfillment by Amazon. Walmart succeeded in 20,000 new sellers to its US marketplace in 2021, succeeding in expanding the number and variety of items sold by third-party sellers through its ad business, as well as building an additional source of seller revenue for Walmart itself.
Third-party sellers are a huge part of Amazon's business, and luring more of them onto Walmart's platform is a priority.
Building out additional value for sellers is crucial, and Walmart has been investing in partnerships beyond fulfillment (and offering significant incentives as well) to burnish their offering. The Walmart Partner Program has been bringing in more outside vendors to integrate additional capabilities into the advertising platform.
Why now is the time to buy into Walmart Connect
When Walmart rolled out Walmart Connect, its stated mission was to stay at the center of the shopping journey, wherever that shopper is—and Walmart is leveraging its stronghold in brick-and-mortar to add new components other retail media platforms can't, like the opportunity to get in front of customers as they're waiting in line, not just shopping online.
And Walmart's putting its money where its mouth is. The retailer's commitment to investing in technology to develop a more robust offering indicates the platform's recent surge to capture market share from Amazon isn't a fluke.
"We're pretty confident that we're going to be able to grow this business to become one of the top 10 advertising platforms in the U.S. over the next few years. – Janey Whiteside, Chief Customer Officer, Walmart
Walmart offers several advantages that you should consider when deciding whether to invest now or wait to see what the future brings. That starts with size: more than 150 million customers shop in its digital and physical stores each week, according to Walmart's data.
And let's not forget about Walmart's deal with The Trade Desk. This isn't an ordinary DSP. This is where proprietary first-party omnichannel data meets best-in-class analytics capabilities to provide a more comprehensive view of shopper behavior. The partnership gives advertisers a better vehicle to efficiently and effectively get their products in front of consumers.
To get started, you should:
Look to your audience and insights into their purchasing behavior to figure out if Walmart might be worth investing in, particularly if your business is overly reliant on just a few advertising platforms.
If it seems like a good fit for your high-value customers, allocate budget to test performance on the platform over a six-month period.
Set up goals aligned with your business objectives and put together a measurement framework so you know how you're defining success.
At the end of the six-month period, you can evaluate whether Walmart is the right fit for your business at this time and at this stage in the platform's development. Keep in mind that it won't have all of the capabilities offered by Amazon right now, but is positioned to grow in the future, so it could be well worth gaining an early adopter advantage as the retail giant continues to invest in growing its digital retail media business.
Remember that consumers use multiple channels to learn about and purchase new products, and your business needs to show up at key touchpoints. If you're not there, you're opening the door to the competition. Walmart Connect is off to a fast start and is likely to keep growing, and you'd be smart to get in on the ground floor.