The ecommerce industry is changing. Where once Google reigned supreme for finding the precise products that shoppers were searching for, Amazon now wears the crown.
As it stands, most new product searches begin on Amazon, with a stunning 66 percent of customers straight to the marketplace. Given this dynamic, competition on Amazon is naturally at an all-time high.
Yet, despite the astronomical number of merchants leveraging the platform, third-party sellers are still thriving on Amazon. As is reported by Business Insider:
"More third-party sellers are bringing in higher levels of sales on Amazon than ever before. In 2018, more small and midsize businesses (SMBs) surpassed $100,000 and $1 million in sales on Amazon than in 2017… This suggests that more sellers are finding higher levels of success on Amazon, with the average sales revenue for US SMBs from Amazon coming in at $90,000."
In a nutshell, what all of this means is that while Amazon is more crowded than ever, the potential for success is still abundant.
Therefore, given the promise presented by the marketplace, it is critical for sellers to form a comprehensive understanding of Amazon SEO. That awareness is built squarely upon the Amazon A9 algorithm.
While A9 shares some similarities with the search engine algorithms of more traditional portals like Google, the Amazon A9 algorithm is unique in a number of respects.
As a means to help retailers climb the Amazon SERPs and achieve dominance in their niche, today, we will provide an in-depth analysis of the company's A9 algorithm and lay out exactly what sellers must know to drive traffic to Amazon product listings via enhanced visibility.
Without further ado, let's get started.
Amazon A9 Algorithm: Explained
The Amazon A9 algorithm is the system that the company has created as a means of determining how to rank products within its search engine results pages. A9 is similar to Google's algorithms in that it takes elements such as keywords into consideration when determining the most relevant results for a given search.
At first glance,ecommerce SEO strategies for Amazon may seem quite similar to those employed for elevated rankings through Google, Bing Yahoo and other popular search engines. However, one key difference lies in the fact that Amazon is a search engine only for products, thereby excluding informational and navigational searches.
The sole objective of the Amazon A9 algorithm is to aid consumers in finding the most relevant product for a given search. As such, the algorithm works to rank different items and brands on its site, according to the likelihood that the product will fulfill the user's wants or needs.
Since the Amazon A9 algorithm is only about ranking products, it naturally places a strong emphasis on sales. Plainly put, Amazon is a business, and that business has a vested interest in promoting product listings that are most likely to result in a transaction. Therefore, Amazon will naturally elevate listings that display a strong history of conversions and a high sales velocity.
In the end, this ultimately creates a positive feedback loop wherein products that are ranked highly are more likely to generate sales, which then serves to increase the product's visibility, thereby resulting in more conversions and on and on goes the cycle.
However, sales aren't the only thing that the Amazon A9 algorithm considers when ranking products.
While all of this is essentially speculative as Amazon has never clearly defined the factors that A9 weighs, through many years of seller research, optimization and observation, it is reasonably evident that the Amazon A9 algorithm ranks products based on:
Sales performance history: The velocity with which an item sells.
Text match relevancy: Measures the relevancy of the item based on keywords and phrases used in the title, features and description.
Price: If multiple retailers sell the same product, Amazon will feature the seller with the lowest price.
Availability: If a merchant runs out of inventory, the listing will likely decrease in ranking or disappear altogether.
In addition to these direct ranking factors, there are also indirect ranking factors that impact a product's position within the SERPs, which is part of what makes listing optimization an essential task for sellers.
Within Amazon product listing optimization efforts, there are a variety of elements that can impact an item's ranking within the company's SERPs, including:
Content
Advertising
Customer feedback
Product reviews
Employment of Fulfilled by Amazon
Promotions
Images
Usage of Enhanced Brand Content (now known as A+ Content)
Based on these many facets, the Amazon A9 algorithm takes all this into consideration, compares these elements with those of other merchants and then establishes a product's ranking.
However, with some of the relatively recent updates to Amazon's A9 algorithm, there was a significant shakeup in the SERPs, with many highly listed products dropping substantially.
The fact is that Amazon altered the variables that the algorithm analyzes, both in number and weight. However, this isn't necessarily a bad thing as it has helped to combat some of the black hat SEO tactics that scrupulous sellers have utilized in the marketplace.
While these changes have made ranking products more challenging, if merchants properly understand the update, they can still climb the company's SERPs.
This brings us to Amazon's A10 algorithm.
The A10 Update
To begin, Amazon has never officially come out calling the updated algorithm A10. This is one of those monikers that the internet has donned on the algorithm alteration, and it has seemingly stuck.
Therefore, keep in mind throughout this section that A10 merely refers to the updated Amazon A9 algorithm and not an official name change.
That said, the update brought with it some substantial changes to how the algorithm operates. The Amazon A9 update (or A10, if you will) places a greater emphasis on customer behavior than the previous iteration.
Under the new update, products that achieve higher sales velocities are given even greater importance.
Moreover, greater relevance is given to shopper searches. This means that consumers are directed more toward what they are looking for, instead of what sellers think they are seeking, meaning that PPC adverts such as Amazon Display ads and Sponsored Brands are weighted lower than they were under the older algorithm.
The fact is that Amazon has come to realize that many shoppers look beyond what sellers have paid to promote, and are more interested in the organically ranked listings.
That said, there are a variety of factors affecting the updated Amazon A9 algorithm, which include:
Seller Authority: This is in reference to the seller's authority that currently controls the buy box. Authority is impacted by elements like how long the merchants have been active on Amazon, the retailer's feedback rating and performance metrics, the number of products in their catalog and other, less consequential factors.
Product Impressions: The number of times that the item has been seen anywhere on the Amazon marketplace, or affiliate and partner destinations. The more views a product racks up, the higher it will probably rank.
Organic Sales: These are sales that are earned without product promotion or marketing efforts. For example, if a user conducts a search, sees the product in the SERPs and purchases it, that is considered an organic sale.
Internal Sales: Sales that are generated from the Amazon website, without the product having been searched. For instance, when shoppers buy an item listed under the "frequently bought with" section.
PPC Sales: Sales generated from promoted products. While this is still a factor, it holds far less weight than before.
Off-Site Sales: A primary driver in keyword rankings, off-site sales are now three times more effective than Amazon PPC.
Click-Through Rate: How often an item is clicked after appearing in the SERPs.
Conversion Rate: The ratio at which shoppers view and purchase a product. The higher the conversion rate, the better the product will rank.
Sales History: How well an item sells and its sales history is still a massive organic rankings factor.
With this understanding of the Amazon A9 algorithm and how the A10 update impacted it, let's explore how retailers can optimize their Amazon performance.
How to Optimize an Amazon Store
There are a variety of steps that merchants can take to optimize their Amazon store. Some of the most important of those tasks include:
Evaluate the Competition
Before launching into an Amazon keyword research and optimization frenzy, it is wise to analyze competitor product listings to understand what consumers are seeing and buying.
Possessing an intimate understanding of what the competition is doing and what is working in their favor will help to enhance a seller's overall optimization strategy.
Pick apart each rival's Amazon SEO strategy. Dig through their product titles, descriptions, reviews and the like. Search keywords related to their products to determine if they are running on-site adverts. Check out the types of images and videos others are utilizing, as well as the messaging of the content.
Price Products Accordingly
Understanding how to price a product can be challenging. The fact is that retailers want to make a healthy profit, but they don't want to deter prospective buyers.
While Amazon is undoubtedly where many consumers go to find the best price on an item, it is vital that merchants not get too carried away with slashing their prices. While it is essential to have the lowest price to own the buy box, continually having the cheapest items also means that retailers are engaged in a race to the bottom.
Additionally, if products are priced too low, many buyers will be wary of the item. For instance, something that was once $100 that is currently going for $35 might seem too good to be true. As a result, customers will opt for an alternate item as the product might lack quality, be counterfeit or similarly dissatisfactory.
Therefore, retailers should consider utilizing an Amazon repricer tool to sell products for a competitive yet profitable price.
Encourage Customer Reviews
Earning product reviews on Amazon is an essential task for generating sales.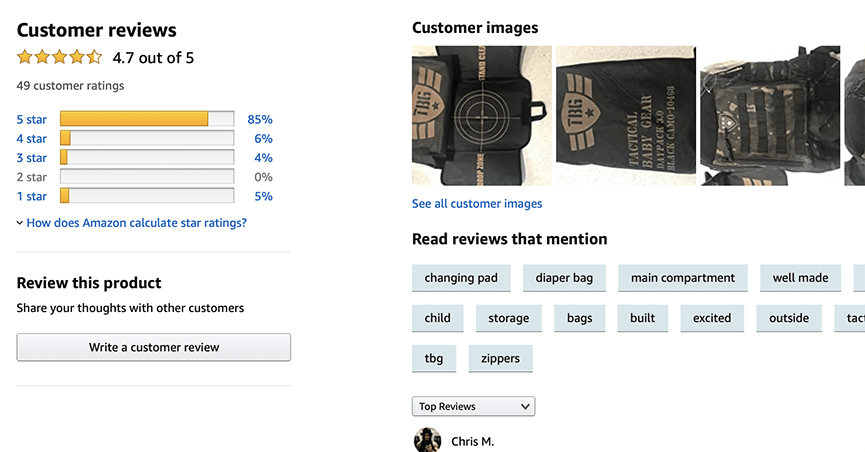 The fact is that most online consumers trust reviews as much as they do a personal recommendation from a close friend. Moreover, positive reviews make shoppers more trusting of a brand.
Amazon is keenly aware of both these facts.
Therefore, earning product reviews should be one of a seller's main priorities. This can be achieved by sending buyers a follow-up email after each purchase. Amazon has recently streamlined this process through the "Request a Review" button. While this does limit what sellers can say to consumers, it also makes the process considerably faster.
With the "Request a Review" feature available to sellers, it is easier than ever to earn product reviews to increase ecommerce sales.
Optimize Product Listings
Because of the way the Amazon A9 algorithm works, it is critical for retailers to invest the necessary time to enhance product pages through Amazon SEO best practices.
This means that in addition to the number of reviews present, retailers should aim to optimize product titles, features lists, descriptions, images and other listing elements. By failing to optimize these aspects of an item listing properly, sellers consciously lower their own product rankings.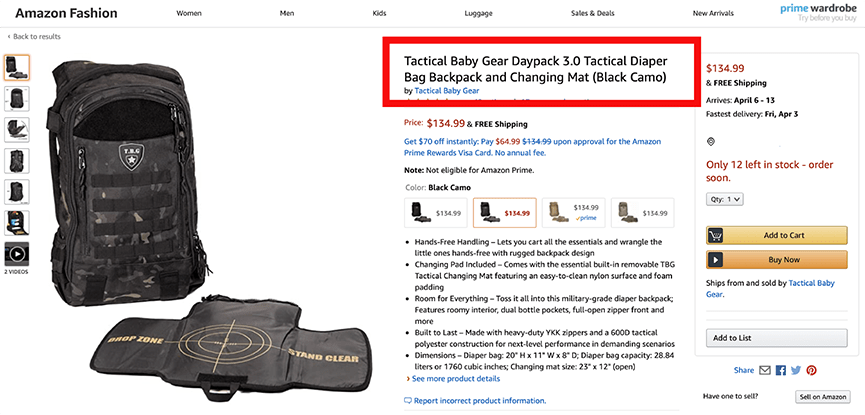 The components that merchants should pay considerable attention to include:
Product titles: This is arguably the most valuable real estate on Amazon. Therefore, retailers should include essential elements such as the brand name, product line, product type, materials or essential features, color, size, quantity or other applicable details. Moreover, be sure to integrate one to two of the product's most relevant keywords.
Features lists: Here, retailers should aim to include other relevant keywords that were not utilized in the title. Additionally, sellers will want to point out the most critical details, features and benefits that consumers receive from the item.
Product descriptions: In this space, sellers should aim to write product descriptions that sell by focusing not on the features of the product, but the benefits that buyers reap. A great way to do this is to employ Amazon's A+ Content feature as this gives sellers an alluring visual format to illustrate precisely the points they wish to communicate to their audience.
Backend search terms: Backend search terms are an essential destination as retailers can use this space to include additional keywords, keyword variations, misspellings and other words commonly associated with a product. As far as misspellings are concerned, Amazon claims that they account for these, but sellers have noted the opposite to be true. Therefore, it is best to include these in this section.
Drive Traffic from External Destinations
Just as retailers would drive traffic to the product listings on their dedicated website, it is also essential to direct shoppers on external sites to Amazon product listings.
The same strategies that merchants leverage to drive targeted traffic from Facebook, Instagram, Google and other destinations can be utilized to earn hits on Amazon product pages.
Run Amazon PPC Campaigns
While these have been devalued under the new version of the Amazon A9 algorithm, that does not mean that they are not worth running.
The fact is that using Amazon Sponsored Products and similar ad types can still help merchants to increase their sales, sales history and seller authority. Each of these, in the end, will help retailers to achieve better rankings.

That said, merchants will likely have to alter their advertising strategies and rely less on these adverts and more on cultivating organic reach through earning organic, internal and off-site sales.
Amazon PPC campaigns should be viewed as a method for fostering long-term growth instead of a short-term spike. Those who can adapt their strategy to this model are likely to reap the most value from Amazon advertising.
Final Thoughts
The Amazon A9 algorithm has undoubtedly changed over the years. However, in many ways, the best practices for increasing product rankings on Amazon have remained the same. All that has really changed with Amazon A9 is the number of factors and how they are weighted.
That said, one of the areas where many sellers are likely to struggle is in adapting their advertising strategy to Amazon's new standards. If your brand could use help in navigating this territory and earning the most benefit from an optimized campaign, reach out to Wpromote's Amazon and Retail Media experts.
We can show your company how to pull the most value, revenue and product authority out of its Amazon advertising efforts.