Over the last year, we've seen industries do all kinds of crazy things: grow at extraordinary rates, collapse within weeks, accelerate their evolution by decades.
And few have seen more rapid change than digital retail, especially when it comes to the set of channels we'll call "digital retail media," also commonly known as marketplace advertising.
What is digital retail media?
Digital retail media refers to the real-time ads served across search, display, and product pages when consumers are at or close to the point of purchase. Those are the coupons, offers, and featured products that show up while a shopper is actively browsing a digital retailer, like Amazon or Instacart. These ads became much more important as digital activity increased during covid quarantines, and brands upped their investment in the platforms and partnerships that gave them access to those inventories.
But opportunities on these channels aren't limited to the pandemic; customer behavior has likely shifted for good. In fact, eMarketer reports that digital retailers like Amazon and Walmart have been showing steady year-over-year ad revenue gains for some time, and that's not likely to change.
So it's critical to prioritize digital retail media as part of your long-term strategy.​​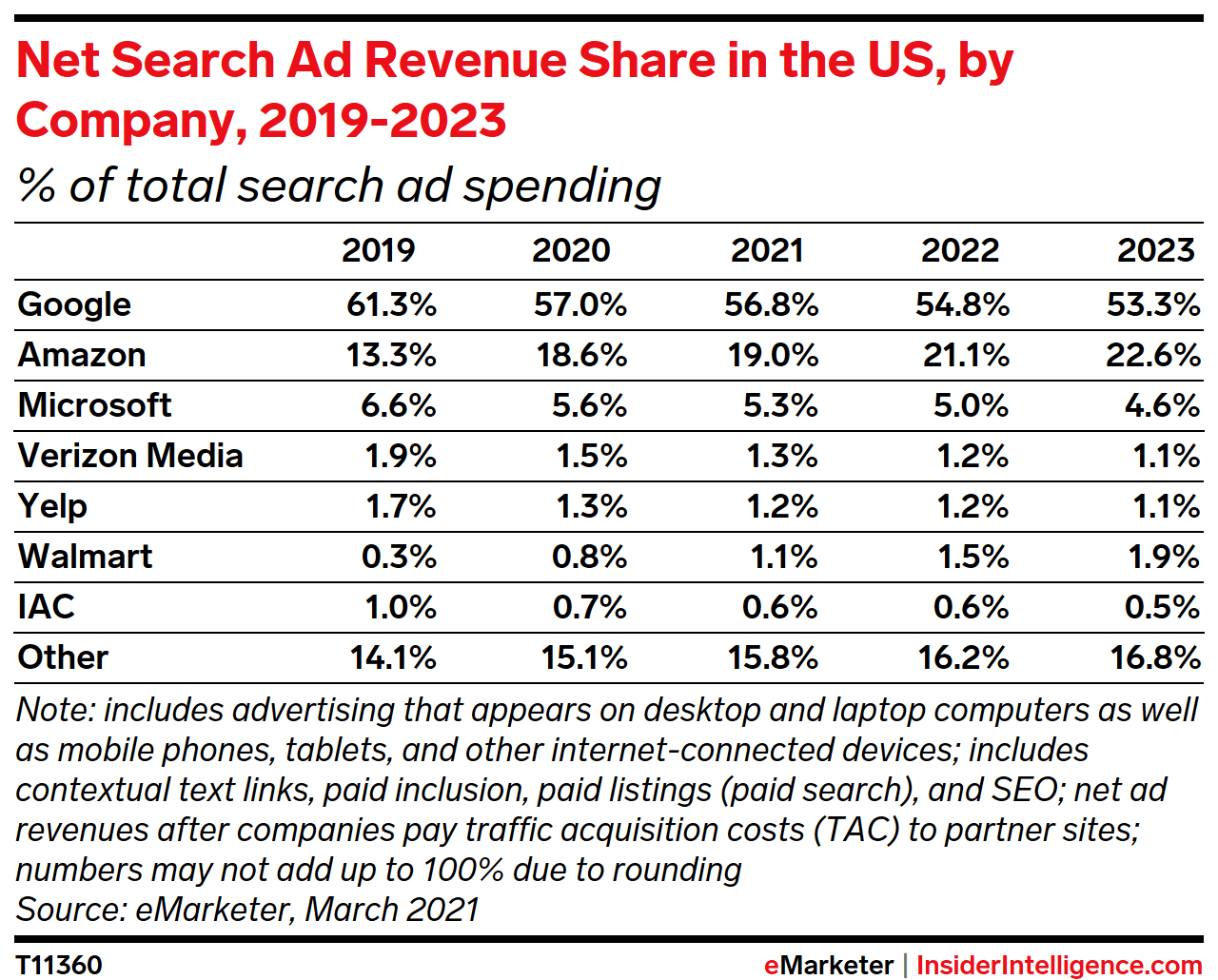 But the demand for additional opportunities to serve digital ads isn't limited to apparel; as demand for convenient delivery blew up through quarantine on existing platforms like Instacart and Amazon (and players like DoorDash entered the fray by partnering with grocers and expanding past restaurant delivery), it opened the door for CPGs to connect with customers at the point of purchase in new ways.
Take advantage of the explosive growth of Instacart ads
As the dominant force in digital grocery, Instacart was well-positioned to take advantage of the sudden, massive demand for digital shopping at the start of the pandemic. But the platform had also invested heavily in improving its advertising offering, which opened up a new world of potential placements for businesses looking to connect with customers.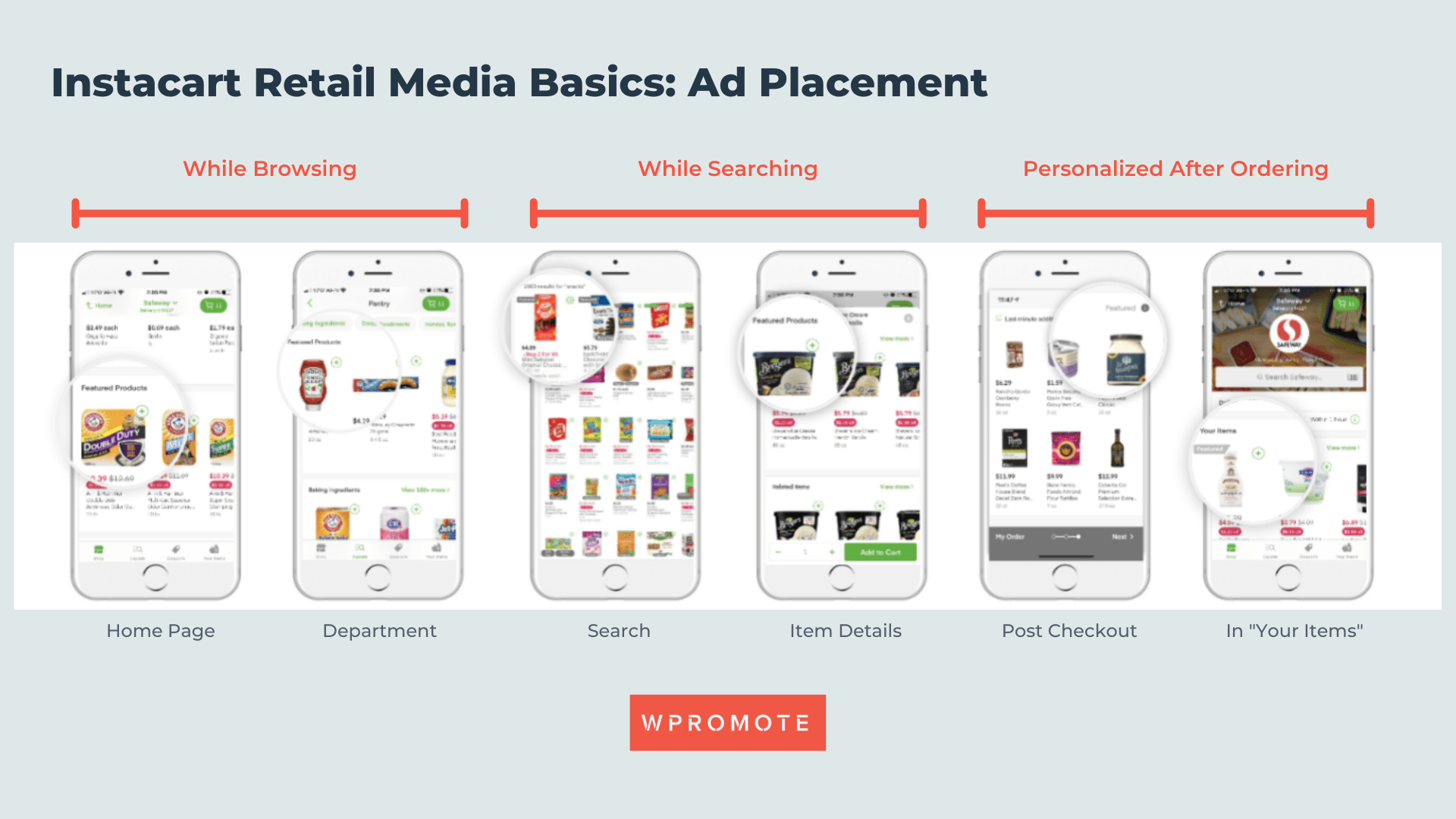 Brands of every kind were working to stabilize their supply chains and shift dollars to digital retailers, and Instacart was the number one target for CPG brands. Instacart auction saturation hit an all-time high in Q4 2020, but since then the auction has stabilized while sales continue to grow month-over-month. That reflects the continued rise of US consumer demand for digital grocery in general.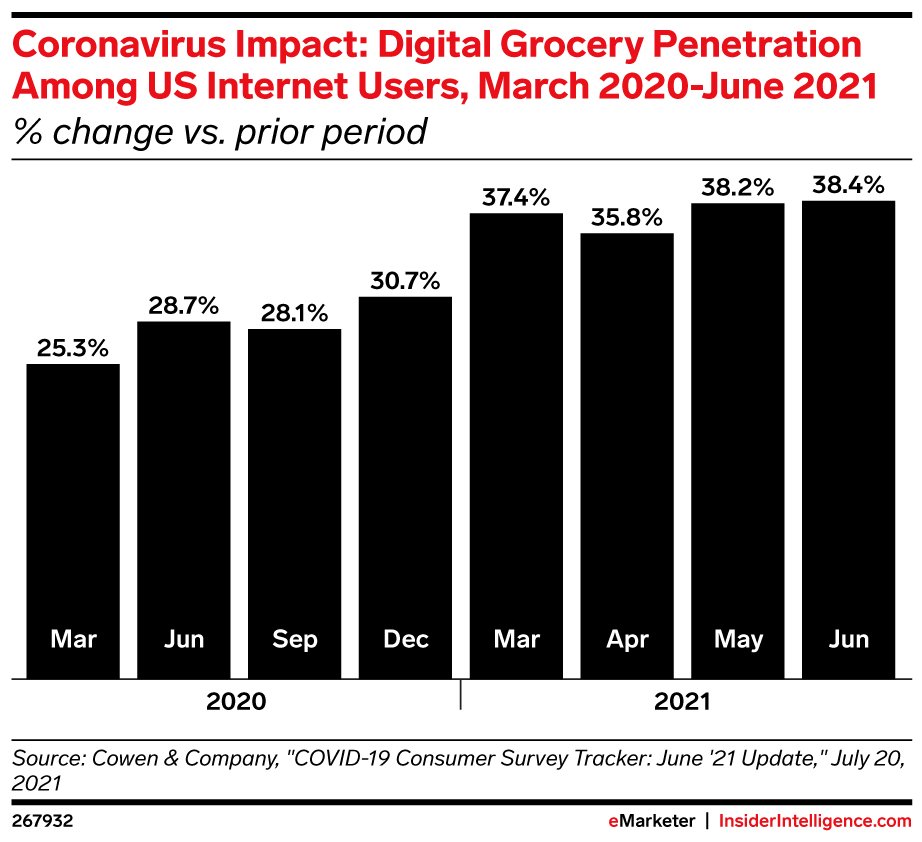 So the not-yet-answered question on everyone's mind is: post-pandemic (whenever that is), will people still want to shop for groceries digitally? It seems like everyone can agree that demand for ecommerce generally is here to stay, but the future of grocery shopping behavior, in particular, is less clear.
We might not know the future, but we can recognize the current opportunity. The key here is to build agility into both your planning and your budgets so you can adjust and adapt in real time as performance data flows in from all of your channels (did we mention you need to unsilo your data and take a holistic approach to your marketing? Because that's absolutely essential to success.) If you aren't prepared to respond quickly to changes and follow demand, your marketing is not where it needs to be.
The most successful brands in the future will be the ones that can evolve faster than their competitors.
What we do know about Instacart is that they are continuing to expand their retail partnerships, including with heavyweights like Walmart and 7-Eleven, and moving from grocery to other CPGs and beyond.
Instacart is a great example of a platform that is practicing what we just preached: they've proven they're ready to evolve to take advantage of new opportunities by investing in new advertising features like robust ad support for search, product page, and banner targeting and scaling them quickly so they can attract more brands and more dollars to the platform.
The future of digital grocery shopping might not be a sure thing, but it would be a mistake to consider Instacart as just a flash in the pan. And the holiday season is looming (through continued uncertainty about in-store shopping): local delivery options could prove to be a serious competitive differentiator for brands of all kinds.
Capitalize on opportunities through Walmart's retail media platform evolution
Even before the pandemic, many brands were prioritizing expansion onto Walmart because of its incredible year-over-year growth and significant portion of the ecommerce sales pie. According to eMarketer, Walmart's retail ecommerce sales increased by 65% in 2020 alone, finishing just behind Amazon.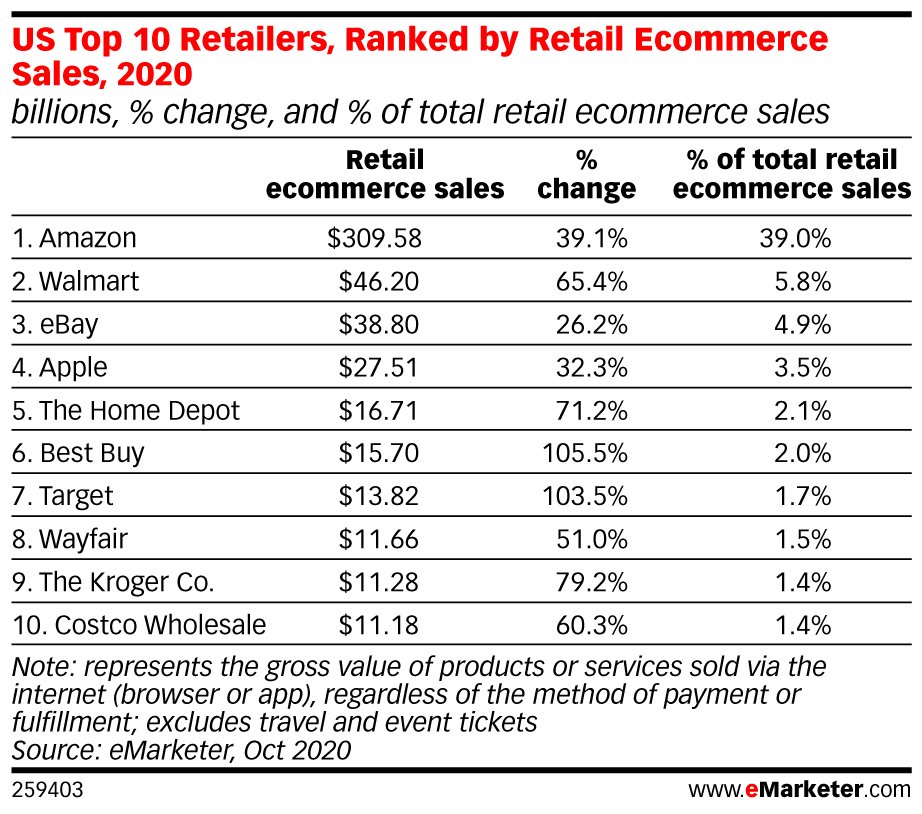 As more and more brands accelerated their Walmart expansion in spring 2020, marketers often just replicated their existing Amazon strategy on the platform, racing to streamline processes so that creative, ad learnings, and vendor relationships could easily mirror what they had spent years developing on Amazon.
The initial results were somewhat underwhelming, for several reasons:
Because Walmart's marketplace was very new and growing very fast, Walmart's customer support on both the retail and advertising side fell short, which hampered progress for brands looking to rapidly activate and scale investment in the platform.
Walmart is dependent on third-party tools, such as Syndigo for content management, creating a barrier to entry that doesn't exist on Amazon.
Their Sponsored Product option, the bread-and-butter of retail media ad strategies, relies on a first-priced auction, where advertisers pay the amount bid when a shopper clicks on an ad. The industry standard is now what is called a second-priced auction, in which advertisers pay a penny more than the second-highest bidder. That can result in lower-than-expected returns, which in turn mitigates some of the expected advantages of early adoption.
The search algorithm has particular quirks, like heavily favoring automatic campaigns, which limits how narrow advertisers can position their account to increase relevancy, and requiring products to rank organically on the first 4 pages of search results.
Despite these challenges, the future is bright for advertisers on Walmart.
Marketers are more familiar with the platform now and quickly learning how their approach to Walmart's retail media offerings needs to diverge from their Amazon strategies. And Walmart is continuing to invest in a better retail media offering, which is a major contributor to the 73% increase in ad revenue sales YOY the marketplace saw in 2020.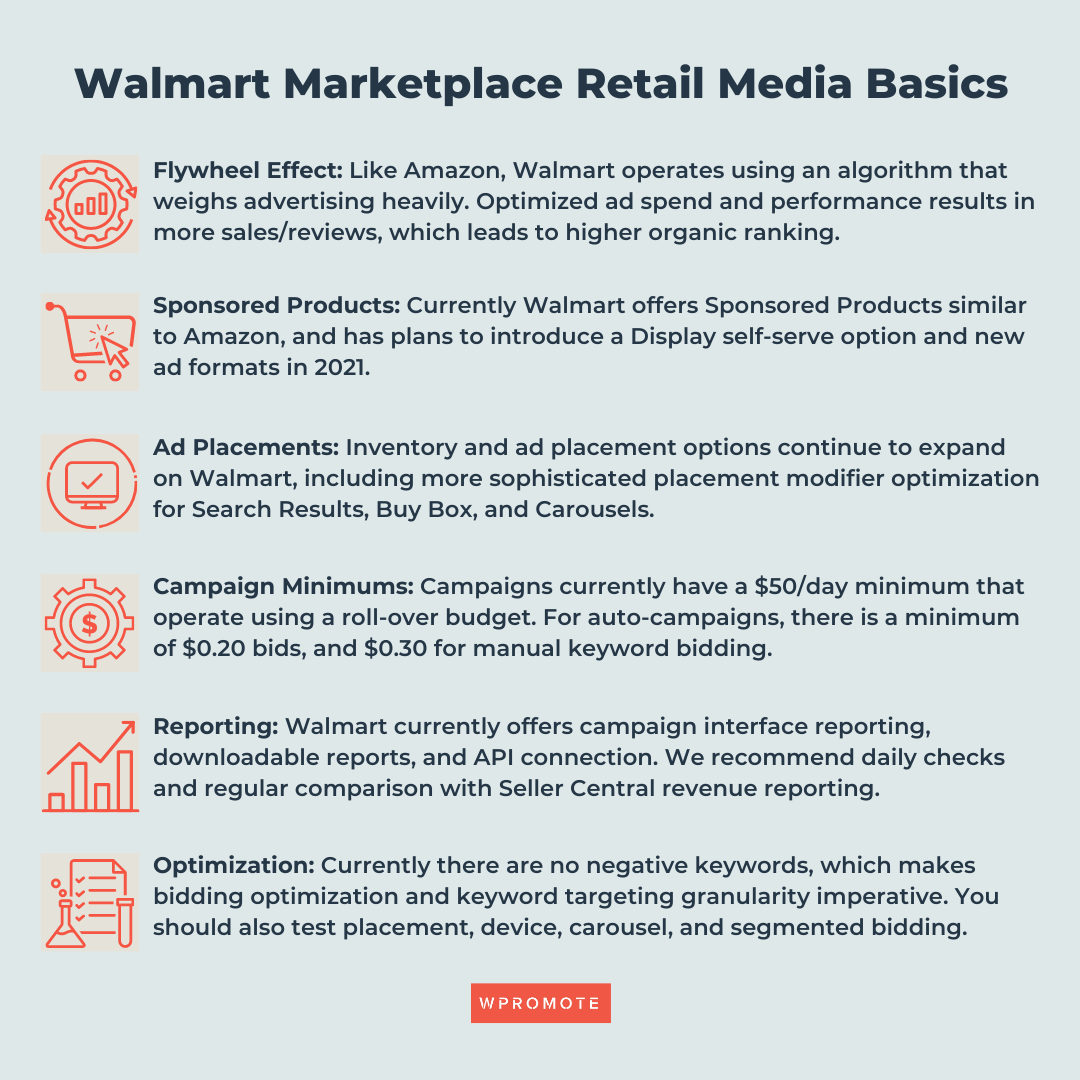 With continued retail growth, expanding self-serve advertising support to Pickup & Delivery orders, the coming of self-serve DSP (demand-side platform) access, and the expectation that they will soon embrace the second-priced auction industry-standard, Walmart is poised to continue to rise in the retail media ranks. Advertisers are seeing higher returns as Walmart doubles down on its self-serve Ad platform to compete with Amazon and Instacart's retail media offerings.
Outmaneuver the competition on still-dominant Amazon
Amazon is by far the most mature of the current slate of retail media platforms, but that also makes it a major target for competitors like Walmart who are investing heavily in their own offerings and making inroads on the ecommerce giant. Shoppers are learning that there are options outside of Amazon, and they've seen some slippage in recent years including a recent spate of lackluster Prime Day results.
But Amazon's dominance is still very much in place. According to eMarketer, Amazon's ecommerce sales grew 39% last year and accounted for 41% of all retail ecommerce sales in 2021. Walmart is in a distant second place with 7.2%. So while progress has been made, Amazon is still leaps and bounds ahead of the competition in terms of both retail volume and advertising capabilities.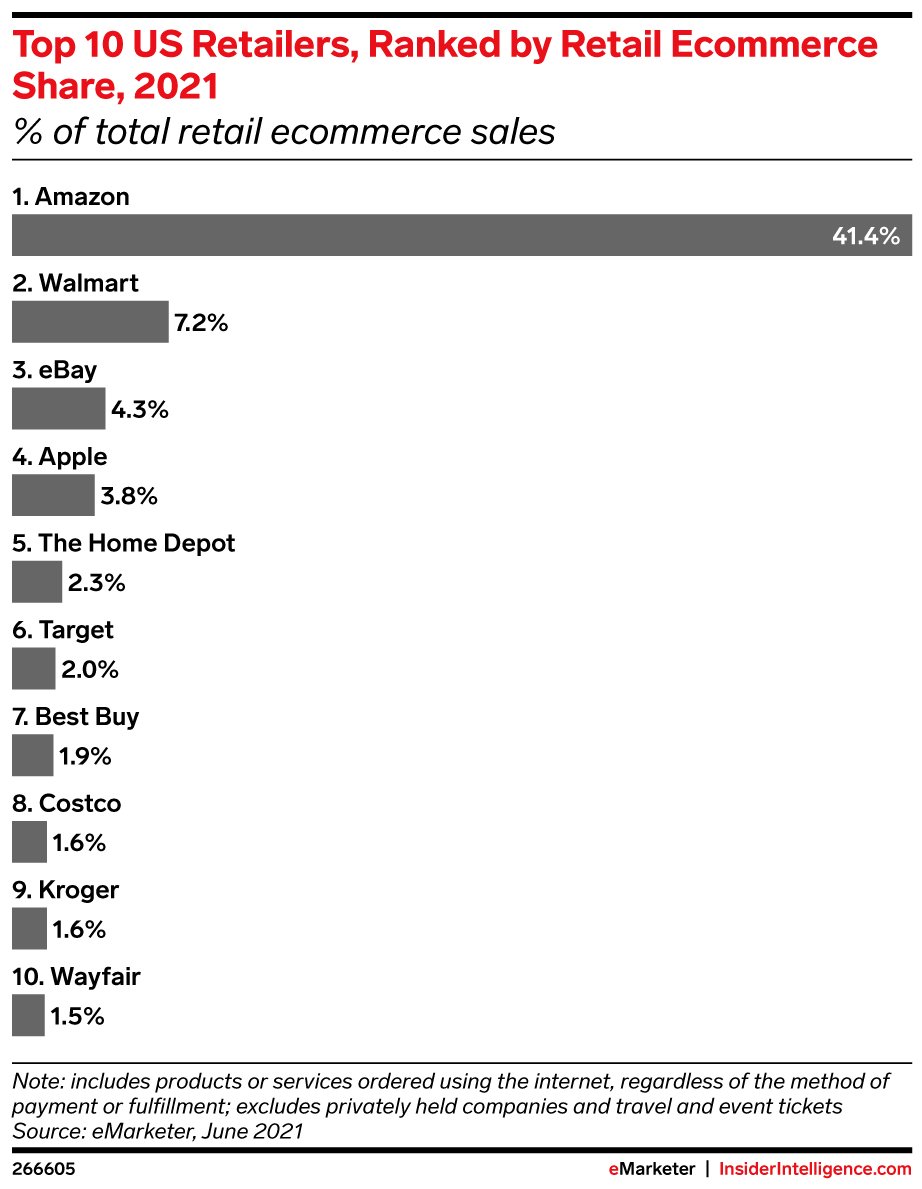 Amazon is also best positioned for dependable long-term growth because it's proved its worth as a viable solution over many years. Although its advertising offering has been dwarfed historically by Google and Facebook, the retail giant is moving fast to position itself as a legitimate contender to break the long-standing digital ad duopoly. And Amazon's offering blows emerging retail media advertising platforms like Walmart, Instacart, or CitrusAd out of the water when it comes to both functionality and reach.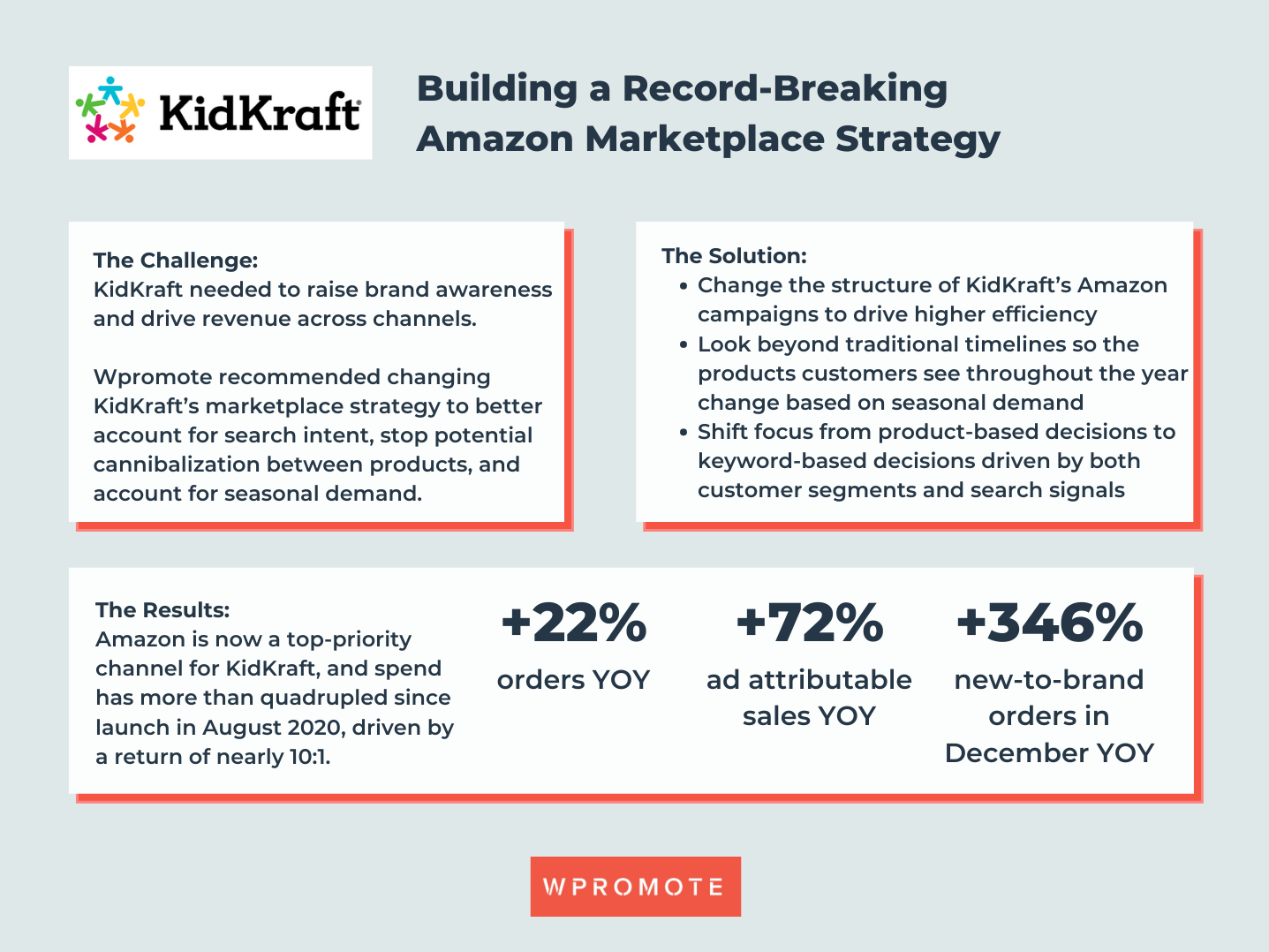 Because Amazon's mature advertising platform offers more advanced capabilities, brands and manufacturers can be much more strategic in their media planning across Amazon Sponsored Ads and DSP than is possible with the newer retail media platforms. And we can't overlook the advantage of Prime Video in the Amazon advertising arsenal. Brands can harness the power of Amazon's rich shopper data to engage hyper-relevant audiences with video ads through OTT, a singular offering among retail media platforms.
But the real golden goose of retail media is identifying incrementality.
Amazon is working to connect the attribution dots through solutions like Attribution Beta and Amazon Marketing Cloud, plus new metrics like branded searches and the rumored purchase assists. While other retailers are working very hard to catch up, Amazon is already building the next generation of retail media opportunities—and brands need to start prioritizing the channel in their media mix if they haven't already.
Explore the early adopter advantage with the next generation of retail media networks
While Amazon, Instacart, and Walmart should remain the priority for most brands, retailer aggregate networks like PromoteIQ, Criteo, and CitrusAd can help advertisers extend their reach even further to retailers like Kroger, Target, Lowe's, Costco, and Shipt.
But opportunities for expansion come with a warning: it's important not to overextend your support across too many retailers.
It's no surprise that executives are eager to gain the early adopter advantage and appease vendor relationships by extending support to as many retailers as possible. But you shouldn't be adding on additional retail media networks that don't add long-term value just for the sake of it (or so you can make a great logo slide in the next board meeting).
You need to consider both your business and the evolving media landscape to make the right decisions, ensure the money you're spending is aligned with your overall goals, and position your business for long-term growth.
A key component to making the most of every dollar and every month is your tech stack. Powerful proprietary and third-party tools can provide the connectivity you need to successfully navigate the plethora of digital retail media offerings. Every platform and every retailer uses their own attribution modeling, metrics, and reporting structure, so it's absolutely essential to take a holistic view of your retail media activations and performance.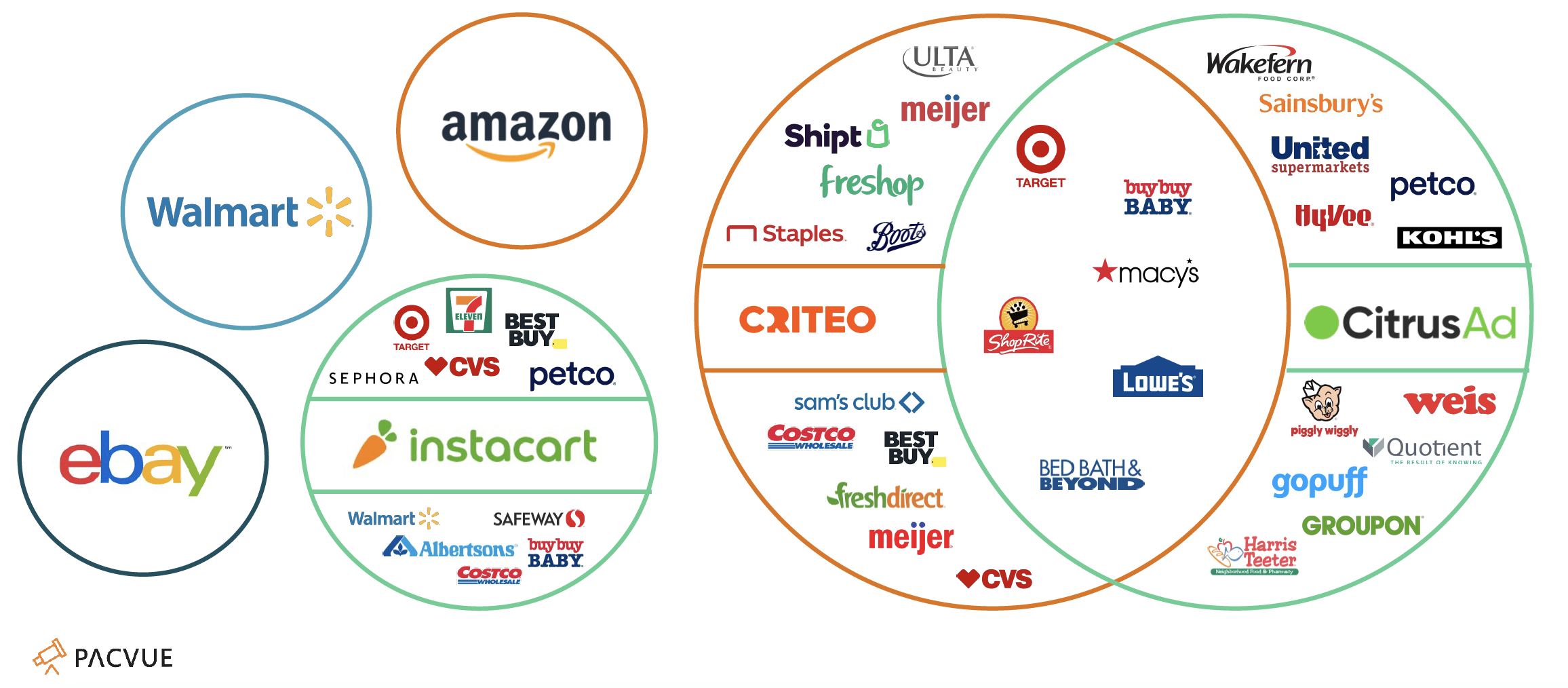 Wpromote partners with Pacvue, the most robust third-party retail media platform in the market, to get that integrated view by connecting retails and platforms like Amazon, Instacart, Walmart, Criteo, and CitrusAd, while opening up additional features not available in the native platforms that help maximize results for our clients. We're able to compare retailer performance across search and display platforms and better understand the marriage between retail and advertising performance, which empowers our teams to stay agile and pivot our strategy and tactics as needed.
In the end, marketers need to embrace retail media strategy and build it into their marketing plans as a whole to take full advantage of what's out there and capitalize on new opportunities as customer behavior continues to change.