Consumers go straight to the Amazon search bar to research and buy new products, and Amazon is now rivaling Google and Meta as a first-rate advertising platform with significantly expanded full-funnel capabilities.
So why are so many brands getting their Amazon strategy wrong?
Marketers are taking a product-focused approach to Amazon that fails to account for consumer intent and leads to inefficient campaigns that aren't built to maximize the full growth potential of the platform.
Our retail media experts have the answer: a hyper-targeted, data-driven Amazon marketing strategy that is laser-focused on the consumer.
As paid media performance dips on traditional platforms, building a better Amazon marketing strategy should be top of mind
Ecommerce has accelerated at a blistering pace over the past couple of years, and there's no better avatar of that expansion than Amazon. While Google's share of digital ad revenue has fallen year over year and Facebook's share has remained flat, Amazon has continued to grow.
According to eMarketer, Amazon's digital ad revenues increased by 53% from 2019 to 2020, followed by a 56% jump between 2020 and 2021.
Those massive gains reflect a changing environment: brands are looking for new opportunities to connect with consumers online outside of the traditional Google/Meta duopoly as privacy changes and other market factors impact channel performance. And Amazon recognized the potential and poured money into developing advanced marketing tools and solutions to lure marketers to the table.
All of that investment layers on top of Amazon's existing core value proposition: access to a platform that is famously effective at driving conversion and a seamless and user-friendly experience that incorporates best-in-class customer support and intuitive UX.
The full Amazon advertising flywheel incorporates in-platform paid media with best-in-class earned and owned tactics, and it starts with a Sponsored Ad strategy that is driven by consumer intent data instead of organized around products and built to generate additional insights that drive incremental growth over time.
The intent-based approach means you can:
Test hundreds of products against thousands of targeted keywords to optimize the best products for individual auctions
Avoid cannibalizing your own campaigns
Deploy Sponsored Products targeting to stay top-of-mind on Prime decision pages
Use Sponsored Brand ads to display your brand in key placements and rank high on search engine results pages so your brand is top of mind earlier in the purchase journey
Make continuous optimizations across campaigns quickly and at scale to respond to changes in consumer behavior
You'll be able to serve the best possible product to consumers based on their search intent every time, no matter where they are in the purchase journey.
Get the Amazon advantage: your customer is already there, why isn't your marketing?
There's long been a misconception that consumers only go to Amazon at the end of the buying journey. In reality, Feedvisor found that 62% of consumers start their search for new products on Amazon; only 18% indicated that Google was the first stop.
That's a massive change and should serve as a wake-up call to digital marketers who have overlooked Amazon's potential as a full-funnel force to be reckoned with in paid media.
So why is Amazon winning the day earlier in the funnel? The same Feedvisor survey found that the top drivers of Amazon customer satisfaction were customer service, search relevancy, and product variety. Two out of the three of those are critical for the research phase and go a long way to explaining Amazon's challenge to Google's dominance.
Your brand needs to harness these strengths and turn them into advantages that help your business grow. Let's dig deeper into how an intent-based approach can help you make Amazon work for your brand.
It starts with the data. Dig into the consumer's Amazon experience by analyzing which search terms correlate with purchase behavior across specific, relevant products so you can understand what people are really looking for. We divide those terms into categories and subcategories based on intent, then test which products perform best against each of these categories. Instead of just throwing all of our products against every keyword, we look to the consumer to define our approach.
To put it simply: if one product is selling more against a keyword, why go against the current and try to sell a different product? Why not try to find a different opportunity for that product so it aligns with what consumers actually want? The result of this intent-based approach is more effective and efficient Amazon campaigns.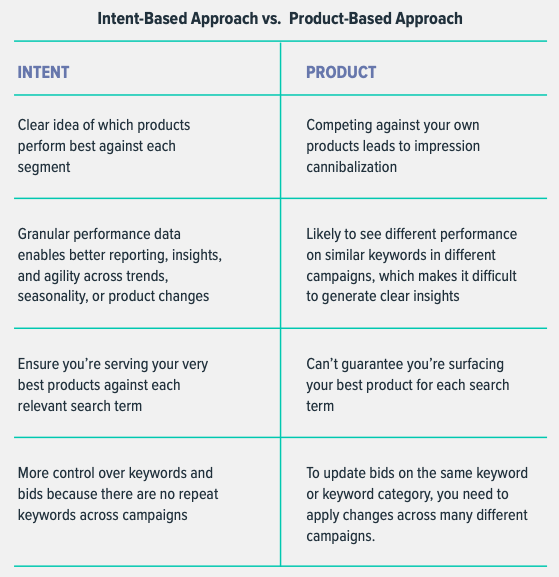 Instead of saying "we need to sell these specific products" and trying to make campaigns work regardless of consumer intent or interest, you need to leverage the data to identify which of your products will actually take advantage of the current and go with the consumer flow.
We then apply that process across as many subcategories as people are converting on your brand terms. Make sure to use a clear naming structure to label campaigns as brand, non-brand, and competitor to keep things organized.
Our approach also unlocks significantly more flexibility in your Amazon campaigns: if a product is out of stock or sold out, we immediately drop in the second-highest performer so results keep flowing. When a client is introducing a new product, we already have a testing system in place to figure out where the new product best aligns with search intent.
The key to success is getting as detailed as possible. Within the first two months, you should have a large number of categories, sub-categories, and sub-sub-categories. Once you determine the winner for each, run with that product, so you don't compete against yourself.
Many of your competitors are likely still taking a product-focused approach. Instead of leaving the door open for them by doing the bare minimum on Amazon or trying to go head-to-head using the same tactics, you can gain a significant competitive advantage by embracing the intent-focused approach.
Your Amazon marketing strategy needs to embrace the full funnel
Amazon's advertising expansion isn't limited to paid ad placement on Amazon.com. Amazon DSP, or demand-side platform, is designed to let advertisers leverage Amazon's vast trove of first-party consumer data to reach consumers via display, video, and over-the-top (OTT) across the web.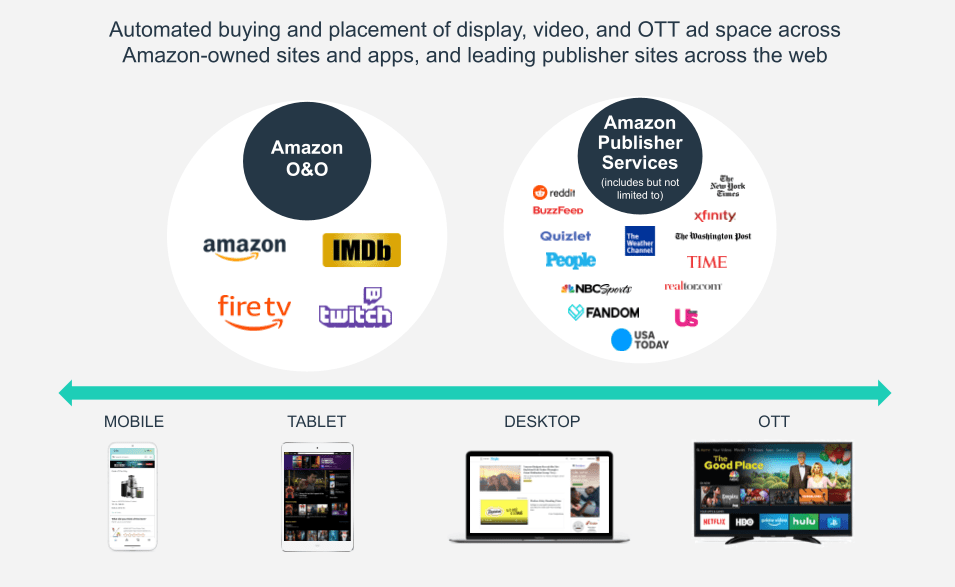 Think about it this way: Sponsored Ads on Amazon are akin to the ads you've seen inside of stores for particular products, while DSP ads are the ones you see outside of the store trying to convince you to come inside. The big benefit is that first-party data: you can actually target your DSP ads to very specific audiences.
You should make sure your core conversion engine of Sponsored Ads on Amazon is working and optimized before expanding into DSP. Ask the following questions to figure out if you're ready:
Are your lower-funnel tactics maximized and fully funded? Make sure your Sponsored Products and Sponsored Brands for brand, non-brand, and product/category targeting have been scaled up to their full spend potential.
Have you activated or tested Sponsored Display? Sponsored Display is a gradual step toward DSP advertising but is less risky because campaigns are still CPC-based.
Do you have available budget? Make sure you have access to enough budget without removing spend from Sponsored Ads. We recommend a minimum of $15k per month.