Amazon is a true chameleon, more than any of the other tech giants: after blowing up the book industry, it became the one-stop shop for everything under the sun, built out a massive cloud business, and was an early leader in streaming television. But the latest big change is the ecommerce giant's investment in a first-class advertising offering that is luring dollars away from Google and Meta.
And your business should be reaping the benefits.
Amazon is not content with building out better and better targeting and measurement capabilities for ad campaigns on its own site and app; they are bringing their huge first-party data advantage to new opportunities in spaces you might not even have on your radar right now.
There are three key areas the Amazon ad platform is betting on for 2023: DSP, in-store advertising, and streaming TV.
The upper funnel: Amazon is offering more opportunities to build your brand
Retail media as a whole is on the rise. As advertisers look to diversify budgets and costs rise across many platforms, marketers are on the lookout for new opportunities to grow across the funnel efficiently and effectively and retail media has shown up to lead the next wave of digital.
This isn't a prediction, it's a fact. According to eMarketer, retail media media spend grew by 45% YoY and was the fastest-growing digital ad channel worldwide in Q3 2022. And Amazon is leading the pack by a wide margin, even as competitors like Walmart nip at its heels.
One big way Amazon has set the pace is expanding into advertising on the open web through its DSP offering, which also opens up new upper funnel branding opportunities for advertisers at the precise time that much of the digital marketing industry is facing a bit of a reckoning for overindexing on direct response campaigns, resulting in performance plateaus and diminishing returns.
Amazon has never been a business known for resting on its laurels, and they're aware of the rising competition in retail media. So they have continued to grow the DSP offering, including fresh opportunities for off-site targeting like new ad formats and imagery/video placement on livestreaming gamer powerhouse Twitch.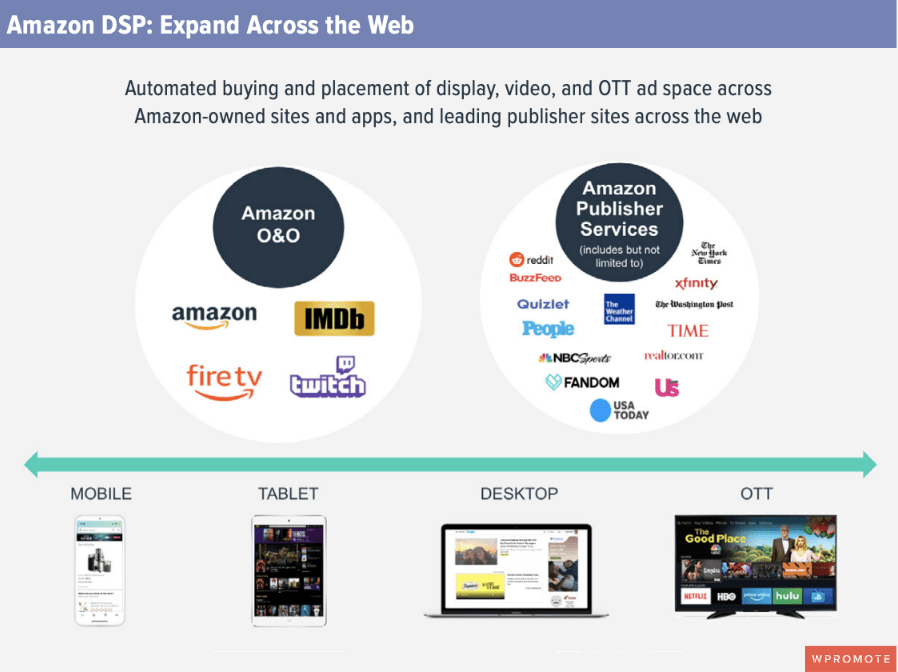 Branding opportunities on Amazon itself are also growing. They introduced a new feature that lets users follow a brand, so you can keep your customers updated on important announcements or product launches. That opens the door to more opportunities to engage one-on-one and build loyalty.
Amazon is also paying attention to what's been called the collapse of the funnel, where the traditional lines between brand and performance marketing are becoming increasingly blurred. Marketers have started to recognize that consumers are using Amazon not just at the very end of the journey to make a purchase, but as a discovery tool, and Amazon has introduced new tools so brands can take advantage.
Late in 2022, Amazon announced Inspire, a new in-app social commerce feature where customers can discover and explore products through photos and videos created by brand, influencers, or other users through a TikTok-like scroll. Inspire offers both engagement features like likes and conversion opportunities that directly link to Amazon products featured in the videos.
Amazon's advertising business brings in roughly $30 billion a year and continues to grow. While the revenue is primarily driven by brands that sell goods on their marketplace, Amazon has been looking to expand its appeal to brands that don't sell physical goods (like car manufacturers, insurance companies, and restaurants) by offering opportunities to advertise on their site.
Brick and mortar: introducing more in-store digital ads into Amazon IRL retail
Digital out of home is another booming sector of the advertising market eMarketer reported 34.9% growth in U.S. DOOH spending in 2022, and predicts a further 15.8% increase in 2023. As of 2020, the U.S. had 9,600 digital billboards and over 1,250,000 digital place-based ads, and it's only grown since then. Even the famous billboards in Times Square are largely programmatic buys.
Amazon is hungry to get a piece of that action, especially as they've expanded into in-store retail in fits and starts, including the acquisition of Whole Foods in 2017 and ongoing launches of various concept stores.
According to Insider Intelligence, Amazon will introduce more in-store retail media formats, including in-store digital signage, smoke screen overlays on cooler doors, and checkout displays. They're even considering ads on smart shopping carts and other futuristic-sounding experiments.
Many other retailers with significant physical real estate like Walmart, Target, and Kroger have been feverishly investing in their own retail media offerings, including in-store advertising. But Amazon remains the 1,000 pound gorilla in the fight because of two factors: the maturity of its marketing platform and its huge repository of first-party data.
That one-two punch means they have more to offer in terms of both targeting and measurement. When it comes to in-store ads, Modern Retail reports that Amazon is offering brands metrics including ad play count, estimated impressions, impressions by geography, and tracked ASIN sales data.
It remains to be seen whether advertisers are able to tie Amazon in-store campaigns to business outcomes, which is especially important in a potential recession when ad dollars will be under more scrutiny than ever. And, of course, we still don't know if consumers will find these in-store ads compelling. But this new frontier may be worth exploring with ads that find creative use for the space without detracting from the shopping experience.
Prime time: Amazon looks to compete in the AVOD wars with more streaming TV ad options
Amazon Prime, the most successful loyalty program of all times, famously comes with a subscription to Prime Video, which includes a mix of free original programming and older content, ad-supported video on demand through FreeVee, and movies and shows you can rent or buy.
In 2021, Amazon Streaming TV campaigns reached an average of 10.5% more unique viewers than linear TV, which was up 59% compared to 2020. On average, nearly 3 in 4 viewers (71%) reached by Amazon Streaming TV were not reached by linear TV. In a 2021 third-party study commissioned by Amazon, Amazon Streaming TV ad campaigns delivered an average of 6.5% incremental reach relative to linear TV campaign reach.
But the latest data doesn't include some truly major changes Amazon made to premium content in 2022, the biggest of which was the launch of its exclusive broadcast of live Thursday Night Football in September. According to The Athletic, the live-streamed broadcast averaged 9.58 million viewers per Nielsen and 11.3 million viewers when the Nielsen data is combined with Amazon's internal first-party metrics.
That premium content includes ads, and brands are eager to take advantage of targeting and closed-loop measurement capabilities they couldn't access through a linear broadcast. Those benefits also extend to FreeVee inventory, Twitch, and Amazon Publisher Direct integrations with other third-party publishers.
According to Danilo Tauro, the product leader for Streaming TV AdTech at Amazon Ads, Amazon has done a "lot of work to develop brand-building and upper-funnel solutions so that we can help advertisers across the full funnel."
The integration of streaming ads into Amazon's platform means it's possible to connect with the right audiences at scale in the upper funnel, then serve lower-funnel ads to more specific audiences based on first-party data. Brands can consolidate management of streaming TV campaigns with their lower funnel Amazon ads.
One of the ways they're looking to connect the funnel is virtual product placement (VPP), which was announced in 2022. Unlike traditional product placement, VPP lets advertisers insert products into participating Prime Video and Amazon Freevee Original content after filming has already wrapped.
Amazon shared a case study featuring one CPG brand that achieved a 6.9% increase in brand favorability and a 14.7% increase in purchase intent for their campaign. And the offering isn't limited to obscure Prime or Freevee titles. Prime Video and Freevee Original titles that are already participating in VPP, include Reacher, Tom Clancy's Jack Ryan, the Bosch franchise, Making the Cut, and Leverage: Redemption.
As Amazon continues expanding inventory and partnerships and placements both on-site and in-store, we predict more and more budget will flow toward Amazon from other digital channels, especially if the tech giant is successful in its continued work to improve its cross-channel advertising offerings, especially measurement.
What does that mean for your business? It's pretty simple: don't get left behind.