Marketers are starting to put a lot more spend into Amazon, and the ecommerce giant is now challenging the Google/Meta duopoly on digital marketing in significant ways. Amazon DSP has been a big part of that change, offering brands the chance to leverage Amazon's vast store of first-party data on the open web in new ways.
But too many businesses are failing to get the maximum return on their investment into Amazon generally and DSP in particular because they're not connecting the dots across the full funnel effectively.
That's partially Amazon's fault; their aggressive push to get brands to get started on DSP before they had their lower funnel house in order on the platform made many marketers leery of whether DSP could really deliver on its promise to not just reach new potential customers but drive business growth.
To be perfectly frank: generating awareness in the upper funnel without the tools in place to capture the consumer's attention and convert them into customers is just bad business.
So how you can unlock the full benefits of DSP and build stronger DTC relationships that make conversion more effective and efficient in the long term?
Start with the basics: What is Amazon DSP?
Amazon DSP, or demand-side platform is designed to give advertisers the full benefit of Amazon's vast trove of first-party consumer data. DSP ads reach consumers via display, video, and over-the-top (OTT) television content across Amazon-owned sites and apps as well as other leading publishers across the web.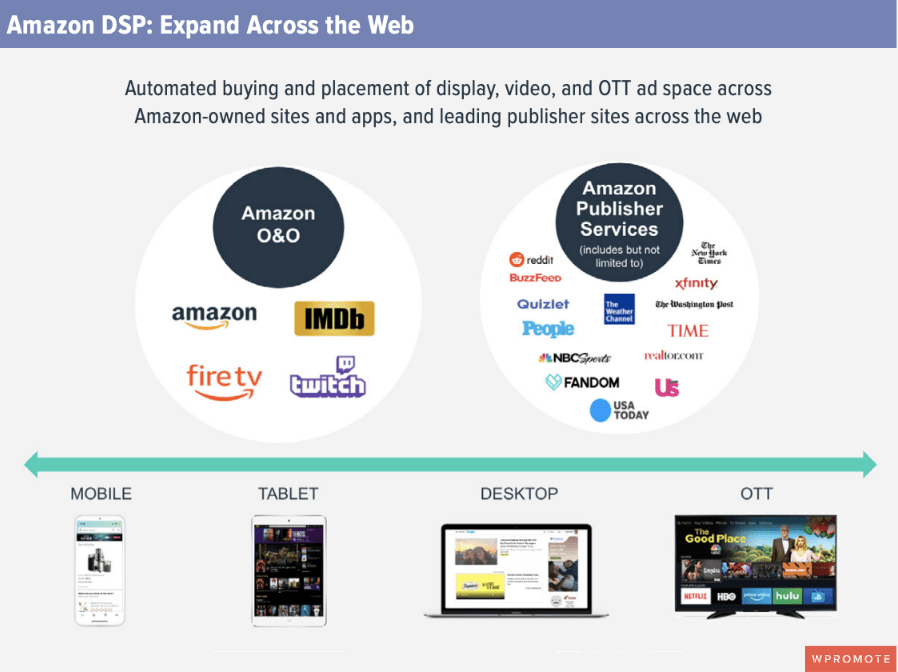 DSP is the crown jewel of Amazon's push to entice brands to bring their upper-funnel marketing dollars into the Amazon ecosystem (and keep Amazon's capabilities well ahead of its retail marketing competitors like Walmart and Instacart).
If you're still not sure how DSP is different from Amazon's classic ad offerings, think of it like this: traditional Sponsored Ads on Amazon are analogous to ads you seen inside of stores for particular products, while DSP ads are similar to billboards you see along the side of the road that are trying to get you to come inside the store.
But DSP ads are much more effective than their IRL counterparts because they can target a particular audience, based on Amazon's first-party data.
But DSP won't be effective in a vacuum. To avoid the challenges some brands faced when they jumped into DSP investment too early, remember that you need to have dedicated, fully funded Sponsored Product, Sponsored Brand, and Sponsored Display strategies in place before you move up the funnel.
Maximize your DSP performance potential by effectively leveraging Amazon's first-party data
The biggest single advantage DSP offers is a wide range of audience targeting capabilities fueled by Amazon's first-party data, ranging from narrow retargeting of people in customized cohorts to broad affinity-based audiences based on shopping behavior.
DSP also includes a variety of different ad types to ensure you're serving those audiences the right ads that will move the needle for your business.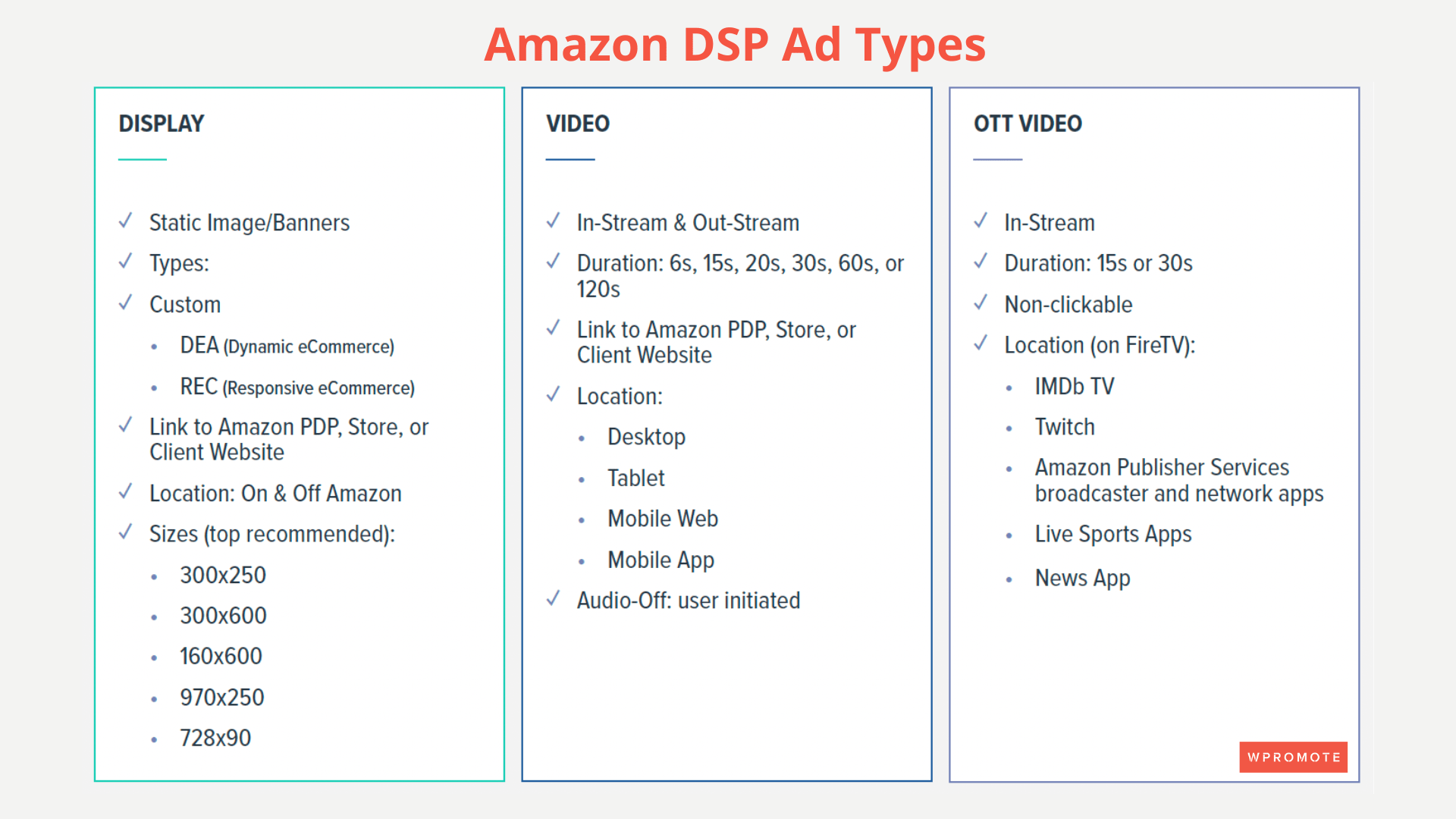 That gives you a lot of opportunities to generate new demand by reaching the right customers beyond the Amazon platform and moving them down the funnel efficiently.
Essentially, DSP helps you use Amazon's capabilities to build DTC relationships that aren't usually associated with traditional marketplace strategies.
Let's take a look at an example: you're launching a new winter boot line, and you want to get the new boot in front of audiences most likely to buy. You might consider building DSP campaigns that target people who are in-market for boots, come from a snowy climate, and have previously purchased from your brand.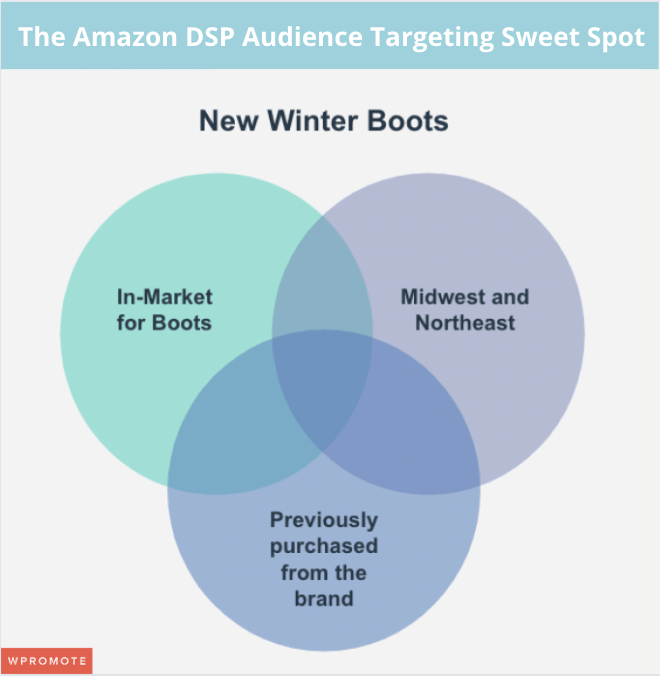 That sweet spot audience that hits all three ensures you're making the most efficient, effective use of your DSP dollars. You can serve that high-intent audience ads more focused on the lower funnel and goaled specifically against purchase because you know the product is relevant, the audience is in-market to buy, and they have purchased from your brand in the past.
Retargeting is often where brands start testing into DSP because they are serving ads to high-intent consumers who are familiar with the brand and products.
Once you've filled that mid- to lower-funnel, you can kick your upper funnel engine into overdrive by expanding your targeting to include lifestyle audiences, growing your reach even more with the Amazon Publisher Network, and testing streaming TV and video activation for brand awareness.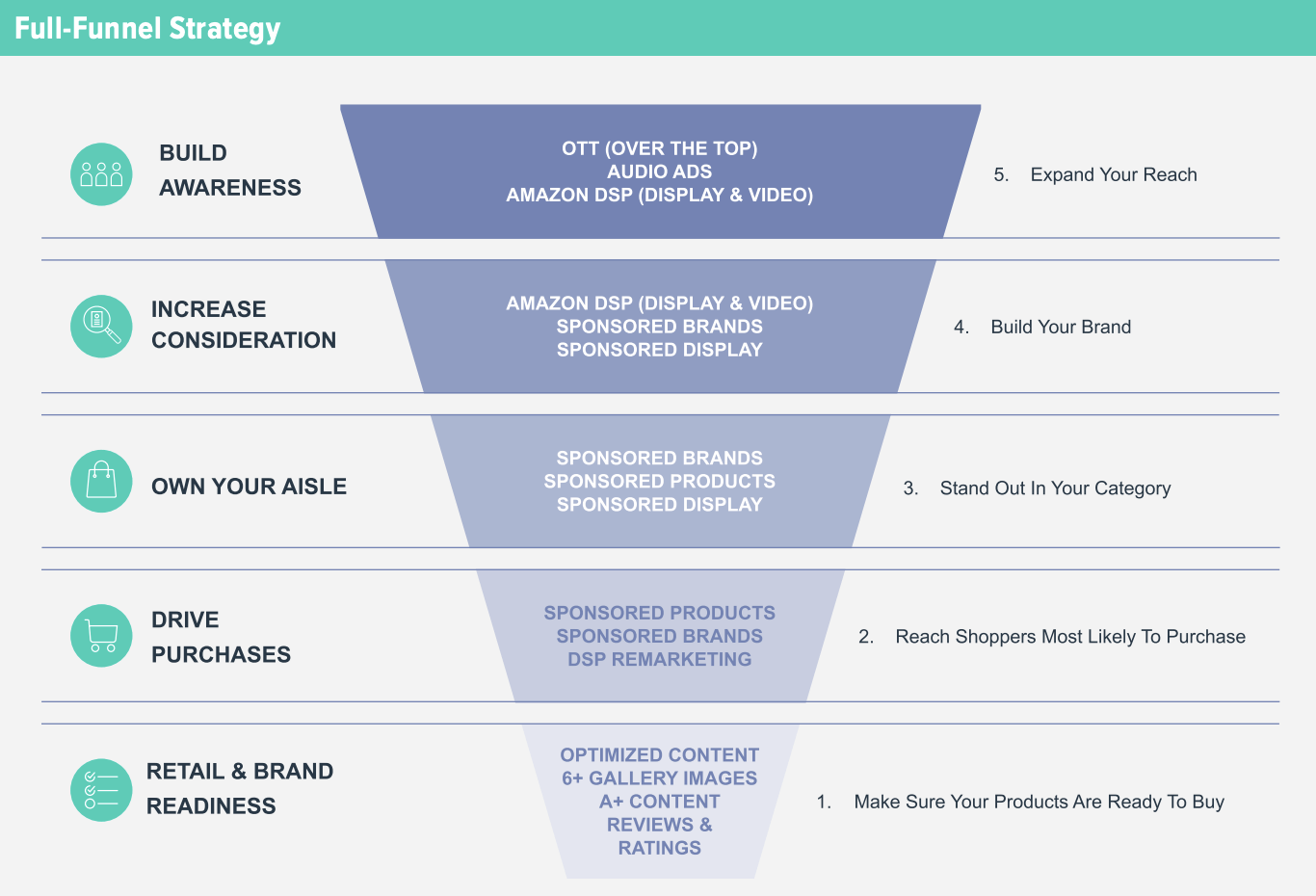 For best results, you should be pairing all of your DSP campaigns with a scaled Sponsored Ads strategy. That combination is where the magic happens; by expanding visibility and increasing traffic to your products, you'll prime more audiences to buy, driving serious incremental growth for your business.
Get the most out of your Amazon DSP investment in Q4 by laying the groundwork now
Prime Day 2022 may have come and gone, but there's still time to set up a strong full funnel engine that will get you results as the holiday season ramps up. That needs to start now if you want to reap the rewards.
Before putting budget into DSP, use this checklist to make sure your brand is positioned to make the most of your DSP campaigns:
Scale your Sponsored Products and Sponsored Brands for brand, non-brand, and product/category targeting to their full spend potential.
Activate or test Sponsored Display ads as a gradual step toward DSP display advertising that is less risky because campaigns are still CPC-based.
Get access to enough budget allocated to DSP without subtracting that budget from your Sponsored Ads performance spend. We recommend a minimum of $15k per month.
Once your Sponsored Ads strategy is in pace and you have sufficient DSP budget in hand, you're ready to start moving into DSP campaigns focused on the mid-funnel and retargeting, then continue up the funnel into broader brand awareness campaigns.
Start thinking about Amazon like you think about Google: if you're not there on the platform, you're just leaving the door open to the competition. And if you're only doing the minimum at the bottom of the funnel, you're missing out on important opportunities to drive business growth.