As consumer spending behavior changes because of economic inflation, Amazon Prime Day is a beacon of hope for performance-minded ecommerce brands. While Prime Day 2021 delivered a somewhat disappointing 6.1% YoY increase in sales, this year is positioned to deliver some major results because consumers are very focused on finding deals—and there's no bigger single promotional event than Prime Day.
In fact, eMarketer's senior forecasting analyst Whitney Birdsall pointed to Prime Day as a key barometer for the back-half of the year in an uncertain economy, explaining that "[w]e expect some economic pressure to ease in the second half of this year. For ecommerce, we will also be paying attention to the health of Prime Day sales, as Amazon accounts for nearly 40% of online sales in the US."
For retail, ecommerce, and D2C businesses, it's absolutely critical to take advantage of the increased purchase intent-driven by Prime Day. So we took a look at our learnings from Prime Day 2021 and put together a checklist of what you should do to get the most out of this major shopping opportunity.
Competition will be fierce, so position your brand and Prime Day ad strategy accordingly
Last year, third-party sellers beat out Amazon's own retail business for the second year in a row and the search auction approached peak saturation in the weeks leading up to Prime Day. Brands offered more deals, coupons, and coupons than ever before.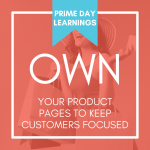 You need to take the following actions to outsmart the competition and put your brand in the winning position:
Increase your bids on your own branded terms for both Sponsored Brand and Sponsored Product ads to keep competitors off of your prime (pun intended) real estate.
Increase bids a day or two ahead of Prime Day on nonbrand and category terms to accelerate your momentum earlier into the holiday and get a jump on the competition.
Focus on completely owning your product pages by bidding on your products with Sponsored Product and Sponsored Display ads. This will keep the blinders on your consumer once they're on your Amazon real estate so they don't get tempted by the competition or distracted by other deals.
As Amazon Search auctions hit the saturation point, look for additional strategic options
Last year, competition on Amazon Search auctions for Sponsored Ads hit a new peak, resulting in a steady rise in Search cost-per-clicks (CPCs). But Display ads actually delivered the best return on ad spend (ROAS) once Prime Day actually arrived; our clients saw a 272% improvement in ROAS for DSP vs. the average across the prior 14 days. On Search, that Prime Day ROAS bump was a mere 6%.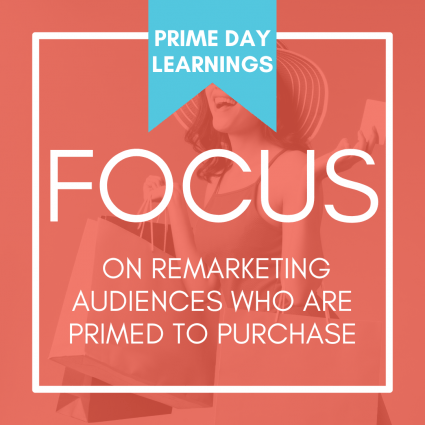 It's too late to launch a full DSP strategy right now if you don't have one in place already (hint: start investing up the funnel earlier!), but there are some things you can do that will help maximize your returns:
Focus on advertising products that you plan to use in a deal during Prime Day, if you have deals planned.
Lean into mid-funnel targeting leading up to Prime Day to drive as much traffic and consideration for your product as possible. You're building a larger remarketing audience that will give you the advantage on the big day, even if it lowers ROAS right now.
Increase your CPM bids by 20-50% to make sure your ads are visible once competition amps up on the site.
Shift your focus to maximizing Remarketing line items on Prime Day. Customers are focused on deals and converting on products that they are already interested in. Most consumers have already done their research ahead of time and are focused on finding deals and buying products they're already interested in.
Utilize Responsive/Dynamic ecommerce creative (REC or DEA) on Prime Day. These creatives will dynamically apply discount messaging in ads when your deals activate.
Don't rely on Sponsored Products as your sole performance driver for Prime Day Ads
Sponsored Brand ads are also traditionally seen as a higher funnel investment, but last year they outperformed Sponsored Products on lower funnel conversion metrics like ROAS.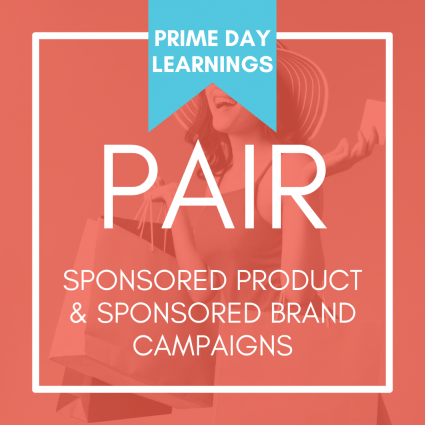 Across our client accounts, Sponsored Brand campaigns delivered a return of $8.62 on both days of the event, 31% higher than Sponsored Products and 77% higher than Sponsored Display respectively. Sponsored Brand ads also drove more conversions overall at a lower CPC than all other ad types.
You need to tell a cohesive story across all of your campaigns and Amazon real estate to get the most out of Prime Day 2022, so make sure you:
Pair your Sponsored Product ads and Sponsored Brand ads together and go after key terms with both placements. Remember: Amazon campaigns work on a PPC model, so if you show up on both placements, one of them is free.
Utilize the custom image to show lifestyle imagery of your products.
Highlight the products you're featuring in deals in your ads when the deal is live.
Make smart decisions about the deals you're offering on Prime Day
Promotions and deals are the make-or-break when it comes to Prime Day performance and sales success. That's why people are showing up, and that's more important in this inflation-inflected year than ever before.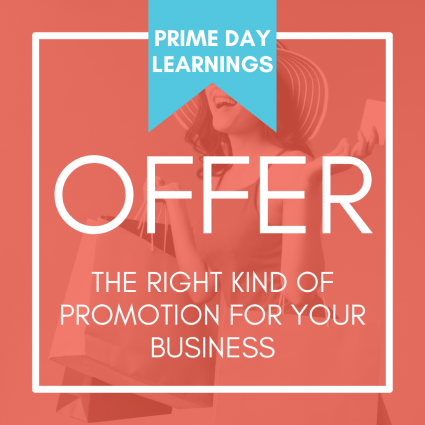 Last year, we saw our clients with strong promotional offers compared to category competitors generate Search ROAS of $6.86, 52% higher than those who offered weaker promotions (or none at all).
If you've done the right research around your margins, marketplace demand, and performance data to figure out which offers are right for your business, they will make an impact. You should also:
Make sure you're leveraging the right options for your particular deal. Those include deep discounts, Lightning Deals, Prime Day Deals, etc. and more. For example, if you need to generate momentum around a newer product, consider a deep discount; for a more established product that is rarely discounted, your offer can be less substantial.
Look to Google trend data immediately prior to Prime Day to get a temperature check around real time demand, then review your data to understand past promotional performance and make sure your strategy makes sense.
Stay agile and prioritize Prime Day in totality, even if Day 1 ads underperform
Last year, our clients expected Day One of Prime Day to be the main event, but Day Two actually generated 44% more ad-attributed sales and a 24% higher return across Search and Display combined. That could be the case again this year, as consumers are being much more careful about how they're spending their dollars.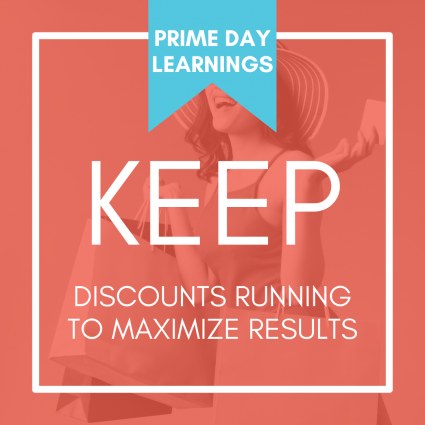 Our clients saw the competition fall off and were able to take advantage of that surprisingly strong second day because Wpromote's experts were monitoring real-time data and adjusting tactics and campaigns accordingly. Here's how to get the edge:
Don't over-correct your bids if Day One doesn't meet expectations. Latency within the engine can be a big factor; unless something is drastically underperforming, stick to your original plan and trust that sales will come through on the second day.
Consider tweaking your promotional calendar during peak periods to keep a discount running instead of prioritizing Day One with a Lightning Deal if you want to make the most of high purchase intent.