Amazon Prime Day 2022 has come and gone, but the learnings have just started. As economic uncertainty mounts, the results from this year's festival of ecommerce are being watched more closely than ever.
This will be the single biggest influx of purchasing data in advance of the holiday season, and marketers everywhere are looking to Prime Day performance to better understand what's changing about consumer purchase behavior.
"Over the next six months, we'll monitor macroeconomic factors like unemployment, inflation, and interest rates closely… For ecommerce, we will also be paying attention to the health of Prime Day sales, as Amazon accounts for nearly 40% of online sales in the US."
Because there's a fair amount of latency we have to account for in Amazon's data, particularly for sales, we don't have a complete picture quite yet. Amazon itself has declared the event a great success, pointing to the record 300 million items sold (up from 2021's ~250 million total) at a rate of roughly 100,000 items per minute.
Although the ecommerce giant hasn't released any information about total sales at this point, Adobe has already been crunching the numbers. Their analysts are estimating overall sales of over $6 billion on day one and $5.9 billion on day 2, an 8.5% improvement from 2022 if that estimate holds true.
We decided to follow suit and dug into our client data to identify three initial Prime Day takeaways as we wait for more data and deeper analysis.
A tale of two Prime Days: 2022 conversion rates for both days surpassed 2021
Last year we noted a surprising change: conversion rates across all Amazon ad types on day 2 of Prime Day were significantly stronger than day 1, to the tune of 15% vs. 12%. Our data indicates that's true again this year, but only by a hair: the 16.25% CVR on day 2 vs. 16.07% on day 1. The slight performance increase on day 2 was largely driven by Sponsored Brand and Sponsored Display ads.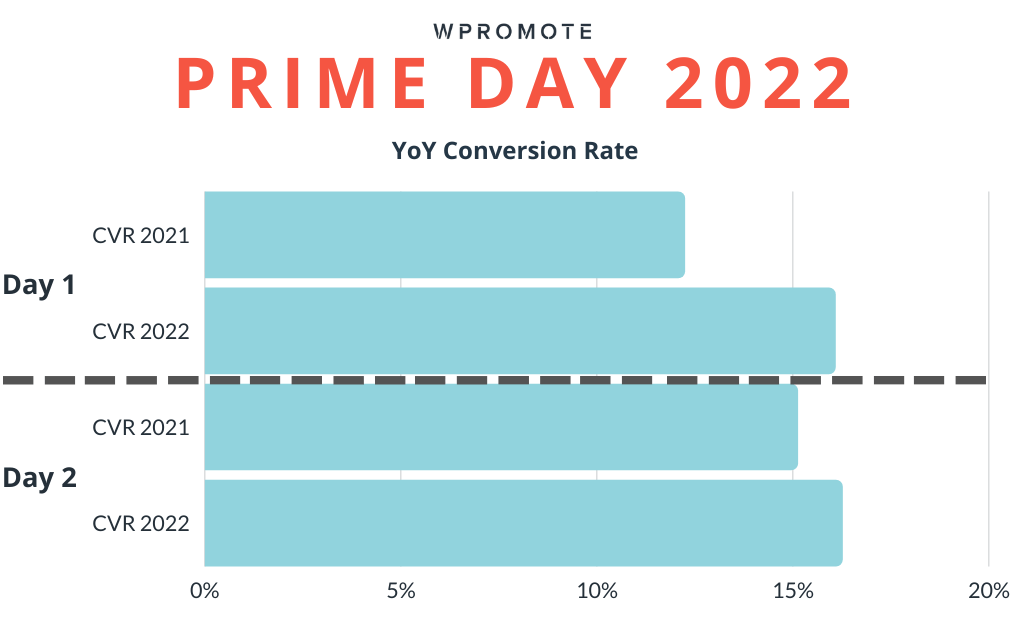 Although day 1 narrowly lost the race this year, it saw a significant increase from 2021. Consumers this year are looking for deals, likely as a result of rising costs due to inflation, and they were ready to take advantage of both days, a great sign for the holiday season to come for brands ready to launch a smart promotional strategy across that longer high-intent shopping period.
Less clicking, more converting: people came to Amazon this year to buy, not shop around
While clickthrough rate often correlates to some degree with conversion rate, the opposite was true this Prime Day: in a surprising inverse, CTR was down 19% YoY, while CVR was up 19%. Shoppers showed up with a purpose and ready to purchase.
Another major factor driving conversion was the depth of available discounts. According to a report from Analytic Index, there was an average 18% drop in price in 2022 vs. an average of just 1% reduction in 2021. That was likely partially due to incentivize spending in a tough economy or boost sales ahead of a potential recession, but could also be due to inventory offloading as a result of overstocks related to supply chain issues.
People are primed to buy if they've been being careful with their dollars and have been waiting for items to go on sale. That doesn't just mean large purchases; Numerator's early read on the data pinpointed the average price per item at $33.58.
Our data indicated that average order value was down 16% YoY, but still reflected an 85% increase over the average across the week before. When considering Q4 planning, make sure your discounts are significant enough to move the needle to purchase, even for lower-priced products.
Advance planning pays off: DSP continues to outperform traditional Sponsored Ads
Amazon's often relentless push to get brands to embrace DSP has had mixed results over the last year, but brands who got their DSP house in order reaped the rewards on Prime Day. Clickthrough rate from DSP ads was 75% higher than Prime Day last year, and we saw a 186% increase in ROAS and a 57% bump in conversion rate for DSP campaigns during Prime Day vs. the week prior.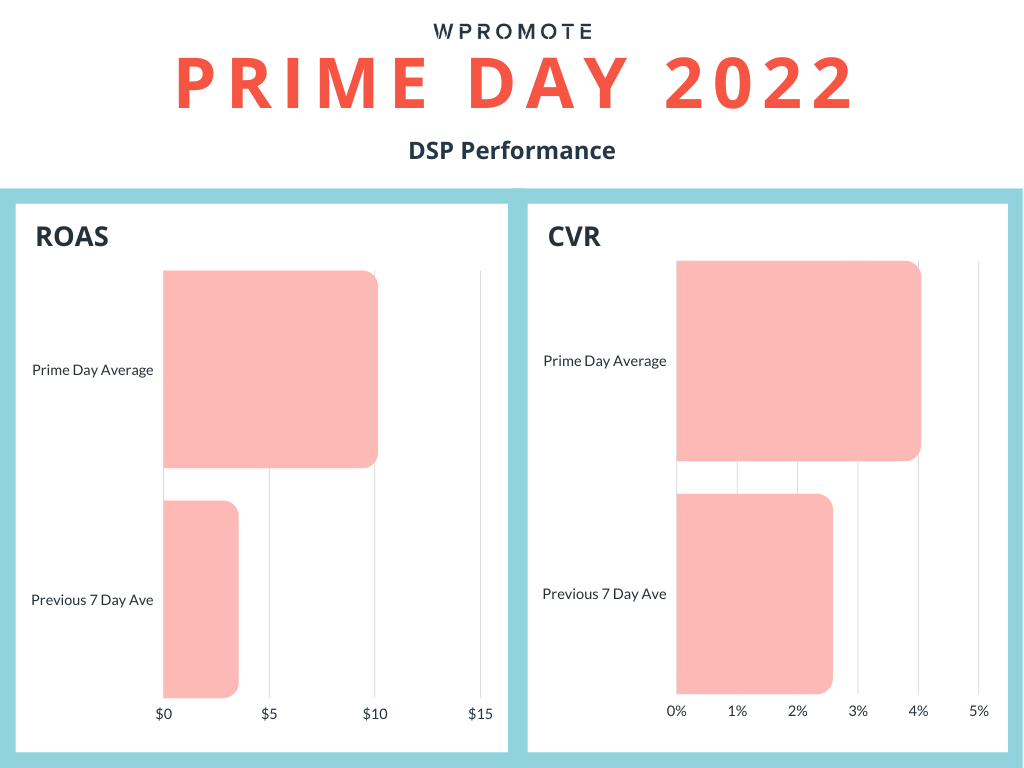 Because DSP is built to help brands leverage Amazon's data to go up the funnel, brands that have invested there were likely already on the radar of Prime Day deal-seekers. DSP ROAS was 27% higher on the first day, paying off the massive increase in interest and purchase intent leading up to Prime Day.
But shoppers were still ready to take their time and make sure they were getting what they wanted: conversion rate from DSP, like conversion rate on Amazon overall, was higher on Day 2.
The biggest news from DSP is that it retained and even slightly expanded the edge over traditional Sponsored Ads, charting a 63% higher ROAS compared to search for Prime Day 2022 (compared to 60% in 2021).
The longer research phase associated with inflationary periods clearly plays to DSP's strengths, and it's worth noting in advance of the holiday season that DSP success requires a longer runway than just turning it on, so starting now should be a priority if you want to get the biggest bang for your DSP buck.
We'll continue to share new insights as the data rolls in, but here are the three most important Prime Day takeaways you can bring into your Q4 planning:
Plan your promotional calendar carefully: Make sure you're looking to your customer data as well as your margins to understand where offers will have the maximum impact on performance and which customer segments will be responsive to promotions.
Go up the funnel: People are ready to buy, but the research and consideration stages are a lot longer because of the current state of the economy. Look to invest in upper and mid-funnel strategies that expand brand awareness, deliver value to potential customers, and keep your brand in the consideration set, like gift guides, educational materials on choosing the right product, or interactive gift finders.
Start your efforts early: But don't expect it to pay off immediately. Set the expectation with stakeholders and executives that you're considering the holiday season holistically, and set up the right processes to be as agile as possible in moving budget to follow demand and adapting creative and messaging to reflect changing customer needs.