One of the biggest questions brands are asking right now is how do you create great ads for TikTok? Luckily, the answer is simple. Don't make ads—make TikToks.
That doesn't mean you shouldn't have an objective in mind when ideating around your ad creative, but it does mean you should adhere to some specific TikTok creative best practices when you're ready to bring your ideas to life.
Before getting started, you do need to get a couple of things straight: establish a clear testing budget, decide on your campaign objective, identify your target audience, and prepare to make creative that is built for TikTok in particular.
The key here is to lean into content that feels authentic and native to the platform, as well as aligned with your business goals. The TikTok community is all about connection, so great TikTok creative requires a deep understanding of your audience and shouldn't be overly produced or polished.
Remember: just because something is working on another platform doesn't mean it will resonate with the Tiktok audience. Brands that aren't leaning into that mantra stick out like a sore thumb in a sea of user-generated content (UGC) and can leave a bad impression.
The brands on TikTok finding the most success are building their organic presence (we see you, Scrub Daddy and Ryanair) by capitalizing on what makes the platform so unique: sound, storytelling format, subcultures/trends, and creators.
Successful TikTok creative requires great sound
The sound-on environment is one of the great differentiators of TikTok as a platform. Most of the big social media players (with the notable exception of Snapchat) require designing content with sound off as the rule. But your options for content creation expand significantly when you realize what a major force sound is in the TikTok world.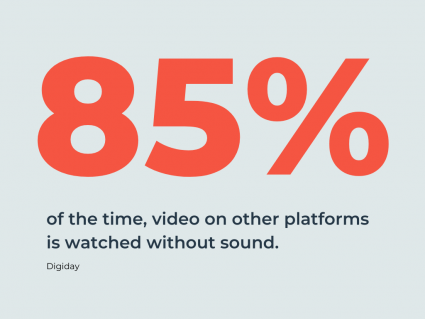 On TikTok, sound doesn't just refer to the random noises people make. It includes everything from popular songs and movie quotes to monologues from TikTok users and remixes of famous speeches.
Basically, anything goes when it comes to what is considered a sound on TikTok.
The best-known example of leveraging the power of sound might be beauty retailer e.l.f. Cosmetics. The brand dropped their original hit "Eyes, Lips, Face" in collaboration with Grammy-winning producer iLL WAYNO featuring Holla FyeSixWun.
The song was extremely catchy, but a key reason the campaign spread so quickly was because multiple celebrities and influencers hopped on to participate in the #eyeslipsface challenge.
Community engagement is the true superpower behind TikTok success. Right now there are over 5 million videos using the song and videos tagged with #eyeslipsface have been viewed nearly 7 billion times.
That's a pretty maximalist example, but creating your own sound doesn't have to be expensive. Even a random narration, jingle, or question can be made into a sound that other TikTokers can stitch, duet, or repurpose.
Creating original audio is a great way to separate yourself from other brands, but leaning into existing audio and sound bytes that are trending on TikTok is another (and much cheaper) way to keep your brand relevant. It also serves up an opportunity to connect with consumers on a more personal level by tapping into the same trending audio they're using in their own TikToks and joining the wider conversation in creative ways.
A great example of a brand utilizing trending music, audio, and sound bytes is Ryanair. With 1.6 million followers and videos averaging 100K+ views, they've managed to tap into what makes sound so appealing: its relatability.
The marketing brains behind Ryanair's TikTok are using sounds that have nothing to do with planes, flight, or even travel. But they are focused on making TikToks that are both entertaining and informative.
Remember that experimentation is key to a platform like TikTok, and that idea of "authenticity" means you don't have to be quite as beholden to your branding as you might in other channels.
That's not to say you shouldn't be aware of what can get you into trouble. There are two things to remember when it comes to due diligence on TikTok:
Don't accidentally jump into a conversation or onto a trend without exploring the context around it. Make sure you poke around in the platform so you don't accidentally use a particular sound or wade into a trend that might not be safe for your brand, whether they're offensive or just inappropriate.
Do talk with your legal department about what you can or can't use in terms of sound and reusing other users' creative. Some sounds/music/audio, video, and images are protected. If you're looking to circumvent the lengthy process of obtaining licenses on your own, check out TikTok's Commercial Music Library which has pre-cleared music for organic and ad content creation.
Align your TikTok creative with relevant subcultures and trends
One key to unlocking authenticity on TikTok is keeping the community front-of-mind: the audience is generally digitally savvy and particularly alert to overly polished or curated content. They want content to be of-the-moment, fresh, and real. That's why trends are such an important driver of TikTok views.
You need to be selective about which trends actually make sense for your business and the creative you're building.
But not all trends will work for your particular brand. If you're just producing content around a trend because "everyone" is doing it but it's not relevant or entertaining, you could be setting your brand up to come across as inauthentic and out of touch.
It's good to take a quick temperature check before leaping onto the bandwagon for a particular trend. That's as simple as asking:
Is the audience I'm trying to reach participating?
Is the trend relevant to my brand/product/service?
Can participating in the trend be misconstrued as out-of-touch or even offensive to the people I'm trying to reach?
Once you've decided a trend is a good fit for your brand, you can start making creative and seeing what resonates.
Le Creuset leaned into the #CleanTok subculture and built a genuine connection with that community by highlighting a soothing kitchen cleanup while showcasing their newest products.
What's great about the Le Creuset example is that they didn't just connect with the #CleanTok community, but extended the reach of their campaign by jumping on the autonomous sensory meridian response (ASMR) trend while it was hot.
Your goal is to create content that showcases your brand's values and personality, appeals to and connects with relevant niche audiences, and lets your brand take part in some of the amazing conversations happening on the platform in an authentic way.
Your list of TikTok creative best practices should include TikTok creators
Smart brands know the quickest path to creative success on TikTok is through actual creators on the platform.
You don't necessarily need to spend massive budgets to work with big names to get results.
In fact, a study by Semrush found that 83% of viral TikTok videos come from unverified accounts.
Working with creators on TikTok is a great shortcut for brands if you're worried that you can't put time or budget toward dedicated TikTok creative. Creator partnerships come with other benefits as well, including unlocking:
Authenticity: Connect with their followers in a way that might not have been possible if you just targeted them with an ad from your business.
Participation: Creators spark conversations with fellow users and are already known in the community, which opens up your brand to new opportunities to get in front of different audiences through a trusted source.
Trust: Let a creator be themselves, not beholden to every single one of your brand standards, to test new ideas and potential angles while looking to potentially grow the partnership in the future if they're getting results.
The creator, whoever they are, should interact with your product in a meaningful way that feels authentic to them and your brand to unlock the full value of the partnership.
Let's look at an example: KFC already had an engaged customer base on TikTok and wanted to use that advantage to generate mass awareness and demand for their new chicken sandwich. They worked with creators to authentically bring their TopView ads to life.
Since this was their first-ever campaign in the US, they wanted to make a splash and work with Lili Hayes, the internet's favorite granny. Her boisterous commercial impersonating Colonel Sanders was then later remixed by DJ Dillon Francis and TikTok user Lubalin.
The videos from Lili Hayes and other creators amassed 221 million video views, an overall engagement rate of 9.3%, and a TopView CTR of 13.8%.
The platform is trying to make it easy for brands to collaborate with creators. They launched the TikTok Creator Marketplace, where you can search for creators by relevancy using different metrics, directly contact them, and track and analyze your creator campaign results in one place.
You don't necessarily have to start from scratch when it comes to crafting TikTok content. Leverage the creators the platform was built for to amp up your creative, connect with audiences, and try something new.
Creating content for TikTok starts with a story
TikTok recommends keeping your ads between 21-24 seconds, so you need to get straight to the point and keep your primary message short and direct. According to TikTok, over 63% of all videos with the highest click-through rate (CTR) highlight their key message or product within the first three seconds.
You need to balance that need for speed with impactful storytelling.
Pay particular attention to these three elements:
Start with a hook to grab and hold viewers' attention, then look to respond to their needs in the moment even as the TikTok is still going.
Maintain attention while explaining benefits and features with emotion, audio, and fast-paced transitions. It's also important to make it clear what action your audience should take next.
Focus on what gets skipped and what doesn't. Knowing what a viewer connects with is a valuable tool to inform (and improve!) your next piece of creative.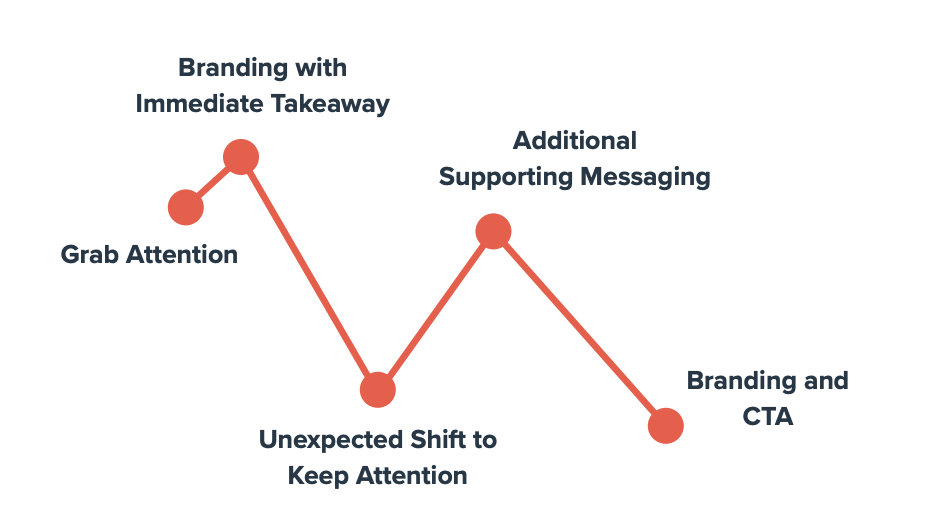 After launching their TikTok account in 2021, True Classic successfully struck this balance while cultivating their online persona by focusing on sharing what made their high-quality t-shirts great across a variety of ridiculous and relatable scenarios.
One of the great things about TikTok is the scope for creativity; you can combine different elements (audio, subcultures/trends, creators, and storytelling) to try out different things in an almost infinite number of ways that are relevant to your brand and feel authentic to your audience.
Apply these TikTok creative best practices
In an era of shortened attention spans and a level of digital marketing saturation that has consumers doing whatever they can to avoid ads whenever possible, your brand's TikTok content needs to both entertain and inform if you want it to drive business growth.
Use the following best practices when building TikTok creative to make sure you strike the right balance:
Include audio: You can use any kind of audio, but the more relevant, the better. Since 100% of Auction Ads are sound on, you should make music and sounds an essential part of your storytelling.
Tell a short story: TikTok recommends a length of 21-24 seconds but the first 3-10 seconds are the most crucial. To keep it concise, you can use video captions to help add context to the story in your video: 40% of Auction Ads with the highest VTR use overlays.
Go full-screen: Get the most out of TikTok's vertical full-screen experience and capture 100% of that screen space by shooting in 9:16. When uploading your creative to TikTok, make sure to keep the majority of your messaging and imagery visible within the TikTok safe zones (areas that won't be cropped or covered up) but do not manipulate text or images to only fit within the boundary.
Shoot high resolution: Your resolution shouldn't be less than 720p but you don't want videos that look too "produced." Try to strike a balance between authentic-looking content that can comfortably show up between user-generated videos and a polished advertising look that is on brand.
Keep testing: Start testing new creative and refreshing your bottom performers every 2-3 weeks. You can test different creators, sound bytes, styles of production, and more. Running short on time to create and deliver ads? The Automated Creative Optimization tool helps manage your ads more efficiently and effectively by automatically finding high-performing combinations of your creative assets. All you have to do is upload images or videos, write some ad text, and select your call-to-action (CTA) buttons.
TikTok content might force you out of your comfort zone when it comes to ad creative—but that's how you'll know you're heading in the right direction