TikTok's meteoric rise means it's no longer an option to stay on the sidelines. As TikTok continues to grow into a critical component of a modern social media strategy, marketers are eager to figure out how they can get the most out of the platform for their brands
There's no way to do that better than by actually getting on the platform and trying out some creative so you can start to learn what works and what doesn't.
But you can't just throw some videos up and hope for the best. You need to implement a rigorous creative testing plan to figure out what success looks like on TikTok—and how you can drive full-funnel performance on the platform.
What should I prioritize when I'm testing TikTok creative?
Creative testing typically falls into two buckets: macro and micro tests. Within these buckets, you can test everything from production and thematic style to messaging style, sound, and talent.
When you are launching on a new platform like TikTok, you should typically invest most of your time and budget in macro tests to understand bigger picture creative trends so you can get an idea of what is or isn't working for your particular audiences.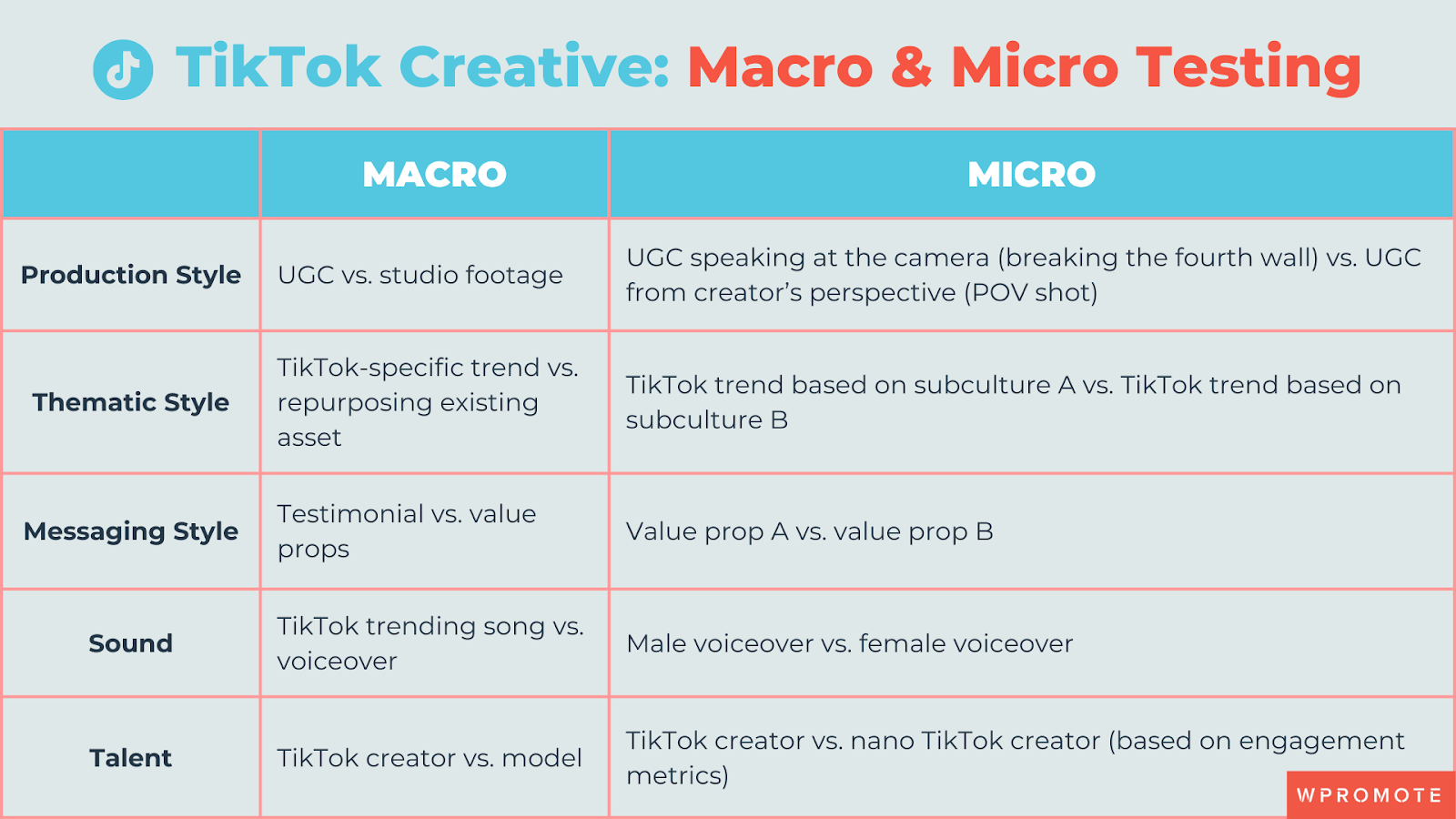 Once you get the feel for the type of content that generally works well for your brand, you can use micro testing to hone in on specific variables that will help you drive incrementally better results.
Remember: a single piece of creative won't work across every stage of the funnel or even for all of your audiences. That's why it's essential to run tests built to help you better understand your core consumer, including getting insight into their emotional motivators and drivers.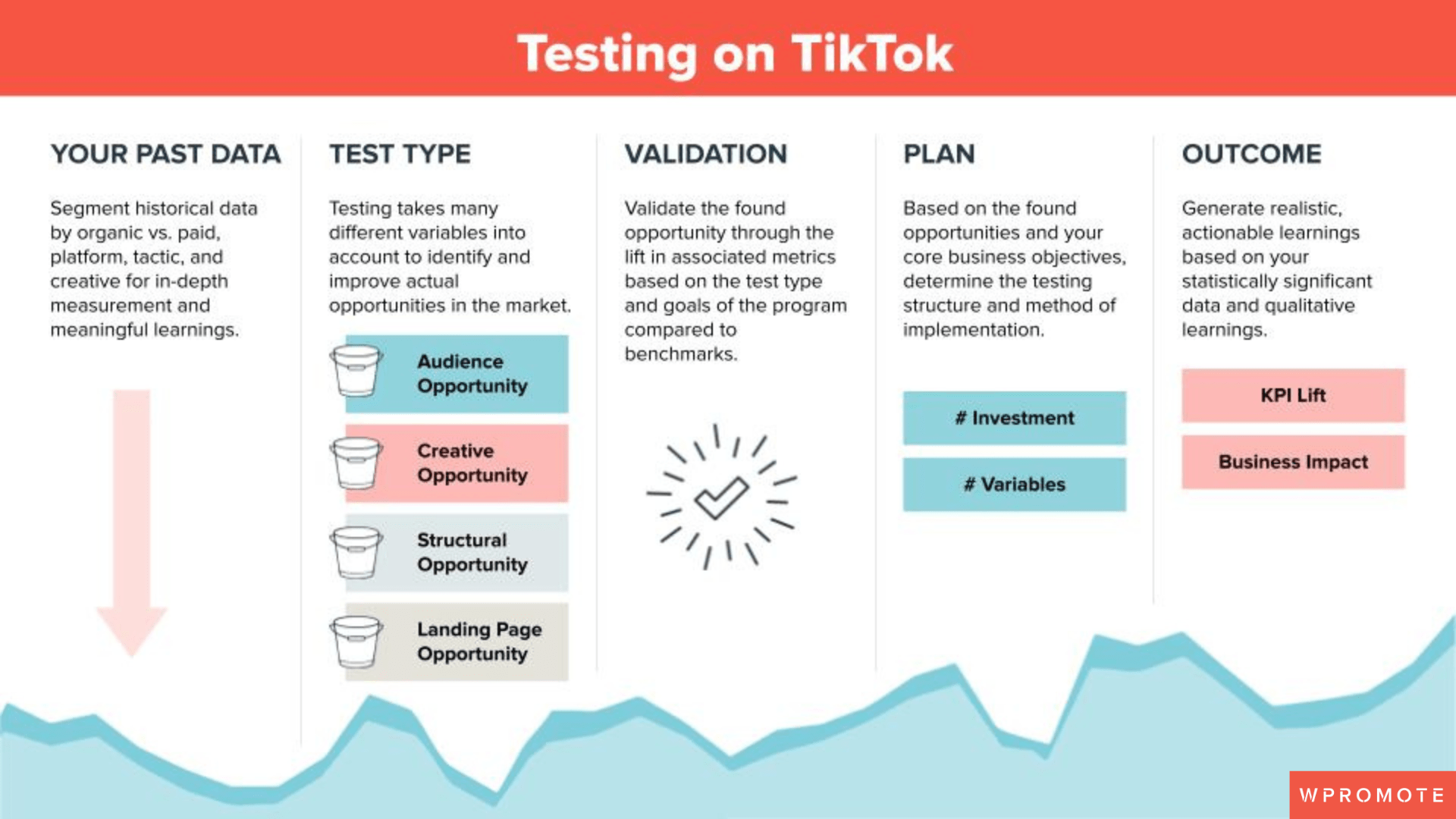 The goal is to never stop testing, because you should never stop learning: there are an infinite number of variables and potential tests that you can run as you add different elements to your TikTok strategy.
You also need to fully fund your testing strategy to get the most out of it. Your creative testing budget will be defined by the KPIs you're testing against, which testing options you choose, and the number of creative assets you are testing.
What KPIs should you use to measure the success of creative testing on TikTok?
Start by figuring out how you're defining success before you run a creative test, or else you're just wasting budget on testing for testing's sake. Your KPIs for any given test will vary depending on the ad campaign's in-platform objective and funnel stage.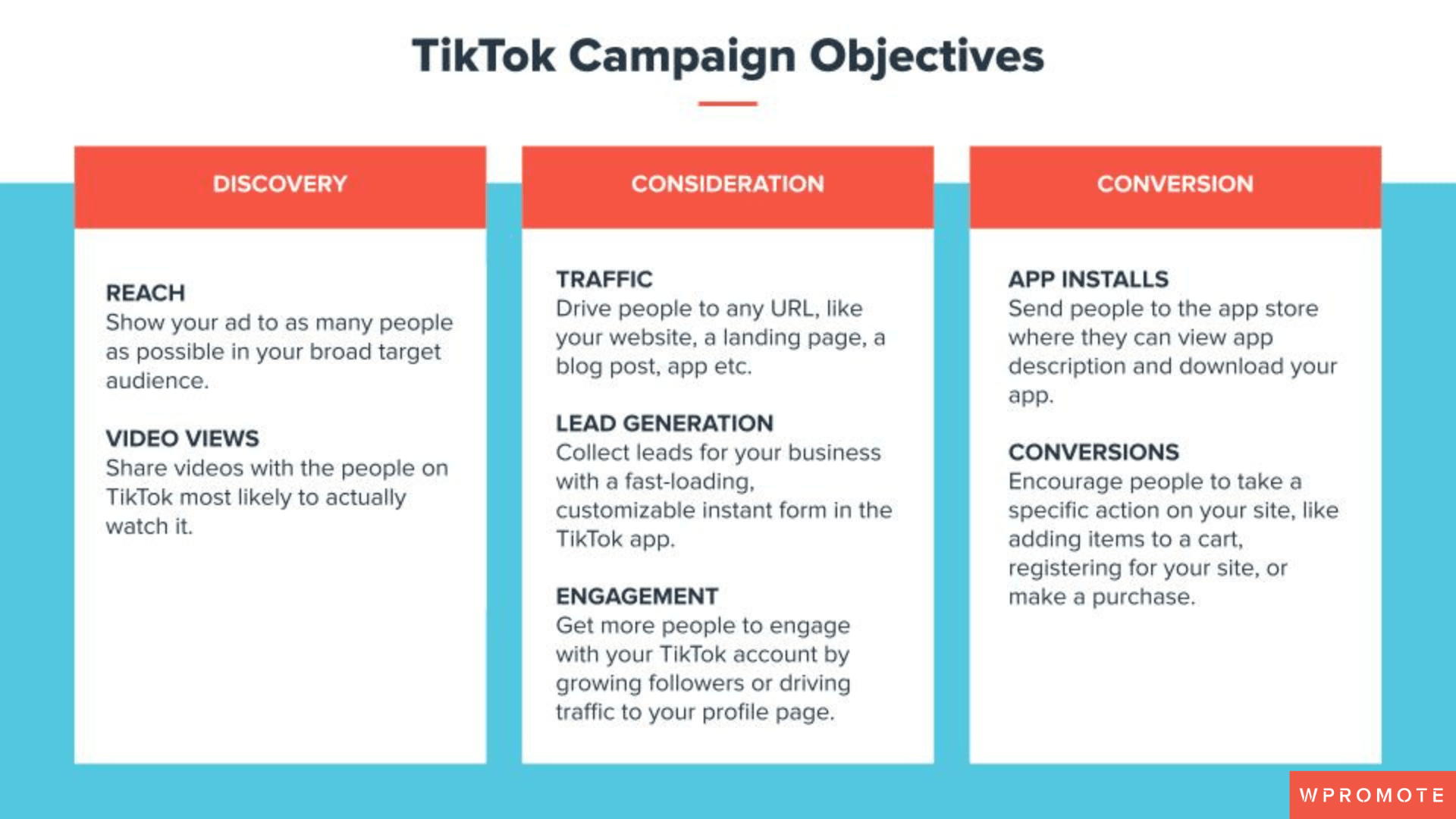 Upper-funnel objectives include reach and/or video views, so tests are likely to utilize watch time as a key metric. If budget is available, you can also leverage brand lift studies to get more insights into what variables or creative had the most impact on ad recall and brand awareness.
Most mid-funnel TikTok campaigns focus on objectives like post engagement or website clicks. Post-engagement campaign tests should be evaluated against user engagement KPIs, including views, comments, likes, and shares, while testing for website traffic campaigns would define success using CTR as the primary metric.
Lower-funnel efforts on TikTok mostly use website conversions as their objective, so CTR is still the best KPI for determining creative success. You can also use conversion rate, ROAS, or a similar conversion-based KPI as a secondary metric to assess the user experience as they move from the in-platform ad creative and click through to the landing page.
Remember that your creative shouldn't be conceived in a vacuum. To execute an effective full-funnel TikTok strategy, all of your creative should be consistent across the funnel to ensure you're getting the most out of the awareness and recall you're driving in the upper funnel once you look to convert a potential customer.
What creative testing options does TikTok offer?
So you're ready to start testing, but you need to figure out what kind of test you're going to run.
Let's start with the gold standard: the tried-and-true A/B test. When you run an A/B test on TikTok, the platform splits your budget evenly across two different ad sets that will be delivered to two separate audiences to avoid double exposure.
To make these count, you need to set aside enough budget for these tests to scale results if your goal is meaningful learnings that can be applied broadly to other campaigns.
You can useTikTok's Split Testing tool (available in the Ads Manager) to run A/B tests across a single variable to learn more about the specific elements in your creative and messaging that resonate with your community on the platform. Variables include:
Targeting

Creative

Bidding/Optimization
Once your initial split tests are complete, it's important to establish a process to analyze the findings, identify key insights, and take action based on those learnings.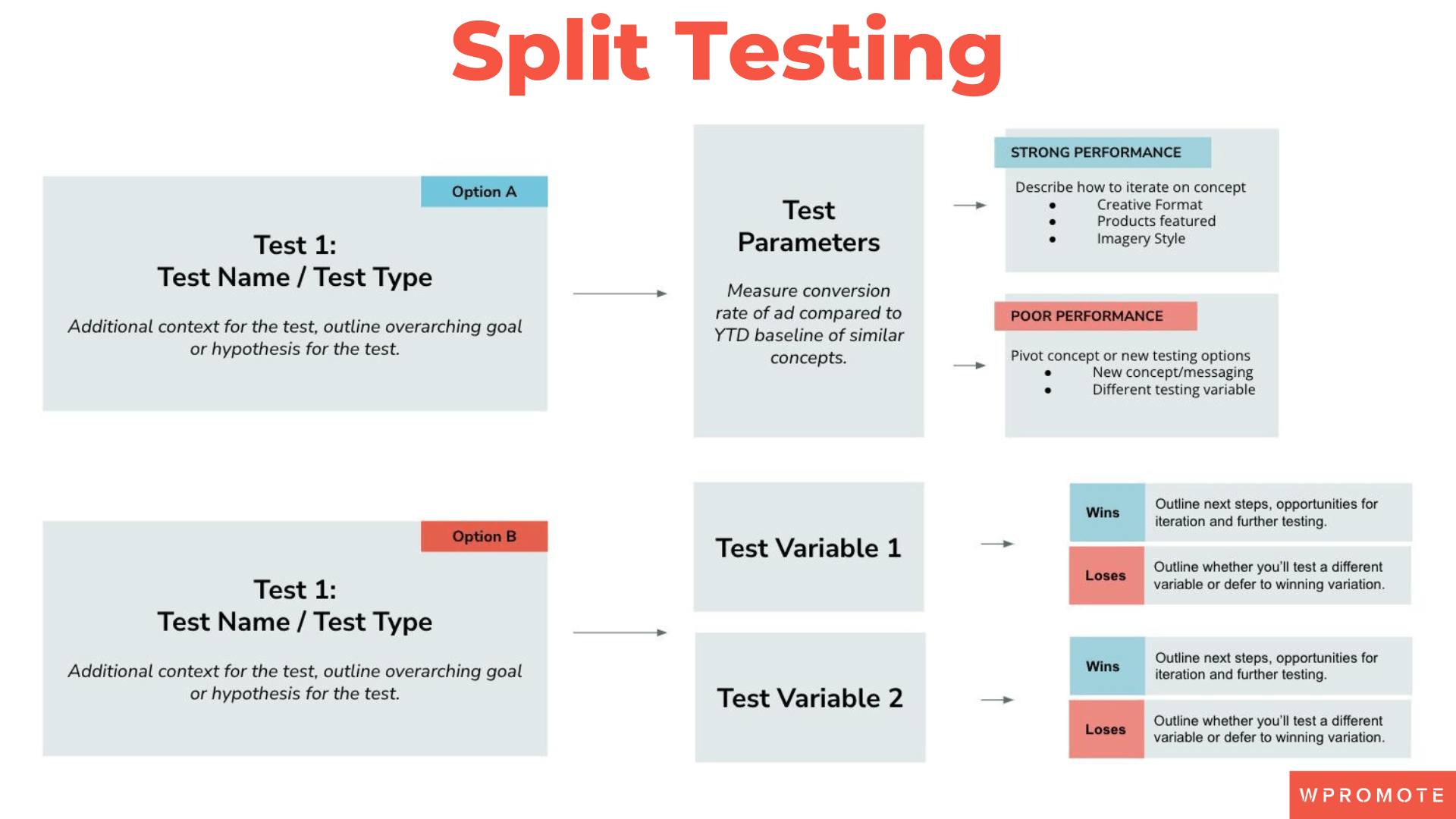 If you don't have sufficient budget to make split tests work, there are some cheaper options to get some preliminary insights into what's working in your TikTok creative:
Sandbox testing:

Set up a separate campaign that is used only for testing. Although the algorithm will not equally deliver spend across the ads, it can funnel spend towards top-performing assets, which can give you an idea of what creative is resonating with your targeted audiences.

Evergreen testing

: New ads can be rotated into existing evergreen campaigns and ad sets to see how they perform against their counterparts. This is the least effective testing options, since the algorithm will likely continue to favor existing ads that have historical performance data and signals while new ads may be deprioritized.
There are also tools on TikTok available for those that don't have the time or effort to manually test and optimize their creative:
Automated Creative Optimization

helps you manage your ads more efficiently and effectively by automatically finding high-performing combinations of your creative assets.

Dynamic Scene

uses machine learning to reassemble a video into hundreds of variations based on audience preferences.
Regardless of what route you choose to take, budget will be the major component in your decision-making.
How do you set the right expectations for a TikTok creative testing timeline?
On a platform like TikTok, we usually recommend at least a 4-week flight, especially for newer clients, to allow the algorithm and pixel (if applicable) time to learn.
The learning phase is how the algorithm trains itself to optimize delivery and performance when your ads go live. An ad group has left the learning phase when you've hit 50 events or conversions. That means consumers have taken the action you wanted them to take based on the objective 50 times, after which you can expect CPA to stabilize.
If your budget isn't equipped to support enough events per day to fuel algorithmic learnings, then you're wasting time, effort, and money.
The first 10 days are generally considered the learning phase, and week two is when you should start to find the efficiencies within particular creative. Even if your budget is low, achieving 50 events is the most significant indicator of passing the learning phase.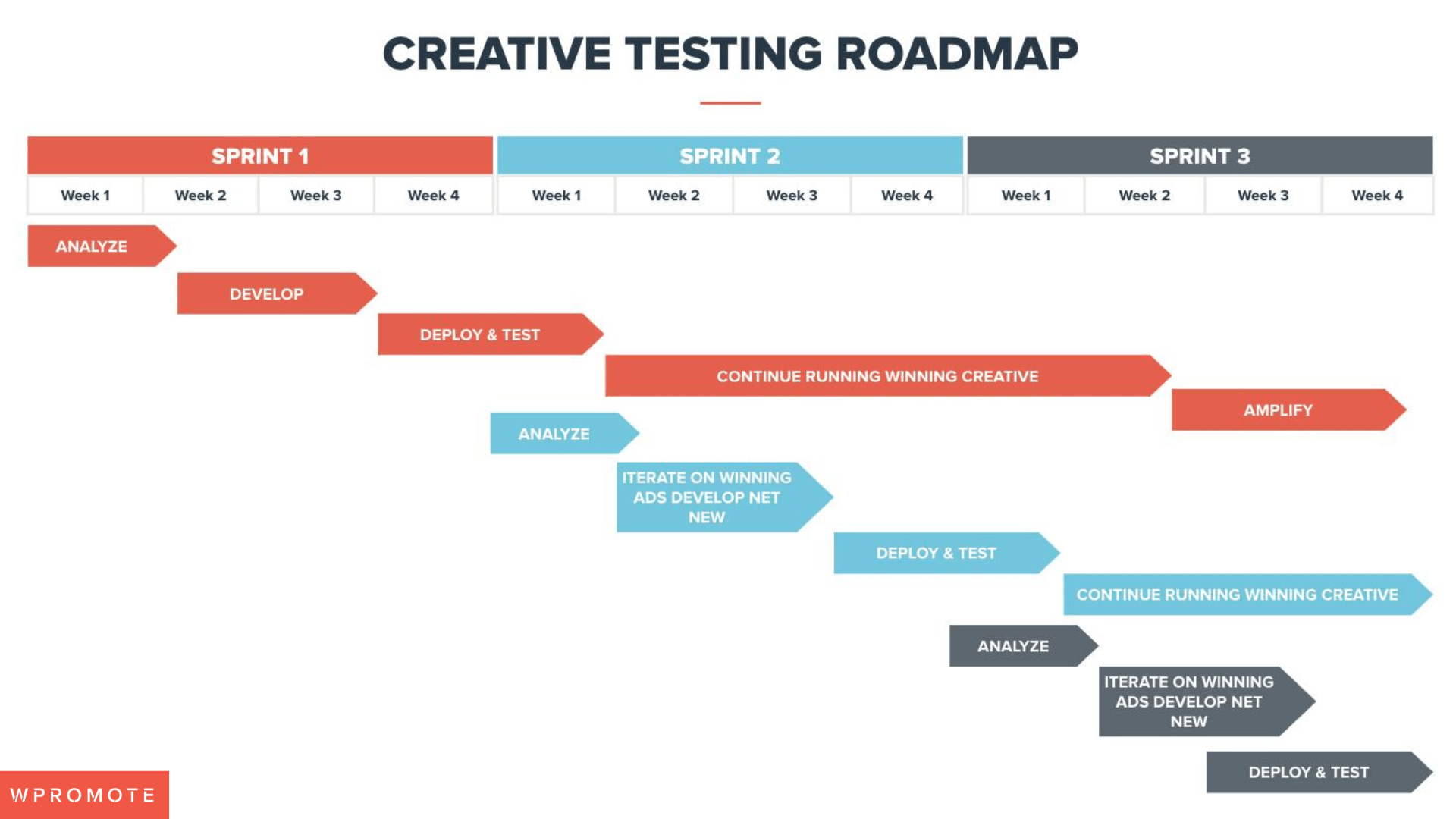 If an ad group is struggling to hit at least 20 events within the first 10 days, this group will likely not pass the learning phase. Then it's time to pivot by re-optimizing the creative, broadening the target audience, or increasing the bid and trying again.
From there, you should start testing into new creative and refreshing your bottom performers every 2-3 weeks.
Keep your TikTok creative authentic and true to your brand
Participating on the platform organically will help you understand the conversations that are already happening in the brand space as well as see what competitors and creators in the space are doing.
Knowing what creative is already working for others can help you come up with ideas for your brand and identify what kinds of creative you should be testing.
Creative testing is important because it ensures your creative doesn't get stagnant, keeps a fresh flow of new content in front of your audience to combat creative fatigue, and gives you insights into what you should try next.