Whether your brand wants to reach an audience interested in something as mainstream as fashion or as niche as fandom resin art, you're bound to find who (or what) you're looking for on TikTok. And you might be considering amplifying your efforts and connecting with even more people by putting some money behind your content.
But just knowing an audience is there doesn't guarantee you'll drive results for your business. In fact, if your approach to TikTok is just mirroring the strategy you apply to other social platforms, you're setting yourself up for failure.
TikTok's algorithm surfaces content to users based on their behavior, including factors like engagement, hashtags, viewership, and other less obvious signals. It's famously good at adapting quickly and connecting people with seemingly disparate videos, creators, and brands based only, and your brand should be showing up.
But trying to game the algorithm isn't the point: TikTok users aren't passive when it comes to engagement, which is why there's such a great opportunity for brands to join and even start conversations on the app.
The key is to align both your organic and paid strategy for TikTok with the behavior and interests of your highest-value audiences. Use those insights in conjunction with TikTok's tools to create and serve content that is built for the platform and optimized for those cohorts to establish a connection, whether it's an ad or an organic post.
What you need to prepare to advertise on TikTok
Before launching your brand into the TikTok universe, you need to understand what it is you want from your target audience and how that aligns with your business objectives. Are you looking to introduce your brand to an entirely new community? Do you want to share details about a new product or service? Do you want to retarget and engage your current customers?
Whatever your end goal, whether it's awareness, conversion, or something else entirely, you have to look to both your audience insights and in-platform TikTok behavior and trends to identify the kind of content that will resonate.
Focus on brand ethos at the awareness phase, product education at the consideration phase, and urgency messaging at the conversion phase. Let's take a look at a brand that's currently killing it when it comes to the full-funnel approach: Chipotle.
Awareness:
Consideration:
Conversion:
Don't just make assumptions based on what works on other social platforms, but do look to get insights your audience's preferences and goals and look how they might actually translate to TikTok's unique creative positioning and what people actually want to do and see when they're in the app.
Most brands should start with a more upper-funnel objective like awareness or affinity, and leverage TikTok at first primarily to get in front of the right audiences and start testing what works.
Testing will help you learn more about the platform and what kind of content works there, and introduce your brand to audiences that might not be accessible through other channels.
It also will set you up for success in the lower funnel. If you attempt to launch a conversion campaign too early or without a substantial enough budget, it won't generate the necessary number of conversions (around 50) for it to exit the learning phase.
Instead of operating inefficiently, the auction platform will then begin to deprioritize your campaign and stop using your full budget, further amplifying the lack of conversion data.
The upper funnel can be a challenge for performance marketers, so it's especially important to manage your expectations when it comes to immediate results if you're used to looking at KPIs like ROAS. You'll work your way into the lower funnel, but TikTok takes a full-funnel approach that starts with nurturing your audience and building a relationship.
Your brand's organic and paid success on the platform will largely depend on the effectiveness of your content, so make sure to develop creative specifically for the platform based on current trends.
Your videos don't have to be extremely polished or overly branded; remember, teens make hugely popular content on TikTok every day from their bedrooms. Don't try to apply what works elsewhere to TikTok creative: open your brand up to experimentation on the platform and look to the actual data to understand what works.
Why TikTok is different from other social media platforms
TikTok has quite a few benefits over its competitors in the social space, and one big one centers on the unique way people engage with the platform.
When users open the app, TikTok drops users directly into their FYP. Instead of choosing what to watch next, TikTok automatically curates a user's FYP based on the content they've been engaging with. If you've been interacting with a lot of Harry Styles videos, for example, you could find yourself on "Stylestok."
That algorithm is designed to provide a very specific experience for every single user and will decide whether to serve up your brand's content.
The algorithm takes multiple factors into account to determine which videos to feature, including:
User engagement: video watch time, likes/comments, duets, stitches, etc.
Video cues: captions, hashtags, etc.
That's probably why there's a significant opportunity to reach an unduplicated audience that may not be present on other platforms—according to Hootsuite, roughly 15% of TikTok users cannot be found on Facebook or Instagram. Nearly 60% cannot be found on Snapchat, another mobile-first, video platform that tends to be associated with the same demographic as TikTok.
TikTok is still fairly new, and its current advertising suite is not as mature as Meta's offerings for Facebook and Instagram. But TikTok has made great strides in building a robust advertising platform with a variety of ad units and goal-based offerings to appeal to a full-funnel advertiser.
That work continues, and the platform is working on developing more sophisticated marketing tools, including a pixel and shopping-based ads. But waiting for TikTok to become Instagram when it comes to advertising capabilities means you'll miss a lot of opportunities on the platform.
Don't hold off until TikTok becomes Times Square; you'll miss the window of opportunity before total saturation.
There are some brand safety risks with TikTok, just like other social platforms. One thing that may appeal to brands in the current divisive climate is TikTok's ban on political advertising.
The platform also forbids hate speech, violence, and misinformation, and employs machine learning, human moderation, and image/video recognition to monitor the content and enforce those rules, but it's not foolproof and does require monitoring.
How to get strategic about organic TikTok social media marketing
Brands typically start exploring TikTok by dipping their toes into the world of organic content versus paid because it's still possible to make a big impact with organic alone. Waiting to put additional spend behind the platform can also help mitigate some risk: you get to see what's working for your brand organically first.
TikTok is one of the few major social platforms to still offer a lot of organic opportunities to connect with users.
This might take the form of original content like the creation of a trend or partnerships with creators. When ideating what kind of creative you should be making, remember that your TikToks should:
Be concise: 5-15 second content performs best, and all videos should be at least 6-8 seconds. Anything longer and you risk losing your customer.
Follow trends: Get familiar with the Discover tab so you can keep a pulse on what is popular on TikTok and follow the sounds, hashtags, and effects that are trending.
Grab attention: Give users a reason to fully watch your video or else the algorithm might not see your content as relevant.
Post consistently: The more you post, the more "real" your account feels and the more likely your customers will come back and interact with your content.
Brands can also nurture these relationships by engaging with users via comments and reposts or TikTok-specific opportunities like duets, which are video responses, and stitches, where you include another user's video into your own.
But TikTok isn't just about using visuals creatively, it also places a heavy emphasis on sound. Rather than the "design for sound off, but delight with sound on" approach to video creative that is considered a best practice on many other social platforms (Snapchat being a notable exception), TikTok revolves around sound, and it has a strong impact on the user experience.
TikTok revealed that 68% of users remember a brand better if it features a song they like, and 58% say they feel a stronger connection and are more likely to talk about and share the brand. 62% are more curious to learn about the brand if a song is featured.
That's a huge opportunity for brands to connect with customers in a unique way that can't be replicated across other platforms. A great example of this is DuoLingo's commitment to hopping on trends featuring popular artists, like Dua Lipa and Taylor Swift, ahead of most other brands.
Not only is DuoLingo getting in on trends quickly, they're tapping into these artists' avid fan bases and showing that they're relatable, even if these particular TikToks don't say much about their brand's products. It's all about demonstrating to customers that you're a brand that gets them.
In addition to a strong, clear opening that grabs attention and unique creative, make sure to include clear CTAs that invite interaction or help drive conversations.
How to amplify your brand's TikTok advertising with a paid strategy
The tricky thing about TikTok is that there's not a magic metric that brands need to hit to make the jump from organic to paid content.
Paid ads can get your videos in front of more people, but you shouldn't just throw money at a video that isn't likely to perform. Start by investing in paid amplification of content that's already performing well organically. You can also use paid to see if content can get traction if it's not getting in front of enough people (or the right people) organically.
In addition to expanding the reach and impact of organic content, you should also look to paid options to retarget users who are already familiar with your brand through organic interactions on TikTok or through other platforms. You can start pushing through lower-funnel, conversion-focused messaging with those higher intent audiences.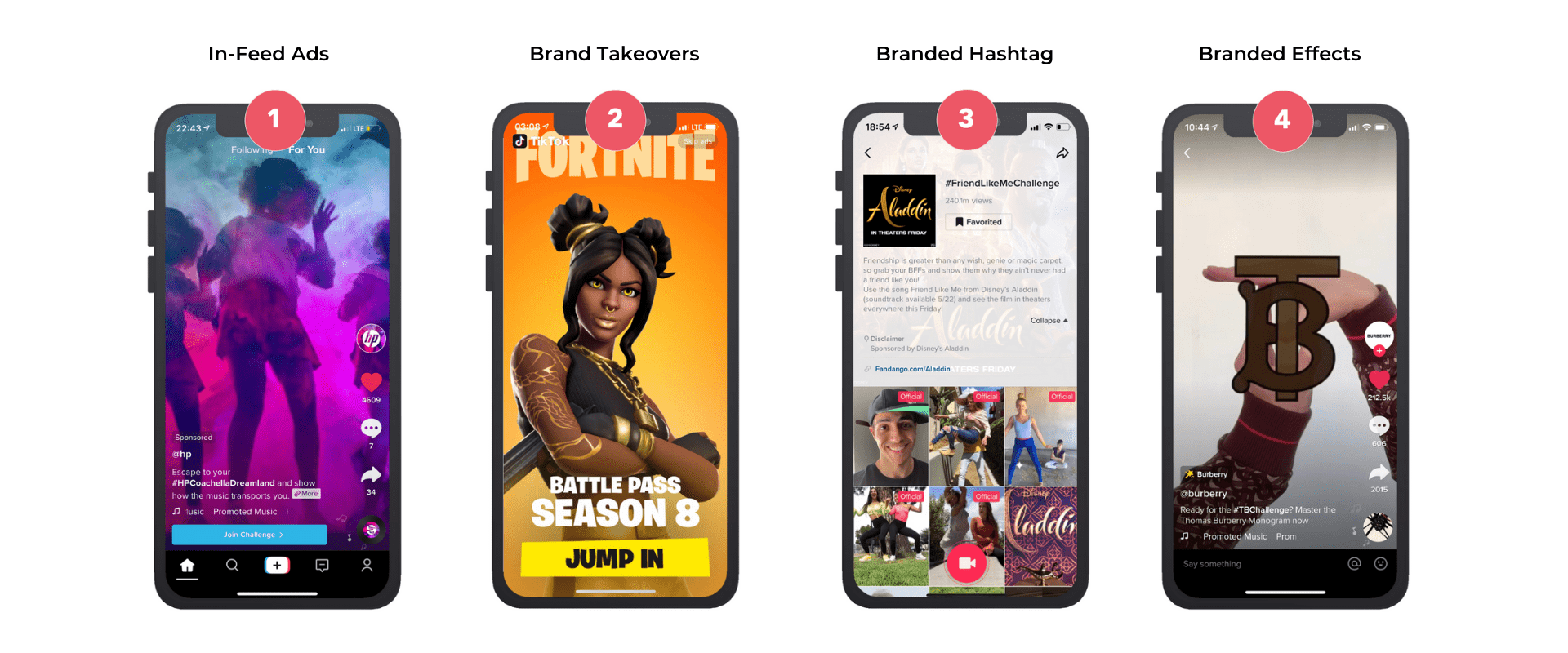 If you're ready to amplify your brand content and presence on TikTok, the platform offers a variety of paid options, including:
In-feed Ads: These are video ads that appear in between user videos as you scroll through your FYP. Similar to ads on Instagram Stories, you can include multiple call-to-actions and make your video anywhere between 9 to 15 seconds.
Brand Takeover: These appear when you first open the app as a full-screen video. Takeovers can also be seen on the FYP as still images, GIFs, or videos and include a clickable link driving users to your website, landing page, or hashtag challenge. TikTok ensures that users only see one Brand Takeover per day.
Top View: This ad is one of the first in-feed posts you see after 3 seconds. It lasts up to 60 seconds and auto-plays a sound
Branded Hashtags: Clicking on the hashtag takes users to a landing page on TikTok with your brand logo, a link to your website, a brief description of the challenge, and popular videos using the hashtag.
Branded Effects: Similar to Snapchat's branded lenses, TikTok's Branded Effects allow brands to design a custom filter on the app and can last up to 10 days.
Spark Ads: Unlike In-Feed ads, Spark Ads use posts from real accounts, ensuring that all views, comments, shares, likes, and follows gained from boosting the video during the promotion are attributed to your organic posts
These ad units can be as high-impact as a platform takeover or as nimble as in-feed video ads purchased via the auction, similar to paid options on other social media platforms. Which ad you use depends on the objectives you've set for your brand's full-funnel strategy and how much budget you have to spend.
The good news is that CPM on TikTok is lower than many other platforms, so you should feel free to experiment with your paid strategy and different ad types without breaking the bank.
Why your brand needs to get on TikTok now
Conversations around your industry or even your brand are likely already happening on TikTok. Since you can't stop people from discussing your brand (see: the disastrous Chanel advent calendar in 2021), you might as well join them.
In fact, a recent TikTok study highlighted the importance of brand engagement: 61% of users like brands better when they create or participate in a trend on TikTok. 21% of users feel more connected to brands when they comment on people's posts.
Back in 2020, Nathan Apodaca (@420doggface208) famously posted a video that featured "Dreams" by Fleetwood Mac as he skateboarded with a bottle of Ocean Spray cranberry juice.
With no prior brand involvement, the video went viral and accumulated millions of views. The video's virality increased both streamings of the featured song and sales of Ocean Spray.
Both Fleetwood Mac and Ocean Spray took advantage of this organic buzz by creating video responses, engaging with the creator, and jumping on the trend themselves. Fleetwood Mac drummer Mick Fleetwood reenacted the TikTok… and so did Ocean Spray's CEO, Tom Hayes, helping to extend the conversation around the brand (and getting a ton of positive publicity in the process).
If your brand is already present on the platform, you can capitalize on these types of organic moments, which ultimately lend more to your authenticity and credibility than paid efforts alone ever could.
Users and creators alike are willing to connect with brands on the platform: according to the TikTok, 56% of users and 67% of creators feel closer to brands they see on TikTok—particularly when they publish "human" (aka unpolished) content.
Here's the thing: the opportunity to build a significant following and authentic connections won't last forever. It's only going to get harder because eventually TikTok will probably go the way of Instagram and get more saturated with ads as time goes on.
Don't hesitate just because TikTok is new; join now and take advantage of these early days.
How brands should get started with TikTok advertising
Your best bet is to craft a hybrid organic and paid strategy: build organic content that emphasizes your brand's authenticity, builds community, and drives awareness, then use paid ads to expand reach and retarget users with lower-funnel ads.
Keep these three things in mind:
Talk like a human: Unpolished content rules TikTok. The more your account reflects a point of view and feels like someone is behind it, the more likely you will be able to connect with customers.
Don't be afraid to experiment: The best way to learn what resonates with your customers is to keep experimenting. Try different ad formats, content themes, trends, and sounds to reach your customers.
Tell a story: Even a short video can have a full story arc. Content that tells a story tends to perform better than videos with a lot of repetition (or a single meme).
Be smart about your ad content and don't get overly salesy; TikTok users know when they're being pandered to and are turned off by content they feel is a blatant cash grab.
Utilize what makes TikTok great and include other TikTok creators as part of your strategy, even if it's as simple as reaching out for permission to reuse what they've already done.
Getting started on TikTok might feel daunting, but you can have a lot of fun with what you're putting out on the platform. If your customers can sense that you're being authentic and genuine with sponsored content, they're much more willing to give you a chance.