Augmented reality, or AR, serves up a digital experience that goes beyond the flat, 2D images and videos we're used to seeing on our ubiquitous screens.
Unlike virtual reality, which is built to separate the user from reality by way of a very attractive headset and other hardware, AR layers virtual experience over the real world that we live in.
It's probably not surprising that, as purchasing behavior shifts more and more online, many retailers have pointed to AR as the potential future of shopping because it has both the potential to recreate certain in-store amenities and offer more immersive opportunities for consumers to engage with brands.
Snapchat is at the front of the pack when it comes to accessible AR options you can start experimenting with right now, currently offering multiple options for creators and brands to use AR ranging from out-of-the-box solutions to bespoke builds.
AR is expected to get even bigger in the near future with the release of the next generation of Snap's Spectacles—the current generation can only take 3D images—as well as forthcoming AR-enabled glasses from Meta and Google. Marketers need to get comfortable with AR and other metaverse-adjacent marketing and sales tactics.
Let's explore how you can use Snapchat's current AR ad offerings to experiment and get familiar with the technology and how it can add value to your marketing by better supporting a customer's virtual purchase journey in multiple ways.
Why AR is such an important opportunity for marketing on Snapchat
Over 200 million people are engaging with Lenses, which are AR experiences that let users, brands, and creators create snaps that layer 3D effects, objects, characters, and transformations onto the real world, on Snap every day, with an average of over 6 billion plays per day.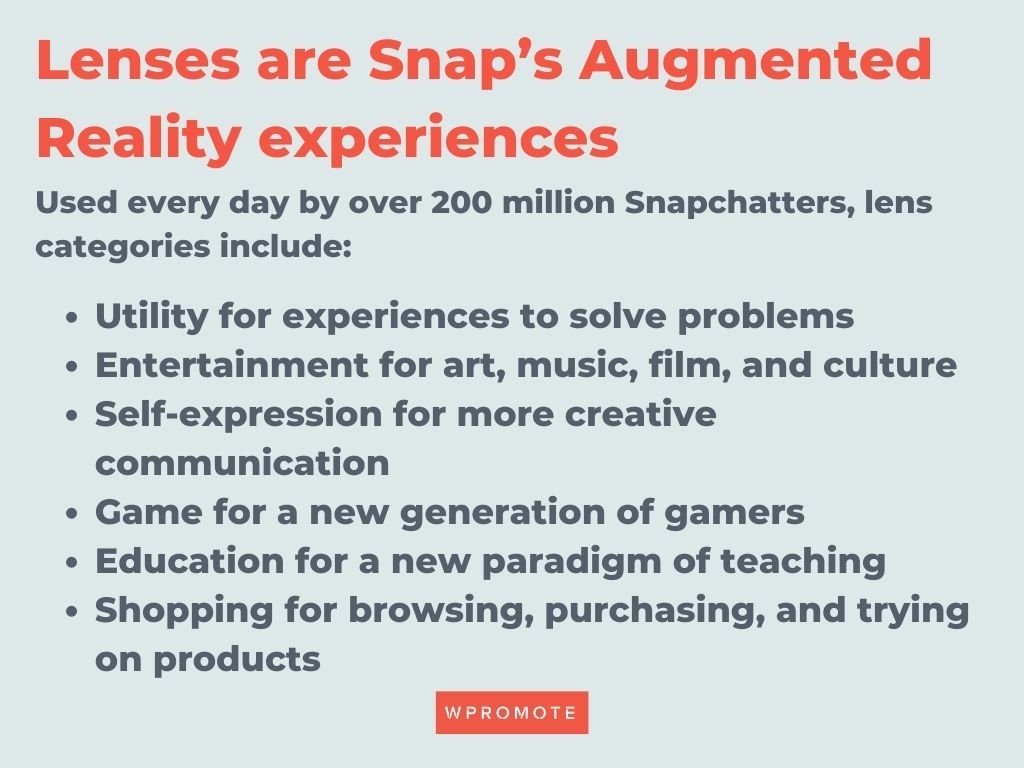 Brands can also create customized shopping experiences with Catalog-Powered Shopping Lenses, which are built to showcase a range of products within a single Lens, and virtual store environments.
Snap's suite of Lens tools includes the Lens Studio, where artists and developers can build AR experiences, and the Lens Web Builder, where you can create branded AR experiences via templates. There's also a web management tool that organizes your published Lenses called "My Lenses" and Lens Analytics, which uses anonymous and aggregated data to power insights.
The basic process is pretty simple: you use a smartphone camera to scan everyday items and landscapes into the app and you're ready to start creating. You can also use its Landmarker Lens tool to build on top of real-world objects and import a physical space into the Lens Studio.
Snap has continued to democratize the process of creating AR Lenses with their Web Lens Builder and Lens Studio tools. With the addition of real-world physics and real-time data integrations, they've improved the realism of their AR to offer a more immersive experience.
According to Snap's internal data analysis, Snapchat's AR is 1.7x "'more immersive" than any other app, meaning that users feel more connected to the experience and customers are actively paying more attention while committing information to memory—which is crucial for creating brand awareness or adding your brand to someone's consideration set.
Leading the way: how brands are embracing augmented reality on Snapchat
Two industries are leading the charge when it comes to the early adoption of augmented reality: entertainment and beauty. Each offers a different potential lesson for your brand as you consider whether or not you should give Snapchat AR a spin.
In many ways, investment in AR is a natural extension of multiple trends in the entertainment industry, some as old as show business itself. Entertainment companies have been looking for different ways to provide an immersive experience that draws audiences in since the beginning, whether from theme parks or 3D cardboard cutouts set up at the local multiplex.
Building excitement around a new release using hyper-engaging AR experiences, which allow users to interact with characters and create their own content in the world of a movie/show, is a perfect fit for an industry increasingly driven by ecstatic fandoms looking for opportunities to get closer to and in deeper with their favorite properties, from movies to shows to video games.
For the 2022 Ghostbusters reboot, the sponsored Lens played the iconic theme music while users took on the role of a ghostbuster while toggling between shooting Slimer with a proton pack on the front-facing camera and being slimed by a ghost with the rear-facing camera.
Beauty brands are known for building loyal followings and leveraging authenticity-focused tactics like influencer marketing to attain "cult favorite" status, but virtual shopping for beauty products comes with a built-in problem. You can't actually try any of the products online, so finding a perfect color match or experimenting with a new product is a non-starter and can derail a potential purchase decision.
Beauty brands showed up early to Snapchat AR because they recognized the value of these tools as a potential solution and wanted to experiment with wearable AR that lets users virtually apply lipstick and eyeshadow.
Ulta Beauty took that experience to the next level, allowing customers to not just virtually try on makeup but make a purchase directly in the Snapchat app with Snap's Catalog-Powered Shopping Lens. An added benefit to these shoppable AR Lenses is that customers can easily share images and videos in real-time to consult with friends about a purchase, bringing the virtual experience that much closer to what shoppers experience in-store.
Enterprising marketers in the entertainment and beauty spaces might have been first to the pitch, but they're no longer alone. Even the food industry is trying its hand at AR. Frito-Lay's execution during the Super Bowl allowed Snapchatters to use their phone's camera to scan a Cheeto or Dorito, then transform their snack into a mini screen to view Megan Thee Stallion's music video for her song "Flamin' Hottie."
What makes the Frito example stand out is that they took a weird approach, which is a natural extension of their brand persona (and a great fit for Snap as a channel). They leveraged Megan Thee Stallion's celebrity and curiosity around a new song (which managed the impressive feat of incorporating Cheetos Flamin' Hot branding without feeling off-brand for Megan) to engage consumers in a brand new way.
The only way to take part in the experience was to have the snack on hand to stream the video, connecting a virtual experience with real-life interaction. That's unique to AR and Frito was able to capture customers' undivided attention while driving at least one initial purchase of the product and earning some goodwill around the brand.
The truth is that if you are creating Snapchat AR experiences for your customers, then you're already ahead of most other brands.
But it's not enough to just be present. You need to stand out from the competition and build experiences that work for both your brand and your customer. If your AR campaign isn't relevant to your product, engaging and/or useful to users, or it's glitchy or hard to use, you're wasting time and money. A brand interaction that is forgettable means your campaign won't work; a bad experience can make a lasting impression, and not in a good way.
There are over 100 million consumers now regularly shopping with AR, so it's not just driving upper-funnel brand awareness or simple engagement. 60% of those shoppers say they often use AR to finalize purchase decisions, and two out of three consumers are more likely to purchase after encountering a branded AR experience.
Setting goals and measuring success for Snapchat AR campaigns
You need to set the right objective for your Snapchat AR campaigns before you start building anything. What do you want to get out of the campaign? Is it just wide awareness or sustained engagement? Do you want users to take an action or make a purpose? Get on the same page with other stakeholders, then start considering your options for creative.
From the top, you need to get an understanding of how complex the build needs to be. Are you creating the AR Lens yourself in the Web Lens Builder or working with an external designer or agency? What are you willing to spend? What is the minimum needed to make the experience work and achieve your objective?
Remember: if you produce AR creative aligned with your end goal, you're setting your brand up for success from the beginning.
You also need to understand how you plan on evaluating performance: what does success look like and what KPIs are the most important relative to your goals? If you've never used Snap AR before, part of what you're getting out of these first tests are benchmarks you can use to assess future success and continue to refine and optimize your approach.
You can use Snap's Lens Insights tool to access a basic dashboard, tracking, and reporting. You should be monitoring "health metrics" like share rates and average playtime whenever you're launching an AR campaign to make sure the campaign is connecting with the right audiences and engaging users in a meaningful way. You should also consider other KPIs like impressions, swipes, and installs.
We recommend getting more granular with additional KPIs specific to your campaign objectives:
For direct response, lower-funnel Snap AR campaigns, you can track online conversions and build retargeting audiences if you have the Snap Pixel installed.
Run a brand lift study so that you can fully understand lifts in ad awareness, ad favorability, and incrementality, especially if your Snapchat AR investment is largely in upper funnel ads.
If a Lens is product-centric, you should also keep a pulse on the purchase lift of highlighted products and how activating a full-funnel strategy with a Snapchat AR Lens can improve bottom-line CPAs.
Anyone can create an AR Lens on Snapchat, so don't be intimidated by intricate activations from big brands. Start by stepping out of your comfort zone: explore what you can do with AR and how it could help your business and drive value in new ways.
AR is likely to become a bigger part of the shopping experience as online shopping continues to expand and consumer expectations around what they can get from a virtual experience grow. Don't let the future of shopping pass you by.