Temperatures and prices may be rising, but that doesn't mean you have to let margins be the Grinch that stole Christmas. After last year's price hikes and the continual looming threat of supply chain and shipping issues, it's no surprise that 50% of consumers expect to start their 2023 holiday shopping before November, according to a survey from Optimove.
Shoppers want the best deal and to get their items on time, and they're not afraid to shop around, try new purchasing options, or even use artificial intelligence (AI) to make that happen.
In a competitive market, you need an email marketing strategy integrated with your other marketing channels to earn your way into your audience's consideration set–especially when standing out in an already saturated inbox could make or break your success this year.
So how can your email campaigns ensure that your brand is front and center when consumers start shopping?
Your holiday email strategy requires advanced testing and smart segmentation
Before you solidify your promotional calendar for November and December, you should be testing different email formats now so you can learn what motivates your customers. It'll be crucial to have the right campaigns in place when peak periods hit and inboxes are bombarded with holiday campaigns.
In an ideal world, you'll be running tests through September. But if you're starting a little late, don't worry: there's still time to try a few things out and get some insights into your audience's behavior through the end of October.
But once November hits, the time for testing is over; you need to take those learnings into your actual campaigns and leverage your new best practices to maximize performance.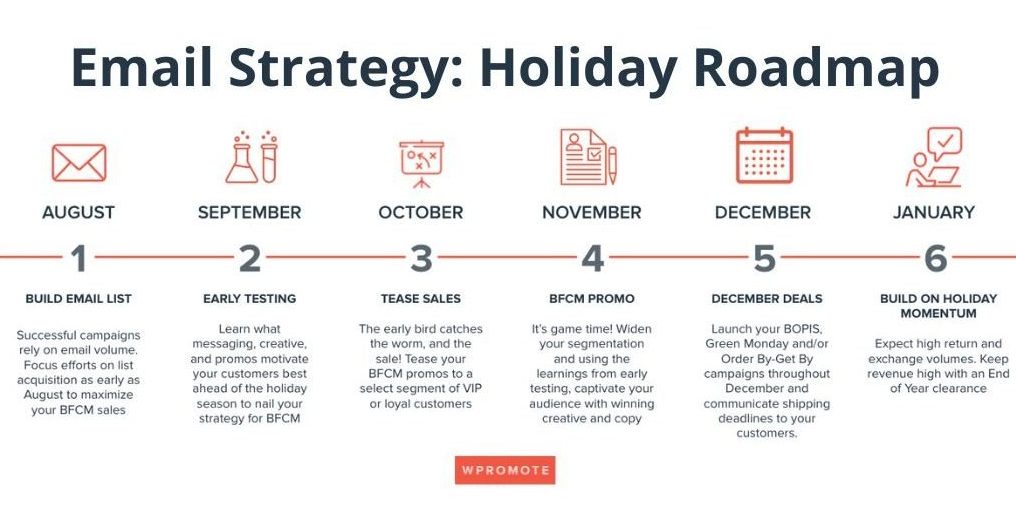 As you're testing, a big part of that process should be running different campaigns against different audience segments. You need to prioritize high-intent audiences who are more likely to actually make a purchase or use your service and figure out what campaigns, messaging, creative, and promotions will move the needle for those cohorts.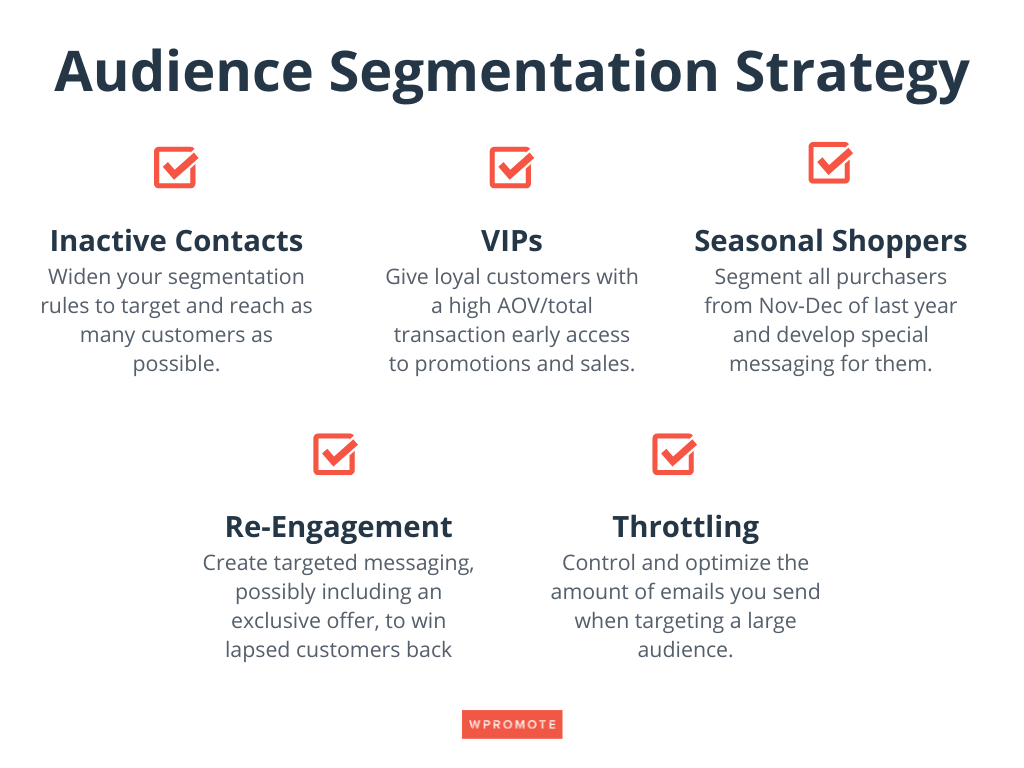 To ensure you're focusing on these valuable members of your audience, start by removing any profiles that have an extremely high likelihood of remaining totally disengaged or unsubscribing. These profiles will only bog down your audience and drive deliverability performance down.
Open up your segments to include more contact in your sends; that will help you develop more granular segments based on purchase history or customer lifetime value. But don't amp up your sending volume too fast–you should only increase 50% at a time.
Your holiday email campaigns need to be integrated with other channels, relevant, and mobile-friendly
To keep your email subscribers engaged throughout the holiday season, integration is essential. Avoid alienating customers by making sure you're not hammering people who have already made a purchase early as you move further into the season.
You should have systems in place to know if they purchased, no matter what channel they used to get to the conversion point. Then you can leverage tactics like exclusion targeting across channels to deliver relevant messaging to the right audiences at the right time.
You should also keep close track of the sales and discount offers you're providing to customers on different channels. Because sales events are pivotal during holidays, especially given the current state of the economy, you should put them front and center in your campaigns.
Don't forget to ensure that your offers and messaging are consistent across channels because you'll want the customer experience to be as seamless as possible. They should share the same name, promo code, and dates so you don't say one thing on social and another at the inbox.
This is especially important when it comes to mobile; eMarketer predicts that mobile shopping sales are set to account for 43.2% of total retail ecommerce sales in 2023. Think of it this way: a poorly designed bad user experience could result in failure to purchase, even if your messaging and promotional offers are perfectly calibrated. So you simply can't afford not to take a mobile-first approach to email design.
That same logic applies to your website. If your emails are on point but they direct people to a site that isn't built to convert or mobile friendly, you'll lose conversions you should win. Work with your web team to make sure your site is performance-ready by optimizing for page speed, minimizing plugins, focusing on active campaigns, and deactivating old tags.
Consumers choose brands that offer competitive deals and shopping options that will make their lives easier (including AI)
In 2022, rising inflation was expected to keep many shoppers out of the market, but retailers enticed gift buyers by slashing prices. Discounts were longer and relatively deeper than usual in many cases. This year, retailers will be tempted to repeat what worked last year, anticipating price-sensitive shoppers.
That's where the unique position of the inbox comes into focus. Even people who have opted into getting messages from your brand are going to be turned off by emails that read as spammy or a bait-and-switch.
If you're using a promotional offer as the hook to draw people in, make sure it's actually worth their while. They've given you permission to get into their inbox; now it's up to you to live up to the privilege of that valuable space and make the most of the opportunity.
People also want more options around how to shop, whether they're choosing to do business in-store or online. Think of offering some of the following to make their experience easier:
Buy Online, Pick-Up In Store (BOPIS): An almost mandatory option for brick-and-mortar stores in 2023, BOPIS offers benefits to both the consumer and retailer by making it quick and easy to purchase and pick up items, sometimes faster than they can ship.
Store locator: With more consumers planning to shop in person this holiday season, it's a good idea to include a store locator in your email to help generate foot traffic for your brand. You can also consider including in-store-specific promotions.
These aren't the only new shopping methods customers are considering this holiday season. AI is making a splash this holiday season, with 17% of consumers have already used generative AI for purchase inspiration and AI influencing $194 billion in global online holiday shopping spend according to Salesforce.
Savvy retailers should look to incorporate predictive and generative AI as part of their strategy, whether that's through AI-driven product recommendations or contextual personalization.
In the end, it's all about connection; the inbox is the most direct route to your customers and a crucial part of your November/December strategy. There's still time to make the most of that access and integrate it into some of the new shopping strategies customers are looking for to create the comprehensive marketing you need for a successful Q4.