Attention is a zero-sum game. Consumers only have so much to give, and if you lose it, the game is already over. That means marketers have to put every effort into grabbing and keeping their audience's attention from the first impression all the way to conversion.
We focus a lot on how to captivate audiences, but today's attention economy isn't just about attracting eyeballs–it's about getting people to stick around and focus long enough to connect with your brand message on a deeper level.
Earning that kind of sustained attention has never been easy, but audiences in the social media era have more options and more potential for distraction than ever: they are sitting in front of an endless, ever-replenishing buffet of different content and channels. Attention also isn't enough on its own. Once you've got it, you need to convert it into action.
So how can your brand cut through the noise, get to the front of the line, and convince consumers to become customers?
Getting and keeping attention is harder than ever
Americans spend more than seven hours a day on average viewing digital media according to eMarketer. That comes with an almost endless parade of ads across every channel.
So it shouldn't be a surprise that people have gotten very comfortable ignoring, skipping, or swiping past ads as they go about their digital lives—whether they're watching TV, reading a news article, or scrolling their TikTok feed.
Because attention is in such high demand, the pressure is on advertisers to figure out which creative, channels, and ad formats can stop the scroll. eMarketer reports that over a third of advertisers worldwide have already embraced attention metrics in addition to viewability metrics.
If you're not pulling in your audience with an engaging hook right away, you might just lose them forever. But different tactics work on different platforms. Even interruptive formats like YouTube interstitial ads and TikToks face a constant uphill battle to keep the audience watching.
Brands on TikTok, for example, look to grab user attention by leaning into the platform's signature punchy visual style and sound-on environment. Crumbl Cookies showcases their different flavors in deliciously stylized shots with original sound, drawing the audience in to watch more.
Once you've got their interest, you also need to sustain it.
That's why it's important to choose the right ad length to maintain your audience's attention. The right answer will be different depending on the platform: context and format will define how long someone is willing to watch an ad before moving on. As a result, ad lengths can range widely, from three seconds on Snapchat to thirty seconds or more on linear TV and OTT.
You should choose your ad length based on the platform's standards, the nature of your content, and the audience you're looking to reach. It can be great to experiment with new types of content and break the rules–but only if you have a strategy in place and your ad is engaging enough to pull it off.
Reciprocity is a make-or-break part of the attention economy
It's easy to forget that attention isn't just valuable to you as a marketer–it's also valuable to the consumers themselves. If viewers choose to watch and engage with your ad, you don't want them to feel like they've wasted their time.
That's where reciprocity comes in. This is a principle we see in our daily lives all the time: When someone does something nice for you, you want to return the favor. Done right, it can work for brands too.
Many ad campaigns use reciprocity to convert customers. Perks like promotional offers, risk-free trials, product discovery quizzes, or bundles in exchange for email opt-ins can help turn the attention you've earned into action.
In their first TikTok campaign, Lady Gaga's makeup brand Haus Labs decided to go all in on a famous meme featuring their founder to hook the audience and share information about their latest foundation.
But they took it one step further. The brand partnered with Sephora and TikTok to pose a challenge: people who used the TikTok video's original audio and the hashtag #HausLabsFoundation to make their own content would be entered into a contest to receive a $1,000 gift card from Sephora.
You need to deliver the value promised during the attention-grabbing phase; if you don't follow through, you could leave your customers unsatisfied. Be careful not to use reciprocity as a gimmick.
Remember that scene in 'A Christmas Story' when Ralphie sends away for his Little Orphan Annie Secret Decoder Ring? He waits weeks for it and when it finally arrives, the secret message is just an advertisement for Ovaltine.
The brand found a creative way to advertise, but they didn't think about who their audience was (in this case, kids) and didn't make the effort to give Ralphie an experience worthy of the attention and anticipation he'd already given them.
The same sentiment holds when your team serves an ad featuring a promo code that doesn't work or offers a quiz that just serves up more ad copy in the results instead of something that feels valuable to the user. You want to leave customers wanting to interact more with your brand, so make sure you're delivering on any promises so it feels like the experience is worth their time.
Tailor your message across channels to sustain engagement across the funnel
If your brand is making amazing content that holds your audience's attention, that's great–but it's only the first step.
To make the most of the attention you earn, you need to strengthen the message by offering up different kinds of engaging content optimized to reach your audience across different channels.
That means adapting your creative and messaging to suit different contexts. The ad you made with a content creator on TikTok doesn't necessarily translate to a 30-second spot on linear TV.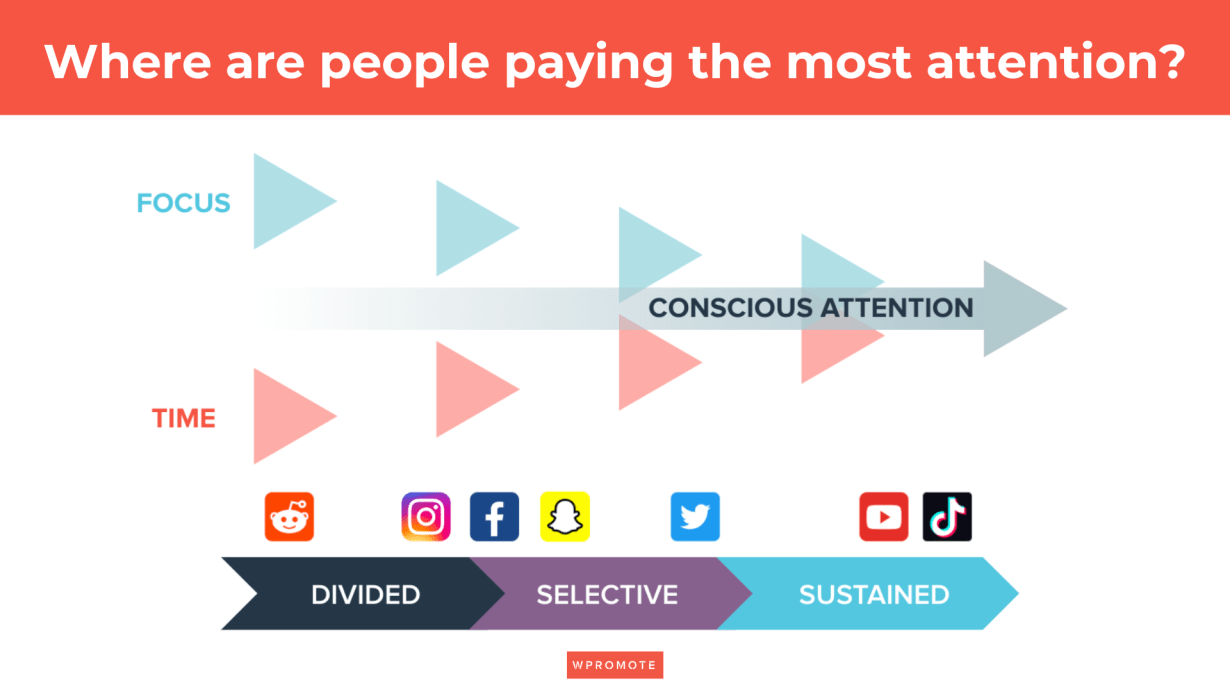 That doesn't mean you need to be on every channel, just the right channels. First and foremost, look for your audience: where are the people you're trying to reach? Even further, where are they actually engaging? If they're technically on Facebook but actually using TikTok, take that into account in your media mix. Also think about where your brand's message will resonate the most based on both channel-specific context and the kind of creative you're investing in.
Even though it's critical to adapt your creative to each channel, you should also maintain some measure of consistency across platforms so you can turn attention into a real long-term connection between the audience and your brand.
Attention plays a pivotal part in each stage of the customer journey. Grabbing attention can make someone aware of your brand; building affinity with the brand identity can help you keep that attention and translate it into conversion. In a distracted world, you have to find creative ways to pull your audience in while dedicating equal focus to providing value, maintaining their engagement, and earning the purchase and, later, their loyalty.
Once you've got people paying attention to your ads, don't stop trying to better understand your audience by digging deeper into metrics that reflect their behaviors. You can use those insights to adapt your strategy as necessary to create meaningful connections. Those connections will lead to more conversions, stronger revenue generation, and more sustainable growth in the long run.