If you want your marketing strategy to not just survive but thrive through inflation, your team needs to essentially function as one agile, adaptable, goal-oriented organism.
That starts with establishing a "One Team" mentality across objectives, processes, and priorities, then resourcing and preparing your people to effectively monitor and adapt to the changing needs of your audience.
If everyone is aligned and proactively responsive to real-time information, your brand will emerge triumphant from the other side of this economic storm. You'll also be in a good position to set aside time to plan for the future and get a handle on how to best position your business now to succeed once the economy returns to normal.
Set a strong foundation to chart the course for marketing success through the rough waves of inflation
Start with your core business objectives (CBOs) that all of your marketing should be working toward. Think of your CBOs as your final destination, and inflation shouldn't impact that. But the way you actually get there might change as circumstances evolve.
Your marketing goals and core KPIs flow from the CBOs, and they'll help translate those high-level objectives into a clear, digestible definition of what you want to accomplish for your team members.
When everyone shares the same vision, you've set the solid strategic foundation that helps unlock effective agility, because your experts can adjust channel-specific strategies and pivot campaign tactics based on what's really happening, regardless of how novel or unexpected, to better position the business to achieve those goals.
You should use the One Team mentality to make sure you have all the essential elements in place.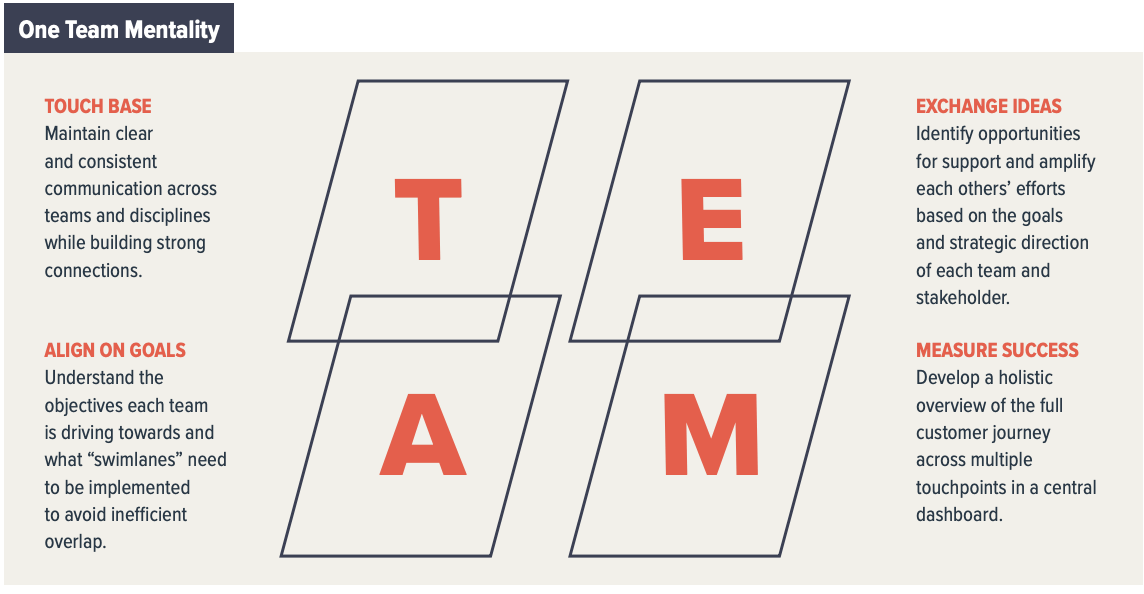 Agility also requires a flow of useful insights driven by data, clear communication and process established across functions, and holistic measurement everyone can access to ensure people stay on the same page, mitigate negative cross-team competition, and support each other's efforts.
This isn't just useful when times get tough; building in this best practice will supercharge your marketing capabilities in the long term.
Establish a regular Win Room with cross-functional stakeholders to make better strategic adjustments and pricing decisions
To make effective decisions fast when circumstances are changing fast, your experts are need to be sharing information, exchanging ideas, and efficiently communicating with each other. That's what the Win Room is all about.
Your Win Room should meet on at least a weekly basis to look at new data and look holistically at your marketing plans to figure out what needs to change. It should consist of a small group of cross-functional stakeholders with clear responsibilities that will make adjustments and disseminate that information to the wider team.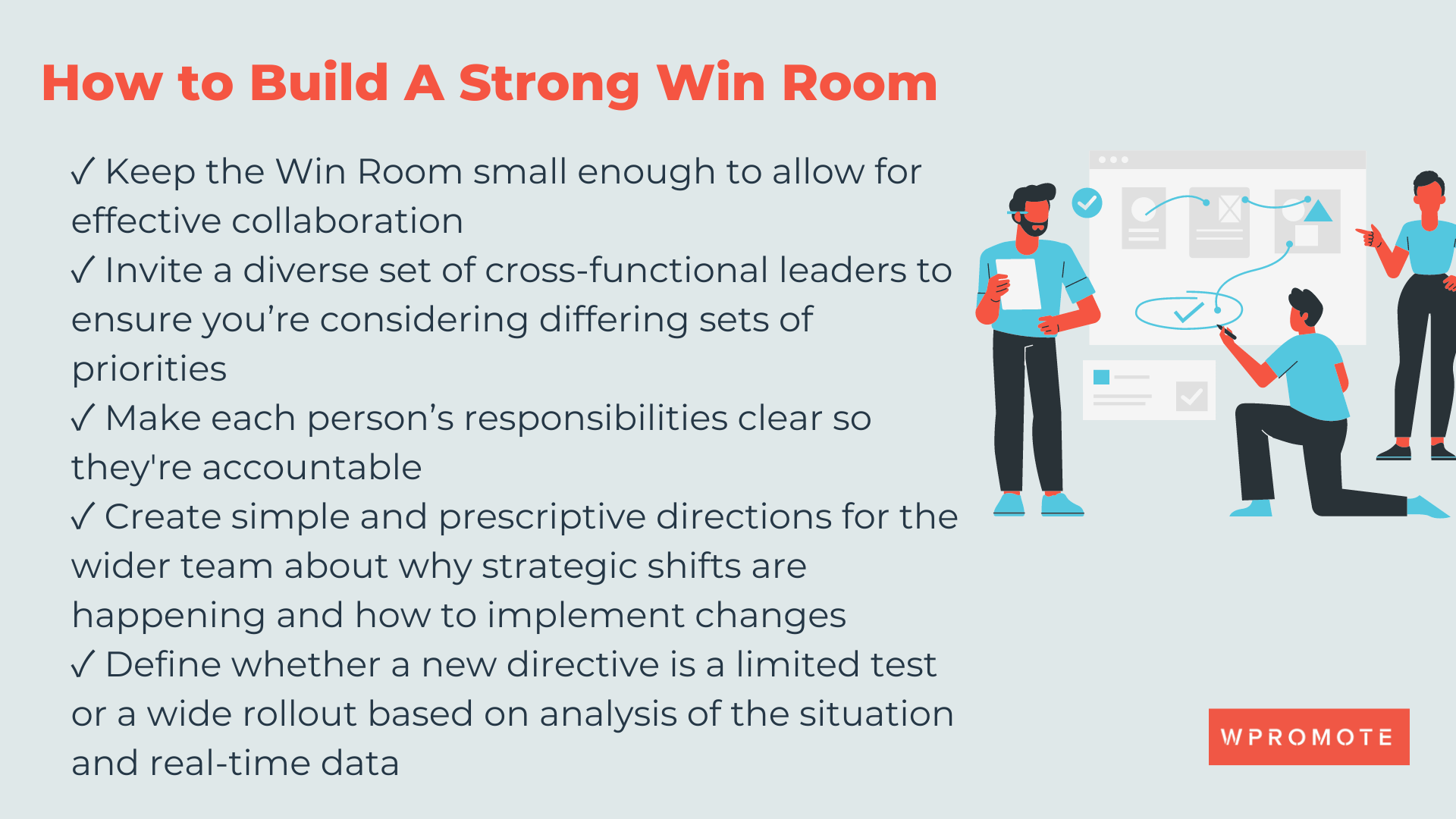 They should be looking at data from a variety of sources to make decisions, especially when it comes to a complex economic scenario: performance insights across channels and customer segments, margin data and pricing information, inventory updates and supply chain changes, competitive analyses and vertical trends, and macroeconomic indicators and general marketing thought leadership, to name a few. Each stakeholder can be tasked with bringing some of these components to the table.
No decisions are probably more critical during an inflationary period than pricing. Marketing frequently has more autonomy over promotional calendars, and the Win Room can help ensure you're not slashing prices or offering up discounts willy-nilly, but looking at where they make the most sense: which customers are highly impacted, what products are the right fit, where you're not cutting into profitability in an unsustainable way.
But the Win Room can also be a tool to make sure marketing has a seat at the table when it comes to pricing decisions in general. When consumers are focused on value, pricing decisions have adirect and often immediate impact on marketing's ability to deliver on CBOs.
The Win Room can include or work with other departments like product or finance to identify where price increases are essential and where they can be offset on key items for critical customer segments. Marketing can also bring insights that will help optimize pricing that aren't available elsewhere, including demand, key performance metrics indicating pricing impact, customer reactions to price changes, and competitor tactics.
Both promotional calendars and pricing should be continuously revisited for as long as consumers are being impacted by inflation.
Look to the data to light your way, but don't forget that communication is critical to steering the ship
You probably won't be able to change the entire structure of your organization just because inflation is increasing. Prepare for what's to come by putting the right people, processes, and tools in place.
That starts with data.
While general consumer data is a great way to understand macroeconomic trends, you should combine that information with your own business data to better understand how your customers are reacting, what's changing in their lives, and how they're making decisions. You might consider creating a shared, high-level dashboard that integrates different data sources and includes larger trend information (like the Consumer Confidence Index) that's accessible to your team.
Inflation impacts different consumer groups differently, and behavioral changes won't be uniform. The smartest marketing leaders will leverage the Win Room or similar processes that facilitate alignment to dig deeper into your data to understand how different customer segments are reacting to changes, from looking for more deals to exhibiting general anxiety around the impact on savings to shifting to a longer consideration process.
Do not throw the same solution at every single person. Look for patterns in performance and spending patterns that will enhance your ability to get ahead of the curve and craft specific offers, messaging, and creative for different groups and different channels.
Prepare clear, concise answers to these questions so your teams can clearly understand what's driving strategic or tactical changes:
Is a change a long-term adjustment to a new best practice or a short-term, limited test?
What insights are driving these changes? How should those impact campaigns, from creative to audiences?
How do you (or the Win Room) hypothesize these changes will help the team achieve your shared goals?
Who is supposed to do what to implement these changes?
Prioritizing cross-functional alignment is the quickest path to giving your brand a clear competitive advantage in a time of intense economic change.