B2B marketing is often cast as trailing behind its B2C counterpart, but the rapid digital transformation driven by the pandemic means that gap is narrowing rapidly—and 2023 just might be the year B2B meets the moment.
Those changes are immediately apparent in our new 2023 State of B2B Digital Marketing annual trend report: we worked with Ascend2 to survey hundreds of B2B marketers to understand how the industry is changing and what strategies are giving the best in B2B the edge.
The data revealed a boom in tech investment and a significant shift in mindset that indicate a new era of mature, sophisticated digital-first B2B marketing is already here.
B2B marketers are embracing artificial intelligence (AI), rising to solve complex customer experience challenges, and prioritizing profitability, and those shifts are driving further evolution. If you're building your strategy and budget from the same old playbook, your brand will fall behind.
So let's take a peek at some of the data and insights to make sure you're ready to take on the competition, build a strategy that will give your brand the advantage, and drive more revenue while delivering a seamless customer experience.
B2B marketers are prioritizing profitability over growth
B2B marketers still consider growth a primary area of focus for their strategies, but a massive change is underway: 85% of marketers revealed that they are more focused on profitability. That's a significant departure from the Silicon Valley-flavored growth mindset that has been front-and-center for many B2Bs for many years
Leadership is driving that change, as 90% of marketing executives also put profitability as the top priority, likely driven by economic challenges that forced businesses to get smarter about how they're spending and pushed marketers to be more accountable about how initiatives are making an impact on larger business objectives.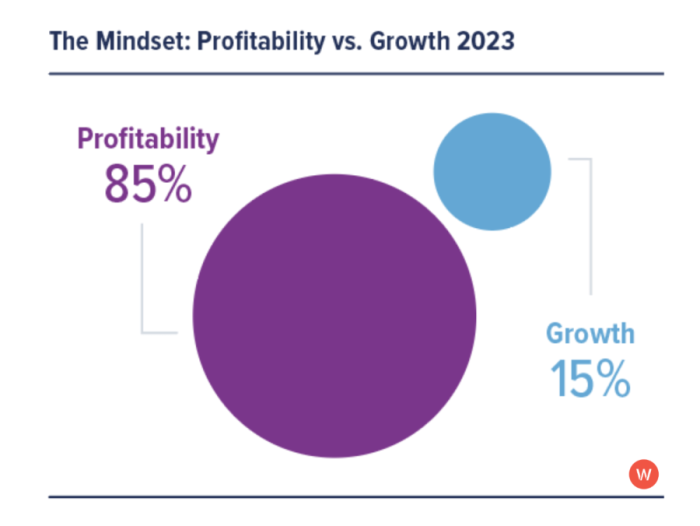 The adoption of a profitability mindset has far-reaching consequences for budgets and strategic decision-making processes. Crucially, this transformation means that a stronger partnership between marketing and finance teams is critical; marketers can no longer just look to their KPIs as evidence of performance if they're going to position marketing as profit-generating center for the business.
To unlock the spend you need to actually drive profits, your media mix needs to be optimized to extract maximum value from each dollar spent. And you need to be able to measure how marketing is actively contributing to measurable business outcomes.
B2B investment in marketing tech is rising
This shift in approach is driving increased investment in tech. Nearly three-quarters (74%) of marketers report an increase in budget allocated to marketing technology at their organizations in the coming year.
B2B marketers are turning to technology to help them adapt to the changing digital landscape, close sales cycle and measurement gaps, and meet customers' demands for seamless and personalized experiences.
That's especially true for the largest B2B companies, which are handling massive amounts of data and are more likely to invest in more complex media strategies: 27% of B2B marketers at organizations with $500M+ in revenue report significant increases compared to just 12% of those earning less than $10M.
But this flurry of investment increases is not exclusive to that group; the majority of businesses at every revenue level report rising martech budgets.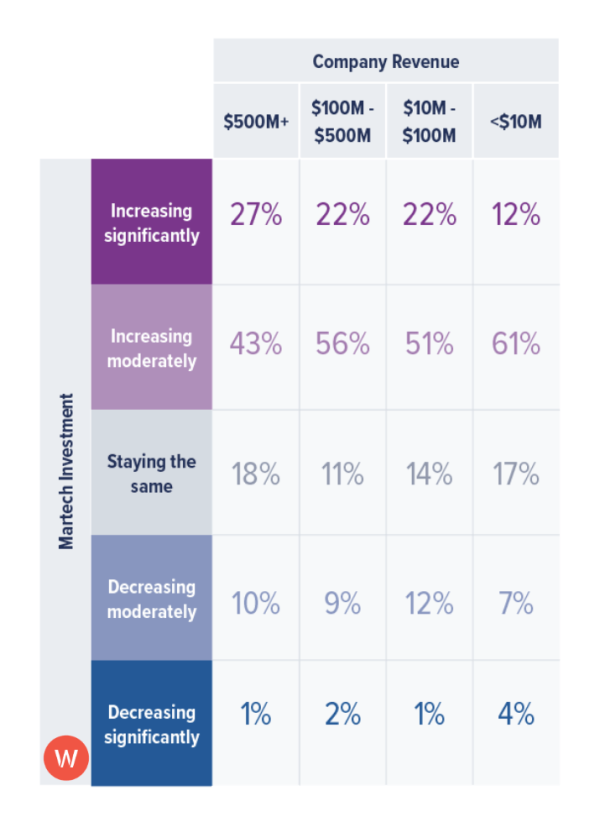 Data is a big differentiator this year for B2Bs; marketers need to be able to connect the dots across channels despite longer sales cycles and privacy-related gaps in data to understand the full impact and return of each touchpoint, especially with the increased focus on profitability.
Relying on individual platforms can only take brands so far; your measurement strategy needs to provide a single source of truth for every member of the team throughout the sales cycle. Getting smart about the technology you need to put into place to make it possible should be a top priority.
Proving B2B marketing ROI is getting more challenging
One of the biggest changes from 2022 to 2023 was centered on a major KPI: ROI. 39% of marketers report that ROI is the most effective metric for measuring digital marketing performance. But 40% point to measuring and proving ROI as one of their biggest challenges, up from 29% in 2022 (when it came in dead last on the list).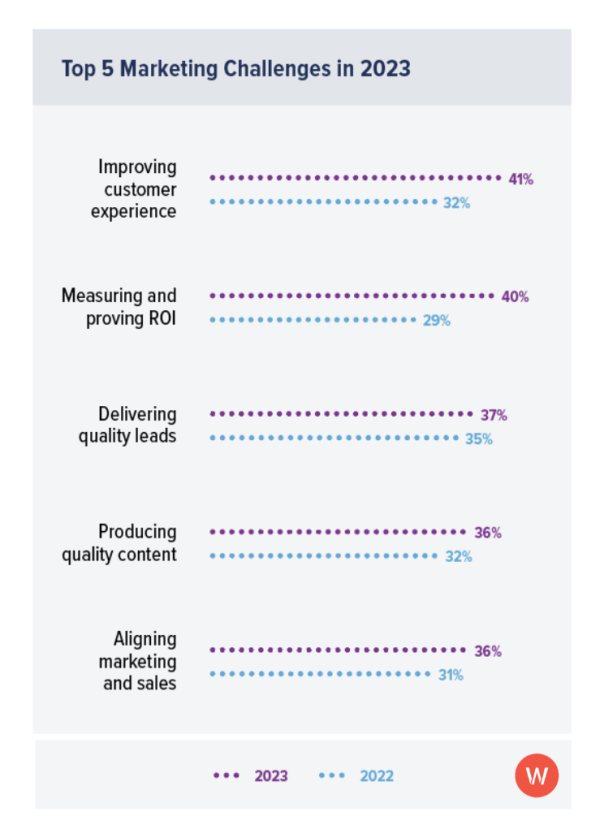 It's impossible to articulate marketing's impact on overall business profitability without an accurate accounting of the return on investment. This speaks to a bigger problem related to the profitability mindset shift: when we asked marketers how effectively they could connect marketing performance to business outcomes, a full 85% of marketers admitted that they are struggling.
If you're in that group, it's time to evangelize for a better measurement framework that doesn't end with channel-based performance metrics. That's not sufficient; you need to take a holistic, macro-level view of investment tolerance relative to growth expectations and profitability goals that helps decision-makers at the executive level understand how marketing is supporting the health of the business, as opposed to how a single channel or campaign performs.
Excellent customer experience correlates with revenue growth
Overall, B2B marketers listed improving customer experience as their top challenge, jumping from 32% last year to 41% in 2023. But CX is clearly necessary for success: 70% of marketers reporting a revenue increase of 20% or more in the last year also rate their brand's customer experience as excellent.
But with more channels available than ever and growing demand from buyers for more seamless, self-guided B2C-like experiences, there's a lot that goes into getting customer experiences right. In fact, the number three priority for CX improvement is alignment across teams and tactics; to create a seamless experience, you need to get a lot of stakeholders on the same page and working toward the same goals.
The top CX focus is on expanding retention and paying more attention to current customers, which makes a lot of sense from a profitability standpoint. Acquisition isn't sufficient because growth isn't the top focus, and ensuring you keep the customers you've already earned will mean two things: 1) that source of revenue will stay constant; 2) you can leverage what you learn from your existing customers in your acquisition strategy.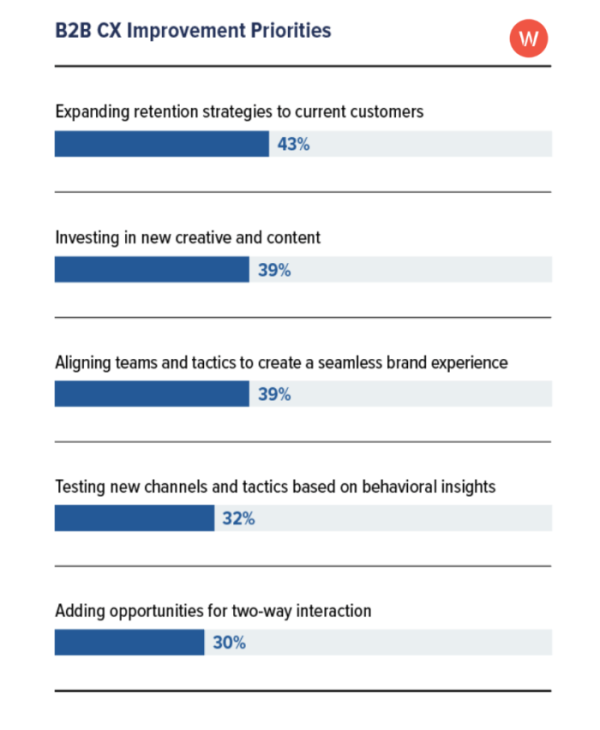 That feeds directly into three of the other top five priorities: investing in new content and creative, testing new channels and tactics, and adding opportunities for two-way interactions. If you can reduce churn, there is more opportunity for data-driven testing into the new, including interactive components that give your customers a seat at the table and increase the effectiveness of both acquisition and retention strategies.
B2B marketers are embracing (and investing in) AI
AI is the headliner in nearly every marketing conversation nowadays, so it should come as no surprise that B2B marketers are looking closely at artificial intelligence capabilities in 2023. 79% expect to incorporate more AI into their strategies this year, specifically focusing on CX and customer service, content generation, and ad creative.
Organizations with the most successful marketing strategies are significantly more likely to bring more AI into their marketing programs: 53% of best-in-class segment strongly agree that they're planning to deploy more AI compared to just 20% of all others.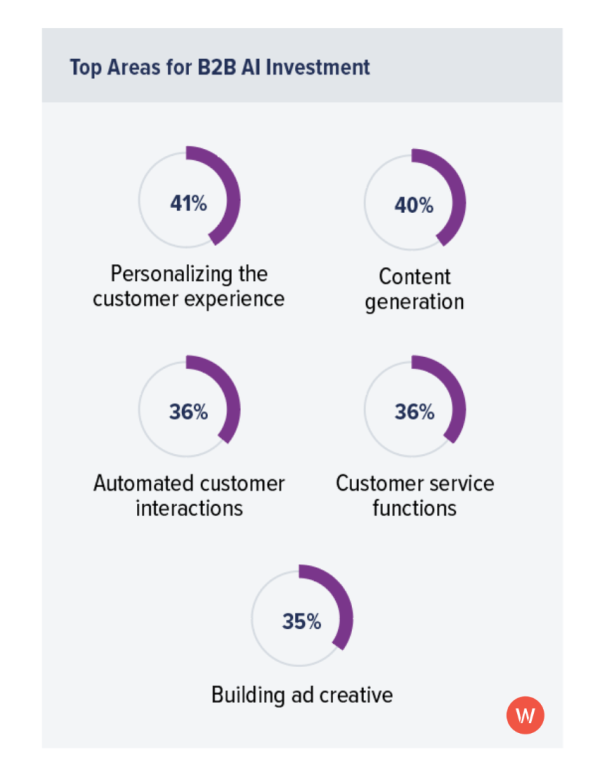 The majority of B2B marketers feel either excited or hopeful about AI and its potential impact on their business, which speaks to an innovation-forward mindset. But it's worth noting that the long-term implications of AI are still unknown; you should look to explore ways to use the new tech while building in plenty of human oversight on the outputs.