In a time of unprecedented change, B2B marketers need to take stock of the key trends that will define B2B digital marketing for the rest of 2020 and beyond. At Wpromote, we performed our annual survey of B2B marketers in February, and while much has changed since then, our results still provide valuable insights into the customer-first transformation of the industry.
We've put together a summary of our key findings here, along with additional data and context on the impact of the COVID-19 pandemic on B2B marketing over the past few months. Use these trends to adapt your marketing strategies for success in the short term and long term.
B2B marketing trend #1: People are spending more time online due to the COVID-19 pandemic – and businesses need to be sensitive
In 2020, due to large-scale quarantine, people are spending more time in virtual spaces than ever before. According to GlobalWebIndex, 44% of people say they've increased their social media usage, and 51% report they're watching more content on streaming services. This presents an opportunity for B2B marketers, but marketers need to be thoughtful and genuine in their approach to this challenging moment.
Harvard Business School found that 65% of people will base future purchase decisions on how well brands respond to the COVID-19 crisis, and GlobalWebIndex found that 89% of people approve of brands sharing useful information on dealing with the current situation in their marketing. To build brand affinity and loyalty, B2B marketers need to deliver relevant, valuable information and thought leadership to customers.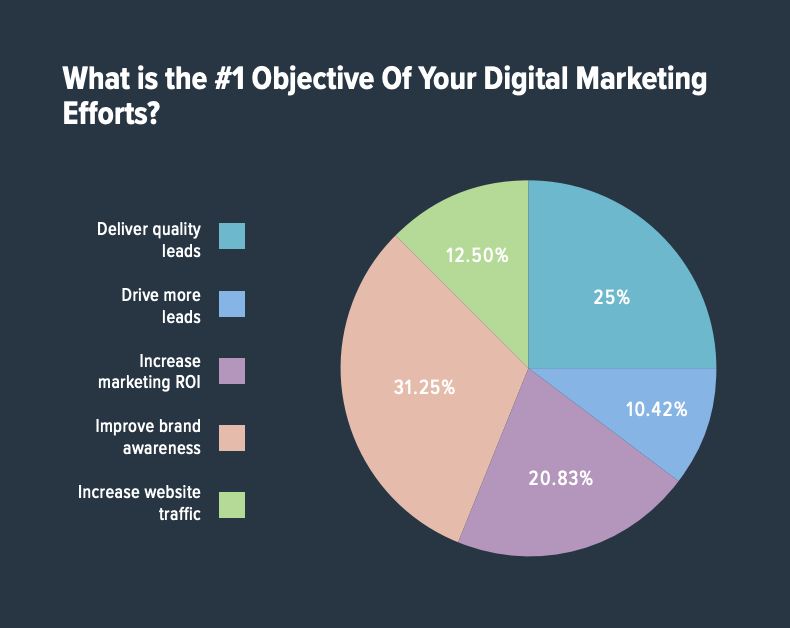 B2B marketing trend #2: Brand awareness is the new primary objective, but lead quality remains the biggest challenge
32% of the B2B marketers we surveyed are making brand awareness their top priority in 2020. Last year's number one objective, delivering quality leads, still ranks a close second this year, but B2B marketing teams are finding that a greater focus on the top of the funnel also improves results at the bottom of the funnel, driving better leads.
At the same time, B2B marketers still highlight lead quality as their greatest challenge in 2020 (just like last year), with 27% of marketers surveyed putting it in the top spot. Sales teams are demanding that B2B marketing teams deliver them better-qualified leads, and traditional lead generation activities like in-person events are not possible in the current moment, so it's more important than ever for B2B marketing teams to find new solutions and reallocate budget.
B2B marketing trend #3: Site traffic is the most important KPI
Almost 40% of B2B digital marketers surveyed say that website traffic is their top KPI in 2020, which makes sense given marketers' newfound focus on brand awareness. Of course, marketers need to track results across the whole customer journey, but if lead times on conversion increase in our new environment, digital marketers may need to focus more on audience growth and brand affinity instead of sales messages. Given such a shift in focus, it makes sense to keep upper-funnel metrics front and center.
B2B marketing trend #4: In the face of budget uncertainty, some digital marketers remain optimistic
In early 2020, 56% of the B2B marketers we surveyed predicted that their budgets would increase, while only 13% anticipated a budget reduction. Now, however, with a potential recession looming, budgets are in flux. More recent polling that we conducted in early April 2020 suggests that most digital marketers have yet to see major budget reductions but still expect cuts to come in the second half of this year.
That being said, as spend on traditional brand marketing initiatives (like television advertising) is reevaluated, in-person events are entirely suspended, and people become increasingly dependent on virtual experiences, some marketing dollars may be reallocated from non-digital to digital channels. In our latest polling, we found that 50% of digital marketers think their budgets for the second half of 2020 will remain as originally planned or increase.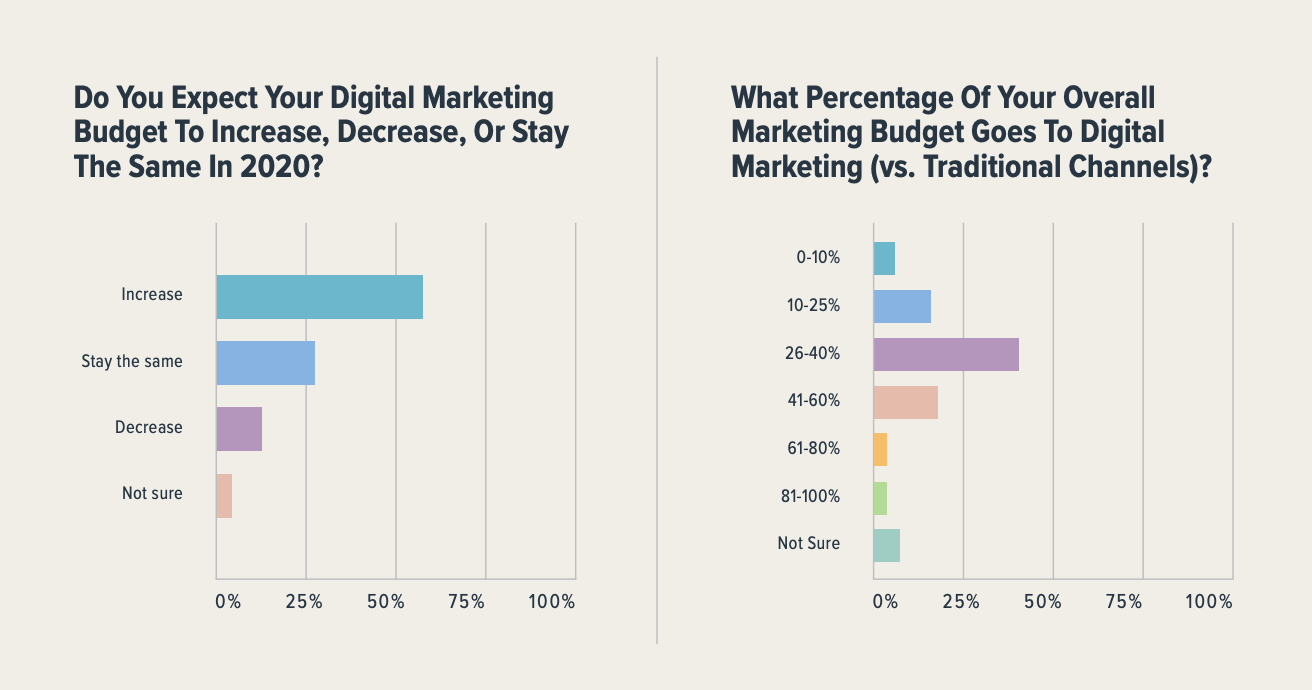 B2B marketing trend #5: Social media generates more leads and earns more budget
Over 80% of the B2B marketers we surveyed this year say that social media is their most successful lead channel (up from 63% in 2019), and 73% plan to increase their investment in paid social media.
Facebook is still the number one social channel for B2B marketers, but competitors are on the rise: over half of our survey respondents have added Instagram, Twitter, and YouTube to their digital marketing mix. LinkedIn lags in adoption but delivers in lead generation, successfully generating leads for 44% of respondents (second only to Facebook at 56%).
B2B marketing trend #6: Video is still on the rise
In our surveys over the past three years, we've seen steady growth in the number of marketers investing in video, and now there's been a massive 21% jump in this number YoY from 2019 to 2020. In this year's survey, 75% of B2B marketers say they are investing in video, with 67% reporting that video drives leads and nearly half reporting that it drives revenue.
B2B marketing trend #7: ABM is on the decline
Only one-third of the B2B marketers we surveyed are planning account-based marketing (ABM) campaigns for 2020, down almost 10% from 2019. ABM campaigns target select accounts directly, and when done well, they are a proven part of the B2B marketing toolbox – of those marketers still deploying ABM campaigns, 46% say they have been effective. But as B2B companies invest more in inbound channels and continue to see results, some may find that ABM is not as cost-effective or efficient.
B2B marketing trend #8: Immediate purchase is more important than ever
Today, B2B customers want a B2C experience across the entire customer journey, all the way down to the purchase experience. B2B marketers are responding en masse: 79% of the B2B digital marketers we surveyed report that customers can now buy products or services right on their company websites. This is more important than ever in our current environment: ACI Worldwide reports that transaction volume in most retail sectors increased 74% from March 2019 to March 2020.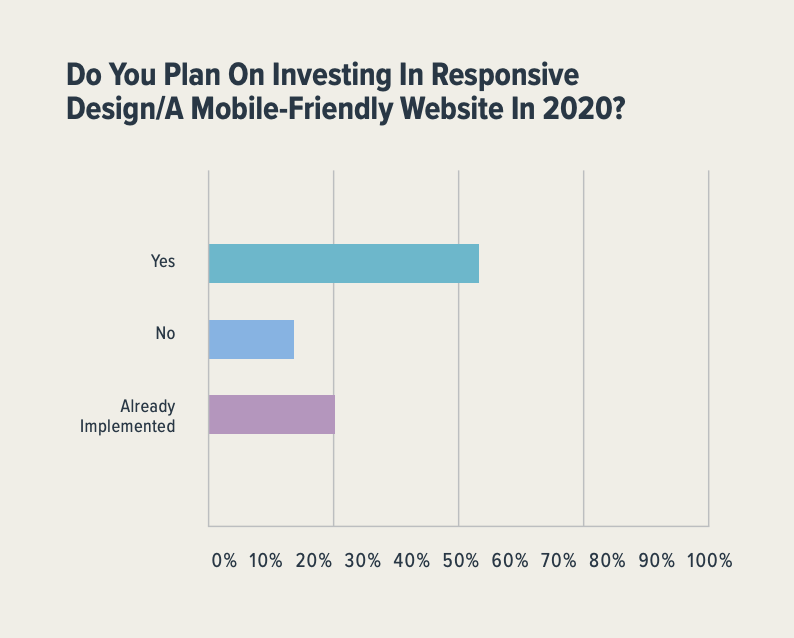 B2B marketing trend #9: Mobile investment is (finally!) increasing
Google made the switch to a mobile-first index. Customers have been using mobile devices more and more when making purchase decisions. Traffic from social channels is on the rise. And now, mobile usage has greatly increased during quarantine. Today, a mobile-ready website is fundamental to a great customer experience, and B2B marketers have taken note. In 2019, 30% of the marketers we surveyed indicated that 20% or less of their traffic came from mobile devices; this year, 69% report that 40% or more of their traffic comes from mobile.
B2B marketing trend #10: AI and automation have begun to arrive
Marketing budgets may be tightening in the near future, which makes it more important than ever to increase the efficiency of marketing processes and embrace new technologies. Today, B2B digital marketing teams are recognizing that AI and automation can unlock efficiency gains and reduce busywork. 50% of the B2B digital marketing teams we surveyed this year are using AI or predictive software (up 11% from 2019), with 58% of those teams reporting that their software is effective. Meanwhile, 48% of teams have built an automation system.
The number one takeaway? Put customers first
Many of the major trends that have shaped B2B digital marketing in the past few years are accelerating in 2020. In response to the COVID-19 pandemic, businesses need to adopt a customer-centric mindset of empathy and flexibility and embrace digital channels and upper-funnel initiatives.
B2B marketing teams will continue to operate more and more like B2C teams as they realize that their job is not to market to businesses, but instead to help the people working at those businesses. That's how you serve customers and drive loyalty, leads, and revenue.