B2B brands that consistently deliver successful customer experiences (CX) drive more revenue, according to the hundreds of top B2B marketers Wpromote and Ascend2 surveyed for our annual report on the State of B2B Marketing.
B2Bs who reported delivering the best customer experience said that they were nearly twice as likely to have seen a significant or moderate increase in revenue last year than all others (56% vs 29%).
The rewards aren't limited to revenue. Businesses that include CX improvement in their marketing objectives also report improved brand loyalty and higher-quality leads.
So why do just 31% of B2Bs point to a better customer experience as a top objective?
The short answer: it's not easy, and there are often operational roadblocks tied to traditional ideas about person-to-person sales or limited appetites for digital marketing standing in the way. But it's absolutely critical in an age where the customer journey presents new demands due to the pace of digital transformation and changing consumer expectations.
The two major ingredients to digital CX success for B2Bs are strong, personalized content and the right technology. You can't provide superior CX without both of these in place—and they will pay long-term dividends for your business.
Let's start by digging deeper into the most important factors that contribute to a top-tier B2B customer experience.
How are top marketers improving the B2B customer experience this year?
This year, best-in-CX B2B marketers are focused on serving better experiences to existing customers and generating fresh opportunities through new channels, tactics, creative, and content.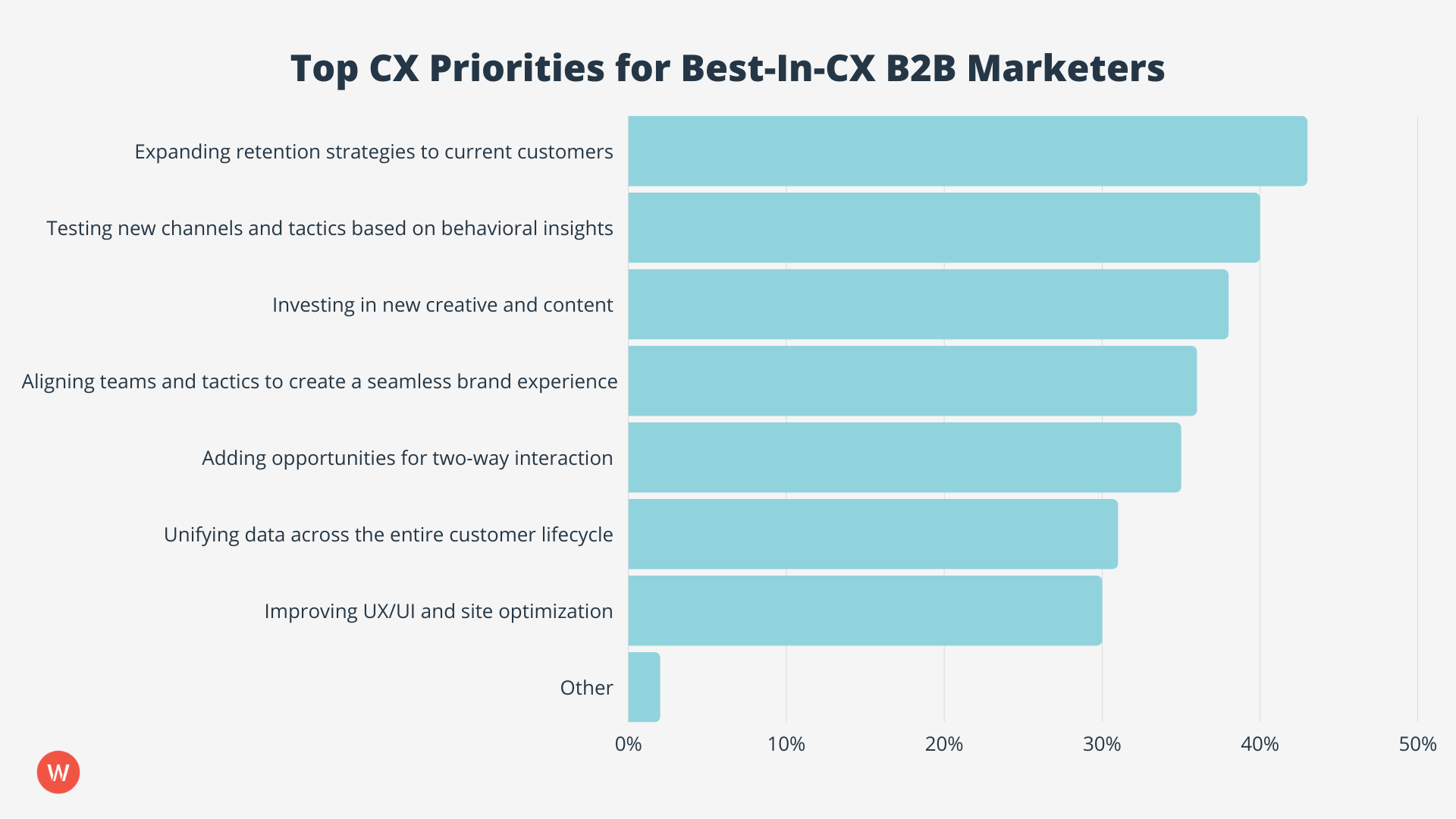 That's important: CX improvements don't just impact acquisition, they can be a major differentiator when it comes to customer retention, a critical component of sustainable long-term growth for B2Bs.
B2B buyers increasingly expect something akin to a B2C experience from B2B brands: they're looking for brands to showcase their expertise while providing more opportunities to research and move down the sales funnel independently through digital, remote selling and self-service options.
In fact, McKinsey found that about two-thirds of B2B buyers in 2021 opted for remote human interactions or digital self-service across every stage of the buyer's journey.
The rapid pace of digital transformation means that the gap between organizations that are lagging behind in digital CX and best-in-CX brands will only widen, and B2Bs who aren't making the customer experience a priority can expect to see more and more existing customers make their way to competitors who offer a better alternative while the pace of new customer acquisition inevitably slows.
This is abundantly clear in Adobe's 2022 Digital Trends Report, where marketing professionals across B2B and B2C businesses overwhelmingly reported that behavior is shifting to digital among both new and existing customers.
Adopting a digital-first mindset creates a seamless experience for your customers across channels and touchpoints, generating brand equity with every interaction.
According to the NICE 2022 Digital-First Customer Experience Report, 95% of people point to customer experience as a major factor that impacts brand loyalty. It also will mean you're prepared for continued behavioral changes and future trends as customers move between an ever-expanding array of channels.
What challenges stand in the way of delivering an excellent B2B customer experience?
There are some common hurdles that can interfere with a great CX strategy, including::
Lack of communication between teams
Limited data collection
Lack of personalization
Outdated technology
A seamless experience across channels requires alignment across teams and buy-in from your company leadership. Remember: your customer doesn't see channels, just your business. When they experience a disconnected series of interactions, it reflects badly on the organization as a whole. B2Bs need to focus on the big picture to succeed at CX, not just individual channel performance.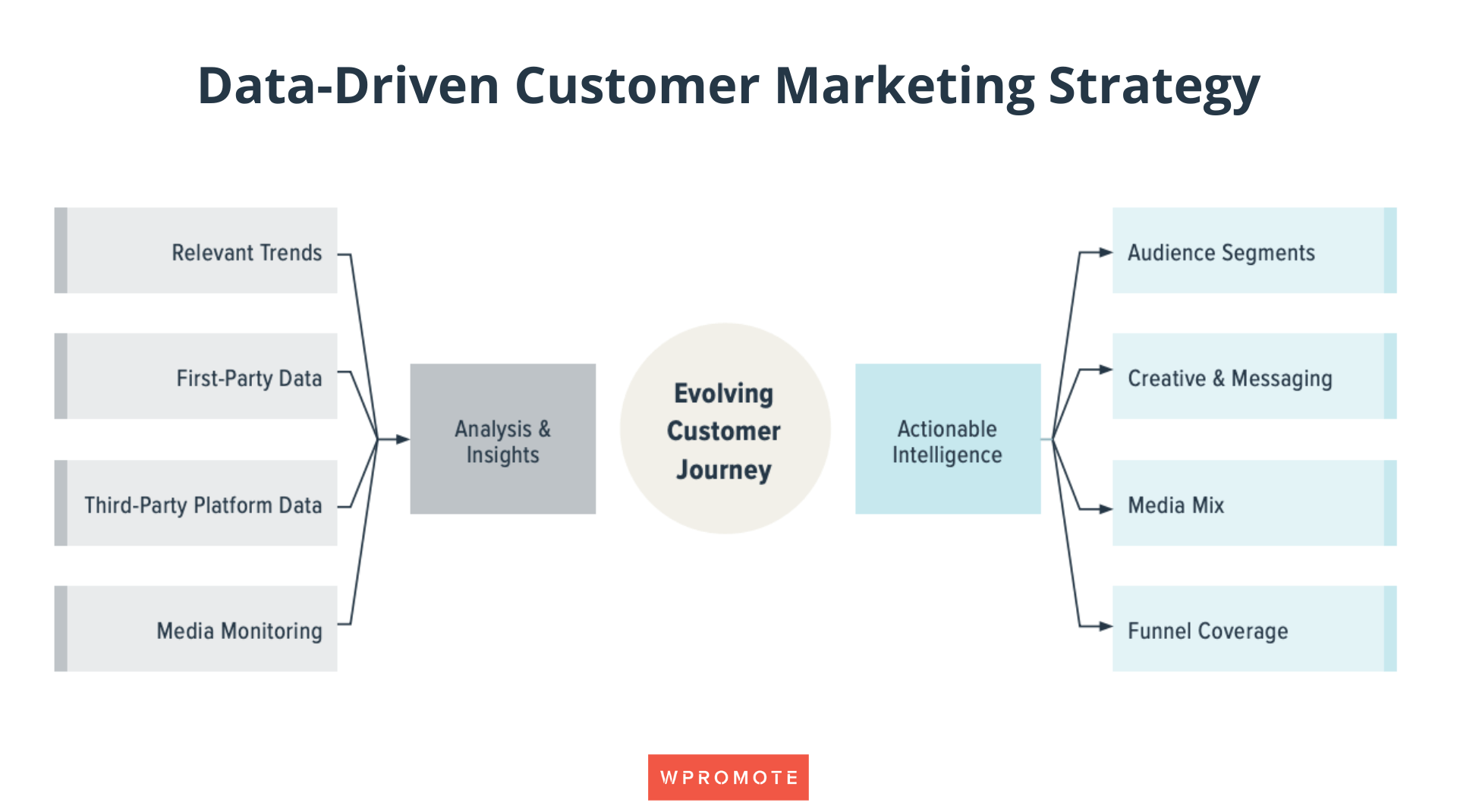 You need an omnichannel, data-driven customer marketing framework to help you understand the complete customer journey more clearly. That's how you'll be able to take in different data inputs, from first-party data to macro industry trends, and generate insights into customer behavior, touchpoints, and expectations.
Concurrently, you need to leverage those insights to build powerful audience segments using a customer data platform or other technology that brings all of your data under one roof and enables more personalization that isn't dependent on third-party cookies or other privacy-violating practices.
That's especially important for complex B2B buyer's journeys that can involve many different decision-makers. McKinsey found that B2Bs showing the highest revenue growth were 62% more effective at using digital tools to support the sales process.
84% of the best-in-CX B2B marketers we surveyed indicated that they were expected to increase their marketing technology investment this year; in the wake of data privacy changes, that group noted that they were prioritizing tech-intensive tactics like automation, interactive content, and first-party data collection.
The future of great CX is powered by first-party data. Nearly half (48%) of B2Bs with excellent customer experiences say that they are currently prioritizing first-party data collection and utilization in campaigns. In comparison, just 17% of other marketers are focused on first-party data.
If your business is not already making that investment, you should pay attention. Digitization and personalization are both must-haves for great CX, but your customers are increasingly savvy about how the sausage gets made by marketers. Don't try to shortcut your way past first-party data collection by using soon-to-be-gone third-party data to improve your CX. You're just setting yourself up for long-term headaches.
By prioritizing first-party data, not only will you be making decisions based on reliable data that you own and getting deeper insights into consenting consumers that are interested in your products and services, you'll be preparing your business for a world that finally moves on from third-party cookies.
B2B CX best practices: How to improve customer experience
To make sure you're on the right track to capture market share, increase loyalty, and drive revenue through improved CX, start by:
The customer experience is truly the battleground for the future potential growth of your business. You have an opportunity right now to get it right and make sure it's a top priority before it's too late.