As Shopify affirms on its "About" page, the platform supports over one million businesses globally. The reason for the service's popularity is that Shopify supplies online merchants with a sophisticated toolkit capable of catering to professional retailers and amateur vendors alike.
However, as is perpetually the problem for merchants, the competition in the online arena is fierce and becoming exponentially more competitive. Therefore, it is critical for retailers to understand SEO for Shopify, how to optimize Shopify store elements like product pages, UX enhancement tactics, and a variety of other tips and tricks designed to elevate a store's overall performance online.

Since these can be some severe sticking points for sellers, we wanted to step in and help fill in some of the gaps regarding how to optimize a Shopify store to top the SERPs, provide a steller UX experience, increase ecommerce conversion rates, and other significant strategies for building a successful brand.
With that, let's get started.
Theme CSS Customization
When users initially set up their Shopify store, a default theme will be pre-loaded. The "Debut" theme is a means to get sellers live as quickly as possible as it is a simple, out-of-the-box solution.
If retailers wish, they can proceed with this theme, or they can select a different theme that better suits their needs. However, even with the multitude of theme and plugin combinations merchants can generate, some may still want to customize their store even further.
To achieve the exact look and feel that retailers want for their stores, it may be necessary to edit the CSS code to produce the desired effect.
When it comes to optimizing themes for performance or making custom alterations that require amendments to the CSS code, it is highly advisable to first duplicate the theme before making any changes. Doing this enables sellers to revert to the original version if anything goes awry.
Fortunately, theme duplication is simple. To do this, simply head to Online Store > Themes, then select "Duplicate" from the "Actions" dropdown menu. With the duplicate staged, select "Edit Code" from the same dropdown menu to open the source code editor.
From here, open the CSS file, entitled "theme.scss.liquid" under the "Assets" folder. If this file is not present, look for a similar file with "scss" or "css" in the title.
From here, merchants are free to make any changes they wish to their site's presentation or layout. However, not all merchants are equipped to manage such a task.
For those that are not well-versed in coding languages, Shopify has an extensive partner network from which sellers can procure a skilled individual to assist. However, before putting any ink to paper, it is wise to possess a strategy for hiring a certified developer to aid in the process.
Optimize Shopify Stores for SEO
Search engine optimization is one of the most important considerations for all ecommerce merchants who aim for online success. When working to optimize a Shopify store from an SEO perspective, there are several areas on which to focus:
Site Structure
The way in which a site is organized is not only hugely important to the user experience but to search engine success as well. After all, UX is vital to SEO.
When users can easily navigate a site and find the items they are looking for, there is a tendency for increased time-on-site and conversions, both of which can enhance SERP rankings.
The way by which merchants can streamline site navigation and eliminate barriers that hinder conversions is by implementing a simple site structure. Achieving a streamlined architecture also assists in enabling search engines to crawl and rank specific pages more efficiently.
Therefore, a search-and-user-friendly structure would look like:
Homepage > Category Page > Sub-Category Page > Product Page
Through this type of architecture, products are only a few clicks away from the homepage and can be navigated to intuitively and with ease.
Focus on Shopify Speed
As mentioned a moment ago, UX and SEO and inextricably linked. Therefore, producing an outstanding on-site experience is pivotal for optimizing Shopify stores.
One of the most critical components for achieving a superior user experience is to improve the ecommerce site's speed. After all, slow sites lose visitors quickly, meaning that the on-site experience doesn't matter if it takes too long to load.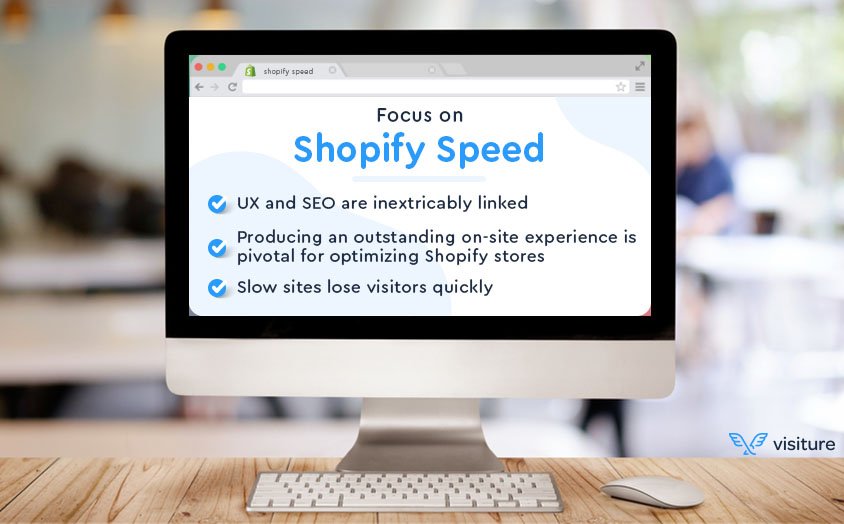 This claim is firmly rooted in 2016 research from Google, which revealed that:
"The average U.S. retail mobile site loaded in 6.9 seconds in July 2016, but, according to the most recent data, 40 percent of consumers will leave a page that takes longer than three seconds to load. And 79 percent of shoppers who are dissatisfied with site performance say they're less likely to purchase from the same site again."
With this in mind, it is essential for retailers to utilize tactics to boost Shopify speeds.
Target the Right Keywords
While the role of keywords has undoubtedly evolved over the years, targeting the right terms is still important. Even after Google's recent BERT update keywords are crucial as they can speak to the intent of the user.
To effectively target prosperous keywords, retailers should begin by:
Utilizing keyword tools like Ahrefs, SEMrush, or Long Tail Pro
Sifting through competitor meta descriptions, alt-text, and similar resources
Searching forums and social media pages related to products and offerings
After establishing how users are searching for specific products, implement the terms on corresponding landing, product, and content pages.
Optimize Product Pages
Product pages are the core of ecommerce effectiveness. Therefore, it is necessary to understand how to increase conversions by building better product pages.
Producing item listings that convert (and, therefore, rank well) means that certain elements must be present on the page. Some of these components include:
Multiple high-quality images
A unique and compelling product description
Customer reviews
Related products
Relevant details like sizing info, materials used, return policies, and similar data
Use Schema.org
While this is essentially an extension of SEO optimization tactics, this strategy is worthy of its own section.
Schema.org (typically referred to as schema) is a markup language that retailers can add to their store's HTML to enhance the way search engines read pages and display them in the SERPs.
Through this markup, sellers can showcase rich snippets beneath page titles. Schema can be used to tag up product prices, reviews, an item's availability status, and a variety of other things.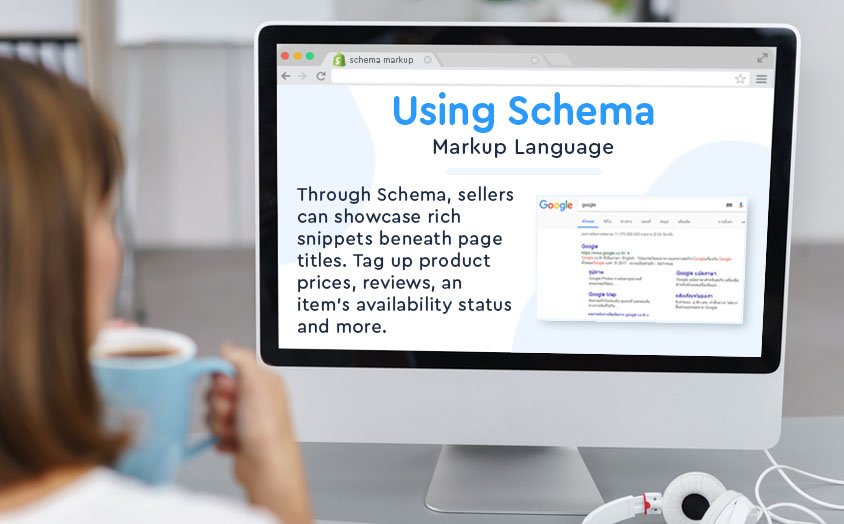 While this form of structured data has shown no definitive proof to enhance search rankings directly, there are good indications that it can be an indirect performance driver by virtue of earning more click-throughs. To obtain the best results with Schema markup, retailers should experiment to see how users respond.
Fortunately, creating schema markup is a relatively simple process with Google's Structured Data Markup Helper. However, some may still require a skilled developer to implement the code properly.
To get started, head to the tool and select the data type for markup and enter the page's URL. However, if a retailer only has HTML, that can be pasted as well.
From here, the page that contains the markup tool will load. Next, sellers will see the web page on the left and the data items on the right.
Now, simply highlight the type of elements for markup. For instance, if a merchant is adding schema to an article, they can highlight the name of the piece and add "Name" markup. After selecting the appropriate markup, it will be added to the "Data Items" on the right.
This is the general gist of the tool. From here, retailers can continue to markup other sections of the page as they see fit. Once finished, click "Create HTML."
Afterward, users will be taken to a page that displays the HTML of the page with the correct data included in the appropriate locations.
From here, sellers can navigate to their source code and insert the highlighted portions in the appropriate spots. Alternatively, site owners can download an automatically generated HTML file, copy it, and paste it into the source code.
After this has been completed, use the Structured Data Testing Tool to ensure that everything has been appropriately implemented.
Make Gifting Easy
When speaking to Shopify tips and tricks for optimization, gift options are an essential strategy for increasing sales.
Seriously though, who doesn't like gifts?
Given this eternal dynamic, retailers should customize Shopify themes to include a gift wrap option at checkout as this is an excellent strategy for increasing average order values while also simplifying customers' lives.
Additionally, retailers can extend their gifting portfolio to include gift card products. With Shopify, store owners can sell gift cards like regular merchandise. However, to optimize this offering, purveyors should not only include suggested gift card amounts, but also provide the option for custom amounts to be set.
Finally, much like the website itself, make sure that gift cards are visually appealing and reflect the brand's identity.
Split Test Product Prices
No matter if one is talking about A/B testing social media adverts, landing pages, email subject lines or product prices, split testing is the definitive method for establishing the best possible outcome. At its core, split testing is a core component of conversion rate optimization efforts.
Fortunately, Shopify users can split test their product prices with various plugins from the company's app store.
With certain apps like Neat A/B Testing and Products A/B Test, retailers can not only split test their prices but product titles, descriptions, images, and other important sales elements as well.
When it comes to optimizing Shopify stores for sales, A/B testing is a critical necessity.
Employ Cart Abandonment Emails
Reducing cart abandonment rates is a vital task for online sales success. Given that roughly 70 percent of consumers will ditch the items in the cart before converting, retailers must understand how to reel them back in successfully.
The fact is that there are a variety of reasons why consumers abandon their carts. However, no matter the reason, one of the best ways to get them back on-site to purchase is with abandoned cart emails.
In fact, when speaking to these messages, cart abandonment email statistics show that:
45 percent of recipients open cart abandonment emails
21 percent of opened emails generate a click-through
50 percent of those whom click-through complete a purchase
For Shopify users, there are a plethora of free and premium plugins that can be utilized to minimize abandonment rates.
For instance, solutions like Omnisend provide retailers with a full email marketing toolkit. Meanwhile, apps like Conversio focus more on increasing conversion rates, partially by sending cart abandonment emails. Alternatively, retailers can employ Recart to utilize Facebook Messenger to reach consumers with abandoned cart alerts. Or, for those that wish to switch things up, SMS Abandoned Cart Recovery can be used to send consumers text messages about their forgotten items.
The point is that cart abandonment emails are a vital task for Shopify optimization, and there are plenty of ways to achieve this goal with the multitude of plugins available.
Connect with Industry Influencers
The fact is that building better ecommerce backlinks is still a prime component of climbing the SERPs. Influencer collaborations are a great strategy for earning those backlinks while simultaneously promoting a product and the store overall.
However, before finding and approaching influencers, retailers must first establish the kind of influencers with which they wish to partner. If a brand sells electronics, it is vital to determine if they want to team up with a mega influencer like Unbox Therapy or if they want to collaborate with a group of micro-influencers with a small but engaged audience.
While some think that getting the biggest influencer is the way to go, brands are actually turning to micro-influencers for a variety of reasons. As Business Insider reports:
"For starters, people with a few thousand followers generally seem more trustworthy, authentic, and relatable than those with huge followings. . . Working with smaller influencers can also mean a brand's message is spread in a more natural-feeling way. . .What's more, nano- and micro-influencers often allow a brand to target specific audiences — if, say, you were opening a restaurant in north London, working with micro-influencers who post about their adventures in the area would likely increase your chances of reaching others who might spend time there."
In addition to these points, micro-influencers also tend to tout highly engaged audiences that share an intimate connection with the social media personality. Given this dynamic, these folks also value the influencer's recommendation more than if it came from the likes of Zach King.
However, those that opt to go the route of micro-influencer will have to do a bit more legwork to assemble a cast of individuals that will be capable of generating the appropriate amount of reach and engagement.
The way in which retailers choose to approach influencer marketing is likely to be highly dependent on the brand itself, its size, and its goals for the campaign.
For instance, if merchants are promoting a new product, micro-influencers are the best bet as they are more likely to drive click-throughs and sales from people who are interested in what a brand offers. Alternatively, if merchants are looking to increase their public profile and brand awareness, the smart money is on investing in larger influencers to create sponsored videos.
Think Outside Shopify
While Shopify is a fantastic platform for retailers to build their businesses upon, it should not be the end of their ambitions.
The fact is that in today's online ecosystem, developing an omnichannel ecommerce strategy is a vital component for success. While omnichannel sellers enjoy the fruits of their labor by earning more significant amounts of sales and enhanced levels of customer loyalty, crafting a targeted strategy for reaching consumers can be a considerable challenge.
To achieve this, merchants must not only establish where their customers shop online (Amazon, eBay, etc.), but also on which social channels they engage and through which devices. From there, sellers must create a content and outreach strategy for each destination and integrate it all into the brand's framework seamlessly.
While all of this is much easier said than done, it is the norm in today's digital space, meaning that it is a necessity.
Optimizing a Shopify store is a never-ending pursuit. Once things feel fully optimized, it's back to the drawing board to collect data and establish paths toward improvement. Let customer data and market insights be the light that guides your brand forward.
However, we all get a little stuck sometimes and could use some assistance. If your business is having trouble reaching the next level of performance optimization, reach out to Wpromote's conversion rate optimization experts, and we can help get you over the hump and on to the next ecommerce horizon.