Online merchants have a wealth of concerns to juggle beyond revenue and customer acquisition when trying to choose an ecommerce platform. The most common ecommerce problems that need to be planned for and addressed include customer retention and engagement, omnichannel integration, conversion optimization, SEO, growth and scalability, security, fees, and more.
With more than 120 ecommerce platforms to choose from, it's not easy finding just the right solution to fit your business model and goals.

For companies on the growth fast-track and sizable enterprises that need to migrate to a more scalable solution, this article will show you why Shopify Plus should be the new home for your online brand.
Shopify Is Growing
Before we get into the features, let Shopify's growth speak for itself first.
In 2012, Shopify had approximately 42,000 merchants using its platform. By 2016, the number of merchants increased to 377,500 across 175 countries. Today, there are more than half a million merchants worldwide using Shopify and Shopify Plus combined.
By the end of 2016, 1 in 3 American consumers had purchased products from a Shopify-powered store. Shopify has grown to match the needs of merchants, with over 1,900 employees in six different offices, with remote employees working around the globe.
There are plenty of reasons more than 3,600 businesses have switched to Shopify Plus (beyond the 126% average growth year over year).
In the case of Shadow Hunter Blinds, the growing D2C company was ready to increase its ecommerce presence and grow online sales. After selecting Shopify Plus for their new platform, the brand was able to elevate the overall customer experience and accelerate revenue growth.
Scalability
The Shopify Plus platform is designed specifically for larger enterprises, so they've made sure the platform has unlimited scalability to match the needs of growing ecommerce brands—like Nestle, Bombas, and MVMT.
The fully hosted SaaS platform guarantees 99.99% uptime, with servers capable of handling up to four million hits per second, and thousands of orders per minute, without impacting site performance. Shopify Plus customers also get unlimited bandwidth and up to 200TB of storage capacity. No matter how you're scaling up, there's plenty of room to grow with Shopify Plus.
Greater Functionality and Still Easy to Use
Despite all the added functionality with Shopify Plus, the platform remains incredibly easy to use—one of the major draws for online merchants. With everything you need to manage, it helps to have an online store that doesn't create barriers or friction to processing orders and keeping your store running.
The most important features, like orders, products, customer records, reports, apps, and more, are easily found on the dashboard. Adding products, managing settings, and handling orders can all be done with just a few clicks.
For example, Bokksu's subscription service allows simple customization for the customer while shopping and the online merchant when adding new products.
Extended Customization
Shopify already boasts a wide selection of attractive themes ready to use out of the box. There are also more than 100 premium themes, with plenty of customization options, to make any theme your own.
For enterprise brands who want more out of the functionality and aesthetics of their store, JavaScript and CSS can be used to fully customize the checkout experience of your store. This opens up a wide variety of conversion optimization techniques and full control of the checkout experience.
Each theme is responsive in design, which is absolutely critical in today's mobile consumer market. By Q4 of 2017, mobile purchases accounted for 24% of consumer spending online. That's up from just 1.8% in 2010.
To give merchants more control over customizing, Shopify has introduced what it calls "Sections." This simple drag-and-drop editor makes it even easier to customize the look and feel of your online store.
For deeper customization and design control, you can get into the code of your storefront. Shopify uses its own templating language called Liquid. It's certainly not necessary to learn any code to launch and manage your online store. Shopify is there to help, along with its partner network, including hundreds of vetted developers and designers.
Powerful, Customizable Discount Logic
Shopify even has beefed up its marketing, promotions, and discounts engine with Shopify Plus, allowing merchants to apply discounts to specific categories or products. Even at the enterprise level, if you can operate a Facebook page or have ever used a WordPress interface, you'll have no trouble navigating your merchant dashboard.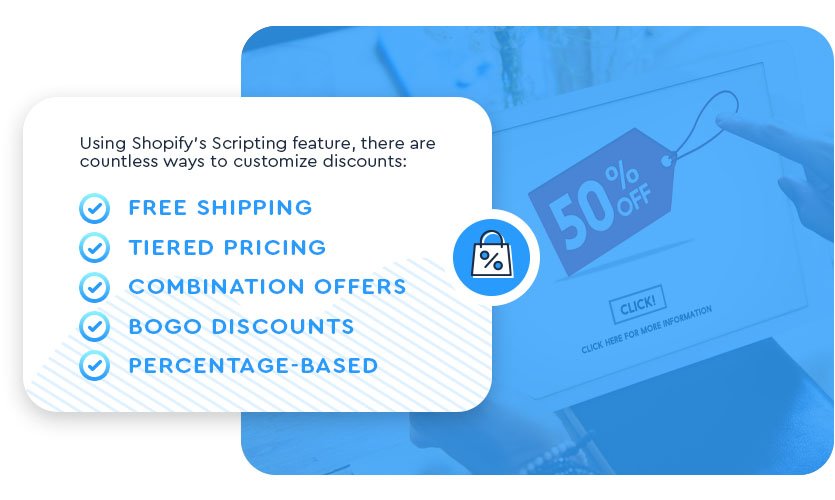 Using Shopify's Scripting feature, there are countless ways to customize discounts, such as:
Free shipping or free gift promotions
Tiered pricing to give special discounts to certain VIP customers
Combination offers and product bundles that boost average order value
Product-specific BOGO discounts
Percentage-based discounts
Developers can write custom scripts for discount events that will be hosted and run by Shopify, so you can easily add custom logic to your story for any promotion.
Product Event Management
Product and store updates can sometimes be a headache for ecommerce brands, especially when you're trying to prep for a product launch. A sizable launch can involve a number of changes, and one missed step can create a headache on launch day.
Shopify Plus merchants have access to the Launchpad tool to alleviate some of that pain. Whether for flash sales or product launches, you can use the Launchpad tool to schedule bulk changes to coincide with the beginning and end of events in your online store.
For Sculpthouse's combined fitness studio and fashion boutique, Shopify Plus provided the capability to schedule collection launches for their new athleisure offerings.
A few items you can schedule include:
Visibility of product pricing, inventory, and products per selling channel
Changes at the theme-level for altering the visibility of event-specific content
Lock down your store for a preset length of time to help build anticipation
Captcha integration for product launches to prevent automated bot purchasing
A tool like Launchpad greatly reduces manual tasks and the chances of human error. With some 68% of carts abandoned under normal circumstances, you want to do all you can to avoid hiccups that could cost you revenue around events.
Dedicated Success Manager
Customer service is one of several areas where Shopify excels. The level of support for Shopify merchants is already stellar, with 24/7 support and service; Shopify Plus merchants get priority attention.
Each Shopify Plus account is given a dedicated "Success Manager." These managers are not just there for support and to answer questions. Success managers provide a wealth of services including:
Design modifications
Advocates for feature requests and internal suggestions
Assistance with regional store setup
Assistance with custom integrations for marketplaces
Strategies to help you reach business goals
Advice on international expansion, including languages and currencies
Extensive Integrations and Trusted App Marketplace
Shopify is well-known for its extensive app marketplace and ease of integration with other platforms. The marketplace offers more than 1500 apps checked and verified by Shopify, so you know they can be trusted to make running your online stores easier.
The apps and integrations are there to assist with areas such as:
Customer service
Inventory control
Marketing and promotions
Wholesale and B2B customers and orders
Shopify Plus merchants benefit from having a much higher-allowed volume of API calls. This allows for the operation of multiple integrations working together without the fear of hitting API limits.
If you can't find the app or integration for your ERP or CRM, there's always the option to have your own developers through Shopify Plus's REST API.
Improve Conversions with Shopify Pay
For brands with returning customers, Shopify Pay is an attractive feature to streamline the shopping and checkout experience.
Customers can save their credit card, shipping, and other billing information to make checkout far easier the next time through. By dropping the number of required fields from around sixteen down to just two, you can significantly reduce the friction that comes with checkout.
Reduce friction, and you improve conversions—an especially smart move for streamlining the mobile shopping experience.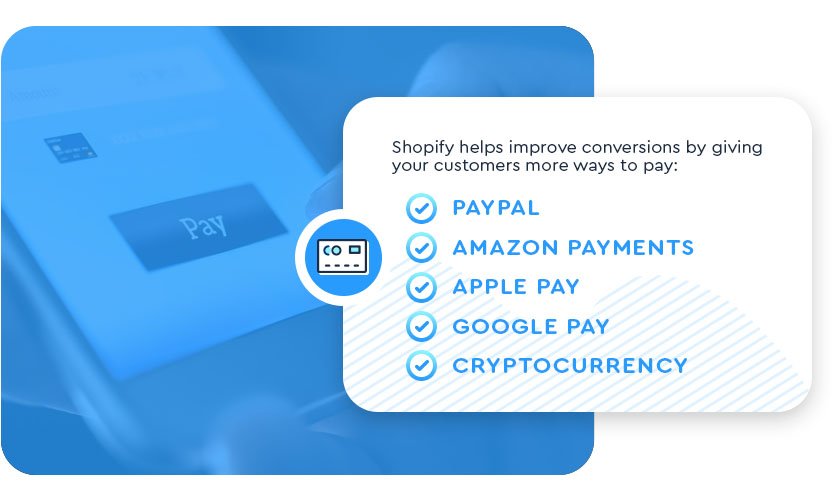 Shopify also helps reduce friction and improve conversions by giving your customers more ways to pay. You can also offer customers countless other payment options to make it easier for them to check out, including:
PayPal
Amazon Payments
Apple Pay
Google Pay
Cryptocurrency
On the administrative side, Shopify Plus includes a built-in payment gateway with no transaction fees and no additional fees. You also have over 70 other payment gateways to choose from.
Wholesale Functionality Is Live
Wholesale/B2B has been sorely lacking for many ecommerce platforms, but we're finally starting to see the industry catch up. At Unite 2017, Shopify announced it was launching a new wholesale platform addition that would give enterprise brands the ability to run a separate website from their existing Shopify account.
This is a great improvement over past options and other ecommerce platforms, where B2B/wholesale operations had to be run as a completely separate account and standalone store, resulting in higher monthly fees and additional upkeep across individual sites.
Customizable Workflows
Inventory and order management can be a massive time-suck for growing enterprise brands. As business scales up, automation becomes critical.
The new Shopify Flow addition introduces time-saving ecommerce automations for inventory, customer, and order management, as well as seamless integration with critical external tools.
For example, Plus customers could create a workflow based on three simple steps: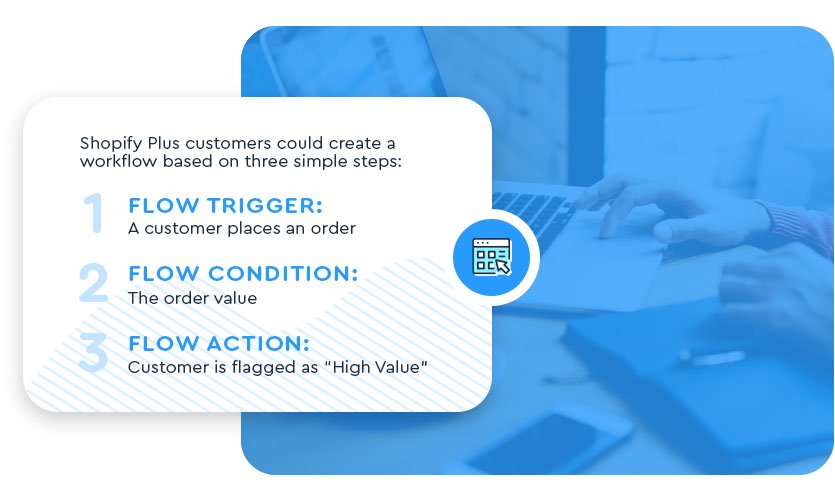 Flow Trigger: A customer places an order.
Flow Condition: The order value is over $200.
Flow Action: Customer is automatically flagged as "High Value." Customer engagement team is notified to initiate personal outreach and include a thank you note in the order.
This kind of automation is a huge benefit to growing enterprise brands with numerous opportunities for use. Here are just a few cases of use:
Notifies team leads when high-risk orders are flagged
Triggers multiple workflows when orders are placed
Triggers for order fulfillment then encourages B2B/wholesale account follow-up
Bases automatic restock on inventory levels
Automates product collections and catalog updates as products are added
Segments customers based on various conditions
Final Thoughts
For those interested in the benefits of a hosted platform like Shopify Plus, retailers can trust the SaaS approach to ecommerce to simplify their storefront. Through taking the time to plan and test the Shopify Plus features, there are endless possibilities to give larger ecommerce merchants and enterprise brands all the room and resources they need to grow.
If your brand is prepared to migrate to Shopify Plus, reach out to Wpromote's expert design and development team to consult about a site migration. Our team of seasoned professionals can ensure that your new Shopify Plus migration is skillfully managed to produce an optimized storefront that is ready to elevate your brand's bottom line.