For decades, Walmart has been the most dominant force in retail. However, in 2019, Amazon officially surpassed Walmart as the world's largest retailer.
In an attempt to reclaim its former mantle, Walmart acquired an online advertising startup, Polymorph Labs, to compete with Amazon in the digital ad space.
Moreover, earlier this month, Walmart launched its self-serve ad platform that enables advertisers to directly purchase on-site adverts within the company's marketplace, much like marketers can do through Amazon. In the announcement of this offering, Walmart stated:
"Today, we're kicking off 2020 with the launch of our Walmart Advertising Partners program to expand advertisers' direct access to their Sponsored Products campaigns, a bidded auction-based marketplace, giving them more transparency and control. Brands will now be able to increase visibility with Walmart's diverse, sizable audience of shoppers."
Previously, Walmart sellers were only capable of buying adverts through a managed service. However, this new offering opens the floodgates for average sellers to begin promoting products on Walmart's website.
While this is a significant development in the online retail landscape, what may be even more impactful is that Walmart recently made a genius move to potentially beat Amazon.
The fact is that Amazon's incredibly fast shipping options are costing the retailer money–lots of money. In fact, Amazon is losing money on many sales because of this single factor.
This is where Walmart has the upper hand.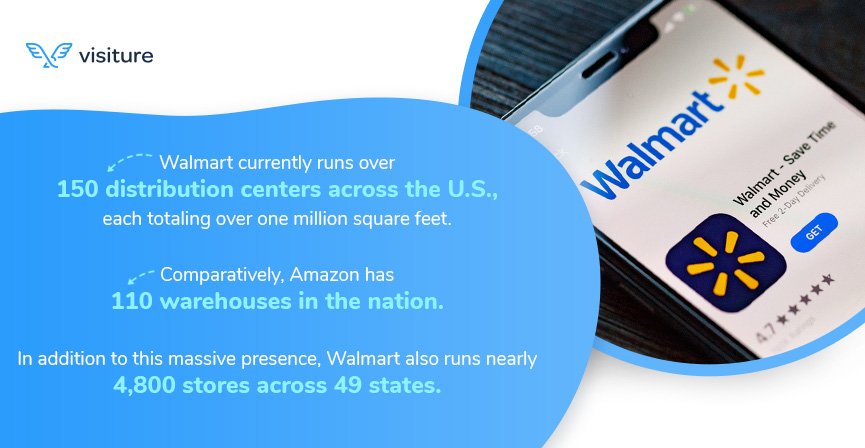 Walmart currently runs over 150 distribution centers across the U.S., each totaling over one million square feet. Comparatively, Amazon has 110 warehouses in the nation.
In addition to this massive presence, the company also runs nearly 4,800 stores across 49 states.
Walmart, who is utilizing its physical stores as warehouses for digital sales, effectively possesses the most extensive shipping network in the country.
While Amazon ad campaigns are undoubtedly crucial for ecommerce retailers, it is time for merchants to turn their attention to advertising via Walmart as the company is poised to recover its crown and potentially steal Amazon's title of third-largest advertiser online over the next few years.
Here is everything ecommerce merchants need to know about advertising on the Walmart marketplace.
The Benefits of Walmart Advertising
For retailers who want to understand more about which ads drive conversions, and which fall flat (which is all of us), Walmart's "closed-loop" advertising system helps to meet this end.
Through this system, retailers are covered in each point in the customer's journey across the site, thereby enabling sellers to learn about consumer shopping behaviors on the site and which adverts are most effective in influencing purchases.
With the Walmart advertising platform, merchants can:
Pinpoint target consumers
Measure media effectiveness
Produce influential ad messaging
Identify which ads are most prosperous
Armed with such information, retailers can successfully reach the right shoppers with the right kinds of Walmart adverts.
How Walmart Advertising Works
Much like Amazon PPC campaigns, Walmart offers a handful of advertising options to qualified sellers. Moreover, Walmart's merchants also have the option of promoting specific products, or the brand as a whole, again paralleling Amazon. More on this momentarily.
However, Walmart currently touts comparatively rigid eligibility and ad spend requirements. As it stands, it is mandatory for brands to submit an advertising application to the Walmart Media Group and commit to a minimum $1,000 monthly ad spend.
While the Walmart Marketplace does offer ad management services for campaigns that invest $25,000 or more, sellers are able to oversee their own ad campaign, if desired.
Moreover, as was mentioned earlier, the Walmart Media Group recently rolled out a self-serve option that enables advertisers to purchase certain ads on Walmart.com or through the mobile app directly.
This is a significant development as, until this point, Walmart directly worked with promoters through managed services alone.
Along with this new offering, Walmart has selected a small handful of ecommerce ad tech companies to be the first plugged into the retailer's application programming interface (API) that will enable automated ad buys.
While the initial API partners–Teikametrics, Flywheel Digital, Pacvue and Kenshoo–helped the company during the beta testing period, the auction-based bidding marketplace is now open to all qualified sellers.
With this new offering, Walmart is in a more advantageous position to compete with Amazon's marketing services, with the company promising increased transparency, control and functionality as the platform continues to mature.
With that covered, let's explore the current ad types that retailers can leverage to promote products on the Walmart Marketplace.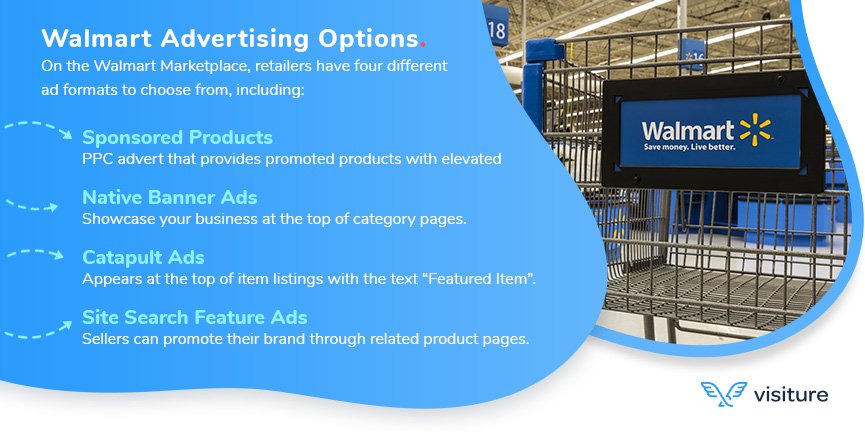 Walmart Advertising Options
While sites like Google have a slew of PPC ad formats for merchants to leverage, Walmart is relatively new to the advertising game, meaning there are only a small handful of ad types sellers can deploy through its marketplace.
On the Walmart Marketplace, retailers have four different ad formats to choose from, including:
Sponsored Products
Sponsored Products, previously known as Performance ads, are a PPC advert that provides promoted products with elevated visibility through premier placement in Walmart's Marketplace.
Much akin to Amazon's Sponsored Products, Walmart's advertising counterpart surfaces product listings when users search for a relevant keyword in the marketplace. These ads can surface in the search results pages, category page and item pages. Moreover, Sponsored Products display across desktop and mobile devices, as well as in the Walmart app.
While it was not always the case, in early 2019, Walmart Sponsored Products began operating on a bidding system centered on ecommerce keyword strategies that leverage the most relevant terms for a product.
Again paralleling Amazon's ad platform, Walmart sellers can bid on keywords based on different match types, including broad, phrase and exact. At this point, Walmart does not have a negative keyword option. Moreover, keyword targeting is currently restricted to the campaign level.
Naturally, Walmart Sponsored Products are a popular option for retailers aiming to:
Increase Conversions: Sponsored Products prominently display on the first page of the search results in positions three, five, six or twelve. Additionally, only two of these slots will be filled at any given time.
Maximize Advertising Spend: While the Walmart Marketplace is a burgeoning online destination for sellers, there is currently far less competition than on sites like Amazon, meaning that sellers have a greater chance of earning PPC conversions.
Test New Product Launches: Sponsored Products get items in front of massive audiences, thereby helping merchants to determine the viability of new product lines based on clicks and conversions.
Native Banner Ads
Native Banner ads are essentially the Walmart advertising analog for Amazon's Sponsored Brands adverts. Through this ad type, sellers can partner with the Walmart Media Group to raise awareness around a brand within the marketplace.
As of now, Native Banner ads cannot be purchased through Walmart's new self-serve ad platform. However, those who ally with Walmart to serve these adverts can showcase their business at the top of category pages, thereby promoting the brand alongside several of its products.
Catapult Ads
Catapult ads–Walmart's version of Product Display ads–surface at the top of item listings with the text "Featured Item" to highlight that the product is a paid advertisement.
However, Catapult ads do not rely on keywords to determine where they show. Instead, these adverts utilize product categories to establish placement within the marketplace.
Catapult ads are the perfect option for increasing sales on an item by stealing customers away from competing product pages. However, this ad option demands that retailers sustain a low advertising cost of sale (ACoS) to ensure profit maximization.
Site Search Feature Ads
The Site Search Feature ad is a rather exclusive advert type for Walmart advertising. With this ad, sellers can promote their brand through related product pages. When users click the advert, they are taken to a page that showcases all of a brand's products. From there, consumers can utilize various filters to narrow the item selection.
The Site Search Feature ad can certainly aid retailers in increasing ecommerce sales. However, this ad type is also a viable option for promoting brand awareness.
With the Walmart advertising options covered, it is time to explore how sellers can get started marketing their merchandise in the Walmart Marketplace.
How to Get Started with Walmart Advertising
As it stands, getting started with advertising through Walmart is a bit more involved than with sites like Amazon. However, with the tremendous potential that this platform holds, it is worth the extra steps.
To begin advertising on Walmart:
Become a Marketplace Seller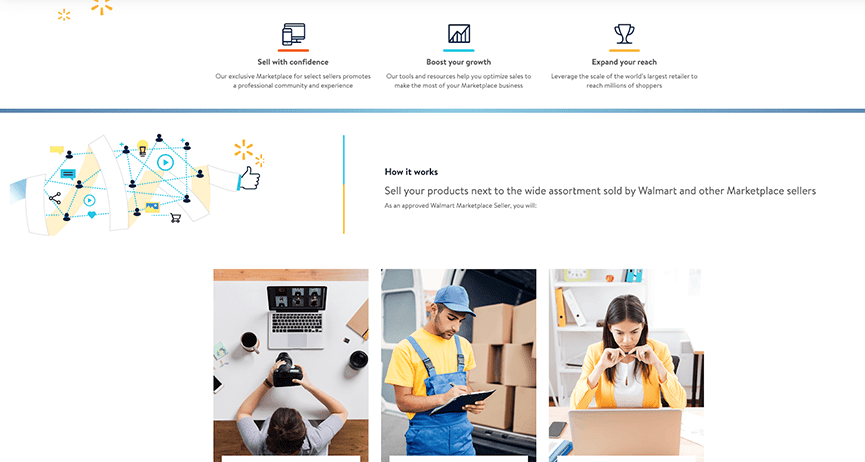 For those who have yet to start selling on Walmart, it is necessary to fill out the Marketplace application, which only takes about 10 minutes to complete. During this process, Walmart will ask for information pertaining to annual online sales revenue, ecommerce experience and other business details.
After receiving approval from Walmart, sellers can move on to the other portions of the registration process, including:
Signing Walmart's Retailer Agreement
Completing the seller profile
Linking payment account to the seller profile
From here, retailers can begin uploading their products to Walmart's Marketplace.

Create a Product Catalog
After officially becoming part of the Walmart Marketplace, retailers can create their product catalog.
With Walmart, sellers have two different options for uploading their items to the platform. These options include:
Setup by Match: If a merchant sells items that are already listed in the Walmart Marketplace, they can utilize Setup by Match to streamline the process. Through this option, Walmart will create the listing by pulling data from identical product pages in the marketplace.
Full Item Spec: For those who wish to create wholly unique product listings (which is the recommended approach), Full Item Spec is the way to go. Through this option, retailers can download a product template for a corresponding category to create exclusive product listings.
According to Walmart, merchants should upload approximately 100 items to their inventory.
After setting up the product catalog, sellers must complete order testing, which can be done through their Seller Central Account.
Request Advertising Access
With everything set up, retailers can begin advertising through Walmart by submitting an advertising application to the Walmart Media Group, which reviews and approves each application.
Depending on company performance in the Walmart Marketplace, the company may approve or deny the advertising request. Unfortunately, Walmart Media Group does not openly acknowledge the requirements that must be met. However, there is a minimum requirement of $1,000 monthly ad spend, as mentioned earlier.
Attend the Walmart Advertising Webinar
Assuming the Walmart Media Group approves the seller's advertising request, the company will then contact the retailer and invite them to attend an online training webinar. This is a mandatory step for utilizing Walmart advertising services.
The Walmart Media Group hosts weekly training webinars so that teams can coordinate when to attend. The webinar covers the basics of how the platform works, how to create ads and other vital details. Moreover, the webinar includes a live question-and-answer session at the end of the presentation, where sellers can clear up any confusion or concerns.
Log In to Walmart's Ad Platform
After attending Walmart's advertising webinar, the Walmart Media Group will provide promoters access to the company's advertising platform, which retailers can log in to with their Seller Account information.
At this point, merchants should be familiar with the ad creation process. From here, retailers can begin to work with Walmart ad management services or self-serve ad buys.
Launch a Campaign
After moving through the entirety of the onboarding process, sellers are finally ready to launch their first Walmart advertising campaign. However, before creating that initial product push, it is vital to determine:
Which products should be promoted
The company's Walmart advertising budget (aside from the minimum)
How much should be spent per product
The length of each campaign
After determining these critical details, sellers can create their first Walmart advertising campaign. Naturally, merchants should closely monitor campaign performance and adjust strategies as data is collected and analyzed to optimize advertising outcomes.
Walmart advertising is new territory for many ecommerce retailers. Whereas most are familiar with Amazon, there is sure to be a learning curve with this new promotional platform.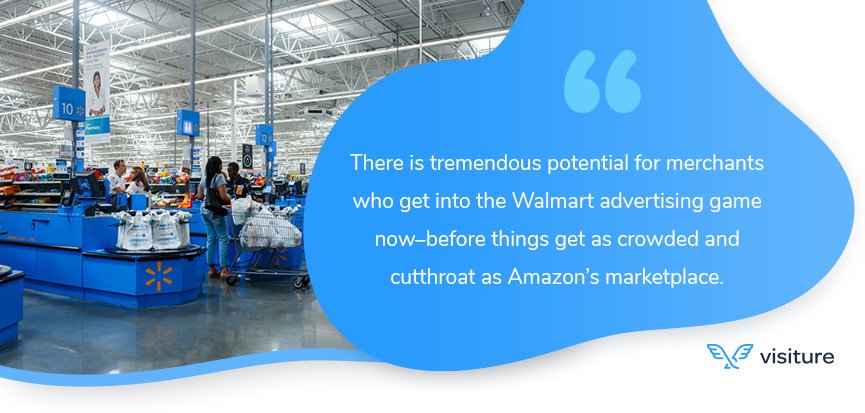 That said, between the fact that many brands are leaving Amazon, Walmart's rapidly growing marketplace and the physical shipping network that buttresses its online operations, there is tremendous potential for merchants who get into the Walmart advertising game now–before things get as crowded and cutthroat as Amazon's marketplace.
If your company is interested in establishing market dominance on Walmart and seizing the opportunities presented through the company's new ad offerings, reach out to Wpromote's ecommerce advertising professionals and we can help your brand successfully promote its products in the Walmart Marketplace.