As an ecommerce business owner, selling through multiple channels is important to growing your customer base and spreading brand awareness. Of course, most ecommerce companies focus on their specific website's store but selling products through Amazon, eBay and social media platforms can attract new customers and increase your overall sales. For some, selling on both Amazon and eBay is beneficial while other companies are better suited to using just one of these channels. Check out this breakdown of each marketplace site to determine what's best for your business.
Amazon vs. eBay
Amazon and eBay are two of the largest names in ecommerce. Amazon began in 1995 as an online book retailer but quickly expanded its catalog of available products. Coincidentally, eBay also got its start in 1995 when the founder created an online auction platform originally named Auction Web. In just over 20 years, both of these companies have become incredibly successful with millions of daily users.
Today, the biggest difference between the two platforms is that Amazon is designed to be a virtual marketplace offering a wide range of products from multiple vendors at fixed prices while eBay is an auction-based site, though it also features the option to offer products at a fixed price, too. Originally, many of eBay's sellers were not necessarily ecommerce business owners but everyday people auctioning off new and previously owned items. Now that ecommerce is a booming industry, many business owners offer products on both of these platforms.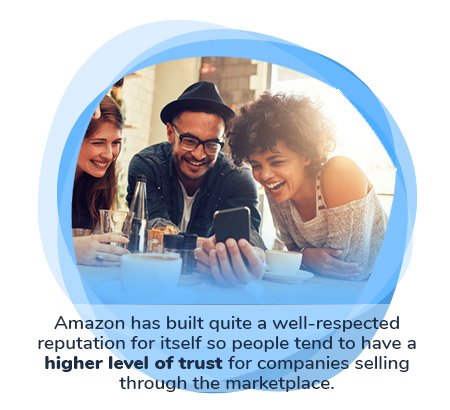 Who Is Selling on Amazon and eBay?
Along with a vast marketplace of third-party sellers, Amazon offers shoppers its own line of product inventory, but the company reports that the majority of products are sold through third-party vendors. When consumers search for items on this platform, they can see results from both Amazon's own inventory and the marketplace where other ecommerce companies advertise their products. Amazon allows merchants to set up their own shop and takes the burden off merchants by handling the customer service, shipping and fulfillment. Another huge advantage to selling on Amazon is that your business is now a part of the brand, and Amazon has built quite a well-respected reputation for itself so people tend to have a higher level of trust for companies selling through the marketplace.
What Is the Difference Between Amazon and eBay Customers?
When trying to decide between Amazon and eBay, it's important to consider what types of customers are using each platform to ensure that you have the best possible chance of reaching your target market. While eBay has more than 25 million sellers, Amazon has a much larger buyer base, estimated at around 310 million (eBay's customer base is said to be around 167 million). Amazon Prime members are considered very loyal customers because the company has positioned itself as a buyer-orientated service offering the ever-desirable free two-day shipping (with a membership). Amazon has also come to be known for its outstanding customer service with relatively short wait times via phone and convenient return policies.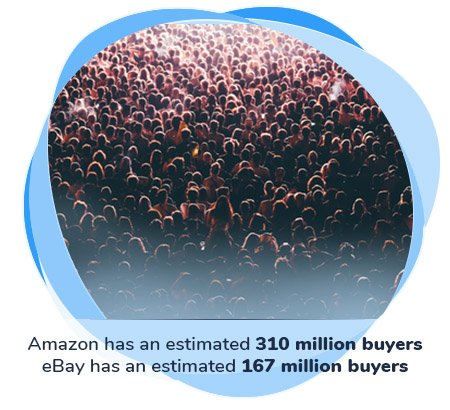 On the other hand, eBay customers are still loyal to the brand, but they tend to value the overall quality of the products more. Consumers on both sites come to these platforms expecting low prices. eBay's reputation as an auction-based site leads users to believe that prices will be lower, although 80 percent of all items found on the platform are priced as a fixed rate. When it comes to Amazon, more than 50 percent of shoppers use Amazon first to check product prices.
Though Amazon and eBay are both great outlets for ecommerce companies looking to supplement their revenue, buyers make purchases based on their view towards these major companies rather than your specific brand. eBay has a more seller-oriented take on ecommerce, which means that buyers are more likely to learn about your specific brand and potentially revisit in the future. Amazon buyers are not as aware of which third-party vendors they're buying from because they're relying on Amazon's credibility, but CPC Strategy reports that more than 53 percent of buyers feel more confident purchasing from an unknown company through Amazon's marketplace than any other platform.
Selling Fees: Amazon vs. eBay
Cost is an important aspect to consider when selecting which channel you're going to sell products through. If you're paying a lot in seller and advertising fees but not seeing the returns that you want, it may be worth switching platforms. Let's take a closer look at how Amazon and eBay charge their sellers.
Amazon Fees
When setting up a vendor account on Amazon, you can opt to sell products as an individual or professional. Individual sellers are expected to sell less than 40 items per month while professionals sell more than that. Setting up an individual account is free, but you'll be charged $0.99 per transaction plus a selling fee, which varies based on product type. Professional account holders pay a monthly fee of $39.99 plus those same individual selling fees, but they also have access to the Sponsored Product Ads feature to help spread brand awareness and attract customers. This feature essentially works the same as PPC campaigns on search engines. You can pay to have your product placed at the top of Amazon search results for specific keywords.
eBay Fees
Selling fees on eBay are organized a bit differently. No monthly membership is required, but every seller is charged an insertion fee and a final value fee (FVF). When a product is initially listed, an insertion fee is charged for each individual listing. If you have an eBay store, you'll receive 50 free insertion fees each month. If you exceed the free listings, you'll receive the fee back once your item sells. If your item never sells, the insertion fee is nonrefundable. After a buyer makes a purchase from your eBay store, the company charges a FVF, similar to Amazon's selling fee, which charges sellers a percent of the overall sale.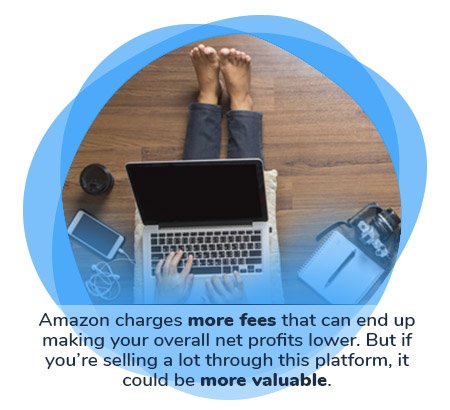 Overall, Amazon charges more fees that can end up making your overall net profits lower. But if you're selling a lot through this platform, it could be more valuable.
Shipping and Fulfillment Through Amazon vs. eBay
Shipping and fulfilment options are a major factor in which platform you decide to use. If you don't currently stock your own inventory, Amazon is probably a better choice because they offer a plethora of shipping and fulfillment options so you don't need to worry about this step of the process. You can have your products stored in Amazon warehouses and shipped through the company, though you will have to pay additional fees for this service. If you prefer fulfilling orders and shipments yourself, you can opt for this as well. eBay, on the other hand, does not offer this same feature, so sellers are responsible for all things shipping and order fulfillment related.
Pros and Cons of Selling on Amazon
Overall, Amazon offers some great benefits to ecommerce merchants looking to sell through their site. They can handle your storing and shipping needs and your brand will be associated with this highly credible company. The platform allows access to hundreds of millions of potential customers around the world, but because of the company's widespread reach, competition for ranking higher than other third-party vendors is high. Because Amazon manufactures and sells smart home devices like Amazon Echo, your products can easily be optimized for voice search through these devices.
Pros and Cons of Selling on eBay
When compared to Amazon, eBay is considered to be more focused on its sellers than its buyers because the company relies entirely on sellers for products while Amazon offers its own line of items. Fees on eBay tend to be cheaper than Amazon, but you're also working with a smaller consumer base. This isn't necessarily a con though because eBay users tend to seek more specific items (antiques or vintage products specifically), which could be beneficial to targeting a more distinct market. eBay also offers shopper analytics while Amazon does not, providing you with a greater level of insight into how your customers are interacting with your store.
The Verdict
Both Amazon and eBay offer a range of opportunities to merchants. Using these major platforms is a great way to get your brand in front of a massive audience and boost conversions. For ecommerce shop owners who do not store their own inventory, Amazon is the obvious choice because of its additional shipping and fulfillment features. eBay overall seems to be cheaper and attract a more specific market, so it is a good option for merchants selling particular products like unique or antique items. Many store owners end up testing out both outlets and comparing the results to select just one platform or reap the benefits of Amazon and eBay. For help with your strategy on Amazon, contact our team of Amazon experts.