The beginning of the internet almost 30 years ago triggered a marketing revolution that has accelerated with every major technological development from search engines to smartphones. In response to these innovations, consumer outreach evolved as businesses began launching new strategies to maximize their online presence in hopes of reaching larger audiences. With the introduction of social media networks—LinkedIn (2002), Facebook (2004), YouTube (2005), Twitter (2007), and Instagram (2010)—and the increase in paid social advertising potential in recent years, doing so has become more and more feasible.
For most businesses, incorporating social media as part of their ongoing digital marketing efforts was an easy win; but for businesses operating in a regulated industry, this proved to be more challenging. Figuring out how to use social media effectively while still remaining compliant was a long process of trial-and-error.
It's 2018 and businesses in the financial services sector have recently started reaping the benefits of social media marketing. Over the past few years, we've noticed a number of strong social media trends particular to financial services and are predicting some unique opportunities as well as some challenges for them in this coming year.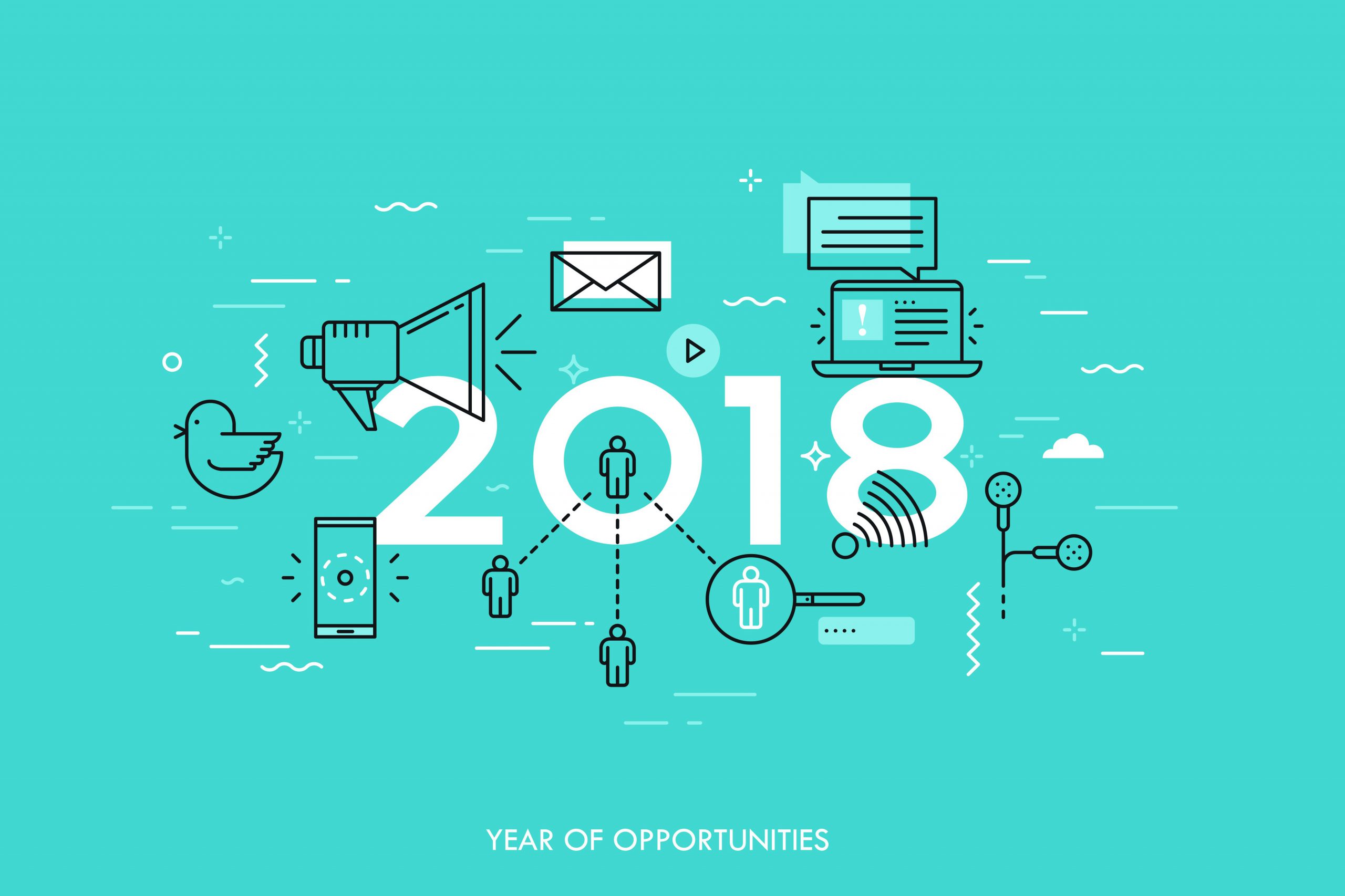 Social Media Trends From 2017 That Will Impact This Year
Not all social media platforms are equal in how they serve a particular industry, a concept that proves true when looking at how financial services companies use different social media platforms to accomplish their marketing goals.
At the end of 2017, Hootsuite analyzed 400+ million social media posts published that year and shared a few interesting insights for the financial services sector.
Financial services companies publish 43% of their messages on Twitter compared to 29% on Facebook, 17% on LinkedIn, and 11% on Instagram. However, when it comes to promoting media assets (like photos, audio, and video), Facebook and Instagram are used much more heavily.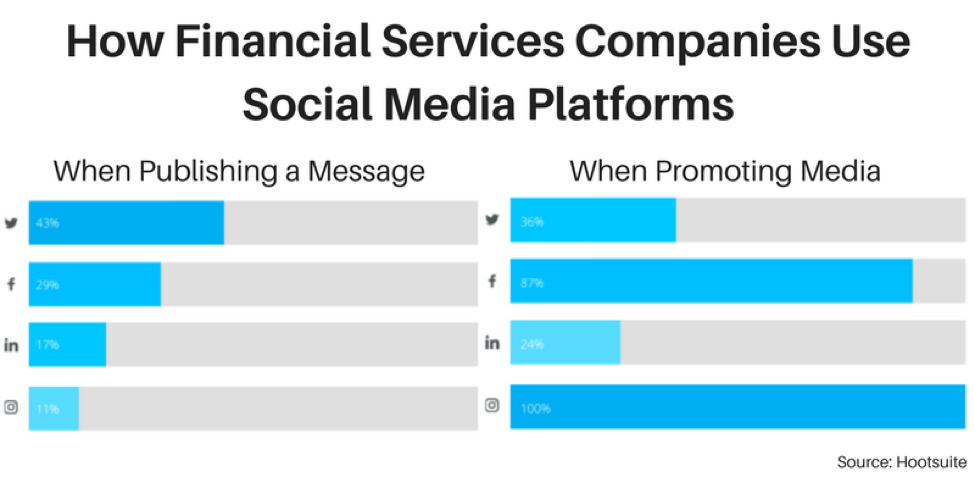 Twitter Might Be Making Some Big Changes In 2018
Financial services companies who primarily rely on Twitter to grow their brand, network with other professionals, and communicate with their customer base may have to find other ways to do so in 2018.
Unlike LinkedIn, Facebook, and Instagram who saw incredible success last year, Twitter failed to grow its followers significantly in 2017. In fact, only 328 million out of 1.3 billion accounts are actually active today. Twitter's lack of active user growth is prompting its leadership to think about making some big changes this year.
Revamping Twitter's advertising potential in an effort to boost its stock price is among several options on the table, as is selling the company to private investors. This means in order to continue reaching the same number of people, businesses in the financial services industry will have to start spending more money on social advertising.
Financial Services Companies Were More Active in a Variety of Social Media Platforms Compared to Companies in Other Regulated Industries.
Although financial services companies will be among those largely affected by Twitter's potentially dim future, there is good news. In Hootsuite's 400 million post analysis, they noted that companies in the financial services sector use a wider range of social media platforms than companies in other regulated industries, a trend we also see among our clients. This means that although it will be necessary to increase activity on other social media platforms to remain competitive, businesses in the financial services sector have already started building rapport with each of these audiences and will see more success at a quicker rate in comparison to other regulated companies because they will not have to start from ground zero.
In 2017, the Majority of Financial Services Social Media Activity Occurred on Weekdays During Working Hours.
Financial services companies typically post during the weekday between the hours of 9:00 am and 4:00 pm. On weekends, social media posts are less frequent and are usually made in the evenings.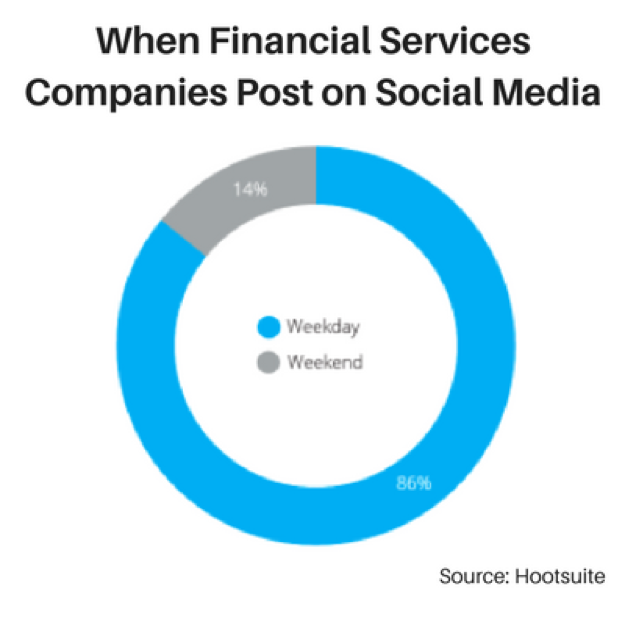 Scheduling Social Media Posts for Weekends and After Hours May Increase Customer Engagement by 32%.
"When is the Best Time to Post on Social Media?" is a question no one really knows the answer to but CoSchedule cross-referenced 20 different case studies on the topic, crunched some numbers, and put together a timetable to help businesses make the most of their social media efforts.
What they found was that the majority of social media engagement happens outside of when most financial service companies publish. By scheduling social media posts for during the weekend and after hours, financial services companies may increase customer engagement by 32% (CoSchedule).
Live-Streaming
What YouTube started in 2008, Facebook continued in 2016, giving both users and businesses the ability to live-stream directly onto its platform (Business.com). In 2018, we can expect a continued increase in live-streaming and more involvement from those in regulated industries.
Some popular ways financial service companies can use live-streaming include:
Addressing multiple blog and social media comments at one time
Giving your fans a behind-the-scenes tour
Promoting an upcoming event or seasonal service opportunity
Discussing individual products or services offered
Interviewing an expert in the field
Answering frequently asked questions
Video Advertising
In 2016, digital ad spend overtook television ad spend for the first time ever in the U.S. market and that trend is expected to continue into 2018 and beyond.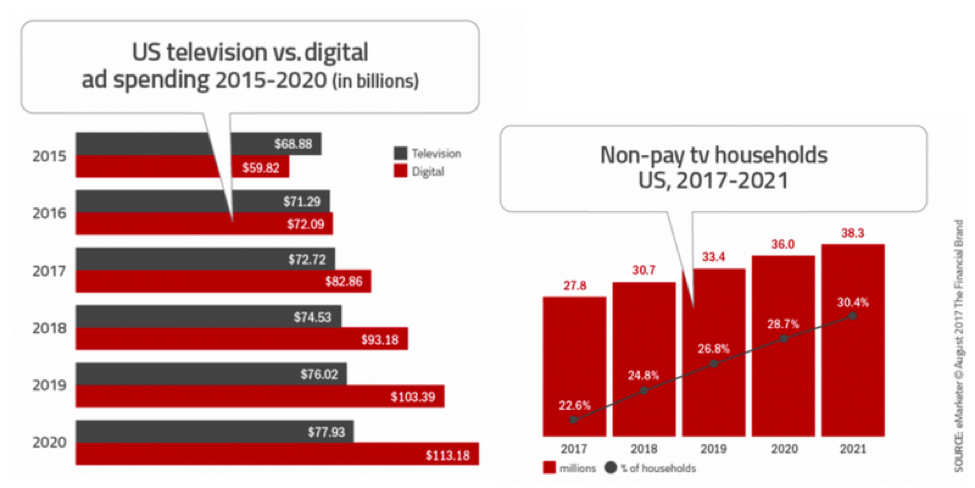 At the same time, we are also seeing an increase in non-pay TV households, meaning consumers are opting for Internet-delivered content instead of traditional cable. Together, these two trends are predicting the continued success of video advertising campaigns on social media platforms.
Businesses in the financial services sector who are most likely to receive the highest ROI from video advertising are those who already have a digital ad budget equal to 5-7% of their annual revenue as well as a growing social media presence.
Building Trust With Customers Will Become Even Harder in 2018
In addition to the decline of Facebook's organic reach, digital marketing experts believe that one of the biggest obstacles facing regulated industries in 2018 is building trust with potential customers online. The year 2017 gave way to a "fake news" era and people are becoming increasingly skeptical of everything they read on the Internet, but especially when they feel they're being sold to, and especially on social media.
Sharing original content (i.e., blog posts) on social media is an excellent way to soften the sale, but businesses in the financial services sector should still be prepared to be "Googled," fact-checked, and verified through nationally-trusted sources, competitor research, and consumer reviews.
5 Key Takeaways For Financial Services Companies In 2018
If financial services companies want to make big things happen in 2018, including these key takeaways into a solid social media strategy is a good place to start.
Spend more time posting on social media platforms that are really making an impact, like LinkedIn, Facebook, and Instagram. Put money behind the posts to reach a larger audience.
Schedule social media posts to publish during the weekend and after hours, not just during working hours on weekdays.
Include live-streaming or video in social media activity at least bi-weekly.
Incorporate video into the social media advertising budget.
Write original content, publish it on the website, and share it on all social media networks.
Reviewing social media activity and the response it receives can help financial services companies predict their next move. Taking a look at analytics and making changes to optimize engagement is the best way financial services companies can start and end the year with a bang.