Social media has quickly become a crowded market, where brands now have to "pay to play" if they want to be seen by their audiences. When competition is fierce, the bids are also high. It's important that brands apply best practices while building their campaigns so that their investment yields the highest possible return. In order for an ad to be effective, one must consider the product, audience, imagery, messaging, and layout. If an ad is not optimized for all of these elements, potential customers may turn the other way.
Advertising needs to not only target the right audience, but also pique their interest. Let's take a look at the easiest ways to conquer social advertising with the do's and don'ts outlined below.
Do – Use Carousel Ads To Show Product Variety
Carousel ads are a great way to showcase multiple products within a brand line on Facebook or Instagram. In this ad from lululemon, they used a carousel to create a gift guide so people shopping for runners on their list could browse multiple products that they might like. Grouping similar products by theme is a great way to not only narrow down your targeting but also to get people to buy multiple products within that collection. Under each product, there's a holiday-themed description that explains why the runner on your shopping list would enjoy each of the selected gifts in the collection. Collections can be a strong approach to carousel ads year-round.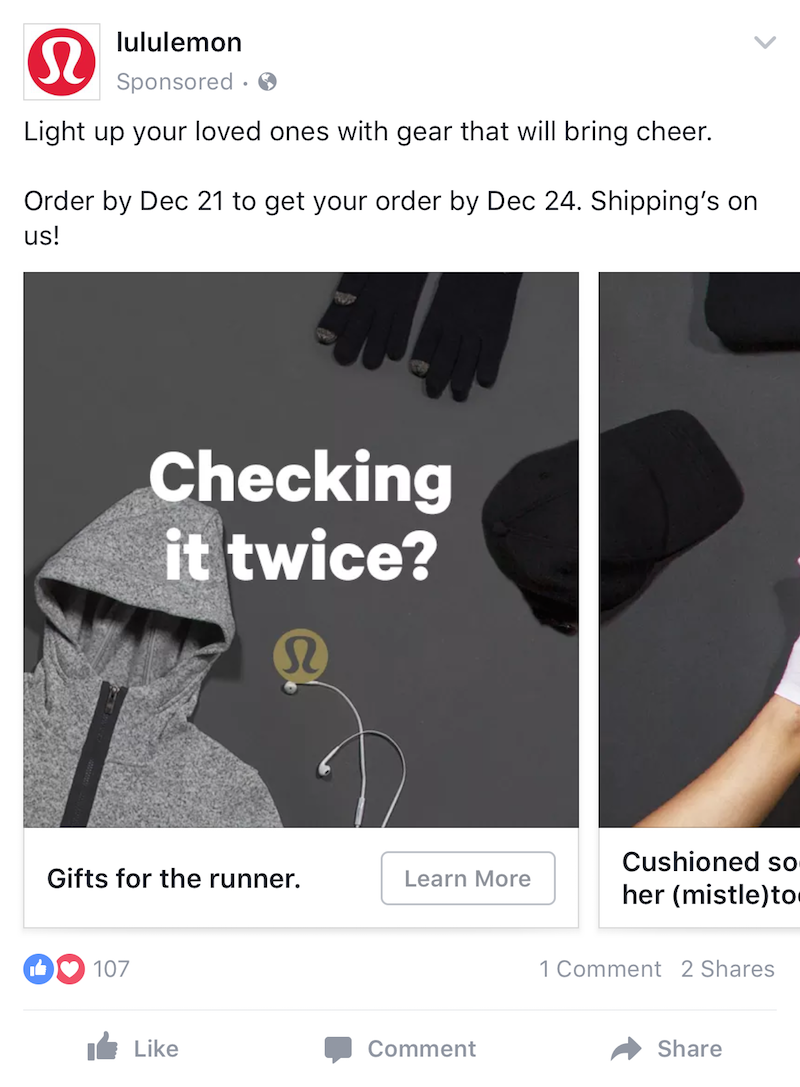 Do – Use Messaging To Get Immediate Action
Dollar Shave Club has a seamless brand voice and imagery that remain consistent across all their ads. In this example, they've chosen to highlight the low first-month price of $1, which helps appeal to any thrifty shoppers viewing the ad. Comparing the price of a one month trial to an everyday product like a bottle of Coke gives the reader little reason to turn down the offer. Understanding the messaging that will convince your audience to convert or purchase is extremely important. Build your messaging with your customer in mind and keep it consistent across social channels.
Do – Use A Sideshow or Videos To Show Styling
Integrating videos or slideshows with flat lays is an excellent way to showcase fashion products like workout gear, makeup, or accessories, to name a few. Wantable is a personal styling service that sends hand-selected products to your doorstep each month. In this Facebook ad, they utilized video to not only showcase the variety of fashion products they sell but how they style them together for a customer. These types of ads are not only visually appealing, but eye-catching for those that are aimlessly scrolling through their newsfeed. Wantable's use of video and slideshows in advertising is consistent across both Facebook and Instagram, which keeps the aesthetic of their ads seamless.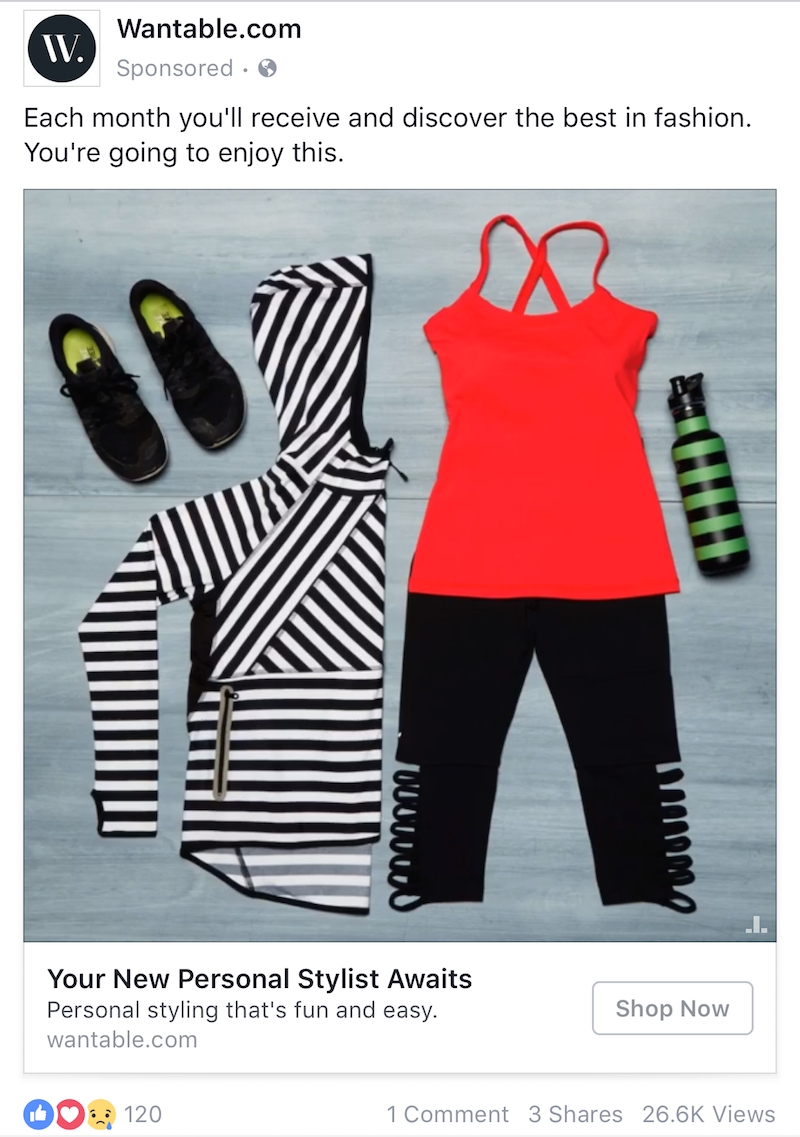 Don't – Ignore Mobile Optimization
If you're building ads that will be served in both desktop and mobile feeds, it's important to consider the creative, including copy and imagery, for both devices. While BaubleBar does an excellent job of explaining their current offer and showing one of their products, they did not consider the way copy would be displayed on mobile. The full link description may show on desktop, but in this mobile ad, the copy is cut off. This problem appears in all mobile versions of their ads. When you're crafting your message within Facebook Ads Manager, it's crucial that you check how your ad will display for users on both devices. Ad copy that is brief will not only meet the requirements for mobile but will be easy for users to read while they quickly skim through their newsfeed.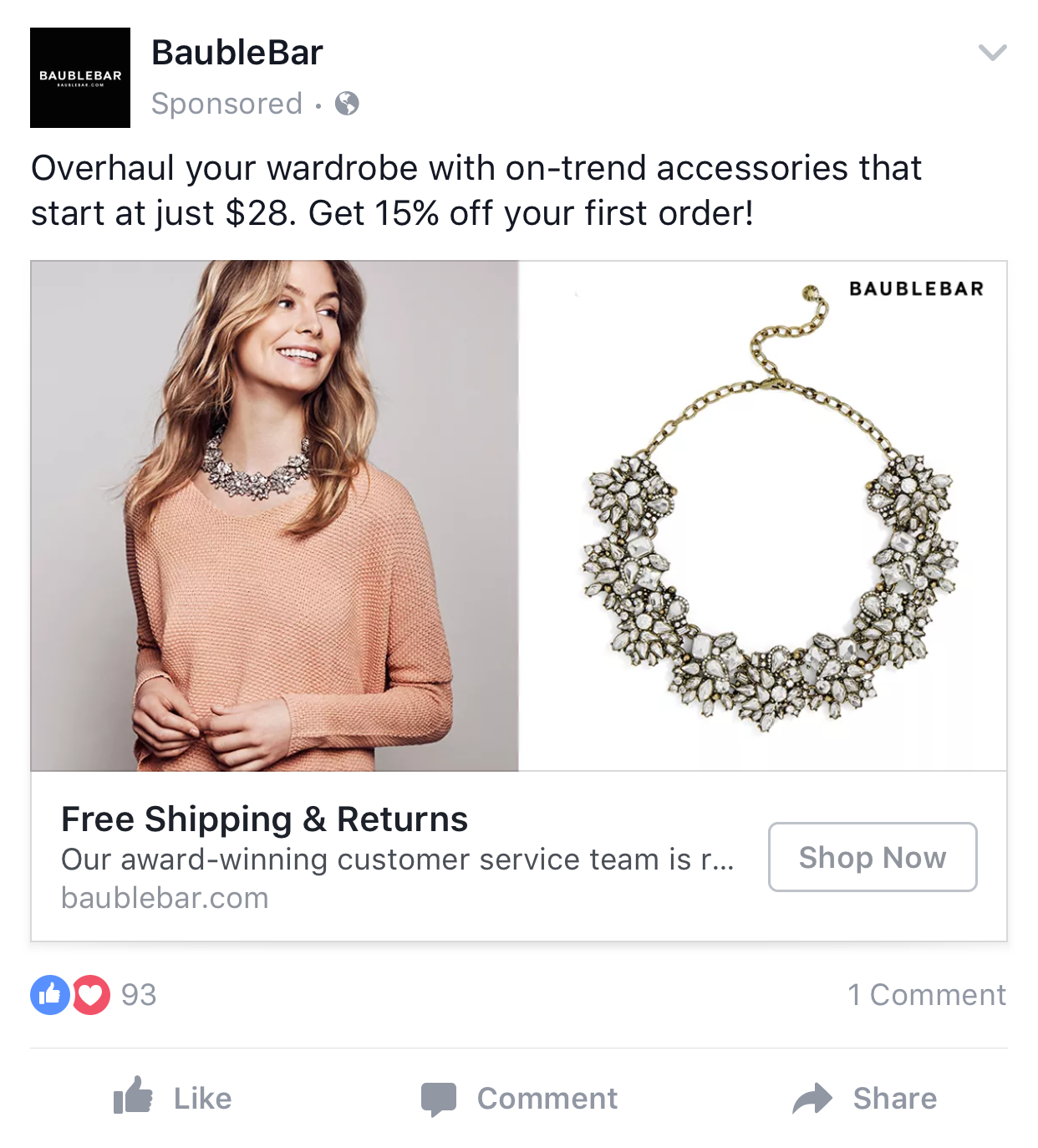 Don't – Confuse Your Customer With Multi-Promo Messaging
Talk about confusing messaging! If you're crafting an ad that promotes an ongoing or upcoming deal, it's important to stick to brief copy that will clearly describe the promotion. In this Facebook ad example for mobile, there are multiple promotions mentioned. It would be helpful to do three separate campaigns that promote these three different deals each with their own copy. With this example, a clear way to fix "Free Shipping On Orders +US$50" would be "Free Shipping On US Orders Of $50 Or More." Ad copy plays a key role in both the understanding and the action of the viewer, so always think about clarity when crafting your message.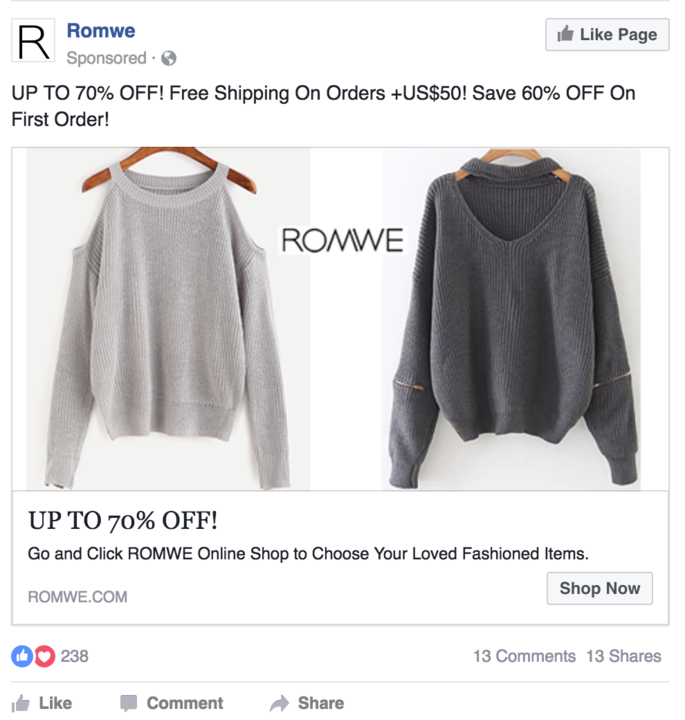 Don't – Forget to Explain What You Are Selling or Promoting
Advertising on Instagram takes up more real estate on mobile than Facebook ads do, so it's important to utilize the space wisely. This advertisement from aaptiv is most likely a prospecting ad, which should give a high-level explanation of the brand or product. A prospecting ad should explain what the app does so that someone who is being introduced to it for the first time will be more likely to install it if served the ad a second time. In this example, a positive quote from Apple and a user may lend the brand legitimacy, but it does not explain what the app does specifically. After reading the caption, we know the app can be used on a treadmill, but we don't know whether it's a music-based app or an audio fitness class. It's important to remember that Instagram ads drive a user from the app and away from their spot within their news feed. The ad needs to be informative and enticing enough for a user to take action.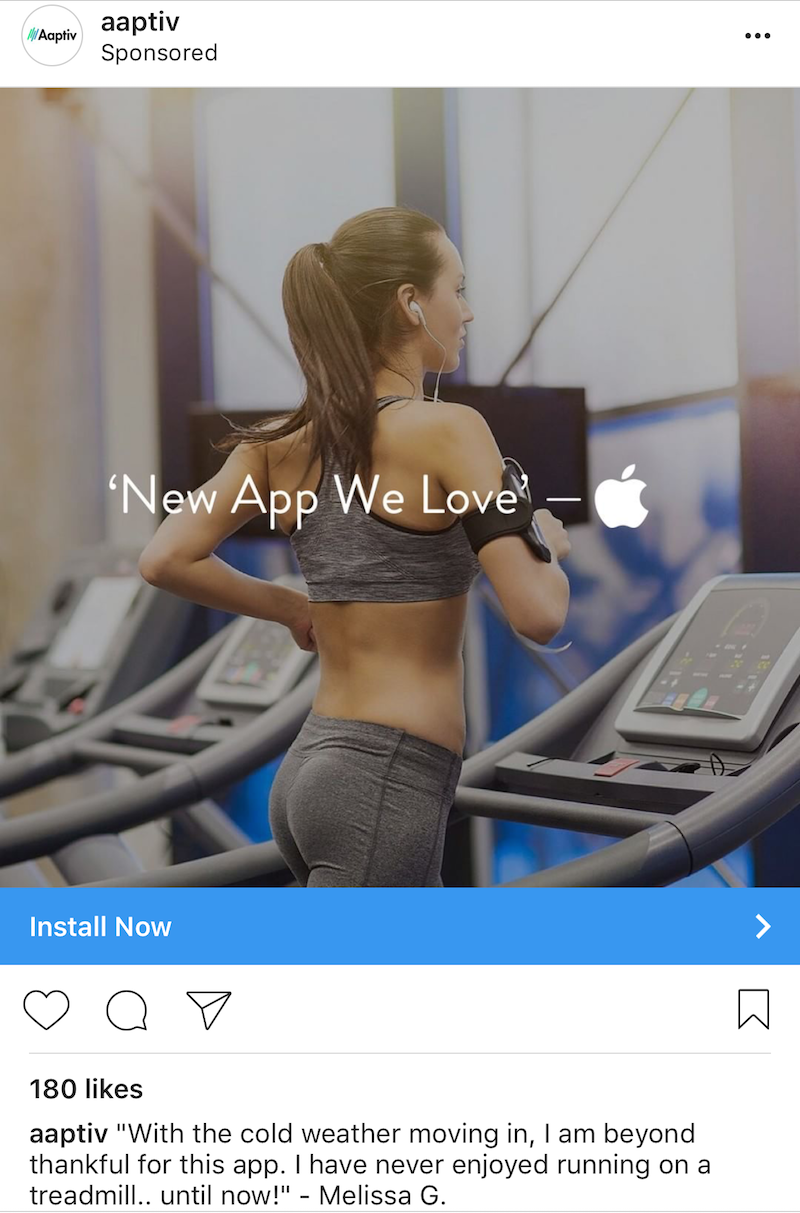 Paid Social Takeaways:
Utilize carousel ads to feature collections within a brand line. Creating a collection is an excellent way to narrow down your audience.
Craft copy that gives your audience no reason to say no. Using a price comparison is a strong way to make a claim.
Consider using video or slideshows to grab the attention of your audience. Flat lays work well to show styling of certain products together.
Check that your Facebook ads will display the way you want for desktop and mobile feeds. Optimizing for all devices is crucial in our mobile-first world.
Think about segmenting your layered messaging into multiple campaigns. Reading over your copy for clarity of the promotion is crucial.
Specify your product or service especially with prospecting campaigns. People are more likely to take action if they understand.
Is your business following these best practices? Find out today with a free social media advertising audit.