The best tricks of any trade are the ones that enable you to do a job in a shorter amount of time than it would have taken you if you hadn't known those tricks. That's like playing 666casino. If you don't have a trick up in sleeves, then what awaits you is significant to lose.
In other words, any capable professional in any specific business has one or two tricks up their sleeve that enable them to make their jobs (and thus, their lives) easier. And being a digital marketer is not any different. In fact one of the first things any good marketer who works in the SEO or content marketing space should familiarize themselves with is the use of basic Google operators so they can drill down into a website with a minimal amount of third party tools.
For example: if you wanted to quickly and easily tell a person how many pages of their website are in the google index and how they are being displayed you would simply punch this simple command into google:
site:wpromote.com
and Google would hand you back something like so: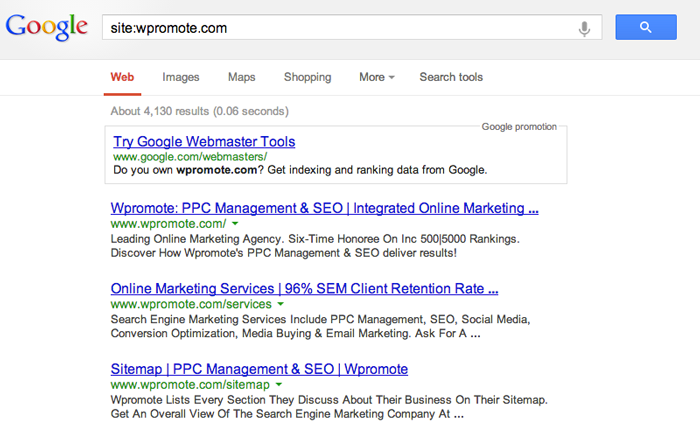 A working knowledge of Google operators is useful for everyone who operates in the online space. From public relations professionals looking for specific journalists and SEO professionals checking indexation to content marketers looking to take inventory of how big a conversation is online, these are extremely useful little commands for strategic digital marketing and they can make your life a lot easier if you know how to use them.
It was for just that reason that we've put together a cheat sheet of our favorite Google operators that we use on a day-to-day basis here at Wpromote, and even some real world applications that you can apply to your business or marketing efforts if you are so inclined.

---
Like this? Why bother bookmarking it? Seriously, just copy this code and put it on your own site.