In July 2016 at SMX Advanced, Google confirmed that it was going to start showing paid ads in the local 3-pack. While Google didn't mention exactly when the roll-out of the new ad format would take place, it appears as if the search engine has started to test the waters.
The local 3-pack had previously shown three organic listings under the Google Map. Recently, users have been noticing that sponsored ads are now being served in that space. The SEM Post reports that people are seeing a local 3-pack consisting of one paid ad following by two organic listings.
Earlier this year, Sridhar Ramaswamy, Head of Ads and Commerce for Google, revealed that a third of all mobile searches are now local and that the volume of local search is growing 50% faster than overall mobile search. Naturally Google would want to capitalize on this boom.
The monetization of the local 3-pack is a win for paid search. This new extension opportunity allows for advertisers to access areas previously reserved for organic rankings only. Those who serve to benefit most are local businesses that are still working on optimizing organically, but may have not cracked page one yet on some of their desired search queries. The ability to bid for instant access to more premium page one real estate is definitely enticing and has always been a reason why businesses turn to agencies for paid search.
Google's decision to open up the local 3-pack to paid advertising is a positive indicator that advertisers will have new outlets into the high-growth segment of online local mobile search.
Will Local Inventory Ads Be Next?
There have also been rumors that a form of Google Shopping Ads, known as local inventory ads, are encroaching on more searches previously served organically by a local 3-pack. I couldn't imagine a better ad format for local retailers. It gives good ole' brick and mortars a way to get an edge on online-only retailers.
Examples from Mike Blumenthal: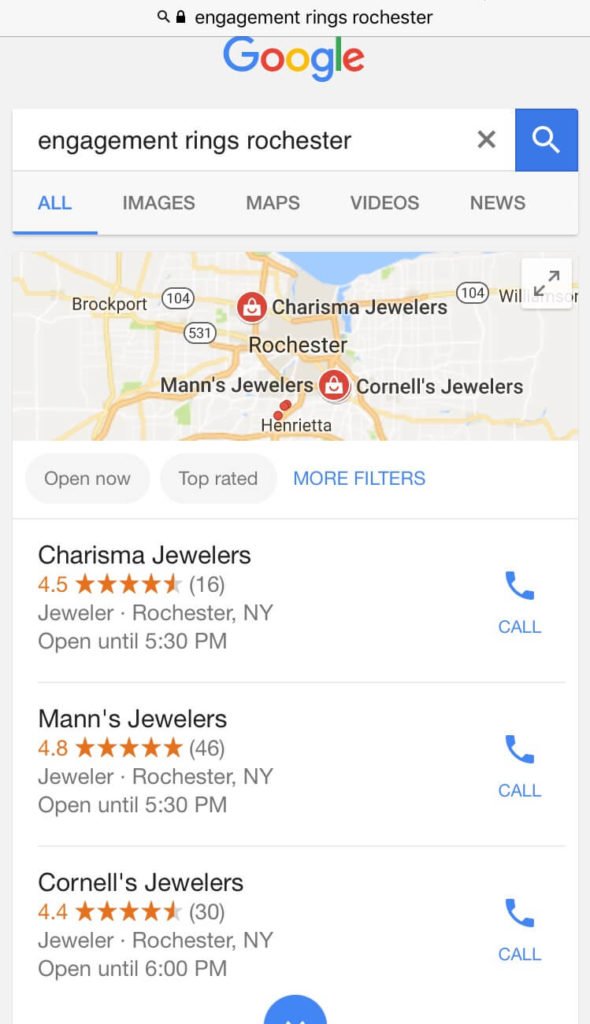 My gut is telling me that this will lead to increased conversions since the local inventory ad provides more information and gives the searcher an idea of pricing which will be beneficial in generating more qualified offline conversions, as well as aid in click and collect type e-commerce.
Prime Visibility will be keeping a close eye on these developments and continue to look for ways to optimize our clients' paid search strategies.