We're just days away from what are traditionally recognized as the biggest shopping days of the year. But Black Friday and its Cyber Week brethren don't burn quite as brightly as they did in the past. More and more, brands are looking at the whole season, not just one day or week, as critical to Q4 performance.
That trend is likely to continue in our post-pandemic, digitally transformed world. But that doesn't mean that a surge in shopping won't still hit, it just won't be as enormous as it was five years ago. Consumers will still be looking for deals, buying gifts, and shopping around. We're just waiting to see what that will look like this year.
We asked our retail and D2C experts to weigh in with their top predictions for Black Friday and Cyber Monday this year.
People will make less "frivolous" purchases
Consumer sentiment about the economy is close to an all-time low, and that will affect not just if people will spend, but how they spend. Deloitte's annual Holiday Retail Survey revealed that even though 37% of American households say their financial situation is worse than last year, average consumer holiday spending is likely to stay steady YoY ($1,463 vs. $1,463 in 2021) as consumers cut non-essentials to give gifts and socialize.
It's the "how" consumers are spending that Wpromote Account Director Emma Beckstrom zeroed in on with her prediction.
Rather than splurging on holiday gifts, Beckstrom believes that "shopping will trend on the side of practicality, given the current economic state."
She forecasts less frivolous spending on things like fast fashion or cosmetics as people look to purchase household items, furniture, technology, or durable apparel.
Consumers are going to focus their spending on getting necessities at a lower price.
She also anticipates "that a vast majority of purchases over Black Friday and Cyber Week will be items that consumers have been planning to buy for some time, whether they are for themselves or gifts."
Senior Account Director Teena Sobczak shares those sentiments: "I predict consumers are going to focus their spending on getting necessities at a lower price, centering on need versus want items."
People will spend on experiences rather than retail purchases
Raise your hand if you've seen a social post saying something like "the money will return but you'll only be this age in this place once." That sentiment seems to be resonating with today's consumers as they decide what constitutes a gift worth giving.
Sobczak agrees that consumers are likely to focus on need vs. want items on the big sale days, but when it comes to non-necessity spending, she thinks consumers will put their money toward travel and experiences vs. retail items.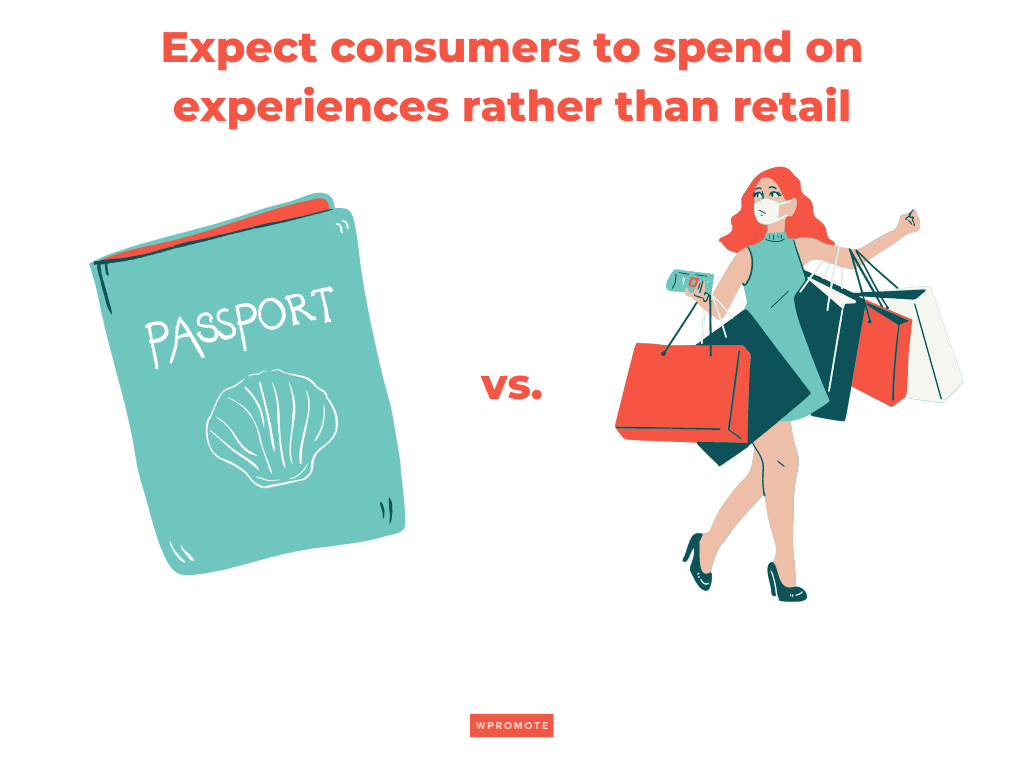 They'll still be looking for the best prices, especially with airfare on the rise. But we're still in post-pandemic world, and as more countries have opened up tourism and gatherings like concerts have returned, people are ready to do things, not just buy stuff.
Paid Social Group Director Lauren Quiroz Lyster flags that the retail forecast isn't black-and-white; experience-adjacent retail brands, like outdoor gear or resort wear, will also benefit from that change in focus compared to the last couple of years.
Consumers want to get more bang for their buck
A recession and rising inflation have forced people to be much savvier about stretching their dollars; they're better at seeking out deals and playing the waiting game when it comes to large purchases.
"With the overall state of the economy, we've seen a slow start to November for ecommerce and retail brands," said Account Director Tyler Capezzuto. But he isn't worried about the effect on Black Friday/Cyber Monday; in fact, he predicts it'll be the largest to date.
Many shoppers are holding onto their dollars in anticipation of big deals next week, despite major retailers launching month-long promos. Because of this, Quiroz Lyster expects that there will be a continued shift away from Thanksgiving as the kick-off to the "Cyber Five" shopping period, with Cyber Monday outpacing Black Friday.
While some major retailers, like Target and Walmart, have already launched month-long promos, shoppers know that the best deals still come during BFCM week, and will wait until then to purchase.
Group Account Director Cate Weyers believes that this line of thinking will affect basket sizes; consumers are likely to place larger orders at fewer retails to qualify for additional discounts and benefits, with an eye to getting the most bang for their buck.
If the deals aren't quite right, consumers will look to form "deals" of their own in the form of buy-now-pay-later, particularly Gen Z and younger millennial audiences. Unlike other audiences, Beckstrom says that "these groups may still be shopping for the fashion, beauty, and lower-priced retail categories."
Quiroz Lyster expects that we'll see another banner year in terms of revenue for brands during Cyber Weekend, but that the bulk of that increase will be due to inflation.
It's still unclear whether the increased costs to brands will cancel out those revenue numbers and make Black Friday and Cyber Week actually profitable for businesses.
Until we have the full numbers, we'll just have to wait and see. Here's to an excellent Black Friday and beyond!