Given the unparalleled power and prominence that Amazon wields in the ecommerce industry, establishing tactics for how to drive traffic to Amazon listings is a critical task for sellers.
However, this is obviously easier said than done.
The fact is that, as Amazon statistics reflect, the marketplace houses over 12 million products. Therefore, gaining traction and visibility in the space can be extremely difficult for some sellers.
But just because it is difficult does not mean that it is impossible or even improbable.
In reality, by utilizing a combination of the right strategies, retailers can not only substantially increase their effectiveness in driving traffic to Amazon listings, but also increase their conversion rates as well.
To help retailers achieve this aim, today, we will explore the top 10 most effective tactics that merchants can deploy for driving traffic to Amazon product listings to increase their visibility, sales, and ecommerce revenue.
Without further ado, let's get started.
Scope Out Your Competition
Understanding your competition is a good first step to take because it helps reveal many useful Amazon Product Listing components that would otherwise take time, money, and mistakes to learn.
Competitors' pages allow you to get a glimpse at what customers want and don't want. You don't need access to back-end sales data to see which products are flying off the shelf and which are collecting digital dust. By viewing competitor pages that carry identical or complementary products, you will be tipped off to which products you should carry, how you can best frame them, and what things you can do better than your competitors.
A few excellent ways to get started on this include:
Go through customer reviews. Customers have become very adept at letting their opinions be known, particularly if they aren't satisfied with a specific product or feature. Try to get a relatively even sample of five-, four- and three-star reviews to gauge what customers were happy about and slightly dissatisfied with, and try to get a broader distribution of two- and one-star reviews to see what really made a customer upset. This process can not only reveal inefficiencies about a specific product type and what consumer expectations are, but also where this specific competitor falls short and how you can steer clear of their mistakes in your business. For example, are customers complaining about how the item is packaged? Are they talking about the price being too expensive for what you get? Are they comparing the products to other products they have also tried?
Go through the customer question and answer section. For popular product pages, Amazon has a section dedicated to customer questions and answers. These questions are usually some of the most popular concerns people have with the specific products, and they are ranked in a hierarchical voting structure where other customers can upvote or downvote specific questions. This is an excellent place to see what is going on in your customers' minds and how you can best position your products to appeal to them. When it comes to writing your product descriptions and Frequently Asked Questions, this section can be a gold mine. Additionally, some of the top concerns can provide a launching point for a piece of onsite content for your blog or social media pages to help drive shares and likes. Since the question is already vetted as being something of interest, these types of content will likely do fairly well.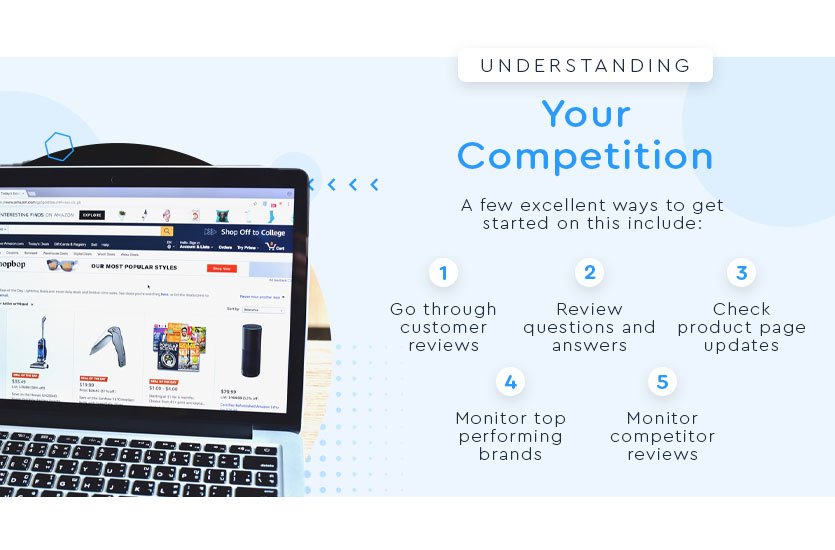 At what frequency are your competitors updating their product page pictures and descriptions? This will help you to pick up on best practices, as well as any seasonality that you could best leverage within your content creation strategy.
What are the top-performing brands? Category pages of complementary products can reveal which brands are performing well and which are not. This is exceptionally important to know if you are about to make a major strategic decision of what products to carry. The simple decision of carrying a majority of either Nike or Adidas socks could mean thousands of dollars, and this step helps you make that decision with confidence.
Monitor competitor stocks and competitor reviews: Savvy merchants go as far as to set alerts on their competition to keep their finger on the pulse of their marketing strategies. This is useful because it can not only be enlightening to which strategies are working well for your competitors, but it will also push you to take advantage of situations where your competitors are out of stock and you can do a big product push while they're down.
Polish Your Amazon Product Listings
The decision whether or not to buy a product is often made within seconds of opening a detail page. These few seconds can either make or break an Amazon Product Listing, yet so many merchants don't prioritize their product listing optimization. When it comes to driving traffic to Amazon pages, your product listing optimization largely revolves around eliminating any barriers to understanding and giving your customers what they want, when they want it and in a format they can understand.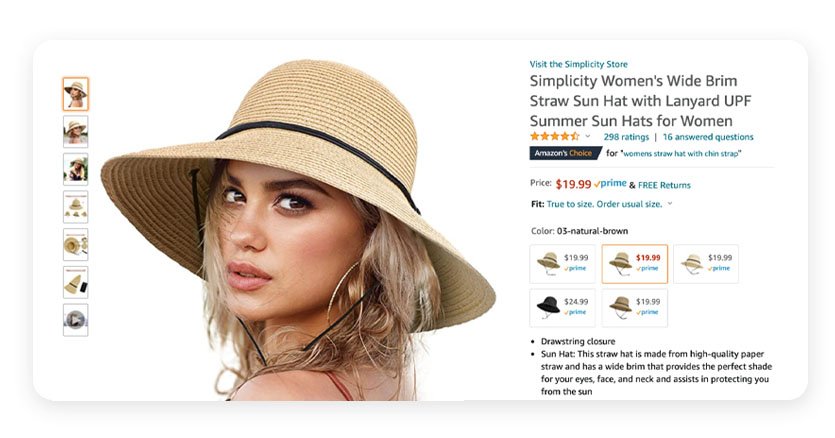 Clear, concise titles. The reason your titles need to be direct and to the point is because consumers will largely make a snap judgment if they see or don't see what they are looking for in the title. What's the purpose for your product, what brand is it, what quantity, etc.? Creating an effective Amazon Product Listing title can often be challenging because it requires the ability to write something extremely descriptive while also being very concise.
Pictures are a priority. The downfall of many product pages is largely due to a subpar product picture. Merchants who opt for the manufacturer image are often commoditized into a slew of competitors offering the same product at the same price with the same picture. Your product picture should show exactly what the product is, without the need to zoom in. Your other pictures should showcase different angles, lifestyle images of your product in use or in a related setting and even a "back of the box" image with relevant information such as instructions and ingredients. The fact is that there are different types of Amazon product images professional sellers must have to truly optimize their Product Listing.
Use bullets. The vast majority of customers will scan your product page. A huge block of text usually causes customers to drop off simply because its structure doesn't do a great job at holding their attention. Bullet points provide you an opportunity to mention key facts and important areas that customers need to know before they get into other details. Mention important information, such as whether or not your product offers customer service, whether it comes in all sizes or if you ship internationally.
Make magic in your product descriptions. Your product descriptions are an opportunity to slightly stray from the ruthless brevity in your titles and bullet points and create a description that encapsulates the functionality and feeling of your specific product. This is the place to let your brand voice flow while also mentioning any key pieces of information to help customers understand why they should buy your product and why they should buy it now.
Nail Down Your Right Pricing
Finding the perfect price for their products is often a cause of concern for many merchants. Savvy merchants aim to find a medium between the price that they could afford to sell it at and what customers are willing to pay for it online.
Since Amazon is an open marketplace full of other sellers competing with each other, finding the perfect price can be fairly complex. There are likely dozens of competitors selling extremely similar products as you, all at varying prices. Here are a couple of things that must be considered:
Amazon's parity pricing clause no longer exists. While it used to be a foregone conclusion of selling on the platform, back in 2019, Amazon quietly did away with its pricing parity policy. This means that retailers can now price their items lower outside of Amazon, if they so desire.
Amazon's "Automate Pricing" tool available in the Seller Central location helps you to automate your pricing decisions. This simple automation eliminates the headache of finding the perfect price, but you should still do your regular competitor analyses to find any inefficiencies that could help you to either win more customers at a lower price or make more of a profit at a higher price on Seller Central to help you automate pricing decisions. For example, you could set a rule that "beats the lowest Fulfilled by Amazon price by $0.10." This is an excellent way to consistently win the buy box.
Price for promotions. Many successful pricing campaigns revolve around making a substantial profit throughout the entire year to bolster periodic promotions that drive traffic to your product listings. These promotions can come in the form of lightning deals, coupons and buy one get one free (BOGO) offers. Using promotions can be an exceptionally effective way to generate sales for new products and gauge the market demand.
Urge Customers to Leave Reviews
Reviews remain one of the most important factors in helping consumers decide whether or not to purchase a product. Reviews are incredibly powerful because they leverage the very human desire to see social proof before committing to a certain product. Consumers want to see someone in a similar situation with a similar problem as them using the product to great avail. An honest, thorough review helps consumers ease their apprehension about purchasing a certain product.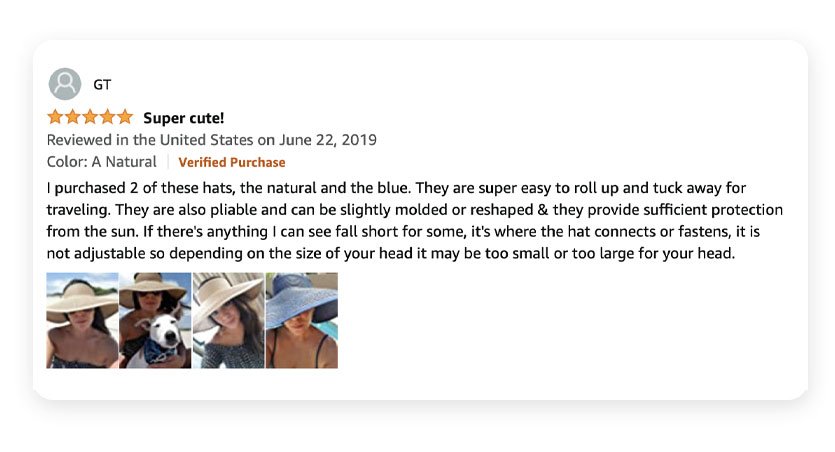 Often, the product that ends up getting bought is one that has more and better reviews. Products that tend to have a lot of reviews end up garnering a multiplying effect, where more consumers purchase the products due to the high quality and number of reviews, and then end up leaving a review of their own. Since Amazon is largely one of the most trusted ecommerce sites, products with high reviews on Amazon also build credibility on other ecommerce platforms such as Shopify.
It is highly important that your reviews are legitimate and credible because consumers look at most sparkling 5-star reviews with a glimmer of suspicion. Amazon has also banned the practice of providing discounts or free products in exchange for reviews since incentivized reviews tended to leave higher reviews than non-incentivized reviews. Prior to this ban, Amazon sellers were able to encourage reviews at scale and consistently blow their non-review-incentivizing competition out of the water.
This recent ban made things a little more fair, but the necessity for generating ecommerce reviews is more important now than ever, especially when it comes to driving traffic to Amazon Product Listings. Amazon sellers need to strive to get reviews to help bolster their product credibility and images in the eyes of new shoppers.
One of the best ways to incentivize reviews without discounting is to follow-up through the Buyer-Seller Messaging Service that Amazon provides to third-party sellers. While this restriction on communication has made things more difficult for some retailers, it can still be used as an effective means to ensure customer satisfaction and generate product reviews.
There are many different email strategies you can do, but perhaps the most effective one is to send two emails—one to confirm the order and one a few weeks after the customer received the product. There are also services such as Feedback Genius that can make automating this process much easier.
Make Use of Promotions to Earn Reviews
Taking advantage of promotions such as Lightning Deals will not only help you nail down the right pricing for your products, but they are a spectacular way to sell a ton of your products and earn reviews.
Promotions are perfect for merchants who are releasing a new product and want to gather more reviews. You shouldn't always price your products at a discount, but, if you can swing the occasional extremely appealing promotion (particularly toward the start of a product's lifecycle), you will build credibility for more customers to find you in the future.
For example, by offering a lightning deal on a new product, you can gather a significant number of reviews that will increase future customer confidence.
Amazon also has an Early Review Program, where Amazon selects customers who frequently leave reviews and incentivizes them with a small reward, such as a $3 Amazon Gift Card, to leave an unbiased review. This Early Review Program provides no guarantee that your product will receive a positive review, but it is a good strategy to get some early reviews to gauge market response to your products and services.
Build a Traffic-Generating Engine
When running multiple online marketplaces and using Amazon, it's easy to get confused about where you should be sending your traffic. While it makes sense to prioritize all your marketing channels to go to your own site, one shouldn't quickly disregard the opportunity to strategically feed some traffic to your Amazon Product Listings.
Amazon might also offer some benefits that your stand-alone site simply can't compete with. For example, Amazon's established credibility and unshaken support for customers is something many online shoppers prefer.
This tactic might be the most value-creating one of this list simply because it focuses on building an engine for generating traffic. This means that if you want to release a new product on Amazon, you'll have the external resources and infrastructure set up to do so.
Additionally, as you may already be familiar with, there are dozens of different marketing channels out there. Whether you're using Facebook Ads, Google Ads, onsite content, SEO, social media marketing, influencer marketing or a mixture of them, some of these channels might create a high return on your investment (ROI) if directed toward Amazon.
For example, many influencers and bloggers prefer to redirect traffic to Amazon because they can earn an affiliate commission based on any purchases from their custom product link.
Shoot for Amazon's Bestseller Rank (and the Elusive Amazon's Choice)
Becoming an Amazon Bestseller is a challenge, but the titleholder receives enough visibility, credibility, and—most importantly—sales to make it worthwhile.
The calculations for becoming an Amazon bestseller are based on a product's sales, and the rankings are updated hourly to reflect historical and recent sales of every item sold. This means you will not only have to beat your competition once but have to constantly outpace them in terms of sales.
If one of your products is an Amazon bestseller, you have a good reputation on the site and you have overall positive reviews, your product might end up being given the "Amazon's Choice" product badge. The full range of factors that Amazon considers for its Amazon's Choice badge includes popularity, rating and reviews, shipping speed, availability, and other product-specific factors.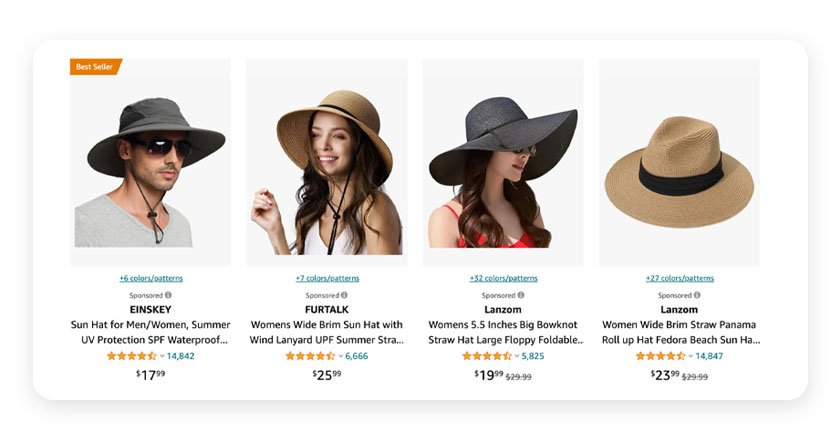 While this badge does provide a massive boost of extra credibility, that's only the start of its benefits. The Amazon's Choice feature was designed to make product recommendations for customer searches where customers want to find a high-quality product as soon as possible. However, keep in mind that Amazon doesn't offer Amazon's Choice for all product searches.
What really makes Amazon's Choice an attractive badge is the fact that it is integrated with the Amazon Echo speaker. Owners of the Echo can tell the device that they need more of a specific product, and it will search their order history to find if they have ordered any specific brand. If it doesn't find anything in the search history, it will suggest a different brand—Amazon's Choice.
For example, if you run out of shampoo, you can ask your Echo to order you more. If it finds that you've been using Pantene, it will confirm the current price with you and ask you for confirmation to order it. If it doesn't find any shampoo in your history, it will say "I didn't find that in your order history, but Amazon's Choice for shampoo is [YOUR PRODUCT]. The order total is $[price]. Should I order it?"
Snagging the Amazon's Choice badge can be huge for sales. The Internet of Things trends is one moving in full force, not to mention that the Echo has been selling like hotcakes, especially on Amazon Prime Days. If you are able to position yourself as the best possible product for a particular category, especially one that requires frequent re-ordering, the Amazon Echo could become your best salesman.
While there currently is no way to request that your product is selected as Amazon's Choice, having a ton of sales and high product reviews couldn't hurt. According to an Amazon moderator on Amazon's Seller Central forums,
"Selections are constantly updated, so continuing to offer high-quality, well-priced products to your buyers will give you the best chance to be selected as Amazon's Choice."
Utilize Sponsored Products
Many Amazon merchants forget that Amazon has an incredibly powerful ad platform that allows you to get exposure for your products on Amazon. This is a particularly notable form of PPC (pay-per-click) because people on Amazon are likely shopping and looking for a product to purchase, whereas people on Google or Facebook might be a few steps behind in the buying journey.
Running Sponsored Products ads allows you to place your adverts alongside, above or below search results or on product pages on desktop and below search results and product details pages on mobile.
Amazon is known for ruthlessly refining its customer experience and conversion rate optimization process, and it brings this phenomenal expertise into the PPC world as well. It wants its PPC customers to succeed and help consumers spend more money on its platform. Neglecting to use Amazon Sponsored Products could be a huge missed opportunity.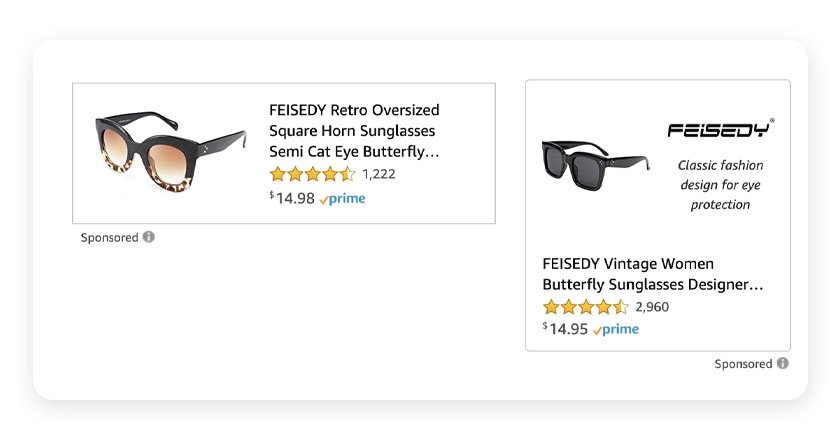 To launch an effective Sponsored Ad Campaign, it's recommended you:
Set your ads to automatic targeting. This eliminates the guesswork and potential for human error and allows Amazon's robust search algorithms to do the heavy lifting for you. Amazon will suggest an extensive list of potential keywords, and all you have to do is place a flat bid on all of them to gauge their individual performance.
After you've gathered a sufficient period of data (at least a few weeks, but the longer, the better), you can start to evaluate the performance of your automatic targeting campaigns. Now is the time to make the jump from automatic to manual and hand-pick the most relevant and best-performing keywords for your product. You can also adjust the bids by specific keywords.
Test, measure, improve. Once you have a substantial understanding of how your campaigns are performing, you should have some leeway to experiment with additional keywords you haven't used yet, as well as play with the bid amounts to streamline the effectiveness of your campaigns.
Do Some ASIN Piggybacking
This tactic is somewhere between a strategy and an opportunistic hack because, if you are able to do it, you will be able to skyrocket your earning potential and win the Buy Box.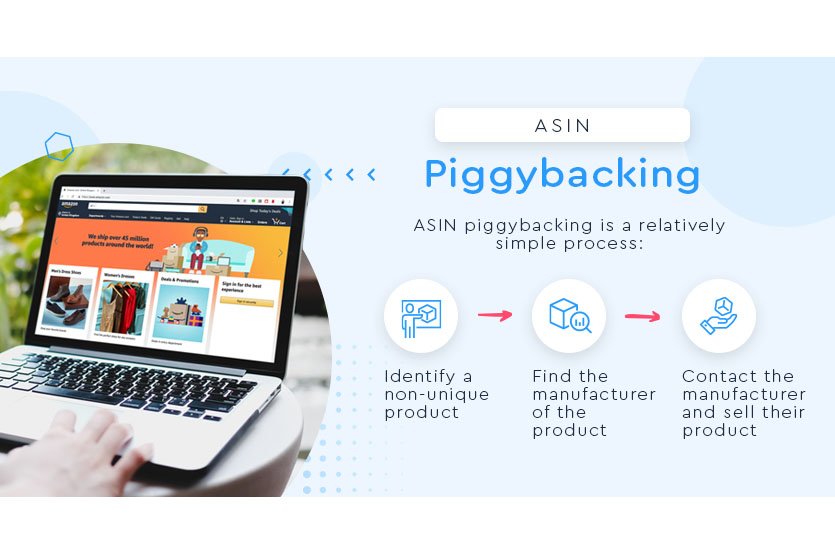 ASIN piggybacking is a relatively simple process:
Identify a non-unique product that is having substantial success and find its ASIN number in the Product Details section.
Find the manufacturer of the product and find a way to resell the product yourself. If you can find any discrepancy in price that allows you to sell the product for as much as $0.01 less than the current winning price for the Buy Box, you've found a gem.
Contact the manufacturer and start selling their product. If the price isn't less, contact the manufacturer and try to negotiate a lower price.
The key is to make sure that you are shipping the exact same product—and not a cheaper knock-off—since that could get you in trouble with Amazon.
Iterate, Iterate, Iterate
The key to driving traffic to your Amazon Product Listings is to continuously monitor your campaign performances and use the data to find trends and patterns that will help you to launch better campaigns in the future.
What did you do in this campaign that worked well?
Can the good be further optimized?
What didn't work out so well?
Can the bad be reduced or eliminated?
Were there any potential positive or negative externalities from your campaign?
How can you create a new campaign with more of the good and less of the bad?
In order to be able to fluidly iterate, you must set parameters for each campaign's success. There are multiple ways you can try to do this, with one of the most effective being SMART goals. SMART goals are essentially Specific, Measurable, Attainable, Relevant, and Time-based.
For example, a SMART goal for your Amazon Product Listings would be getting your new Ralph Lauren Hat product 25 customer reviews by September 2017 through an email campaign program.
Always keep your eye on your ROI (return on investment) to ensure that your campaigns are pushing the needle instead of just keeping you busy.
Bonus: Leverage Social Media Audiences
Most successful online retailers have taken the time to implement a social media marketing strategy that has netted them a healthy following of customers and prospective buyers.
This following presents retailers with a fantastic opportunity for driving traffic to Amazon Product Listing Pages and increasing retail conversions. Moreover, this strategy is straightforward and can be quickly implemented by most retailers.
Through the use of social media adverts (or even just traditional social media posts), sellers can direct customers directly to their Product Listing Pages on Amazon. However, there is a considerable chance that since sellers are likely targeting these posts to previous customers that sales could be nil.
Therefore, it is wise to incentivize consumers by employing promotions or special discounts that will add value to the potential transaction, thereby making them more likely to complete a purchase.
That said, it is critical for merchants to understand that there are potential pitfalls involved in this strategy. Firstly, if retailers are successfully driving traffic to Amazon product pages but those folks are not converting, then the uptick in clicks could actually end up harming the product's ranking within Amazon's SERPs.
Since Amazon's A9 algorithm takes into account things like conversion rates, if merchants are generating tons of traffic but few sales, their visibility is likely to suffer.
As a means of combating this phenomenon, it is likely wise for retailers to retarget consumers who have previously visited their website and viewed the product that merchants are trying to promote on Amazon. This way, sellers are targeting a more engaged audience who has already shown interest in the product. This means that the traffic the product listing receives is more relevant and likely to result in a sale.
No matter how a seller looks at it, leveraging social media audiences to drive traffic to Amazon listings can be a massively impactful means of garnering more clicks and conversions.
Final Thoughts
While it is vital for retailers to have a dedicated ecommerce store of their own, it is also critical to maintain a robust presence on Amazon and establish effective tactics for driving traffic to Amazon Product Listings.
Due to the fact that Amazon has essentially become synonymous with ecommerce, utilizing the company's gargantuan platform is not only critical to success, it is (in many cases) a prerequisite.
While driving traffic to Amazon product pages may sometimes seem like a daunting task, there are a multitude of strategies that merchants can deploy to successfully achieve this aim. By implementing the tactics listed above, retailers can effectively increase the clicks that their product pages receive.
However, if your company wants to ensure that those clicks turn into sales, then it is wise to partner with an ecommerce marketing agency that is capable of optimizing Amazon listings in a way that stands out to customers and drives retail revenue.