The internet is a wild and wonderful place. This means that the potential for any single piece of content to suddenly go viral is always on the table (and permanently on many brands' wish lists).
When there was a limited number of social platforms, it was much easier to crack the code and get massive reach from a single post, tweet, or video. Now many brands see TikTok as their latest, best chance to insert a piece of marketing into the broader pop culture zeitgeist.
As a platform, TikTok has found a new way to monetize virality. Individuals can go from absolute obscurity to millions of followers in a short period of time: take Charli D'Amelio, who went from an unknown teenager to the platform's most-followed account, or Brittany Broski (aka "Kombucha Girl"), whose dramatic facial expressions turned her into an internet meme and social media darling.
Brands are hungry to get a piece of the action, and marketers shouldn't be afraid of using some of their testing budget to carve out a presence on TikTok.
But let's figure out what you need to know to take advantage of the opportunity while making sure your brand doesn't go full Steve Buscemi in 30 Rock.
Think You Know Social? TikTok Is A Whole New Frontier
First of all, don't think that everything that works on Facebook or Instagram is right for TikTok. The platform's marketing offering is much less mature, and its algorithm works in a different way than the social channels you might be used to. One example: want to make sure your content is seen by others? Better make use of the trending hashtags, even if they have nothing to do with your content. If you don't hop on the trending hashtag train fast enough, you're likely to get lost in the shuffle.
Pay attention to why people are on the platform: audiences on TikTok are looking to be entertained, inspired, and educated. They might be looking for an escape from an increasingly difficult reality, and can easily spend 2-3 hours scrolling through an endless feed of videos and memes. It's a truth universally acknowledged that if you haven't gotten the mental health warning from TikTok encouraging you to put down your phone for a minute, you haven't really lived. You need to stand out from the crowd while staying true to what brings people to the platform in the first place.
TikTok is also unique because of the app's wide range of demographics. People from ages 18-55 use and enjoy the platform because its unique algorithm is constantly surfacing new content, not just prioritizing content from people you already know.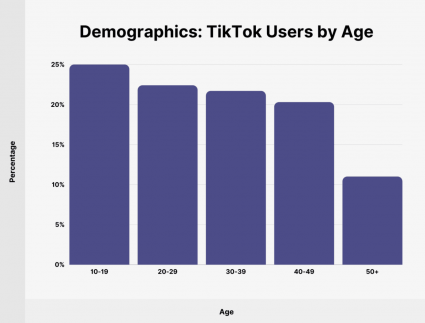 Source: backlinko.com.
What matters on TikTok is relevancy and engagement. People are much more likely to interact with what's on their personal "for you" page than even the creators they already follow.
Why You Should Add TikTok to Your Paid Social Posse
So you've decided to go all in on TikTok. Great! But it's not about putting all of your marketing eggs in one basket. The point is not to find another single channel to pour budget into; the endgame is to build a diversified marketing mix that can reach, engage, and convert your target audience across channels.
The budget, time, and effort you put toward TikTok should fall squarely under experimental spend. After all, it's still uncharted territory. Commit to a specific campaign or amount of time or budget, then figure out what success looks like by considering how TikTok can contribute to your overall business goals and how you want to measure success. What benchmarks are important? Is it reach or engagement or conversion? Consider starting further up the funnel to establish your credibility on the platform before pursuing more aggressive conversion-oriented campaigns; after all, that's what TikTok was built for to begin with.
For those still wary about how much TikTok is going to cost them, the good news is that it's relatively cheap to start. You don't have to spend loads of money to be competitive. Because it's still the frontier of social media marketing, the CPM is lower than other platforms, so you can experiment with how to best implement a paid strategy without breaking the bank.
What's Next in TikTok Marketing? It's a Niche Audience Rodeo
For the unaware, there isn't just one version of TikTok. You could be on the "berries and cream" side, so named for the Little Lad seen in a 2007 Starburst commercial. Maybe you're on the MCU side, where people discuss their theories around the latest Marvel offering. Or finance TikTok, which can be a profoundly weird place. The possibilities are limitless.
Whatever your industry and whatever audience you're trying to connect with, there's a TikTok that's a great fit for your brand. When we asked one of our paid social media experts where TikTok was headed, she said that "this kind of segmenting will only continue as the platform grows."
This is great news for marketers because early adopters will likely get more access to beta tests of new features that will help you move audiences down the funnel by creating more specific, personalized content. Savvy marketers know they need more options when it comes to channels as walled gardens proliferate in the age of data privacy, and TikTok is likely to be near the top of the list of contenders.
How Your Brand Can Reach the Promised Land: TikTok Marketing Brand Examples
You might be wondering how brands are finding success. Look no further; here are some examples of brands killing it on TikTok.
DuoLingo, the language learning app, has found a way to deliver quality content by hopping on TikTok trends with reckless abandon.
DuoLingo leans into the wacky world of TikTok instead of trying to come across as highly polished. The focus is on having fun and staying accessible.
Another brand that's embraced TikTok culture is The Empire State Building. Here's a video with 3.2 million views that hopped on the immensely popular "couch guy" trend:
They've even gone head to head with DuoLingo in what amounts to a marketing throwdown.
You don't have to be a "fun" brand to make fun content. Remember: you need to approach TikTok as a unique opportunity for your brand. Brainstorm new angles and interesting ways to create content that resonates with your audience. As their marketing offering expands and matures, TikTok could become your future favorite marketing partner.