Not many words are needed to express the awesomeness of the new "On This Day" rotating feature on Facebook, so I'll keep this short. Basically, when you are on a Like page, or another Facebook page which isn't your own, Facebook will rotate through a section on the right hand side of the page titled "On This Day." This section shows the logged in account what they posted "On this day" in a particular year. As of now I have only noticed an "On This Day" post from a year ago, but they may go further back. Take a look at the "On This Day in 2010" post I viewed today!
The new feature can be both a comedic blessing, and a tragic curse. Finding an "On This Day" like the one I found today brought back some nice memories and added a smile to my face, but I can think of a few posts I am dreading to see.
…and they are:
I'm telling you, the Cleveland Cavaliers won't lose more than 4 games straight.
I'm soooo stoked for the Green Lantern movie. There's no way it's not amazing!
This lump on my testicle will go away soon. (Why did I write this on Facebook?)
Ok, this time I'm not mess'n round! There is no way the Cavs will lose more than 13 games straight.
Borders will bounce back. Guarantee.
Quote me: Obama will not give into the Republicans anymore.
Fact. The Cavs will not lose more than 20 games straight.
I'm so bummed that hardly anyone will see this amazing Nyan Cat video. Oh well.
USA Mens Soccer is up 2 to zero over Mexico! We've got this one in the bag!
God if you make the Cavs win, and not lose their 27th straight, I will become a true believer and donate my time at an old folks home…to help with the old people bathing. Swear to you!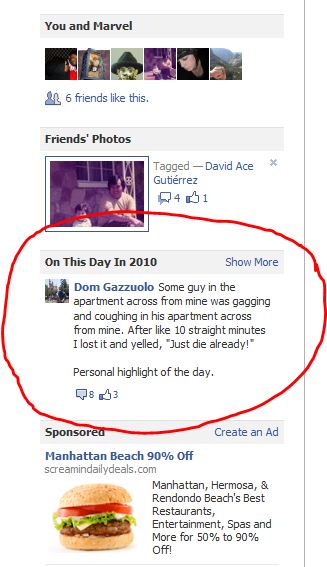 Look out for your "On This Day" posts the next time you are on Facebook!