News
Facebook had an eventful year, from the Cambridge Analytica to the election scandal to #DeleteFacebook to Zuckerberg's testimony.
Despite data privacy and security issues, users did not leave Facebook. In fact, the platform actually maintained growth:

"Facebook's global ad revenues to rise by 36.3% to $54.44 billion in 2018"
"By the end of 2018, we still expect 1.64 billion people worldwide to use Facebook at least once per month, up 10.3% from 2017."

However, the shift from public to private sharing, particularly through Stories, was certainly one of the biggest social media usage trends of 2018. This shift is indicative of a larger sea change we have been following in the U.S.: the growing popularity of Instagram.
"In 2019, we expect just 44.0% of US internet users ages 12 to 17 to use Facebook once per month—a figure that will decline to 37.9% in 2022."
Why does this matter? Instagram significantly scaled up in-app shopping in 2018, introducing shoppable posts and Stories to businesses around the world. Shopping on Instagram functionality is currently available only for organic content by brands or influencers. This is an impactful channel that marketers should be sure to take advantage of.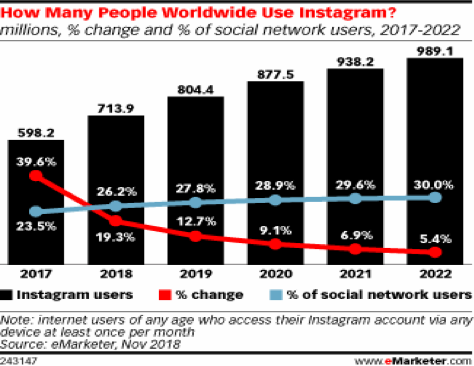 Previously, Pinterest only accepted Microdata schema markup, even though Google's preferred format is JSON-LD.
Schema markup is structured data added to a website or rich pins to provide search engines with more information and context about the webpage. We use it because it makes content more 'readable' to search engines.
Now, Pinterest accepts JSON-LD schema markup for rich pins.
Why does this matter? Pinterest has become one of the more popular visual search engines, so their support of JSON-LD will be a great way to attract even more users through both Pinterest and Google.
Trends
A deep dive into Lowe's digital marketing strategy highlights that the company focuses on the importance of personalization and the need to be relevant to its customers.
The effectiveness of Lowe's marketing stems from its ability to tailor its messages to individual consumers. Lowe's leverages machine learning to understand and adjust to the types of messages consumers respond to in particular situations, and across different social networks.
"As a result of Lowe's efforts, the average number of consumers clicking from a social network to its website grew 64.9% to nearly 1.08 million from 653,242 in 2016."
In line with this marketing approach, Lowe's launched a Pinterest Shopping campaign. The Pinterest Shopping campaign allowed the retailer to create ads at scale and dynamically update them based on inventory levels. Lowe's targeted the ads to search across kitchen, home décor and season décor categories. These ads generated a return on ad spend 76% greater than its goal.
This post was created with help from Jess Anguiano.