If you are a daily commuter, chances are you might utilize Waze. The app boasts 50 million users and an army of volunteers. Waze's stated goal is to shave 10 minutes off any car ride by creating a quick route to your destination fueled by traffic conditions updated by users. Owned by Google, the app anticipates the user's driving patterns and targets the user with upcoming options for purchases on their route. This community-based navigation app is speeding past the competitive market of location-based mobile advertising.
Retail brands have the option to put their logo on the map as users are driving, creating a mini in-app billboard.  This is real-time local mobile advertising.  Users are sharing their data based on their drive and driving patterns, and brands can leverage that information to their advantage.  According to the Waze website, a digital billboard informs drivers that a business is on or near a user's driving route. Once the vehicle has stopped, an ad unit takes over the user's screen to provide more information about the nearby business, a promotional discount, and how far out of the way the business is from the user's normal route.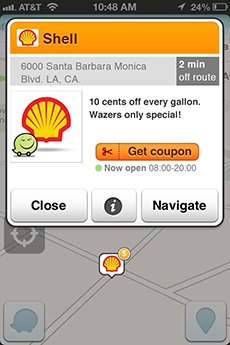 Waze is very affordable and starts at just $2 a day, making it a great mobile advertising option for local and small businesses. This option even puts a cost behind the hard-to-qualify foot traffic for brick and mortar locations. Large brands such as Dunkin' Donuts, Phillips 66, Chick-fil-A, Panera Bread, Outback Steakhouse and Metrolink have already been onboard and have seen success. "When you have a purpose-driven, location-based app like Waze, it's relatively easy to attract advertisers that want to reach this audience," said Mahi de Silva, CEO of mobile ad network Opera Mediaworks.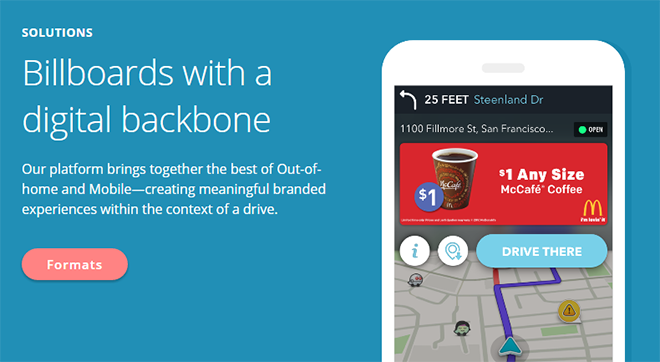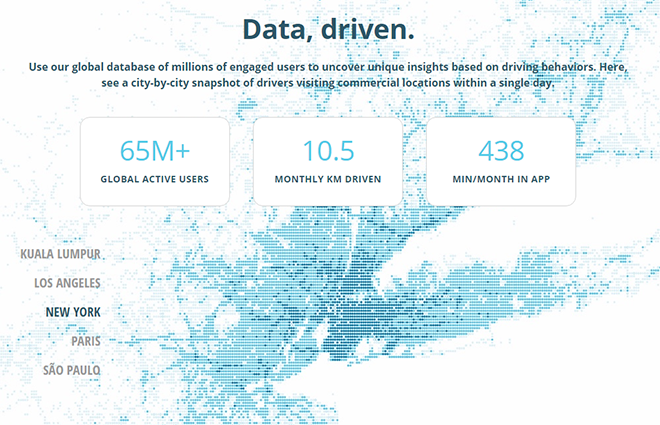 Waze sought to gain a better understanding of how many users chose to drive to a location after seeing a related Pin or Takeover Ad, a measurement it is calling navigational lift.  Navigational lift speaks to the way mobile users engage with Waze, which is when they are on-the-go. The biggest flaw is that the ads seem to be distracting to drivers and we may see a risk of accidents in the near future.
The app also now features "Favorites" so when a user is veering from their normal route they can be notified when their "Favorites" are close by. The user can easily set their favorites in advance or when they have arrived at the location. Dunkin' Donuts is the first company to try the Favorite Brands campaign. The coffee chain has a long-time partnership with Waze, first mapping all of its locations through the app in 2012, according to Adweek.
With the popularity of Waze increasing at a shocking rate, a local business would be missing an opportunity to target a customer who is passing by its business with a coupon or special.  It is worth watching and tracking the success these promotions may have with customers and compare it to other local efforts such as print, TV, and radio.