Maintaining a solid advertising strategy in today's ecommerce climate is vital. By using the tools available, sellers can implement tactics that provide a clear roadmap to execution and set measurable goals that can be tracked.
If you're a retailer seeking strategies for Facebook to optimize your performance and get more results from your advertising dollars, then let's dive right in.
Defining Target Market Strategies
The only way to motivate someone to take action is to know what "moves" them. Therefore, sellers must successfully define a target audience to have more effective ads.
1. Create Buyer Personas
The first step to creating successful ads is to get to know your target customers. Try to learn as much as you can about them, or, if you don't have a defined target customer, brainstorm potential ones. Figure out key data such as their demographics, lifestyle, interests, shopping behaviors, what brands they like, and more. By using this knowledge, you'll be able to create ads that influence and motivate your audience to take action.
Once you have a good understanding of your potential target audience, create buyer personas. These personas will serve as a fictional representation of your different target audiences. They will help you better manage your campaigns and make it easier to share information with your team.
Don't hold back when creating your buyer personas. The more detailed you can be in their description, the better grasp you'll have of your target market. Give them a name and a look, and even give them hobbies and jobs.
So, when it's time to analyze Facebook campaigns and discover the best target audience, you and your team will be able to call each target by its name. It may seem silly, but, trust me, it will be helpful in meetings and, most importantly, it will help you get a better understanding of your audience.
2. Define the Buyer's Journey to Create Your Sales Funnel
The ultimate goal is to make a sale, but there are many ways potential customers can get to that point. Thinking of all these different avenues to conversions will allow you to create more effective Facebook strategies that can take a potential sale from cold to conversion.
These avenues to purchase can vary, depending on the product you are selling, its price point, and your target customer. For instance, if you are selling expensive jewelry, the journey to conversion may be much longer than if you are selling low-cost products. In the jewelry scenario, you would need more points of interaction to reduce customer concerns about quality and gain their trust.
That may also be the case if you are selling products that may carry risks, such as medicines or supplements. People are going to want to take their time to make sure your products are reliable. To create your funnels, start at a very high-level brand awareness. If your brand is already known, this step may require less effort.
Then consider ways to show your brand personality and values. Social influencers may be effective at this stage. Afterward, you may want to have a balance between sales ads and providing value ads. As users show interest in different levels of the process, you can move them from one step to the next.
Test Different Ad Variations
Testing varying Facebook ad formats will allow you to keep your audience engaged with constantly refreshing ads, and enable you to discover which type of ads works best.
3. Showcase Different Products With Carousel Ads
Carousel ads allow advertisers to display multiple products in one ad. They can be created with simple images or videos. Although they are usually used to display multiple products, they can also be used in more innovative ways. For instance, it can be used to showcase a single product broken down into multiple images. In this way, each image shows a part of the whole product, allowing viewers to see more product details on each shot.
Another way to use carousel ads is to show how to use a product. Each slide can show a different image or video with a particular step in the process. For example, if you are selling false eyelashes, you can walk your audience from prepping the lashes with glue to how to hold them and position them on the eyes.
Even if your customers know how to use them, carousel ads can be engaging and give them another perspective on your product. You can also use this type of ads for brand awareness by using each slide to tell a piece of your company's story. People love stories, so those ads can turn out to be very engaging.
4. Increase Engagement With Video Ads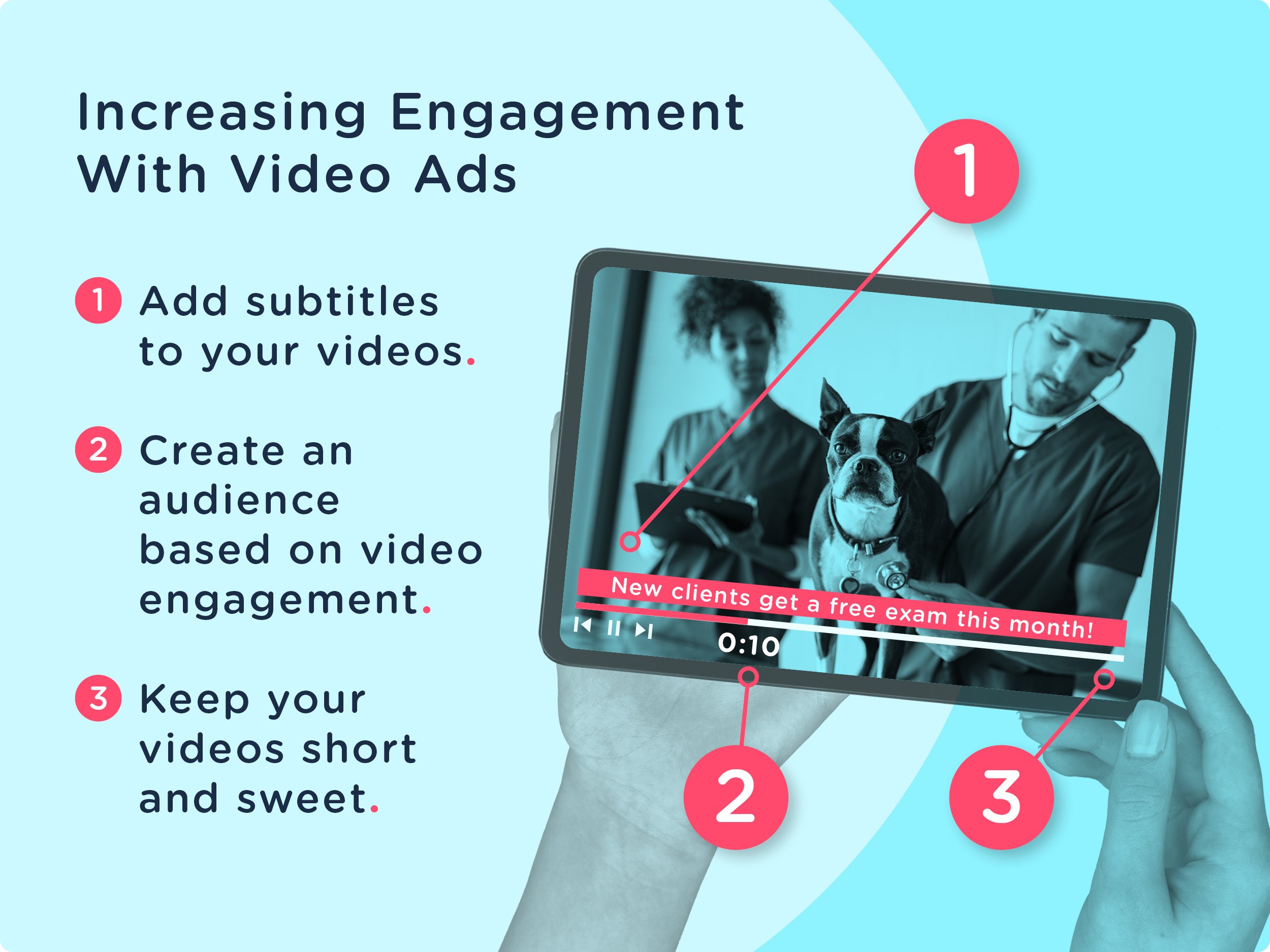 Videos are one of the most engaging types of content on Facebook and in social media in general. According to Cowen and Company's predictions, video may be the fastest-growing category on mobile and desktop. Thus, using videos can help get more interest from your target customers. Just make sure they are optimized for social media marketing. To start, they can't be too long because users have a limited attention span, so short and sweet videos work the best.
Also, consider adding some form of subtitles to your videos. About 85 percent of videos are watched without sound. Subtitles will help visitors follow along with the video without having to turn on their sound.
When analyzing your video ads, create an audience based on video engagement. For instance, you can create an audience of people that watched up to 10 seconds of your video. This audience will be a little warmer than the ones that didn't watch the video, so you can show them different content that speaks to the buying stage they are in.
5. Engage Mobile Users With Canvas Ads.
Since many users access Facebook with their mobile devices, use Facebook's Canvas ads, which are used solely for mobile users. These ads provide a full-screen interaction after the user clicks on the ad. This diminishes any distractions that may prevent the user from focusing on your ad.
Similar to other ad types, Canvas ads can be run for multiple purposes. For example, they can serve to tell a product story or directly sell a product. One of the most powerful ways to use Canvas is by using different formats in the slides. So, a simple image can be combined with a video and then show a slideshow. This dynamic interaction will help retain the customer's attention.
Even if the ad contains different ad formats, it should still be surrounding a unique message. This flows with the story-like nature of Canvas. Finally, don't forget your call to action. This is what will help give the audience the final push to go to the next step in the process.
Test Your Target Market
Guessing will only take you so far in finding your target market, but testing will allow you to find the real answer. Use different strategies to test your target markets.
6. Target People Based On Purchasing Behavior
Targeting purchase behavior can make your ads more targeted and relevant to your audience. You can find this option under the Behavior category in the detailed targeting section.
Once clicked, you'll be able to see a list of options to choose from, such as people that purchase food and drinks, clothing, or business purchases. You can even select a category called "Engaged Shoppers" to show your ads to people that have clicked a "shop now" button in the last week. See how this section looks below:
Select this option to narrow your audience or as a primary selection. Remember, the more targeted you can be, the better chance you'll have to convert. Once you have made your selection, click on "Save Audience" to reuse this targeting in future Facebook campaigns.
7. Expand Your Reach With Lookalike Audiences
A lookalike audience is an audience created by Facebook to resemble a source audience provided by the advertiser. For instance, if you provide Facebook a list of emails, the platform will be able to find an audience similar to the list you provide. This helps expand the reach of audiences that are already performing well.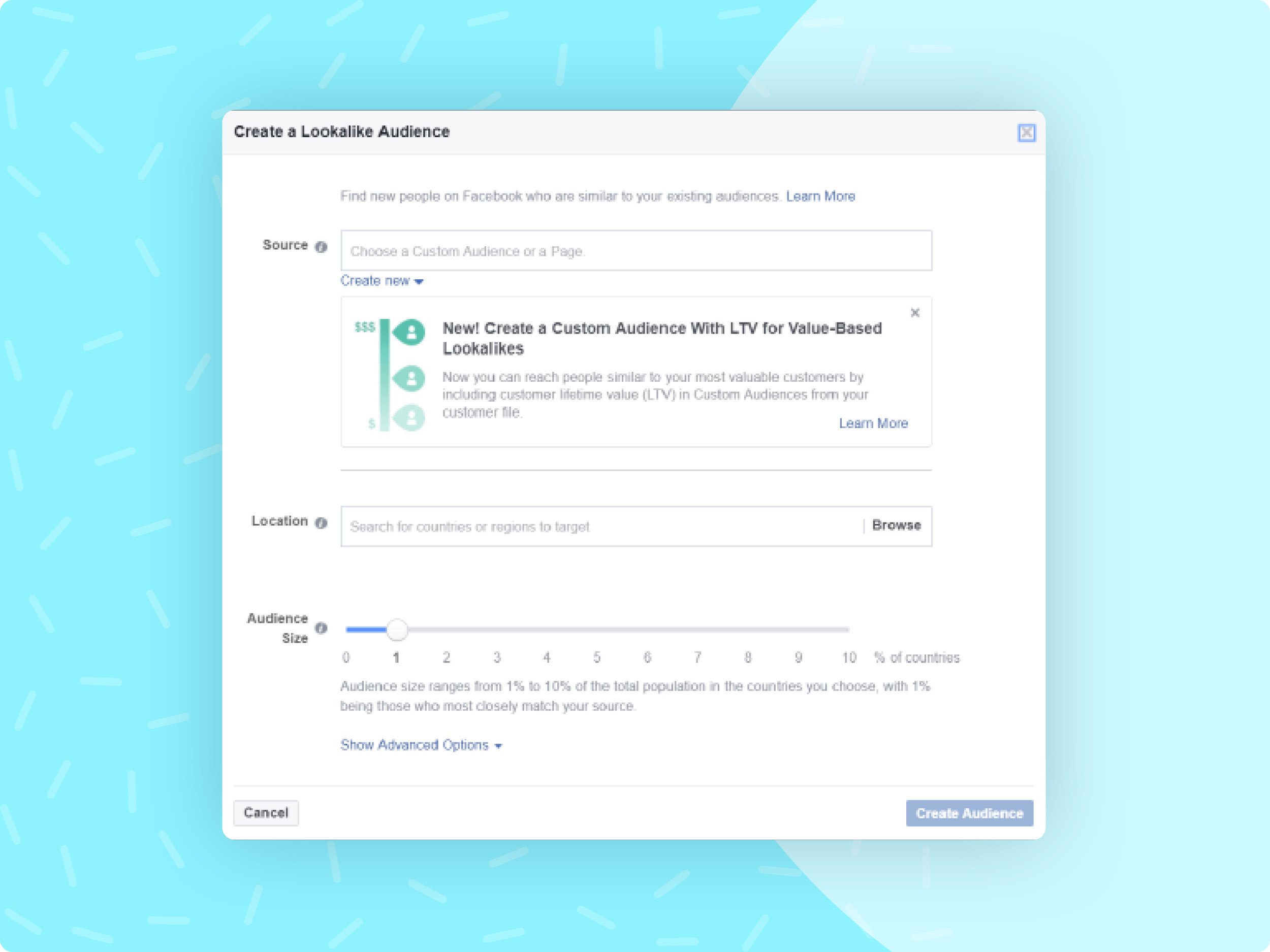 There are many ways to create a lookalike audience. One of the most powerful ways to create one is by using an audience that converted. All you have to do is select the website traffic option and include traffic that meets an "event." Then select the event you like, such as a purchase or an add to cart. Similarly, you can use a list of customer emails to target people that converted.
Also, you can take the video engagement custom audience, we discussed previously, and create a lookalike audience that is similar to the people that engage with your video. Note that to create the lookalike audiences we just mentioned, you'll have to create a custom audience first. Simply go to the audience tab and click on create a custom audience and choose one of the selections you see below:
Make Your Ads Extremely Targeted
Narrowing your targeting options will make your ads more relevant, decreasing your cost per click and driving better quality results.
8. Nurture Existing Customers
Once someone has converted into a customer, you can't leave them behind. Constantly be on their radar to encourage them to make another purchase and convert them into loyal fans. Targeting existing customers is more affordable than targeting a new, cold audience, which will help you save money on advertisements. Plus, it takes less time and effort to get someone that already trusts your brand to buy again than someone that has never heard of your store before.
There are many ways to target existing customers. As we mentioned above, one of them is by creating a custom audience based on customer email lists. Another way is by showcasing user-generated content on your ecommerce site. This can be done with a simple social media feed, which can be featured on specific products or parts of the site.
9. Exclude Existing Customers From New Customer Promotions
Alternatively, to the point above, you may want to exclude your existing customers from things like special promotions for first-time customers. This will prevent them from feeling "cheated" out of a discount.
Putting myself in their shoes, I can imagine how being a loyal customer and not getting a special discount may feel wrong. So, to avoid getting anyone upset and to save precious advertising dollars on people that can't use the promotion anyway, let's see how to exclude existing customers in special circumstances.
Ad targeting exclusion can be done by excluding a custom audience with customer email addresses, or by excluding a custom audience that includes website traffic that has specifically not visited a purchase confirmation page. This includes people that added an item to their cart but didn't make a purchase. In case you were wondering, there are other things you can exclude from ads—for instance, ad placements and specific devices.
Combine Facebook With Other Channels
Combining Facebook with other channels will help strengthen your efforts and deliver a unified message.
10. Combine Facebook Ads With Instagram Ads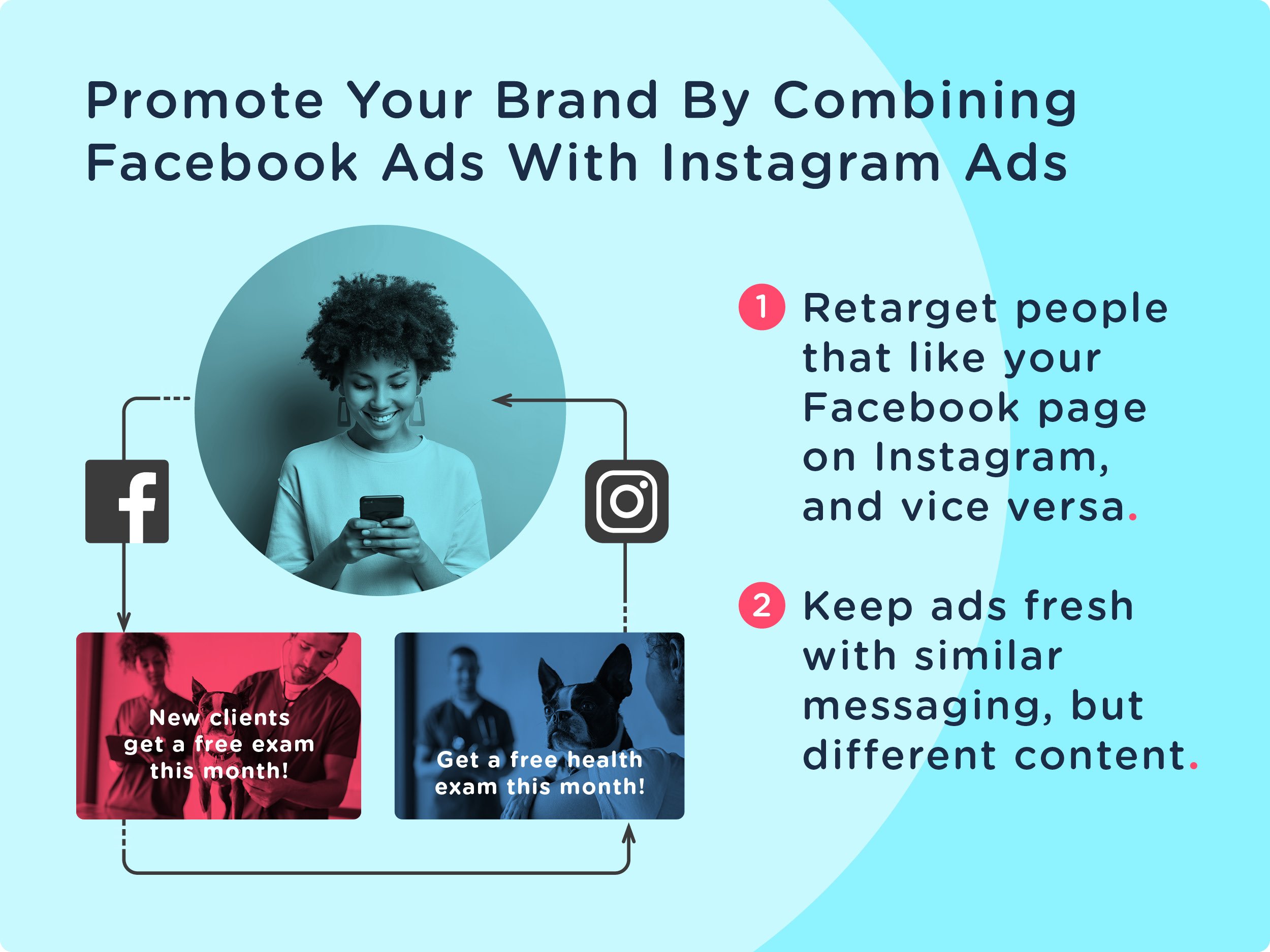 Facebook and Instagram can complement each other to take people to different stages of the sales funnel. The idea behind this strategy is to capture the attention or engagement of someone in one channel, and then retarget them on another platform. This process creates the feeling that the brand is everywhere and calls for more attention.
One strategy is to retarget people that like your Facebook page on Instagram. So, for instance, Mary likes your Facebook page today, and then tomorrow she will find one of your product ads on Instagram. Another way to approach this Facebook/Instagram combination is to reverse the order and take the people that have engaged with the brand on Instagram and retarget them on Facebook.
The key with any of these strategies is to deliver ads with similar messaging but different ad formats or content. Otherwise, the user would notice the ad is repeated and simply ignore it. Keeping the ad formats and content fresh will help keep potential customers engaged.
Implement Remarketing Strategies
Make sure your marketing dollars are used to their fullest potential by retargeting potential customers until they convert. For these campaigns to work properly, make sure your conversion tracking pixel is working correctly.
11. Address Cart Abandonment
It's important to remarket to users that have abandoned their carts because they are warm leads that are one step away from conversion. They just need one last push to take action. Remarketing acts as "the push" that can take a warm lead into a customer.
To deliver ads to this specific segment, you'll have to track custom events with your Facebook pixel. All you have to do is add the custom event code to the appropriate pages. In this case, the code would be added to the "add-to-cart" page.
Then create a custom audience based on website traffic. Proceed to include traffic that meets the event condition of "add to cart" and exclude the event "purchase." This will make sure your ads are only seen by people that have visited the add-to-cart page but haven't checked out.
12. Cater To Visitors Who Have Previously Visited Your Site
This may be the most common way to remarket customers. However, you can make it more advanced by adding specific logic to narrow your audience. For example, target visitors that have visited a specific page and not another one. In this way, you'll be able to craft a more relevant message based on the content they found on one of your site's pages.
Another way to segment this audience is by the number of days that have passed since they visited the site. Users that haven't been on the website in a while may need more help to recall the brand than others that have visited the site recently. Take this into account when creating the ad copy.
13. Utilize Dynamic Product Ads
This type of ad works well because it promotes products that people have already shown interest in. Thus, instead of guessing what they may be interested in, you can be more effective by already knowing the answer—then the ads just serve as a reminder to encourage them to make a purchase. The best part is that they are automated. Just upload a product catalog, and Facebook will do all the work for you.
14. Up-Sell and Cross-Sell
Make your dynamic product ads even more powerful by cross-selling and up-selling your products. To do this, go to the Power Editor and create a product catalog sales campaign. Then select the products you would like to show. Finally, select the upsell or cross-sell products option and add the products you would like to show for the chosen selection.
15. Use Facebook Pixel
Install the Facebook pixel and create custom events to track conversions. Once installed, make sure it is working properly by checking for the green dot on the Facebook Pixel status page. If you are seeing results from ads that are not properly being recorded by the pixel, try switching your conversion window. It may be too short for your lead conversion process.
Final Thoughts
With these 15 tools for Facebook advertising in your back pocket, optimized brand performance and increased conversions are soon to follow. Using Facebook ads provides retailers with access to distinct audiences who are interested in what merchants have to offer. Due to the billions of users worldwide, sellers are sure to reach the right audience with Facebook advertising.
However, not all merchants have the time, resources, or deep-level knowledge required to absolutely optimize a Facebook ad campaign. Those retailers are advised to connect with Wpromote's social media advertising experts, as we can help your brand craft a Facebook ad campaign that yields the best possible ROAS.