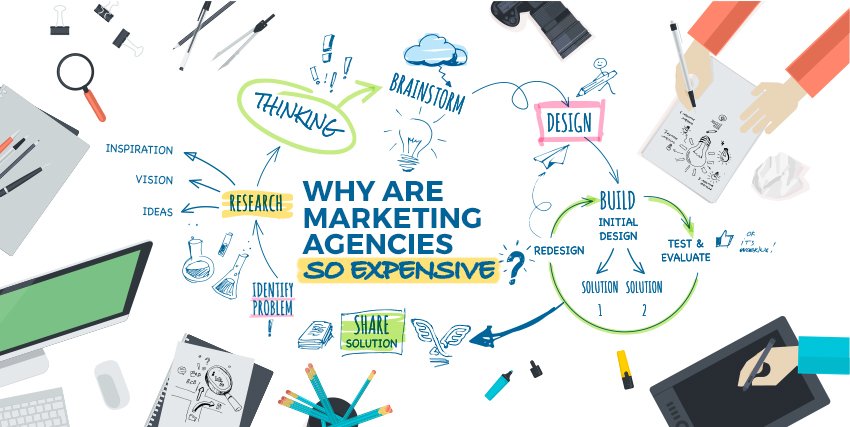 Small businesses are bombarded with ads for "Easy website builders," or "Free email automation" every day. They conclude, quite naturally, that their marketing efforts should be relatively inexpensive. Maybe not $0, but something close to that figure. They can probably do it themselves and let these amazing programs perform their magic…
But when you really think about it, does that sound reasonable?
There is nothing "Free" or "Easy" about marketing. In fact, every single ad you have seen for a "free and simple" anything is the result of an effective marketing strategy, one that a company has paid dearly for to conceptualize, create and distribute to land on your screen and influence your thinking.
Just because anyone can log into Google Analytics does not mean that anyone can effectively use Google Analytics, much less craft an end-to-end marketing strategy, considering business, brand, search engines and social media. Clearly, there is a lot of professional work to be done.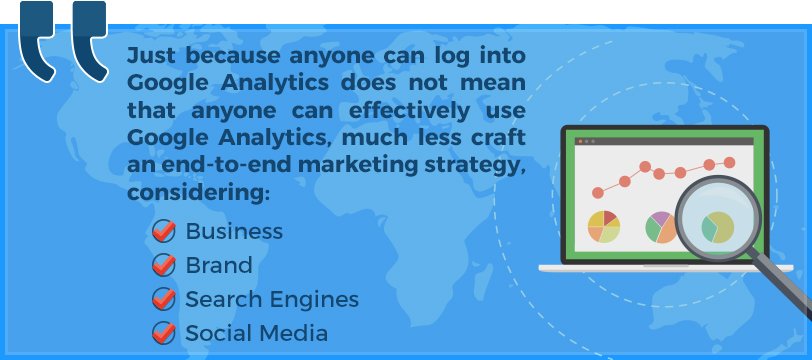 Now that certain barriers have been lifted by technology, the challenge turns to exploiting the technology better than the competition. Except now, there are way more options than before, any one of which could be a great idea, or a terrible waste of resources. What small businesses face in marketing is greater risk, and greater reward. No one would call their marketing decisions easier than they were before.
Small businesses will pay, on average, $11k upfront and above $4k on a monthly basis to ensure they have professional help, a marketing agency that has a history of making good decisions with real returns. This article will outline how this investment can be used for any number of marketing tactics but like any budget, must be targeted on specific activities that will achieve the highest return.
Common Reasons to Hire a Marketing Agency
Marketing requires many tasks to take a value proposition all the way to execution. Each stage requires specific talents, expertise and skillsets. You wouldn't want a creative type to attempt the technical processes of Search Engine Optimization, and you would not want an optimizer to try to create a brand, either.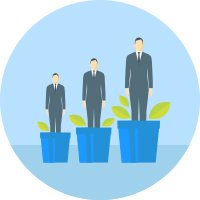 A marketing agency houses these skill sets under one, economical roof. The agency model is successful because agencies are constantly working on new accounts, and each professional gains experience and expertise, which translates to a high value for their time. Most agencies will bill out roughly $100 per hour for their employees' time, which must also cover unbilled time spent on training, development, Q&A, etc.
How much do you want to earn with your time?
A couple of the skills marketing agencies leverage to create a successful marketing plan include:
Website Development
Content Strategy
Branding Strategy
Search Engine Optimization
Social Media Marketing
PPC
Email Marketing
Website Development
Chances are your business may already have an active website. If it doesn't, making one should be your number one priority. Having a website doesn't necessarily mean this task is ready to be crossed off the list either, as websites require continual development, particularly if you are an ecommerce business that relies on the web for significant revenues. A website is an ongoing investment with ongoing rewards.

An ecommerce website is your best salesman, working 24-7 and paying off in multiples of the investment. Quotes for website design and implementation can vary from a few thousand dollars to well into six figures, depending on a business' goals. On average, a mid-level website of 10 pages on WordPress would cost anywhere around $2,500 to $5,000. More tailored solutions with custom forms, social media integration, and other such features would be more in the $5,000 to $15,000 range. Larger websites of 100+ pages with list-building, auto-responders, e-Commerce and checkout functionality, member's only areas, and built-in scheduling could cost anywhere around $20,000 to the six figure range depending on the features required.
Where does this figure come from? Building a great website could take 25 to 50 hours on the low end, quickly adding up to the $2,500 to $5,000 bill. Why do you want to spend that with a quality marketing agency instead of hiring a solo web developer?
Risk. And Reward.
There are many things that can go wrong with a website. Is the UI/UX good enough to attract customers? The user experience is one of the biggest differentiators, yet is one of the easiest components to get wrong because it requires a comprehensive knowledge of the constantly changing preferences of Internet users.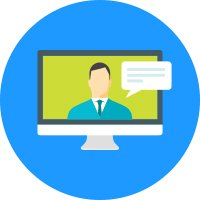 Is your website a labyrinth of repetitive pages that sends potential clients down a rabbithole? Squeezing your company's brand, pitch, and offerings into a simple 6-page website isn't easy. Finding the perfect balance between providing potential customers the exact information they are looking for and not bombarding them with information or endless "click here to read more" links.
The alternative to hiring a marketing agency for your website is to go your own route. The most popular road is using WordPress with an attractive template, but even that configuration and optimization could take weeks of an inexperienced individual's time. And the rewards would undoubtedly be less attractive.
Content Strategy
Content is the lifeblood of marketing and advertising. Content should be the centerpiece of any marketing strategy. Content drives traffic to your social media and website. Great content builds your brand and establishes your business as a leader in the industry, both of these things differentiating your business from competitors.
Content not only attracts more attention, it attracts the right kind of attention.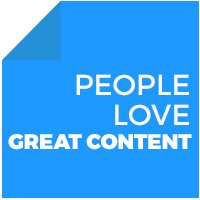 High quality content is also more affordable because it does its own marketing. People love great content, sharing and clicking on it much more frequently. Increasing conversions more than justify the costs of production, and advertising rates fall. Google loves great content, rewarding pages by boosting them in search rankings. Stellar emails provide recipients enough value to eventually purchase a product or service, whereas poorly written communications will be sent to spam.
But again, and you are going to here this many times before this article is over, achieving high returns requires experience, talent and expertise: investment.
Developing eye-catching content is not easy. A content strategy that can answer these seven questions must be in place before diving into writing or commissioning articles and web content.

Strategy: A basic content strategy could cost anywhere between $1,500 to $6,000 a month for small businesses. This budget affords targeting the right customers, knowing what those customers want to know right now, and then developing the materials and distribution to reach prospects at the right time.
Having a content strategist on board helps businesses articulate their message throughout their site and blog, while also providing the reader value to keep them interested in the brand. The strategist will help oversee the entire process of copywriting, content curation, and distribution.

Creation: Clear writing is clear thinking, and a clear, succinct message is what it takes to keep the attention of the average distracted Internet user. The costs for website content vary around $75 to $1,500 based on the scope and length of the work for every well-optimized page. Individual blog posts can cost around $50 to $500.

Distribution: A comprehensive content strategy helps distribute content to interested sources for brand building and link building purposes. Blog posts should be incorporated with a social media strategy to keep audiences engaged and to build brand equity.
Branding Strategy
Branding strategy is placed on the back burner for most businesses.
Most branding strategies can play an incredible role in the way consumers perceive a product or service but don't evolve from the rough write-ups in the ideation phase. Everyone from large brands to small businesses is subject to neglecting their branding strategy, and this is where marketing agencies can provide an extra set of hands.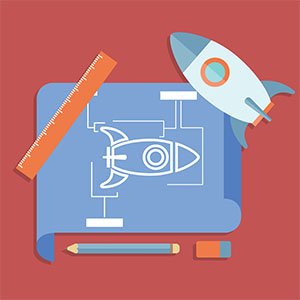 A branding blueprint requires a business to have a firm identify of itself, how it wants to differentiate from the competition, extensive knowledge of their industry, competition, and consumers, and a way to convey their personality with consistency. Hundreds of hours could go into this data-driven analysis, and the blueprint alone could cost anywhere between $1,500 to $3,500. Out of this analysis emerges a clear picture of the best marketing vehicles for your brand, as well as the best messaging and calls to action to acquire new customers. Creative briefs can go into more depth about the specifics of messaging and can cost between $1,500 and $5,000 for smaller businesses.

Search Engine Optimization
Contending with dozens of competitors at a local level and thousands at a national level for one of the ten spots on Google's first page can be pretty difficult, but the challenge is well worth the effort. 91.5% of search traffic is filtered on the first page of Google, with over 50% of the clicks going to the first three results. Even being first over second on the front page could be the difference in thousands of dollars of revenue.
Organic SEO is a long-term plan that requires attention and focus on many different fronts. Although you shouldn't expect immediate results, a good SEO strategy can significantly increase the amount of leads and future business in a few months.
A well-executed SEO strategy involves everything from on-page SEO to off-page SEO and requires a content strategy.

On-page SEO refers to the way your web content and blog articles are written, and this should be included in a content strategy proposal. This can also be done by yourself on WordPress with plugins such as Yoast SEO. Services that charge around $200 – $300 a month usually only cover on-page SEO and won't have a significant impact (if any) on your rankings. Off-page SEO is the behind-the-scenes SEO that can involve everything from building links to reaching out to influencers. Reputable SEO firms can charge anywhere from $750 to $5,000+ a month depending on the industry and keyword targets.
Social Media Marketing
Social media has been a gift and a curse to every business in 2017. On one hand, it allows businesses to segment and target their ideal customers with unprecedented data-driven accuracy on any platform. On the other hand, it forces businesses using social media to constantly monitor and maintain their online presence at the risk of doing damage to their brand or missing out on thousands of new prospective customers.
Social media marketing starts with a holistic strategy that involves picking the correctchannels, curating the right message, distributing that message, and managing communities of followers. This alone could take a team of three to five people. The industry average for social media marketing services can range around $4,000 to $7,000 a month for two social media channels.
The alternative to using an agency for your social media involves appointing a knowledgeable team member to focus on doing social media in-house, and equipping them with tools such as Buffer to schedule out posts as needed.

Pay Per Click
PPC campaigns can either be run as a flat monthly rate (usually ranging from $250 to $450 per month), as a service fee, or as a percentage of ad spend. Marketing agencies utilize their previous PPC experience to ensure that no precious advertising dollars go to waste and that they go to well-converting ads over the poorly converting ones.

Email Marketing
Email marketing has been the tried and true way to reach potential customers for almost two decades. According to EmailExpert.org, the average return for every dollar spent on email marketing is $44.25.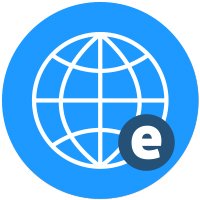 The technology around email has evolved in such a way that users can track conversion and click-through rates in real time. Having a good message is only the first step to a successful email campaign. A marketing agency that involves email marketing will do everything from lead generation and list-building, to building out a conversion funnel. The costs vary on the data complexity, email components, number of stakeholders, and creative strategic, and analytic services.
Marketing Agencies Benchmark Against the Latest Trends
Almost every industry has seen the pace of change shift over the last fifteen years, as communications technology allows swifter, data-driven decisions. Ecommerce platforms, search engines, and social media are the sprinters among the crowd.
The entire SEO industry could change overnight with a Google update to search rankings. A change in Facebook's algorithm could render a social media strategy ineffective without adaptation. Good marketing agencies are constantly prepared to absorb the shock of the risk by keeping up with trends in every part of the digital media atmosphere.

Marketing agencies have no choice but to stay sharp or risk doing ineffective work for their clients. Every professional on the team is expected to be a subject matter expert in specific realms of expertise. This means daily reading, exposure to new ideas, and analyzing incoming data. This work is uncharged. It is one necessary cost of operating a successful marketing agency.
How a Marketing Agency Works
Marketing agencies offer a holistic approach difficult to achieve by yourself or outsourcing to individual freelancers. A marketing agency team usually consists of specialized roles, professionals who are experts in their respective fields. As a team, these individuals make decisions about best practices, aligning efforts, and achieving success for clients.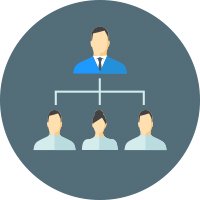 Sure, you could hire or designate an employee internally, but that could be extremely expensive and not as comprehensive as working with a marketing agency. The service and time is what can make a marketing agency expensive, the experience comes as a bonus.
How to Pick a Marketing Agency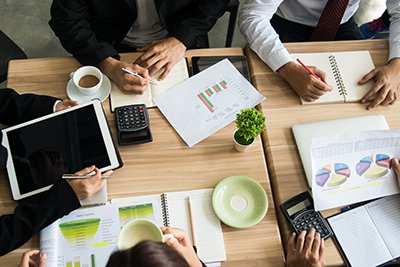 If you choose to go the marketing agency route, your best bet is to get a couple of proposals from different agencies to better understand the solutions they can provide you. Before doing that, however, it is a good idea to conduct a data-focused audit of your own business and think about your marketing strengths and weaknesses. Only after truly understanding what your business needs to break through the digital wall will you be able to intelligently consider hiring a marketing agency to help. Be sure to ask for a company's track record of proven experience for similar clients in your industry to get a more tangible set of expectations for what they can do for your business. Having clear goals is the best way to be able to communicate to the prospective agency of what your expectations are and how they can help you to meet them.