Much like 2020's unique holiday shopping season, ecommerce holiday shopping trends for 2021 point to similar conclusions.
While many people are yearning for a return to normalcy, the events of the previous year have changed the way people shop for and purchase products.
However, this change in consumer behaviors presents retailers with significant opportunities to capitalize on people's meaningful shift toward online retail.
As eMarketer forecasts for the 2021 holiday season, total retail sales for the United States are expected to increase by 2.7 percent, resulting in $1.093 trillion in sales value.
Meanwhile, as far as the ecommerce arena is concerned, digital sales are anticipated to rise by a whopping 11.3 percent, for a total of $206.88 billion. This means that online sales will account for roughly 19 percent of total holiday retail sales, thereby setting a new record in the process.
Understanding this shift in holiday shopping dynamics, in order for merchants to grasp the ecommerce holiday shopping trends for 2021, it is important to look back and understand how 2020 has fundamentally reshaped online retail.
How 2020 Has Transformed Ecommerce
As a result of store closures in 2020, a significant amount of holiday shopping was pushed into the digital space.
In 2021, despite many stores being open, this same trend is likely to continue as the likes of Target, Best Buy and Walmart will be closed on Thanksgiving Day, in addition to many other popular retail outlets.
Obviously, this echoes the same pattern carried out in 2020, with many merchants opting to focus their efforts online instead of in-store.
Naturally, these closures will push more shoppers to shop on ecommerce outlets for Thanksgiving and Black Friday, thereby setting the tone for future holiday seasons as well.
That said, Black Friday is expected to see more brick-and-mortar shopping, given that stores will be open for that event. Nonetheless, ecommerce retailers should prepare for Black Friday and Cyber Monday, as they are expected to be busier for digital merchants than in many years prior.
The reason for this is that, while shoppers will be excited for the possibility of in-store shopping, many have already grown accustomed to shopping for holiday gifts online as this path means that consumers can avoid crowds, long lines and other less-than-desirable aspects of seasonal sales events.
In totality, what this all means is that ecommerce holiday shopping trends for 2021 point to a massively profitable holiday season.
At least for those who are prepared for Black Friday and Cyber Monday and the inevitable rush that they will bring.
On that note, let's go ahead and take a look at some of the trends that merchants can expect to see in Q4, as well as how they can prepare to capitalize on such happenings.
Seven Ecommerce Holiday Shopping Trends for 2021
While it is hard to predict exactly how the holiday season will play out, there are some clear trends that can be seen unfolding.
Some of the patterns and behaviors retailers can expect to see in 2021 include:
1. More Online Shopping Due to Convenience
Naturally, as has been the theme of this piece thus far, ecommerce is expected to see a significant increase in sales during the 2021 holiday season.
However, it isn't just ecommerce holiday shopping trends for 2021 that point to this conclusion. In fact, the National Retail Federation recently revised its annual forecast for 2021, expecting retail sales to grow by 10.5 to 13.5 percent, thereby topping $4.44 trillion for the year.
As the release goes on to state:
"Non-store and online sales, which are included in the total figure, are expected to grow between 18 percent and 23 percent to a range of $1.09 trillion to $1.13 trillion as consumers continue to utilize ecommerce."
In essence, what this means is that more people will be shopping online because they want quick, easy experiences during the chaotic holiday season.
As far as retailers are concerned, what this means is that it is critical to get in front of as many shoppers as possible.
The best way for sellers to achieve that aim is by implementing SEO best practices for the holiday season.
Truth be told, investing in SEO is one of the most impactful things that merchants can do, no matter the time of year. However, as far as the holiday season is concerned, a 2020 holiday sales wrap-up reveals that search accounted for 45 percent of visits and revenue for that year. While paid was slightly more effective in driving revenue, organic search was still a major player.
To be more specific, organic search accounted for 22 percent of visits and 20 percent of revenue.
Therefore, it is critical for retailers to get busy optimizing their site and content offerings now if they wish to leverage the power of search this holiday season.
After all, SEO does take time to produce results.
That said, some quick SEO wins that sellers can use to give their site a bit of a boost in the SERPs include:
Optimize images and visuals
Elevate website security
Focus on minimizing load times
Rectify any broken links
Eliminate duplicate content
2. Holiday Shopping Will Start Sooner
Turning to the National Retail Federation once more, the association found that, in 2020, 42 percent of consumers started holiday shopping earlier than they typically would have in years prior.
As a result, that year's holiday season was a prolonged one, with sellers rolling out Black Friday deals in October while Cyber Monday spilled out of its dedicated day and became a week-long event.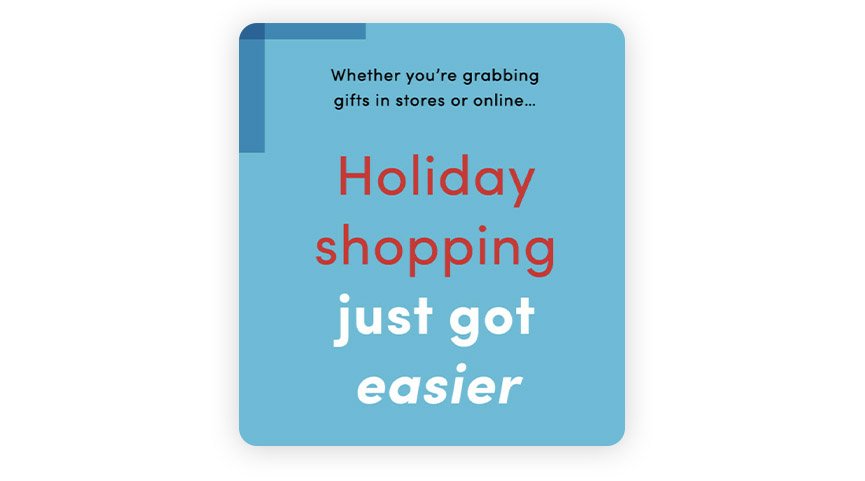 Similarly, ecommerce holiday shopping trends for 2021 point to similar patterns playing out once more.
Where merchants are concerned, this means that it is imperative to begin rolling out holiday promotions on the earlier side to meet consumer demand.
One of the best ways for retailers to take advantage of this opportunity is through establishing Black Friday and Cyber Monday email campaigns to reach existing customers.
Part of the reason as to why this strategy is preferred over something like paid social adverts is that email is a relatively inexpensive means of generating sales when compared to tactics like PPC.
Moreover, given that most of a brand's email subscribers have likely purchased from the brand before, it will be far easier for the company to generate sales from this crowd than prospective buyers whom the business must first convince of its trustworthiness and quality.
Therefore, email provides the perfect forum for engaging holiday shoppers on the earlier side of the season. As things roll on, retailers can then get into reaching new audiences via paid search, social media and the like.
3. Mobile Dominates Online Retail Sales
2020's lockdowns significantly increased not just online shopping, but shopping on mobile devices in particular.
As Facebook's 2020 Holiday Insights report revealed:
"Globally, mobile purchases by [Gen X and Boomers] during the holiday season have grown on average by 50 percent or more year on year, while over 30% have messaged businesses."
While older generations adopting mobile shopping is something of a new development, the trend toward mobile commerce in 2021 should come as no surprise to industry professionals.
When taking a look at the bigger picture, mobile has been on an upward trajectory for years. In fact, where retail sales in 2021 are concerned, mobile is anticipated to account for nearly 73 percent of ecommerce sales, according to data from Statista.
As far as ecommerce holiday shopping trends for 2021 are concerned, mobile is undoubtedly going to play a massive role this season, and in all shopping seasons to come.
What this means is that if a retailer is rocking an unattractive, slow or otherwise unoptimized mobile website, holiday shoppers will find another merchant to whom they can hand their money.
When it comes to the holiday season, it is particularly important to ensure that ecommerce sites are optimized for small-screen experiences. This assertion is backed by the aforementioned Facebook's 2020 Holiday Insights report, which also mentioned that "an average of 82 percent of global mobile shoppers surveyed experience some problems while shopping."
These issues ranged from font sizes to content not fitting the screen correctly, poor load times and beyond.
Therefore, mobile optimization should be a major focus for retailers going into the 2021 holiday season.
That said, if sellers want to go above and beyond to ensure that their site reaches the pinnacle of mobile performance, it is advisable to consider developing a progressive web app (PWA) as there are a panoply of benefits that this tech provides to mobile users and merchants alike.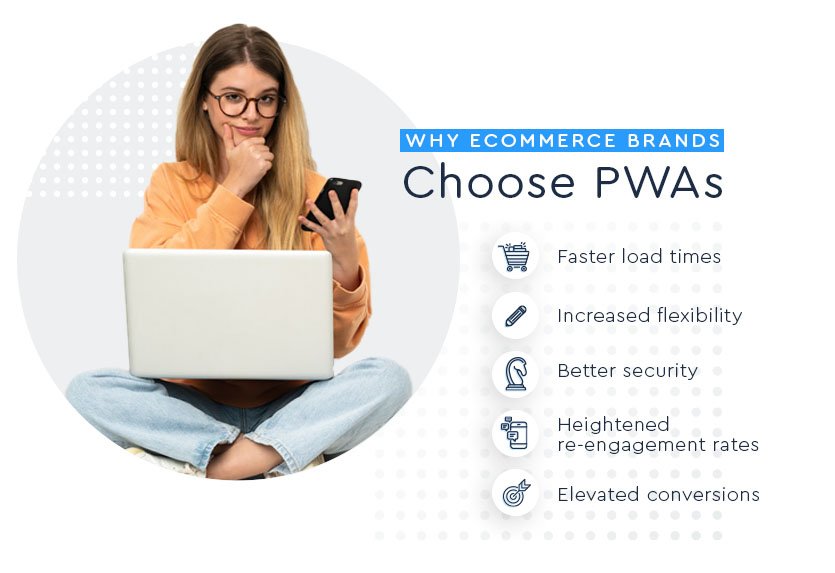 There are a myriad of reasons as to why ecommerce brands continue to choose PWAs over native apps, some of which include:
Faster load times
Increased flexibility
Heightened re-engagement rates
Elevated conversions
Better security
These are just a few of the reasons why PWAs are a game-changer for ecommerce brands.
4. Checkout Flows Make or Break Sales
According to ecommerce holiday shopping trends for 2021, a merchant's checkout flow will be a significant factor in determining conversion rates among shoppers.
While this is true for the rest of the year as well, it is particularly important for sellers to optimize their site's checkout process for the holidays to be quicker, simpler and more accommodating to shoppers.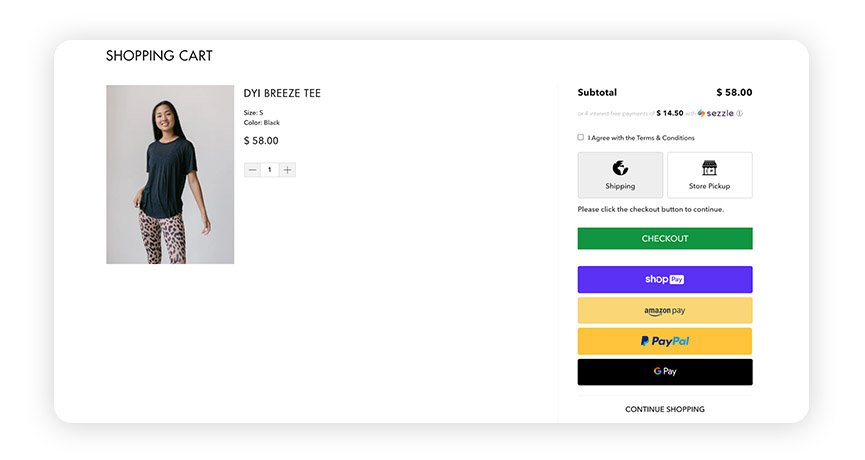 Some ways in which merchants can achieve this aim include:
Offer Multiple Payment Options
During the 2020 holiday season, consumers displayed a diverse taste in payment choices. As the PYMNTS.com 2020 holiday shopping report details:
"Payment choice made itself known as a force too, with buy now, pay later (BNPL) apps and other alternative credit offers popping up like mushrooms and grabbing share of wallet. Credit and debit cards remain the dominant payment methods, used by 46 percent and 44 percent of consumers during the 2020 holiday shopping season, respectively. A notably large portion of shoppers — 40 percent — used digital wallets, and PayPal was by far the most popular digital wallet option, used by 29 percent of consumers, per the new report."
What this means is that it is highly advisable for retailers to partner with a respected web developer to offer consumers a variety of payment options by featuring various digital wallet choices, implementing buy now, pay later options and an assortment of other ways to pay.
Easy Checkout
Again, while this bit of advice is not relegated to just ecommerce holiday shopping trends for 2021, but the broader online retail picture, the holidays are a critical time for merchants to implement these optimization efforts.
During the sales season, if a consumer makes it to a merchant's checkout page, it is vital that the process be smooth, seamless and straightforward as this means that checking out will take less time and make customers more satisfied with the on-site experience.
Therefore, it is wise for sellers to partner with a capable web developer who can help make the site's checkout flow as frictionless and easy as possible.
Moreover, providing guest checkout options cannot be more strongly recommended. If retailers force account creation – particularly during the busy holiday season – they will undoubtedly turn away untold sums of sales.
5. Shoppers Want Free Shipping and Easy Returns
There are a few things that are paramount to shoppers during the holiday season:
Big savings
Product availability
Free, fast shipping and returns
The fact is that, even in normal times of the year when consumers aren't buying a myriad of gifts from a variety of outlets, shoppers have grown rather attached to the idea of free shipping, thanks to the likes of Amazon.
However, during the holidays, given the amount of money that is going to be spent on products alone, adding a $10, $20 or even $30 shipping fee onto a shopper's order can be a complete deal-breaker, resulting in a sizable uptick in cart abandonment.
Therefore, part of the savings that consumers are looking for during the holidays comes by way of offers of free shipping. During this critical time of year, providing consumers with free shipping is a must for merchants.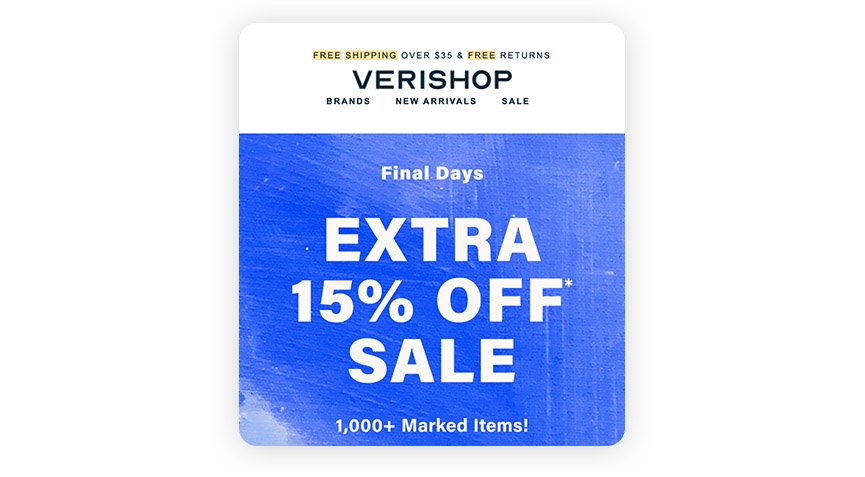 However, if retailers offer free shipping but still have a return policy that is likely to cause stress or consternation, shoppers might still forgo their order in favor of another merchant with a more amicable return policy.
That said, it is critical for sellers to promote free and easy returns for holiday gifts. No matter how merchants wish to structure this, the important part is that the process be effortless for consumers, as this is what will help to incentivize sales.
As far as getting the word out goes, it is wise for retailers to highlight their free shipping and easy returns in their PPC campaigns, as this is something that consumers are looking for from the brand from which they buy.
No matter if sellers are running paid search ads, paid social media ads or both, highlighting holiday shipping and return policies is going to be key to generating more clicks and conversions.
6. Omnichannel Strategies Will Prevail
During the holidays, consumers discover products in a multitude of ways, including through email, organic search, paid adverts, social media campaigns and the like.
This means that robust omnichannel ecommerce marketing strategies are of the utmost importance.
Where ecommerce holiday shopping trends for 2021 are concerned, it is critical for sellers to boast a complete omnichannel nurture cycle that effectively guides consumers through the sales funnel.
Those who do not have an integrated marketing plan that touches a variety of marketing channels are destined to lose out to competitors that have such a plan in place.
For merchants to ensure that their 2021 holiday season is wildly profitable, it is critical to be present in all of the places that consumers are most likely to shop, which brings us to our next point.
7. Large Retail Companies Will Dominate
This is likely one of the less surprising ecommerce holiday shopping trends for 2021, as this one seems to play out year over year.
For instance, in 2020, the top 100 online retailers (not including Amazon) accounted for a staggering 74 percent of all ecommerce growth.
Meanwhile, 2020 was Amazon's biggest holiday season ever.
What this means for small merchants and those who boast a DTC sales model is that it is imperative to have a presence on massive marketplaces like Amazon, eBay and Walmart.
While these types of sellers should certainly leverage their email lists and social media following to drive sales, the chances are that these alone will not be enough.
Therefore, merchants must take the initiative to invest in Walmart advertising and Amazon marketplace campaigns to reach the throngs of shoppers that will inevitably end up on these digital destinations.
It is important to remember how vital visibility in search engines is to ecommerce retailers during the holiday season. When it comes right down to it, Amazon and Walmart are merely retail-exclusive search engines.
This means that consistently running ad campaigns on these types of platforms during the holidays is likely to net retailers a considerable amount of holiday revenue.
Final Thoughts
If ecommerce holiday shopping trends for 2021 are any indicator, this sales season is poised to be another unprecedented one for ecommerce retailers.
While the events of 2020 significantly reshaped the way that people discovered, shopped for and purchased items, many of those changes have been carried over into 2021 — with some aspects being amplified to a greater degree than in the previous year.
The fact of the matter is that ecommerce marketers have their work cut out for them this year as this holiday season is likely to be longer and more competitive, while shopper expectations regarding shipping, returns and on-site experiences have never been higher.
Taking all of this into account, it is critical that retailers begin planning their 2021 holiday promotions, campaigns and materials now, as the season is just around the corner.
That said, since there is so much to do, it would be wise for sellers to partner with a skilled and experienced ecommerce marketing agency to ensure a massively successful holiday season.
If your brand wants to elevate its on-site experience, SERP visibility, email effectiveness or paid media campaigns to a new level during 2021's sales season, reach out to Wpromote for a free consultation.
Our expert ecommerce marketers can help your brand to put together the insights, blueprint and materials necessary to dominate the competition this holiday season.