If you've never woken up at the crack of dawn for a chance to fight someone for a TV at a ridiculously low price, have you even truly experienced Black Friday? All jokes aside, Black Friday and, later, its digital counterpart Cyber Monday, have been testing consumers' patience for decades.
They've also been testing marketers' savvy as they figure out how to navigate the most competitive time of the year and find a way best to convert consumers into customers when purchase intent is at an all-time high. In the last couple of years, the quest to capture the magic and spend represented by the holiday's biggest shopping days has gotten even more challenging.
We've all seen the headlines and checked the numbers: Black Friday and Cyber Monday 2021 have been, if not quite a bomb, not the boon of holidays past. At the same time, 2021 is set to clock in as the largest holiday season ever. So what do we need to learn from this year's results?
First of all: the death of Black Friday and Cyber Monday has been greatly exaggerated
Historically, Black Friday and Cyber Monday have been some of the biggest shopping days of the year. And that is still true, despite the slightly hysterical headlines. But this year is the first we've seen some disappointing numbers and downward trends in recent memory.
This isn't all bad news! Since last summer, we've been shouting from the rooftops to start promotional calendars earlier to lengthen the holiday season, correct for potential shipping and supply chain issues, and spread spend out more. And that's what's happening!
Wpromote's client data showed spend on Google for September 2021 increase by nearly 73% and on Facebook by 59%.
But although marketers are reaping the benefits of a longer season, it's hard to break out of the mindset of wanting to have it all. And Black Friday and Cyber Monday, despite bringing in huge numbers, didn't take quite as large a slice of the holiday pie as they have in the past.
According to this year's Adobe adjusted forecast, Cyber Monday was expected to drive $11.3 billion in sales while Black Friday was expected to drive $9.5 billion (up 4% and 6% from the year before respectively). Overall Adobe expects this year to be one of the biggest holiday seasons yet, predicting consumers will spend $207 billion online in the US and $910 billion globally.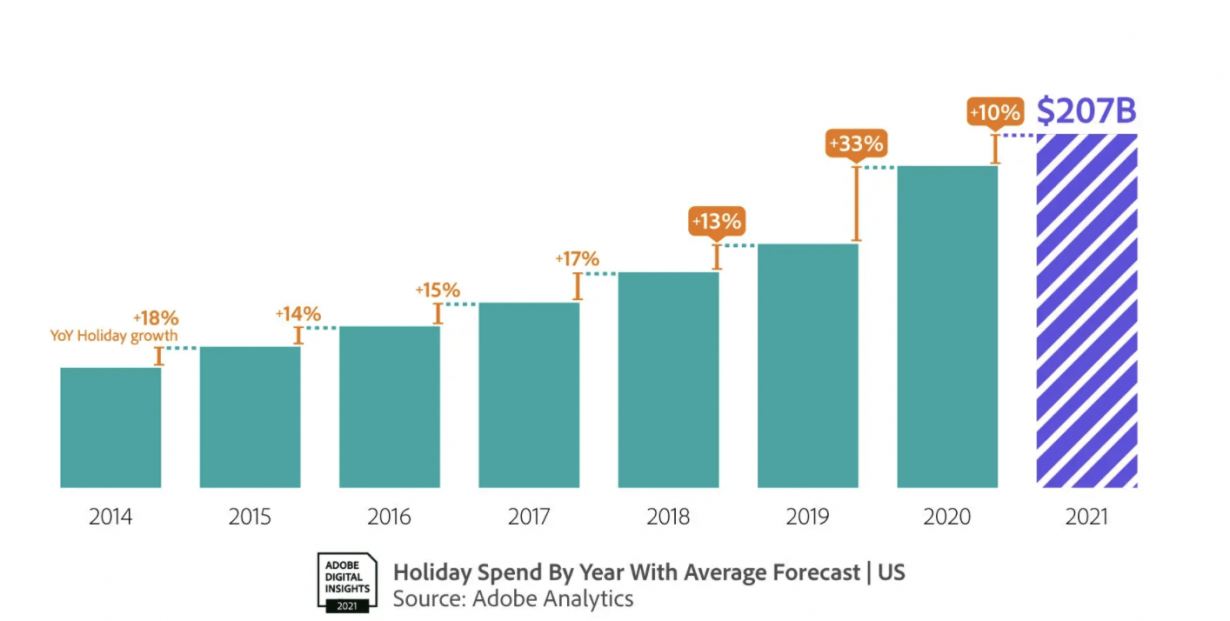 source: blog.adobe.com
The reality did not keep pace with the predictions; consumer spend on Cyber Monday was down 1.4% YoY, with $10.7 billion spent versus the projected $11.3 billion. As a whole, Cyber Week only drove $33.9 billion, while Black Friday consumer spend dropped 1.3% YoY. But again, those are huge numbers overall, especially considering that consumers have already spent $109.8 billion online this holiday season, up 11.9% over last year.
We're still on track for one of the biggest holiday seasons yet, and marketers (and executives, and brands as a whole) need to break free from thinking of Cyber Week as the Only Time That Matters In Q4. The calendar is bigger now, and that's a good thing. So before we dive into what you need to learn from this year's Cyber Week performance, let's take a look at what factors contributed to its decline.
Market challenges kept Cyber Week from being king
Promotional calendars have opened up a lot; in previous years, brands held promotions back to drive purchase intent to a fever pitch for Cyber Week. But with all of the fulfillment challenges and shipping problems and supply chain delays, that didn't make as much sense in 2020 and 2021. So promotions moved earlier and earlier, and people heeded the call to get ahead of the holiday rush.
Those earlier incentivization tactics combined with higher prices already in the market and less dramatic promotional offers, and made Cyber Week a less "must shop" period. It's worth reminding everyone that people still bought (a lot) during Cyber Week. But they were also shopping throughout October and November, which is why the holiday season as a whole is still on track to be a record breaker.
When it comes to promotions, we saw a definite decline in big ticket offers tied specifically to Cyber Week. Two of the most noticeable examples in Adobe's data were electronics, where discounts clocked in at –12% versus –27% last year and appliances at –8% versus –20%.

source: blog.adobe.com
And those discounts weren't enough to balance the price increases people were already seeing due to a range of potential factors across industries from inventory shortages to supply chain weakness.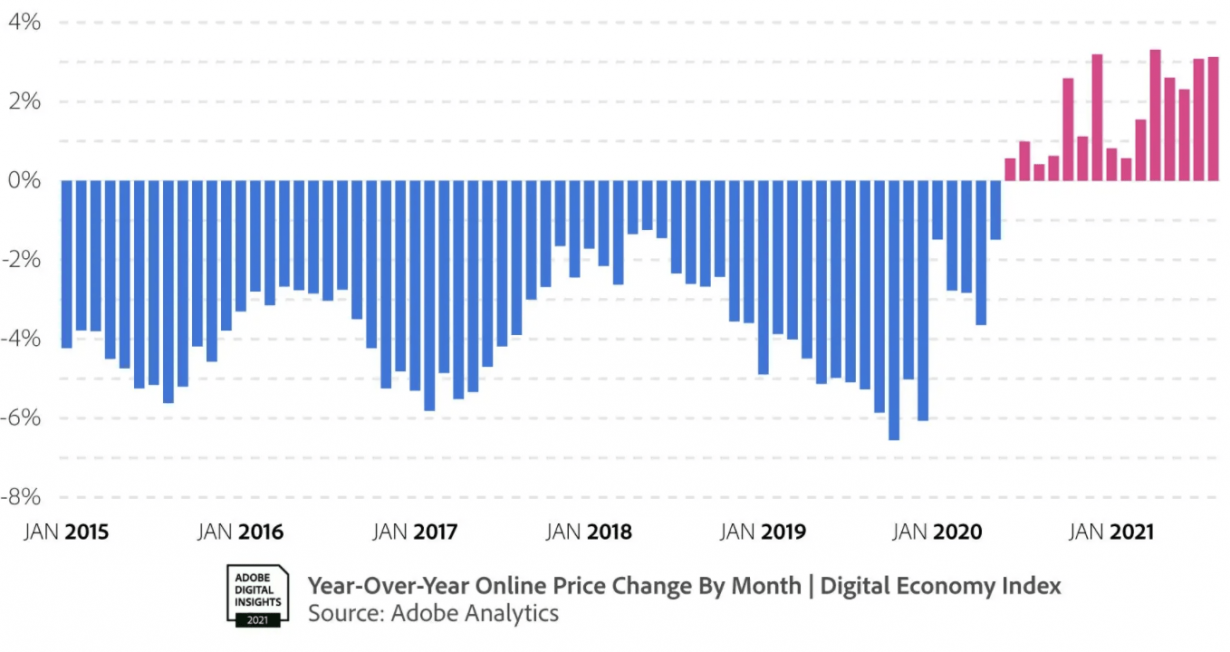 source: blog.adobe.com
High prices haven't been the only issue. According to Adobe, out-of-stock messages on Cyber Monday were up 8% compared to a week before. In the month of November, out-of-stock messages were up 169% versus pre-pandemic levels and up 258% versus November 2019.
The market was vigorous and competitive throughout Cyber Week; we saw Google search CPCs increase 76% YoY ($1.03 to $1.82) on average, although Bing CPCs dropped 12% ($1.36 to $1.20). Additionally, we saw Google CPCs get more expensive the weekend after Black Friday heading into Cyber Monday to capture more digital intent.

We saw Cyber Week conversions on Facebook dropped 47% YoY, although that's likely somewhat misleading. Facebook spend remained consistent, and the severity of that drop is probably attributable to tracking issues associated with iOS 15 and other privacy updates. Conversions in search also dropped 5% in Google and 13% in Bing YoY, which is more consistent with what we're seeing in the larger trends.

And we can't overlook some of the intangibles affecting customer behavior. The lack of traditional Thanksgiving gatherings last year due to the pandemic might have convinced people usually willing to spend part of the Thanksgiving break stressed about finding the perfect gift or waking up at the crack of dawn to get the best deal to focus on spending time with those they love or experiences that can't be duplicated.
So what can we learn that will help us plan for an evolving holiday season in the future?
Maybe the greatest gift is learning from a challenging Black Friday/Cyber Monday to build future opportunities
Building your promotional calendars to take advantage of the full season instead of focusing only on Cyber Week is a great, less risky way to build ad spend over time and get in front of the consumer earlier, as opposed to hanging all of your hopes on one or two shopping days out of the year, where you'll likely face the steepest competition.
Our best advice is to build your promotional calendar starting in September so that you can get ahead of the holiday rush. You'll be able to take advantage of early planners and the high shopping intent around Cyber Week with a more balanced set of incentives and offers.
Certain high-dollar categories, like electronics, are offering their deepest discounts before Cyber Monday. If we've learned anything from this year, it's that consumers won't make a purchase just because there is some sort of a discount available. They will make the purchase when it's best for them.
Even if you have the greatest deal in the world, constantly bombarding consumers with email and SMS is a sure-fire way to turn them off of your brand. You're certainly nowhere near the only brand in their inbox, so save your sends for when they matter most.
Texting in particular can easily become a nuisance; save your SMS campaigns for your known, loyal, high-value customers and offer them something special or exclusive. Try sending emails at non-peak times when inboxes are not getting flooded, so you'll be much more likely to stand out.
Nothing is worse for consumers in a high shopping intent period than going to make a purchase only to find what they want is out of stock. You need to have a strategy when it comes to merchandising and out-of-stock items. Don't just send consumers to a page that they can't do anything with; make sure your site is reflective of inventory and updating in real-time, with contingency plans once inventory runs out.
Make the case for better communication between inventory and marketing. This will smooth the customer experience and ensure you're not accidentally luring people with bait-and-switch ads to items that are already gone.
Remember: the 2021 holiday shopping season ain't over 'till it's over
You may be thinking, "damn, the holiday shopping season is almost over and I can't do anything about it." Good news: you're wrong.
If your usual line of messaging didn't work on Cyber Monday, reconsider how you're presenting the offer, messaging, creative, or the promotion itself. Promotion extensions can be a great way to capture those last-minute stragglers.
The Black Friday/Cyber Monday "dip" might include late shoppers not finding what they're looking for in terms of discounts or inventory. You can still catch these people, but you need to be clear and transparent about what's in stock and shipping estimates. If an item isn't available (or isn't available to ship until AFTER the holidays), you're just asking for an upset customer unless you're ready to offer them an alternative or a creative way to give something on the big day even if the gift itself is delayed.
Remember that items that you don't have or are out-of-stock should not appear in your creative. If a customer does show up to an out-of-stock product page, offer alternatives to the product they are seeking or a discount to pre-order.
For last minute shoppers, you should also look to showcase local options like buy online and pick up in-store or curbside, buying in-store and being able to ship elsewhere, or even local delivery. Don't underestimate the consumer's need for a simple experience both in-store and online.
Make it easy for the last-minute shoppers who swoop in when almost everything is done. Create or curate content around last-minute gift ideas or guides to get every bit of potential value out of the last swing of the holiday season for your business.
Black Friday and Cyber Monday have been the bread and butter (and appetizer and main course) for a long time, but the nature of the shopping game has changed… at least for the time being. Don't be left out in the cold because you put all your revenue hopes and dreams into Cyber Week.
If you take away anything from these learnings, remember:
Earlier promotions are a great way to mitigate risk and avoid putting all of your eggs in one basket
Don't hold out for Black Friday/Cyber Monday as consumers are pickier than ever and won't just buy something because it's Cyber Week
Avoid including out-of-stock items in your creative if you don't want to anger potential customers before they've even browsed your site