2023 is here, and it's already shaping up to be another tumultuous year in the world of digital marketing. The economy is still in flux, Amazon is poised to keep taking chunks out of Google and Meta's traditional digital dominance, and people are looking for different things from brands, focusing on authenticity rather than polish even as they look to stretch their dollars further.
Whole new ecosystems in CTV are coming into play, while data privacy regulations and restrictions continue to dog marketers, making both privacy-compliant measurement and targeting a critical area of focus for marketers of every kind.
We asked our experts to share their most important predictions for the year ahead so you can stay ahead of the curve and grow your competitive advantages as new opportunities open up.
Social media marketing in 2023 will require authenticity, agility, and accountability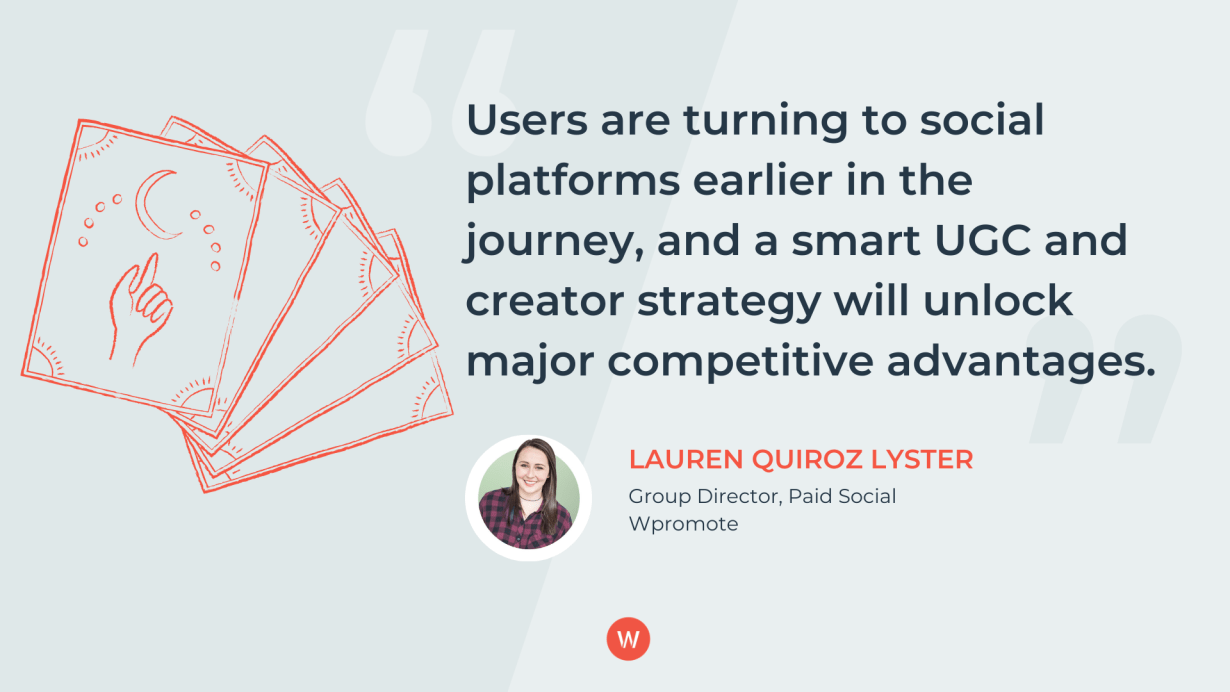 When we asked Lauren Quiroz Lyster, Group Director of Paid Social at Wpromote, what her major predictions for the world of social were in 2023, she came up with a short list of about 25. But she helpfully identified three major themes that marketers need to keep front of mind.
User behavior is changing, especially among younger audiences. They're relying more and more on social platforms to discover new brands and products, research options, and educate themselves. Lyster explained that "brands need to continue to invest, particularly in the upper- and mid-funnel to make sure they are present where users are looking." Because users are looking to new platforms for that information, she predicts that ad spend growth on established platforms will slow, leaving the door open for emerging or less frequently leveraged platforms.
Those same users are looking more toward other people than brands when they're making purchase decisions, all while targeting capabilities within platforms are narrowing as privacy and data restrictions expand.
Lyster believes that creative, as one of the controllable variables still available to marketers, will be a critical focus. For many brands, that means a shift to UGC and creator content. "Creators lower the barrier to enter emerging platforms like TikTok, where brands may not be as comfortable developing platform-specific creative. Brands need to work with creators who already have a formula for success and tap into their credibility with users already established on those platforms," Lyster explained.
Finally, the potential of a recession is looming over every business and budget decision today, and that means executives are increasingly focused on ensuring that digital channels are getting returns on ad spend. Lyster notes that paid social doesn't fare as well as channels like paid search from a last-click attribution perspective—but that actually exposes a bigger problem.
Last-click attribution doesn't account for the full impact channels like paid social, especially upper- and mid-funnel campaigns, have on other channels and the business as a whole. Lyster predicts that brands will not be satisfied with this incomplete picture, and are likely to turn to measurement partners, incrementality studies, and multi-touch attribution or media mix models that measure impact more effectively. Lyster is clear that "marketers need to get ahead of these conversations to protect budgets and ensure channels are being properly evaluated based on their true impact."
Live shopping is gaining ground, and brands will need to keep pace with the speed of commerce changes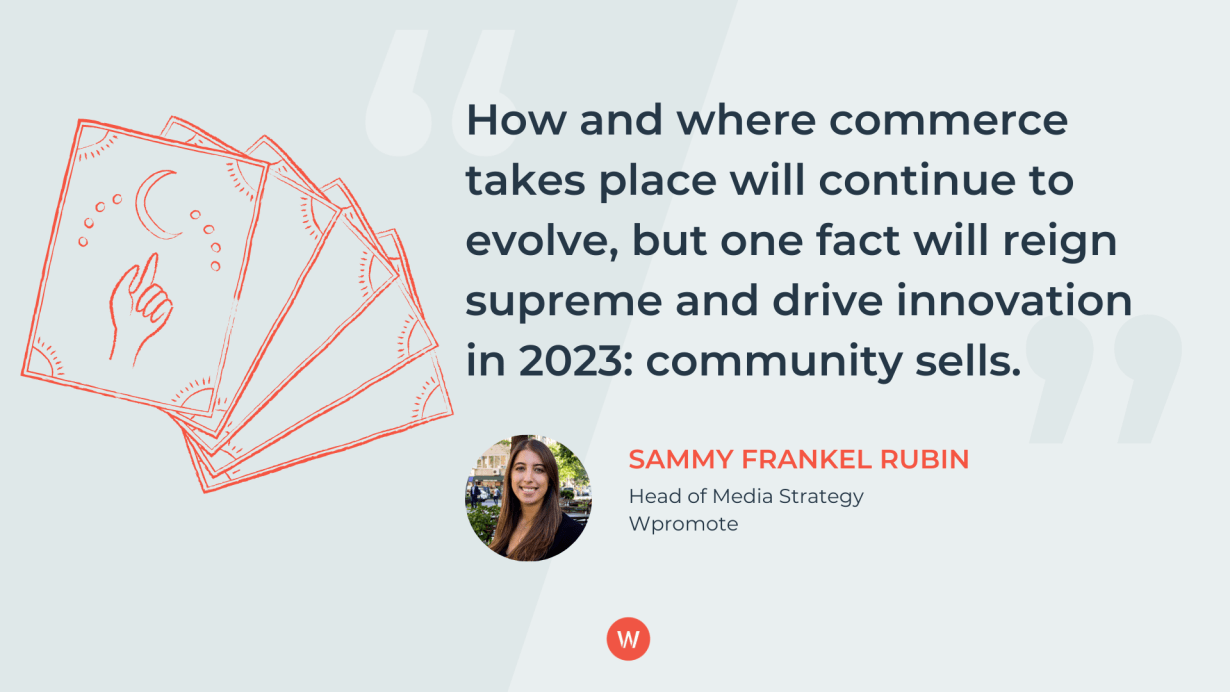 Wpromote's Head of Media Strategy, Sammy Frankel Rubin, is excited by the changes coming to commerce in 2023. Almost every variable is in play: how people buy, where they're purchasing, what they find convincing. One potential bright spot, according to Rubin, is live shopping. Platforms from Amazon to Instagram to TikTok to YouTube are investing in live shopping capabilities, bridging the gap between the people power of influencer marketing and the actual purchase point.
The proliferation of tech and the accessibility of live commerce capabilities on different platforms fueled a boom in Q4 2022. Rubin saw brands lean into live shopping experiences that create a sense of community; if brands learned one thing in the last year, it's that community sells. "Going live across social channels, brand sites, publisher sites, and retail sites can drive connection and immediacy that directly translate into revenue," explains Rubin.
But Rubin cautions that the excitement around live shopping doesn't guarantee that it will be a success, particularly if brands are cutting spend and are focused on things they know work. Rubin points out that "many brands may not have dollars for innovation in the first half of 2023, but we've seen other exciting new innovations in commerce around interactive content that might be more accessible."
Brands are still experimenting with different formats for live shopping experiences, from QVC-style product demos to cooking shows and fitness classes. The real test, Rubin asserts, will come in Q1 2023: "We'll see if the interest persists based on its incrementality relative to Q4 performance and how much room there is for experimentation in 2023 budgets."
Amazon will try and capture brand and performance dollars with new offerings around brand and influencer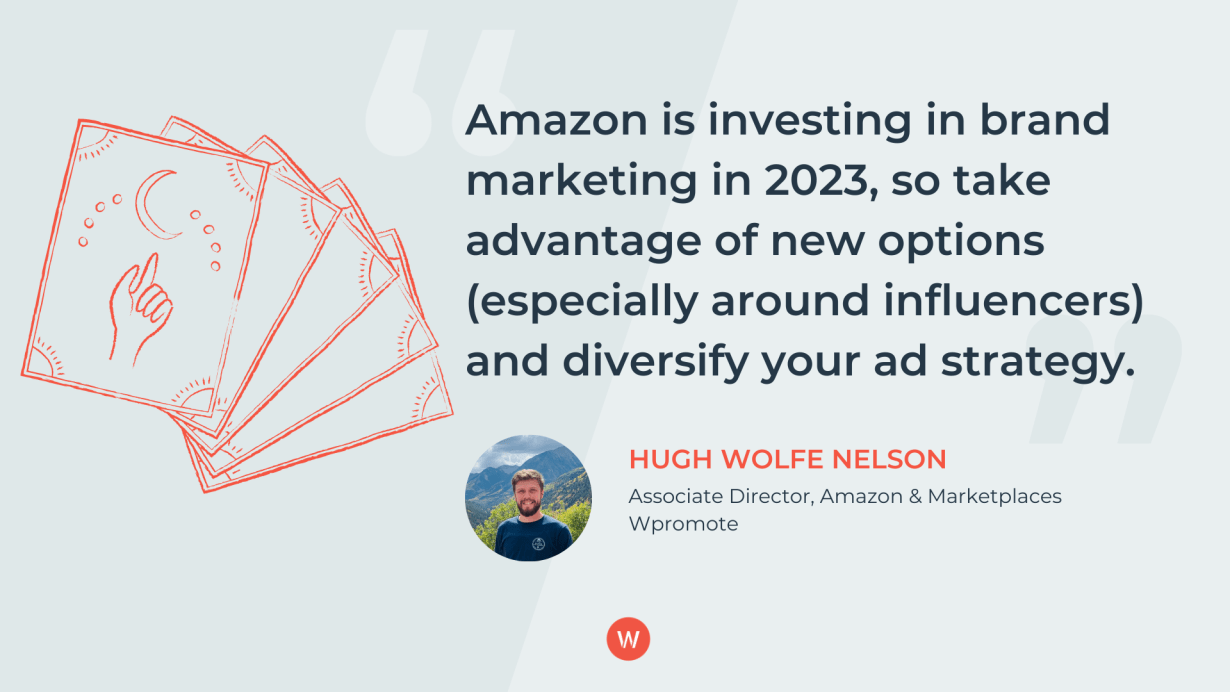 Amazon wants to own the whole funnel, according to Wpromote's Associate Director of Amazon and Marketplaces Hugh Wolfe Nelson. The ecommerce giant will continue to try and convince brands to put brand dollars into the platform by offering new and more prominent video placements on-site, CTV and OLV ad options leveraging Amazon's first-party shopping data, and more ways for brands to really tell their story through A+ Premium content and Brand Stores.
Nelson predicts that "Amazon's investment will result in brand new opportunities to engage shoppers within the Amazon network, and there's a real possibility that larger brands will join the marketplace that have held off in past years." That move from big brand names has already started; Victoria's Secret joined Amazon in May followed by Gap in November.
While Chinese sellers made a comeback in 2022, Nelson believes that these growing opportunities for branding will make it harder for low-price, low-quality products to succeed in 2023. "Marketers need to lean into Amazon's expanding targeting, creative, and audience offerings to drive awareness and consideration with highly-targeted strategies to prove value and make connections with customers that beat the low-price marketplace model," explains Nelson.
More advertisers does mean more competition on Amazon, and it's likely that costs will continue to increase, especially in non-brand search auctions. Nelson points to the bidding wars for the highly coveted top-of-search placement in 2022 when Amazon let marketers modify bidding for this placement as a harbinger of things to come. "Amazon marketers will need to weigh the costs of participating in these auctions," cautions Nelson. "They should diversify their ad type strategy on SERPs paired with SOV tracking, automation, and new measurement solutions to understand the impact of this investment on the bottom line."
The growth of social commerce and influencer marketing didn't go unnoticed by Amazon; the platform launched Inspire, a new social commerce tool to help customers to discover and explore products through photos and videos. Nelson expects to see "more Amazon influencer events throughout the year as Amazon builds its influencer network and programs, and more direct-to-Amazon marketing happening on social platforms like Instagram and TikTok. We could even start to see influencers or social-proofing happening outside of "Inspire" with content on PDPs, Brand Stores, or in search results."
CTV options will proliferate and marketers need to get strategic about how they're accessing inventory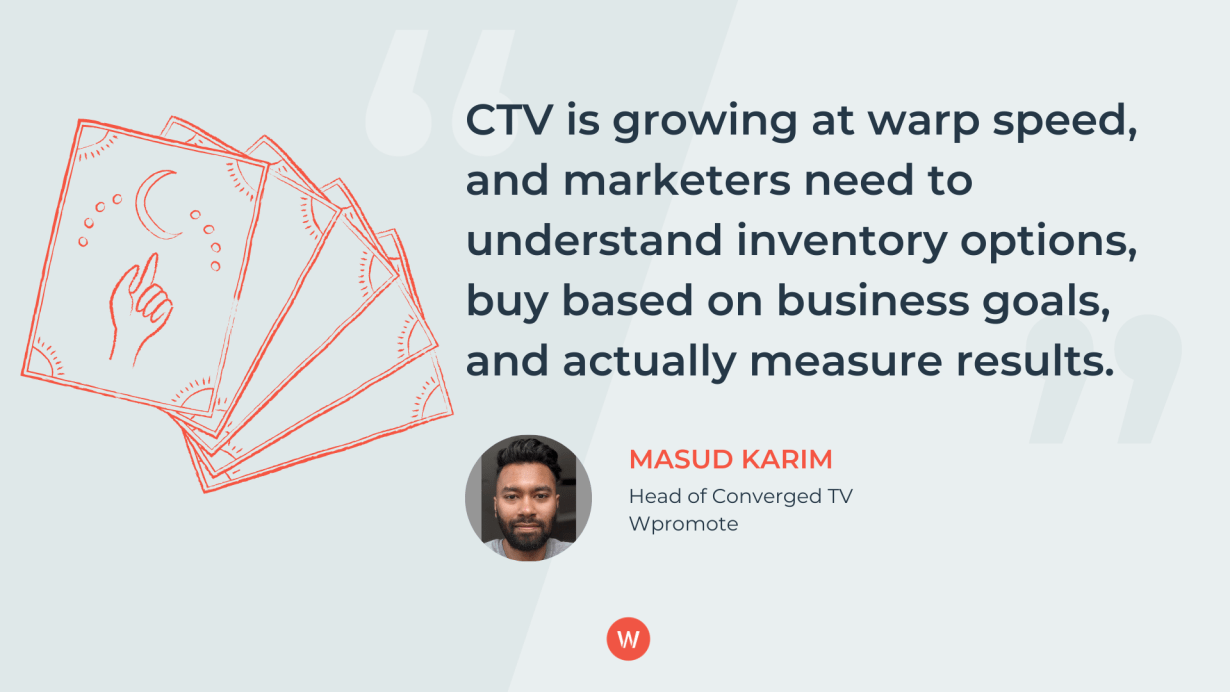 The CTV landscape is exploding, and Wpromote's Head of Converged TV Masud Karim recognizes that brands need to be careful to make smart choices as options proliferate. Providers of all kinds, including OEMs (Vizio, LG, Samsung), vMVPDs (Sling, Fubo), FAST (Philo, Pluto), OTT (Roku, Amazon), and direct publishers (HBO MAX, Peacock, Hulu), will continue to build walled gardens within their owned and operated inventory to try to distinguish themselves from their competitors as much as possible.
The main advantages they'll be selling will be around premium inventory accessibility, audience targeting capabilities, and measurement/reporting. Karim recommends that marketers zero in on the business outcomes they're trying to achieve to make the right choices. "Marketers need to understand the various paths to access inventory across all of these options to identify the right fit for their business needs," says Karim.
There is still a long way to go when it comes to measuring the impact of CTV advertising, and Karim zeroes in on that as a potential stumbling block for brands trying to keep campaigns as efficient and effective as possible under potential budget constraints. "The buying approach needs to focus on addressing campaign goals and KPIs, whether that's through programmatic channels, direct buys, or a combination of both. In any scenario, you will need to be able to forecast and measure deduplication across all partners."
Integrating CTV measurement with other channels is critical; as Lauren Lyster pointed out, marketers need to invest in more advanced solutions like media mix modeling and incrementality testing to fully understand the impact of CTV buys.