TV advertising is everywhere right now: the rise of streaming has led to a marketing renaissance in the biggest performance engine out there through OTT and CTV opportunities that offer more flexibility and targeting capabilities than traditional linear.
But there are several things you need to have in place to successfully launch the next phase of your marketing so it primes the right audiences and is built to help achieve your core business objectives.
Integration with your other marketing channels is crucial: your audience will notice when things feel disconnected, invasive, or interruptive. When everything is working together, interactions with your brand should feel easy, seamless, and organic, wherever they occur.
That includes TV ads, whether they're showing up on the biggest screen in the house or on an iPhone screen. They're still one of the most powerful awareness drivers out there (remember: nobody ever googled your brand without hearing about it somewhere first). But that's wasted if your other key touchpoints aren't aligned with your TV ad buys.
What is OTT advertising?
OTT (over-the-top) refers to a whole ecosystem of ways to watch television content on an internet-connected device, whether that's a TV, a laptop, or a phone. Connected TV (CTV) is the biggest part of that pie, but anything that bypasses traditional video distribution falls under the umbrella.
Advertising options across OTT are often the first focus for brands and performance marketers looking to bridge the gap between traditional TV and digital because it lets you:
Manage holistic reach and frequency across video buys

Reduce waste by only targeting key audiences

Target audiences unreachable through traditional paid TV

Understand exposed households to evaluate performance based on KPIs or outcomes
A successful converged TV strategy runs on data, and one of the major incentives luring brands back to television is the increase in signals available that makes better targeting and measurement possible.
But don't discount linear entirely when it comes to some of these new capabilities; we recommend taking a converged approach to TV, defined by your audience insights and business objectives. It's now possible to apply first- and third-party data to linear television to better target that 1:many approach. We call this approach audience-driven linear TV.
The audience-driven linear approach unlocks many advantages, including:
Transparently & efficiently accessing TV supply, while extending reach by using data

Strategically targeting traditional linear TV at full national scale

Identifying and tying engagement to exposure

Identifying optimal frequency range insights
How to advertise on streaming services
There are five things you absolutely need to have to advertise on streaming services in particular and to apply a converged TV strategy effectively:
Access to data and audience insights

Engaging creative that works on big and small screens

Inventory access mapped to audience interest

Sufficient budget and time

Integrated measurement aligned with core business objectives
Let's start with your audience: remember that no two consumers are alike, and you need to understand what makes them unique and what makes them similar to take your converged TV shot.
Apply OTT audience targeting
Traditionally, all we knew about TV audiences was their basic demographic information: age and gender. Today, our integrated engine allows much more information to flow into your media buying decisions: affinities, interests, preferences, and more.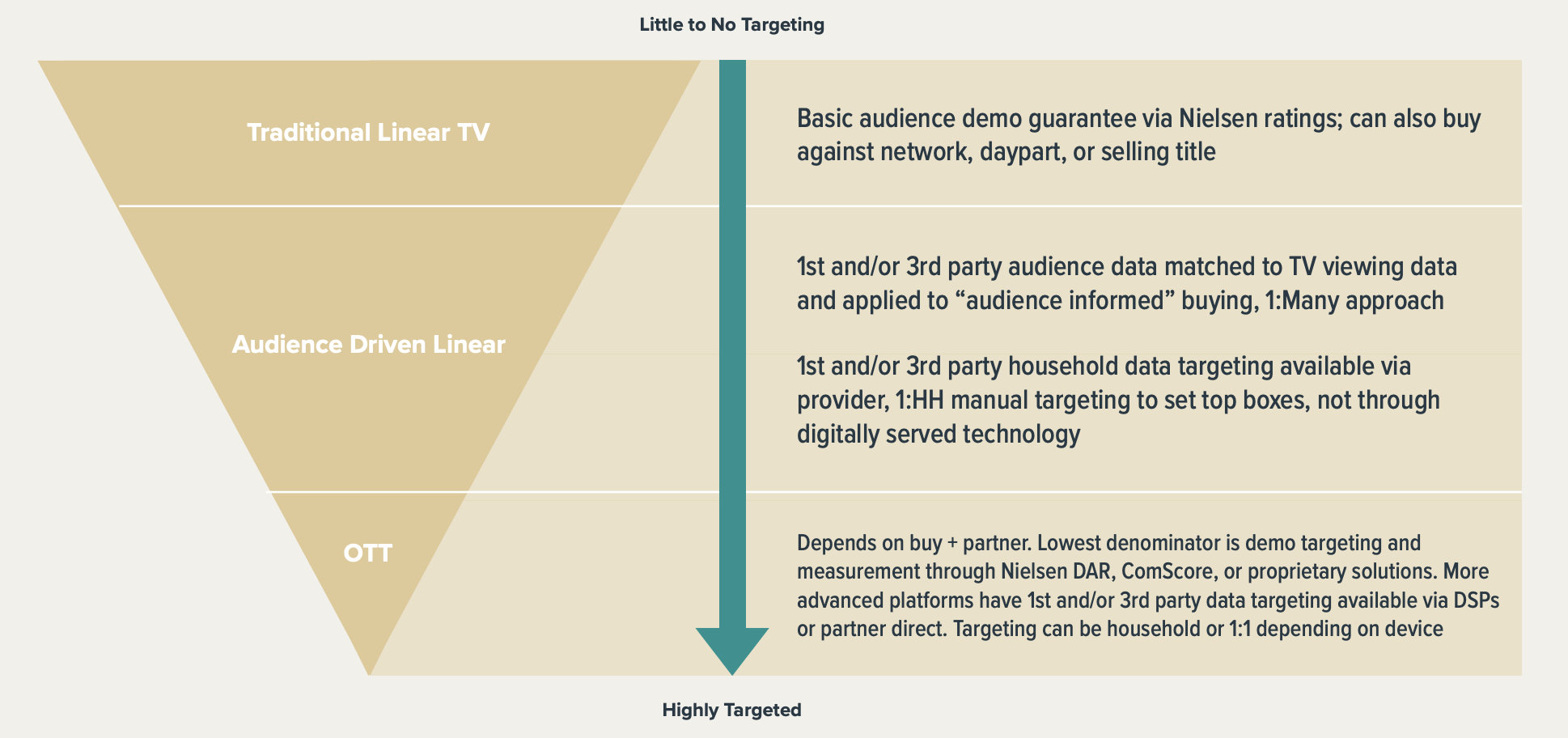 On TV, unlike most performance channels, there's an additional layer of contextualization you need to apply based on those insights: namely, what content are these audiences watching and how can that inform your ad buys and creative choices?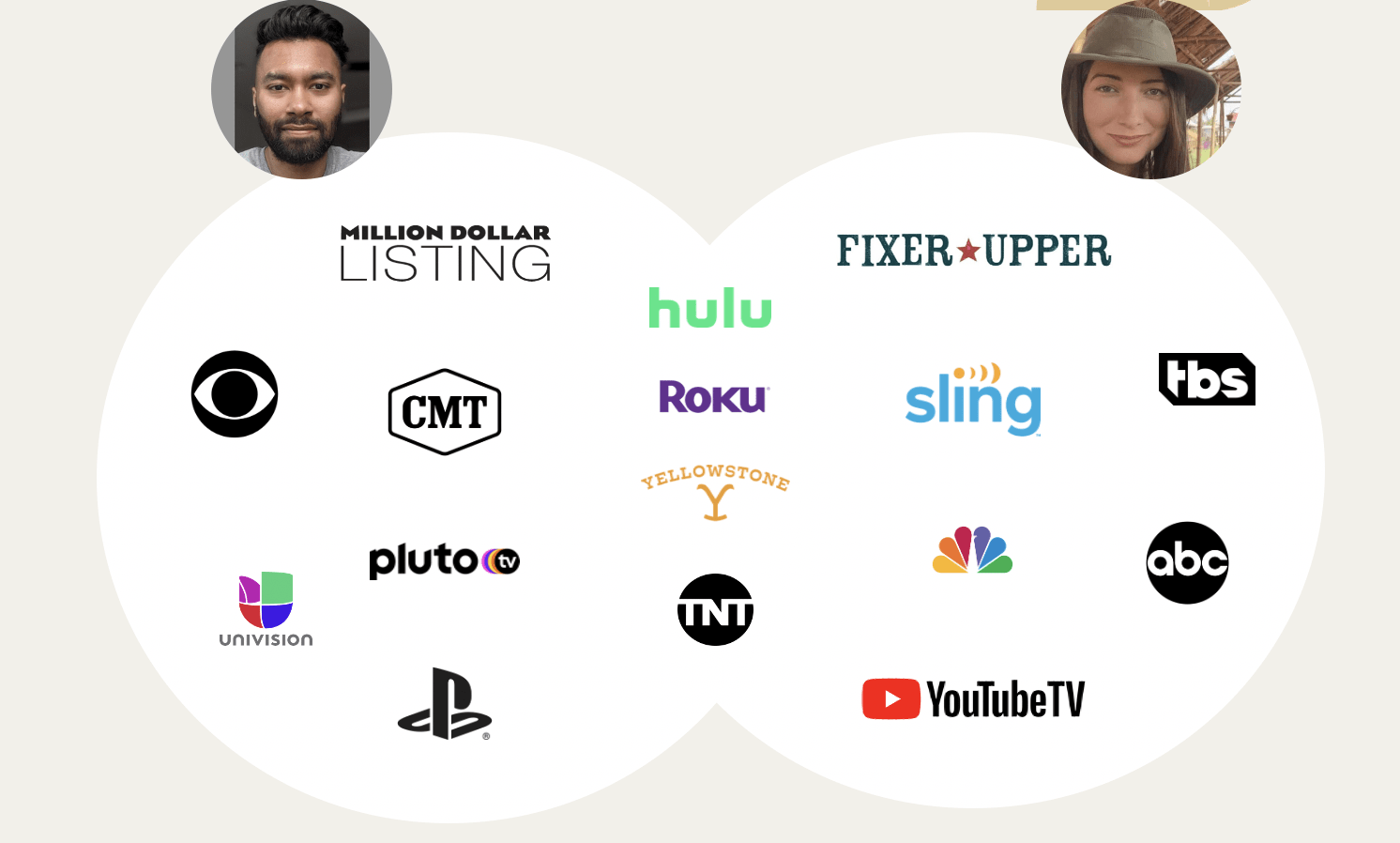 This will help you understand where to best put your money and generate a return on that investment: where is the most overlap between your audiences so your 1:many messaging has the greatest possible impact?
Build strong converged TV creative
All too often creative is one of the major barriers to entry for brands considering breaking into TV. And it doesn't have to be.
Creative doesn't have to come from scratch! Because you are running creative in other channels, you already have the building blocks and some cheat codes to success. You also know how that creative performs with different audiences for your brand or product. Iterate and expand on what works for your most important audiences on your performance channels that align with your TV audiences.
Adapt your messaging and creative for TV, but remember that they shouldn't be completely different than your other channels: your goal is to build a seamless brand experience across channels. It's especially smart to consider testing different messaging and creative on YouTube to identify what will likely work on TV. The channels you have the most control over can actually provide shortcuts to TV success.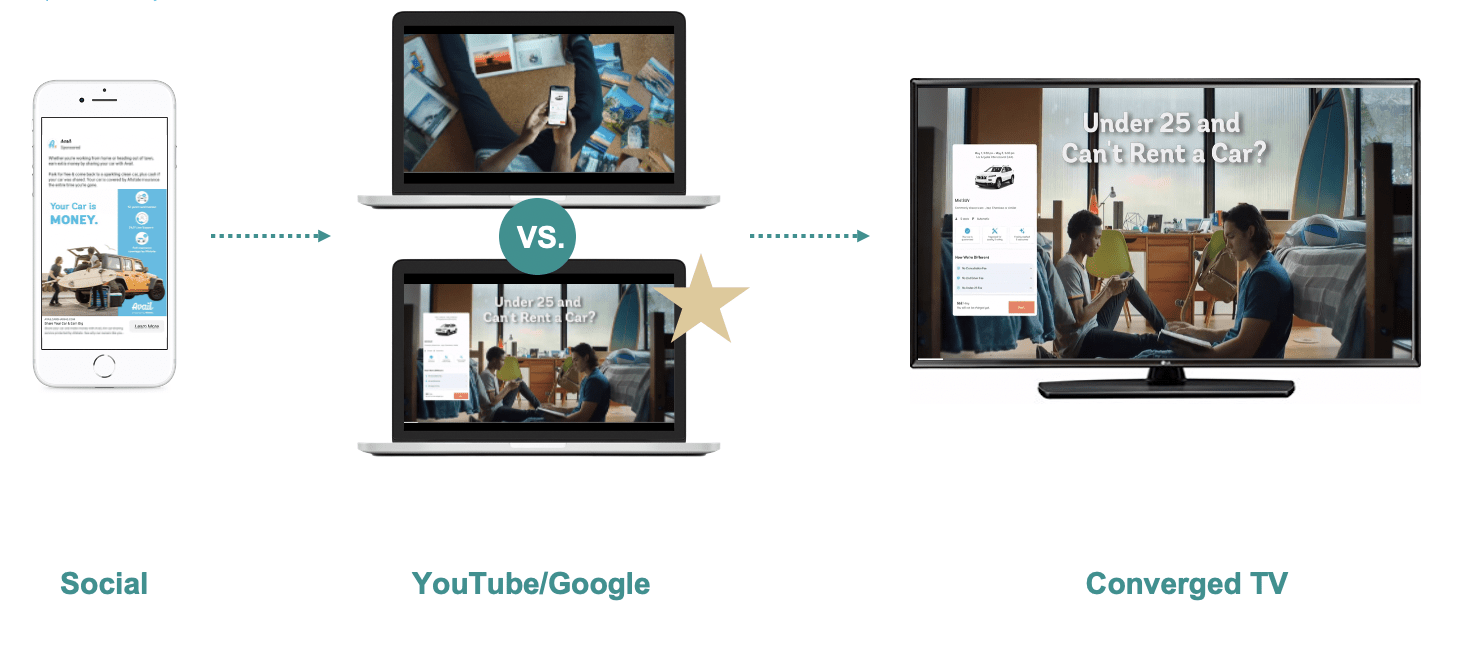 More data points inform adjustments to creative, messaging, and landing pages to best align every part of an interaction with what we know about the customer. It also makes sense to stagger the introduction of new initiatives, replacing or supplementing the existing campaigns at intervals to understand the impact of those changes.
Access linear and streaming inventory
One major change in the world of TV advertising is around access to inventory and how much control brands have over ad placement. Way back when (actually, not very long ago), advertisers had to go through one network and had very little ability to spread spend around to get the most bang for their buck.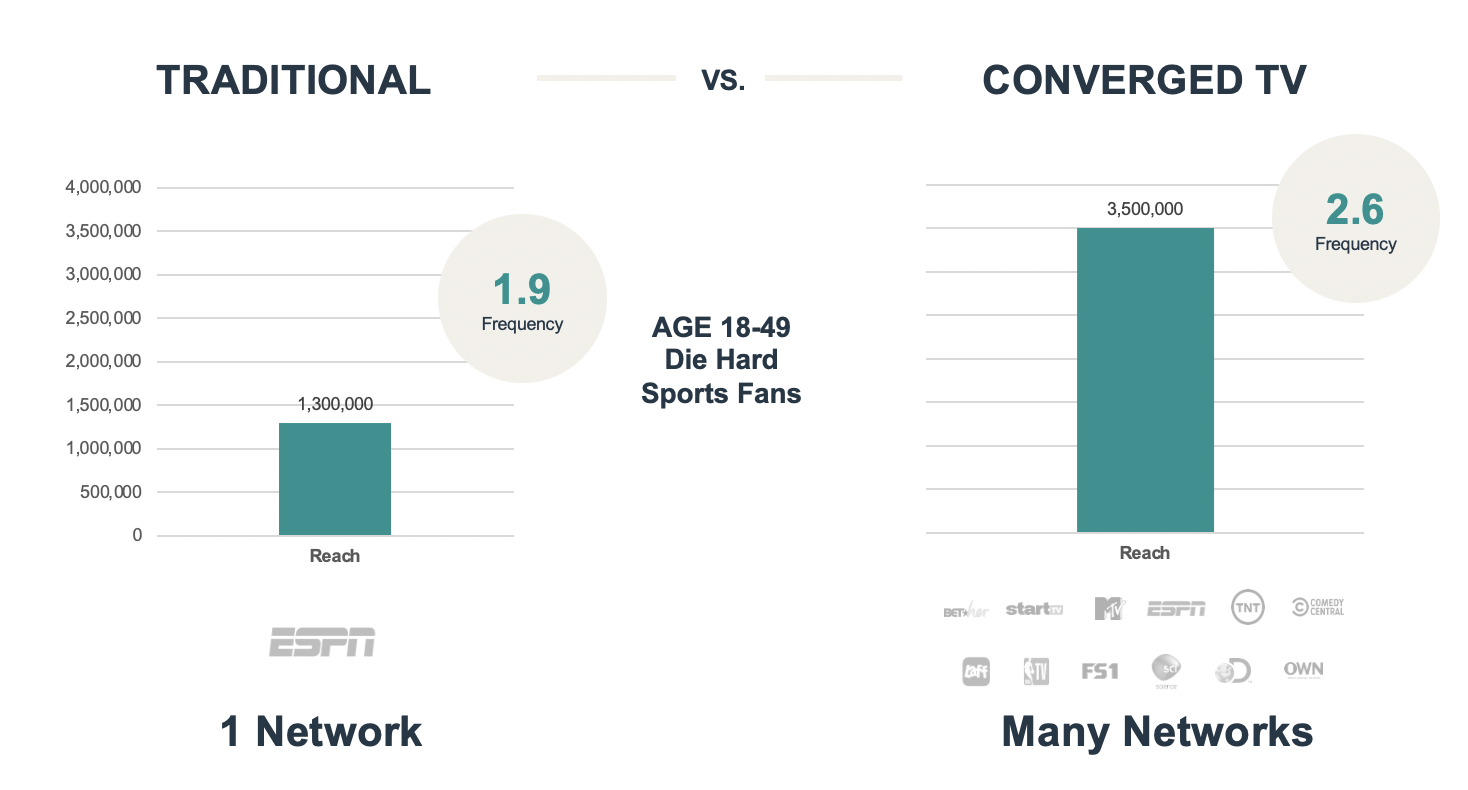 Today, you can leverage partners to ensure you have access to all kinds of networks, so your spend can drive higher reach and greater frequency. At Wpromote, we partner with the best of the best so we can get more granular with media planning and use audience insights to figure out where our clients can get the most for your budget.
That's an essential part of the converged TV value proposition.
Allocate sufficient budget and time
Your investment in TV needs sufficient time and budget to move the needle. It's a longer-term brand investment that will pay off, but it's not something you can test for a month on a shoe-string budget if you want to reap the full benefit or even understand the full impact.
That's a tough pill for a lot of performance marketers to swallow. But your goal isn't single-channel performance, it's overall profitable growth for your business. And converged TV will drive results and efficiency across the entire funnel—if you give it enough time and budget.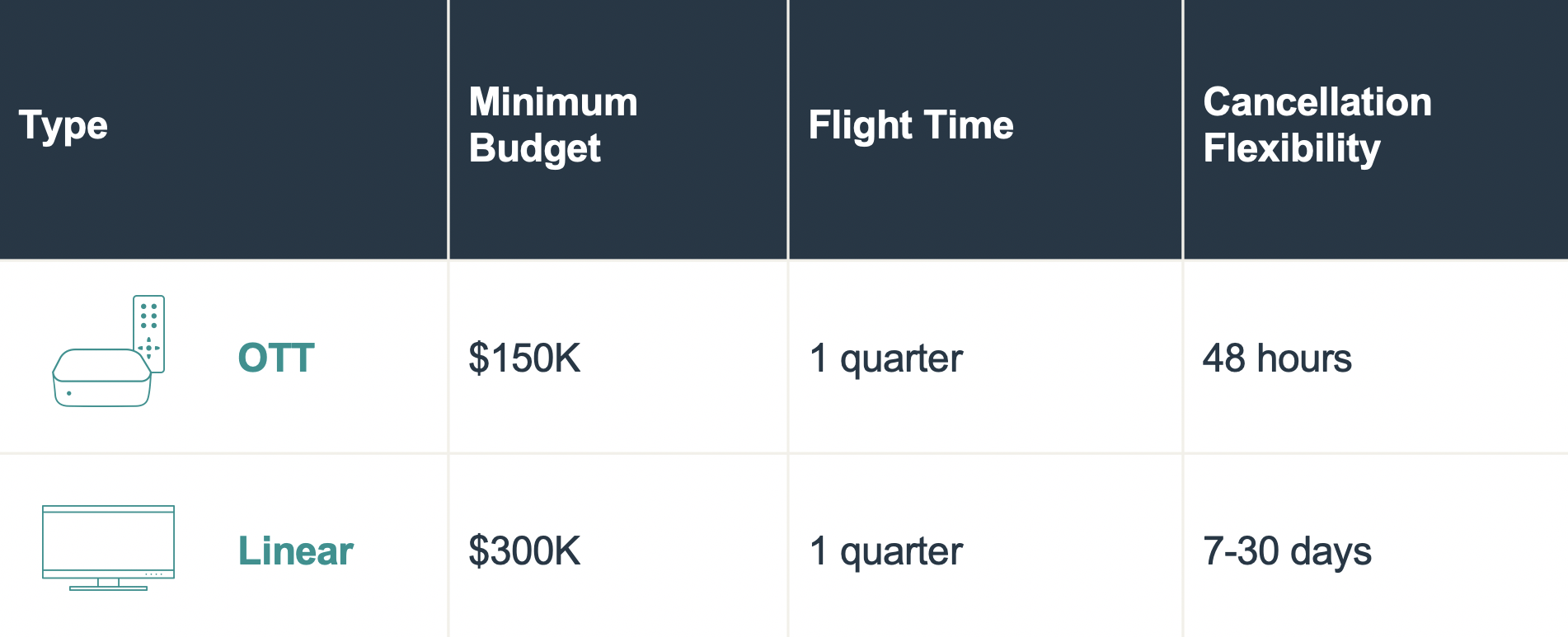 Every brand will have different considerations when it comes to spend, depending on inventory, placement, creative, and more, so these minimums are general guidelines. It's also worth noting that adjustments and cancellations require more time than direct response channels, so prepare to be patient.
It's up to you to set expectations, including with performance marketing-minded executives; that doesn't mean TV dollars shouldn't be held accountable, but they do require more time and up-front budget to actually perform. Immediate results and short-term ROAS targets are not the right approach to converged TV, even if OTT and streaming ad options can feel a lot like programmatic display on the open web.
That's why converged TV measurement looks different than what you might be used to, but it's no less essential. Performance is not a nice-to-have. But measuring success also needs to include the rest of your channels if you want to understand the full impact of TV investment.
Integrate TV measurement with digital marketing channels
Integrated measurement is a crucial part of your TV strategy. Your growth engine cannot perform optimally if you don't understand the outputs across the board and how they're affecting each other.
We've integrated converged TV measurement, including both streaming and linear TV, into our Polaris tech platform so we can understand both the directional signals in real-time and overall results driven by television across channels, from search to social to Amazon and more.

Remember that it takes a full quarter and enough budget to even set benchmarks for the full impact of converged TV spend. The purpose of television is, essentially, to generate interest and drive people to the channels capable of capturing that demand. That's why you also need to get your measurement integrated to understand how your TV ads are lifting performance on all of your channels.
Move OTT audiences down the funnel to conversion
Your upper funnel initiatives across any channel should start with the broadest possible audience targeting based on first- and third-party data inputs to create demand at scale. As you move down the funnel into consideration, you can add in key audience segments that enable personalized targeting to capture the demand generated in the upper funnel.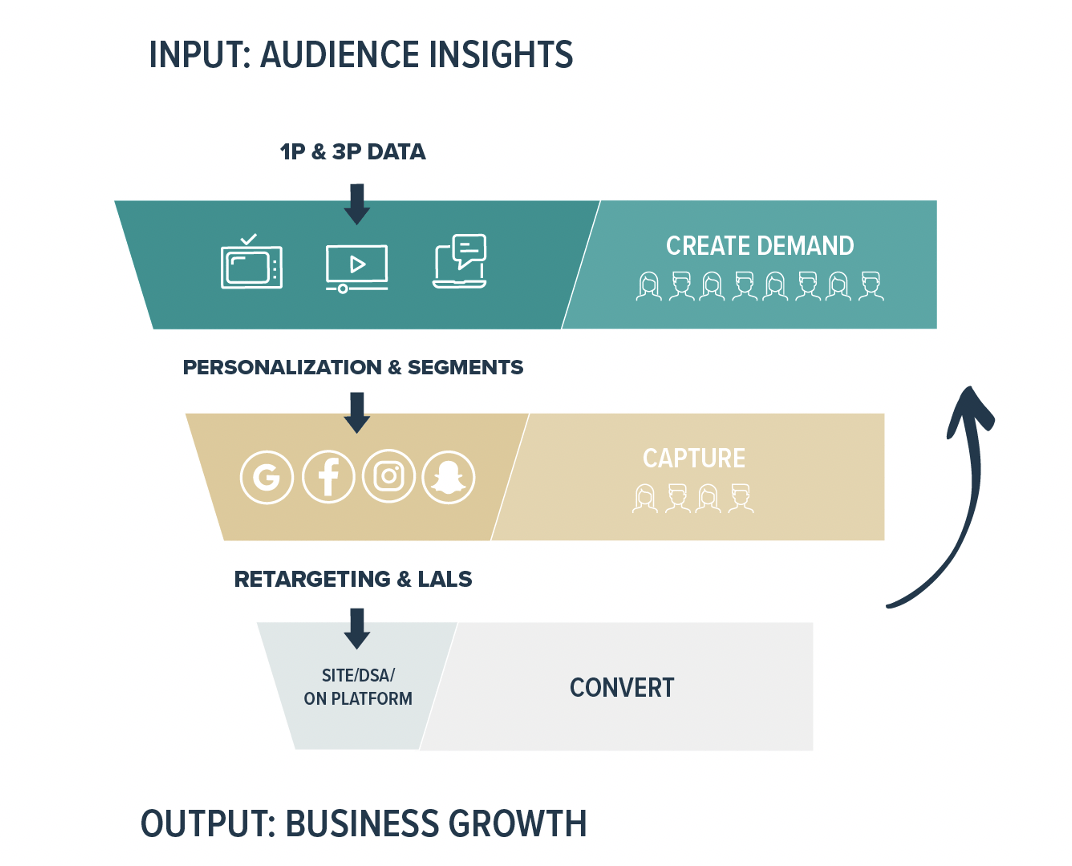 Finally, your direct response campaigns will convert the highest value customers and drive revenue. The customers who fully convert then generate additional 1st party data you can use to improve and iterate on campaigns across the funnel in the future.
Strong integration with upper-funnel channels like TV will help you capitalize on that larger set of opportunities. If you align your lower-funnel campaigns (targeting, messaging, creative) with your TV strategy, you can take advantage of opportunities like second screening and provide immediate touchpoints for consumers that transition them from awareness to consideration to conversion much faster.