Chestnuts roasting, CPMs rising, decking the halls with all manner of promotional offers… it is officially that time of year. We are t-minus 2 weeks out from Q4 2021, and this holiday season promises to be like no other.
As multiple trends converge, marketers need to rise to the unique challenges of a holiday season in flux: new data privacy regulations continue to roll out sporadically, pandemic-driven consumer behavior changes continue to evolve, and there is more uncertainty in the air around how this will all shake out than ever before. That's not just hyperbole; by this point in 2020 we knew the basic contours of what the season would look like with well-established lockdowns and quarantines on the books. This year? Fuhgeddaboutit. Consider known quantities a thing of the past.
We brought some of the smartest decision-makers and marketing leaders we know to get the inside scoop on what will matter the most this holiday season—and what you need to do to prepare. Our experts include:
Katie Wilson, Head Of Ecommerce Southwest, Google
Nilukshi De Silva, Global Head of Digital Marketing & Content Strategy for Calvin Klein Fragrances, Coty
Stephanie Paterik, Editor In Chief, SVP, Adweek
So let's get to it by taking a look at the competition this year.
Prepare for more digital competition by starting early and staying agile
"A lot of traditional brands, omni brands, and brands that didn't play in digital had to get very comfortable on digital platforms last year. They're now playing in the spaces that a lot of ecommerce natives and D2Cs were owning last year. So we're expecting it to be competitive, and that's not necessarily a bad thing: it will force folks to think creatively."
Consumers have had over a year to explore new brands and build new loyalties on search, social, and beyond, and brands of every size and shape have had to adapt. And that means it's more competitive across nearly every platform than it's ever been before.
Nowhere will we see this more clearly than in the holiday rush. It's absolutely critical to get ahead of the competition by deploying a diverse, integrated strategy that's prepared for anything.
"Test the waters when it comes to the holiday starting earlier and whether there's an early appetite by surveying your customer or sending up a trial balloon on social. If you get out ahead of that, you give yourself a competitive advantage."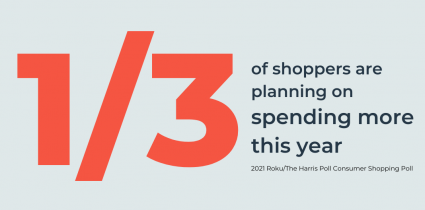 Marketers need to look back at the new customers they've gained through the pandemic and consider how to re-engage them well in advance of November. Google reports that while 66% of holiday shoppers were open to buying from brands they haven't purchased from before, 88% ended up buying from a brand in their initial consideration set. Your brand needs to get back into the conversation and get creative in what you're offering to grab attention and make it onto that list.
And consumers are ready. According to the annual Roku/Harris Poll Consumer Shopping Survey for 2021, 72% of holiday consumers are confident that the economy will improve in the next 12 months and a third of shoppers are planning on spending more this year, which is the highest number reported since 2018.
"There are consumers who, a couple of years into this pandemic, are ready for a reprieve and ready for joy and ready for something to celebrate. And because of that, we may see those brand calendars shifting earlier."
The shopping intent is there, and your brand needs to be there to meet it. We can't overemphasize the need to get ahead of the curve. Here's what you need to do:
Build your pipeline, spending more on demand-driving channels like converged TV, paid social, programmatic, and YouTube in September and October to drive consideration for the brand.
Up retargeting budgets and pulse up channels like paid search as the season continues and shopping intent increases.
Upload creative early, since approval times during the holidays can take longer.
Focus on the holistic customer experience, whether online, in-store, or somewhere in between
"Our new reality is this hybrid reality, where in-store and online experiences are more and more intertwined, and that's where brands are shifting their focus. Redefine and reevaluate that discovery process: Is it more personalized recommendations? Is it how-to content that's more in touch with what your consumer wants? Is it live shoppable fashion shows content? Brands are becoming bolder because that's what consumers want."
Consumers are squarely in control these days, and that means the old days of a holiday calendar based on Cyber Week promotions, static ad creative, and completely separate shopping experiences online and in-store need to be squarely in the rearview if you want to succeed this year.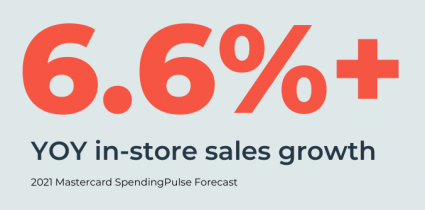 Experience is everything, and it needs to be seamless. It's highly likely people will be returning to stores; Mastercard SpendingPulse's annual holiday forecast predicts that in-store sales will grow 6.6% YOY. But they aren't looking for the same thing they saw in the past.
Both online and offline experiences need to be more engaging, more personalized, and more customer-first. More than anything, your digital channels and brick-and-mortar presence (whether that's an actual storefront, a popup, or a partnership) need to feel like one brand experience, not completely distinct channels (remember, no customer cares about "channel"—that's marketing talk).
"You can definitely bring people to your storefront through online advertising, through building awareness. Ask: what can you offer to them in-store that's going to be different from an e-commerce experience? A lot of times, it's the education, the handholding, the customer service. If that's a big part of your brand, especially for larger or luxury purchases, you should definitely play that up in your advertising and creative."
Start testing multi-touchpoint, cross-channel strategies across demographics to get more information about what's working right now, with who, and where—and don't forget to test out your new processes too. Finding the right channel mix might be even more important than you realize: according to Google, 82% of holiday shoppers used 3 or more channels last year. In fact, the more channels customers use to shop, the more they report spending.
You should also remember to reward your loyal customers, especially high-quality LTV segments. Send early access emails to your VIP customers for promotions or offer extra perks like double points and exclusive offers. But stay honest and make it count: those offers should actually be limited to your best customers.
"Your customer service and the way you communicate and interact with your community is so important. Having that rapport, which is something a lot of beauty brands try to do so well, is super important. Special offerings, consultations, and other perks, as well as communications that feel like one-to-one messaging, are super important."
You can prepare for the likelihood of shipping or delivery issues in several ways that turn a potential problem into an opportunity to win loyal customers for life:
Consider different advertising scenarios and building contingency plans in advance to get ahead of longer approval times around the holidays, including supporting assets.
Think about helpful customer messaging, gifts, or promotions that will help reduce friction or frustration: what if gifts will not be arriving in time after customers paid a premium for guaranteed delivery by the holiday? What will help keep your customers happy?
Create messaging and creative templates so you can communicate quickly around changes or crises. Look at all of the possible situations that might require that messaging and pull from past communications to build flexible templates.