The holidays this year are likely to be a wild ride, but that's nothing new; at this point, we're all used to 10-12 existential questions hanging over our marketing strategies during the Q4 rush. This year, the biggest challenge is changing consumer spending behavior due to inflation.
So how can you prepare for what's to come if you have nothing to compare it to? Throw caution to the wind and just hope for the best? Maintain the status quo and do what you've always done because that seems like the safest option?
If you answered yes to either of the latter questions, you might find yourself on Santa's naughty list for marketing performance this year. You need to deploy all of that hard-won agility and customer-first strategizing to surmount inflation-related challenges and anything else Jack Frost decides to throw your way.
Create data-driven audience segments to build personalized holiday campaigns
You need to get processes in place right now to make sure you're ready to continuously monitor and adapt your holiday campaigns to respond to consumer trends and actual customer behavior in the wild.
Every decision you make this holiday season should be driven by data, not just informed by it.
Start with macro insights into behavior to get a baseline understanding of how people are making purchase decisions—if they're buying at all.
Remember, different segments of the population (and your customer base) are experiencing inflation differently, and that's changing quickly as the economy continues to fluctuate. Just because one segment decides to hold off on purchasing doesn't mean your entire customer base will follow suit.
While many people have cut back, higher earners, for example, have largely escaped the big cuts into purchasing power.
In fact, higher earners were spending more YoY in July, according to Morning Consult. But even those numbers don't tell the whole story: different age groups show different behavioral trends in each income bracket. Younger high earners are spending more, while older high earners whose wealth is typically more tied to investment are holding back more, likely at least partially due to stock market fluctuations.
That's not just true about the higher earners. While lower earners' spending has been disproportionately impacted by inflation, many are saving up for large purchases and looking for the major deals typically associated with the holiday season.
That's a lot of pent-up demand: according to YouGov, 37% of U.S. consumers plan to start buying gifts earlier to get better deals and to mitigate the potential negative impact of high spending in a short time period. Getting in front of consumers early and building a smart promotional strategy are critical.
You should take all of this macro trend data and layer it onto your first-party customer data to re-segment your audiences for the season so you can identify and prioritize key groups of customers. Your core audience is always important; building the right messaging, creative, and promotional offers to activate and retarget those customers is always at the top of the list.
But opportunity segments are even more important when the economic climate and consumer spending behavior are in flux. Adjustments in promotional and pricing strategy, creative and messaging adjustments, and more can open up a whole new universe of potential customers for your business in Q4.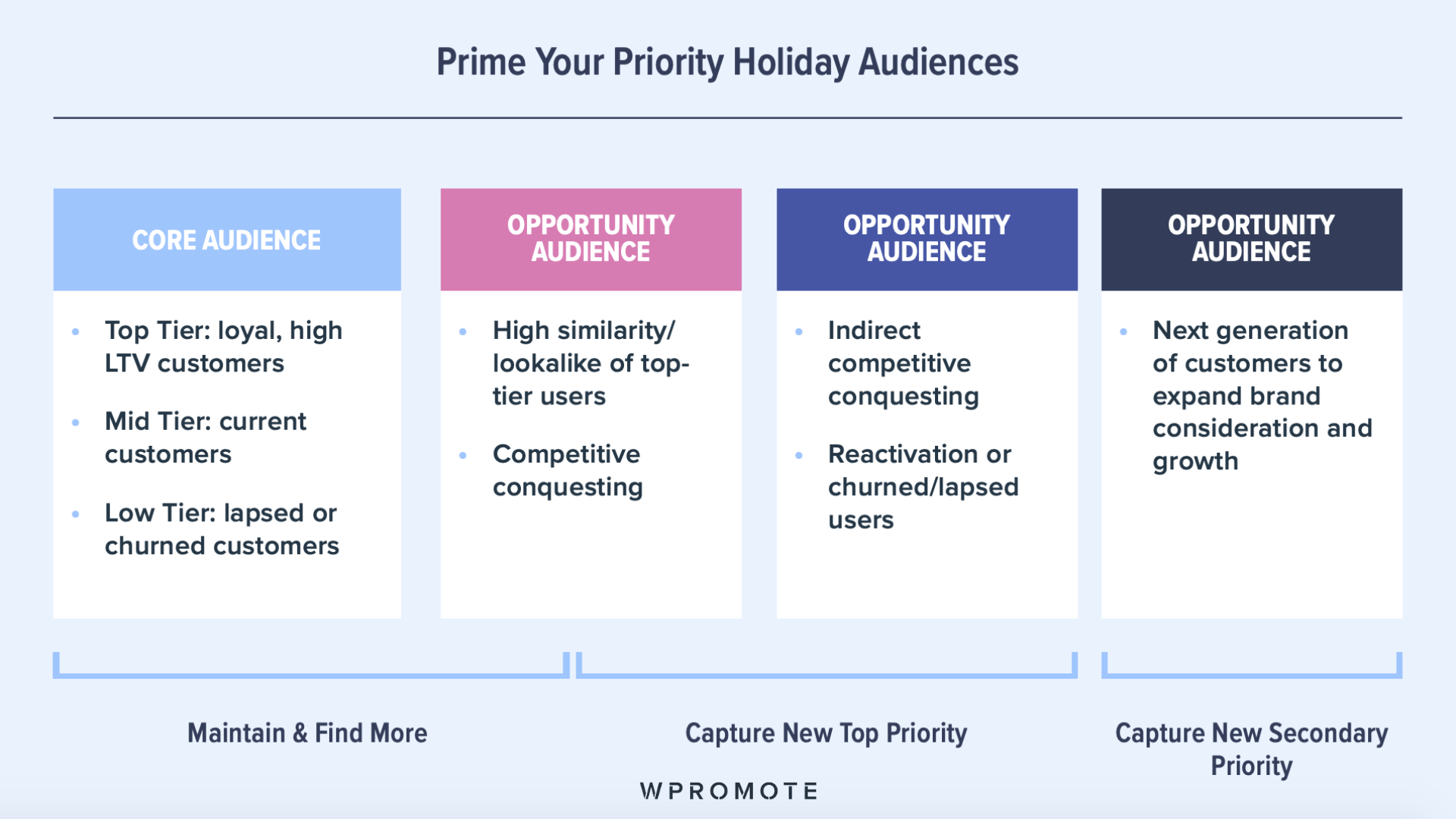 Start early so you can test what works with these new customer groups, capture early shoppers, and fill your retargeting pools. As the holiday season progresses, engaged audiences can be funneled into lower-funnel campaigns that focus on specific products or services and serve relevant promotional offers.
Don't ignore the upper funnel if you want to drive significant growth this holiday season
September and October are now undeniably part of the holiday season, and they're particularly important for expanding brand awareness into those new audiences, re-engaging churned or lapsed customers, and incentivizing your known customers to shop early.
In other words: widen your potential window of opportunity.
The primary goal of these early months is to make your way into at least the consideration set of as many relevant consumers as possible. You should start by leveraging demand-driving upper funnel channels, including converged TV, YouTube, paid social, programmatic, non-brand paid and organic search, and influencer partnerships.

Get the full value of your audience segments by crafting highly relevant, targeted messaging and creative strategies for each group. If a particular segment is experiencing a higher degree of disruption in their spending capabilities, you might consider focusing on rational angles like necessity, value, and pricing. For big ticket purchases that the same group might have been saving for all year, a combination of rational and emotional messaging might be the best approach.
Across the upper funnel, all of your messaging should focus on driving brand equity, affinity, and engagement. You want to build positive associations and establish emotional connections while drawing potential customers further down the funnel.
Your end goal in the upper funnel this holiday season? Make your brand undeniable by earning your customers' dollars.
The key is making sure you're deploying these early funnel campaigns early so you can test different combinations and angles to see what resonates. By the time you hit the peak season in November, you should have much more information than you did in September about what works for this audience, and your lower funnel campaigns will reap the rewards.
Since high-value, engaged segments are already primed, reward that loyalty and give them reasons to shop right now in both retargeting campaigns and via email and SMS. You can provide extra value by giving them access to exclusive sales or promotions, VIP-only content, or the opportunity to get reminders if they left items in their cart.
Prepare your conversion engine for peak periods with high-impact direct response holiday campaigns
In the end, if you don't drive revenue and business growth by the end of Q4, all of your hard work won't matter much. Flexible budgets ready to be deployed to follow demand where and when it occurs should be the rule across the holiday season (and, in reality, the rest of the year too).
Getting into the consideration set is critical, but it won't mean anything if your conversion game isn't strong.
Peak periods like Cyber Week have declined in importance over the last few years, but they're still a critical part of your holiday strategy. It's not a good idea to save up your budget for a single week the way you might have five years ago, but you should be ready to pounce on opportunities that surface during these periods of high shopping intent, especially since consumers are particularly hungry for deals this year.
That will likely start earlier; word has leaked that Amazon is likely to launch an October Prime Day. Marketers everywhere eagerly looked to July's Prime Day to get a first look at changing consumer behavior during a peak shopping period, and we got some serious intelligence out of the results.
According to Numerator, average order value was down, but many households placed multiple orders over the two-day event. Over half of these households spend over $100 overall, echoing our internal data that is putting the current sweet spot for pricing in the $100-200 range.
The most interesting finding from that Numerator analysis might have been this one: 21% of individuals shopping on Prime Day comparison-shopped on other sites prior to purchase. That's why visibility is still key during peak periods like Prime Day and Cyber Week; people will be looking around, whether or not they plan to buy. It's the ideal opportunity to deploy smart promotional offers that will help you maximize the business impact of your earlier awareness-building campaigns.
Amazon also invested a lot into more engaging features during July Prime Day, including features like Amazon Live, which features influencers and creators. In the end, people want an engaging purchase experience regardless of channel. That's part of the reason people increasingly prefer in-store shopping experiences.
That bears out in the data; one essential component of your planning is an understanding of how and where customers want to shop. This holiday season, eMarketer projects that:
Brick and mortar retail will see marginal gains, growing less than 1% YoY, but will account for 81% of 2022 holiday spending
Retail ecommerce will increase by 15% YoY
Mobile commerce specifically will increase by 24% and will account for nearly half of all holiday ecommerce sales (49.6%)
You should have a strong brick-and-mortar digital strategy in place if you have physical locations, including local campaigns and local fulfillment capabilities.
Your digital channels can do more to bring that in-store magic to the purchase experience.
Look across channels for opportunities to make your brand, products, or services come to life for your customers, especially during these peak periods, including:
Create interactive gift guides and matching quizzes to point customers to the right products.
Use features like Facebook and Instagram Live, Amazon Live, and TikTok creator partnerships to create a more personalized shopping experience that mimics the level of expertise and engagement customers get out of great in-store shopping. Shine the spotlight on your salespeople, product experts, and influencers who can offer real-time advice, product demos, and entertainment.
Embrace AR on Snapchat to create opportunities to engage, try on and interact with your products, and keep your brand top of mind across every stage of the customer journey.
Experiment with integrating purchasing features into channels like YouTube where consumers are researching purchases.
As the clock runs out on the holiday season, double down on any local fulfillment options. Those are especially critical for young, urban demographics who are more likely to wait until the last minute to shop.
The other critical part of that eMarketer forecast is the rapid expansion of mobile shopping. Your business must be set up for mobile purchasing.
If you're serving ads to customers on their mobile devices and they click through to a hard-to-use ecommerce store that's built for a desktop, you will lose customers.
That experience can be in the form of a dedicated app, a mobile-first website, a brand store on a platform like Amazon, or shoppable ads on Instagram or TikTok, or all of the above. Regardless, it's no longer a nice-to-have, but a necessity.