Between the global pandemic, a divisive election, and widespread economic uncertainty, nobody thought this year's holiday season would be normal. But now we don't just need to guess how consumers are going to behave: we have some real data coming in.
So how have this year's events affected holiday shopping dynamics for retail? We've taken a dive into real performance marketing data to see how everything from the election to an October Prime Day has played out so far—and what you need to do to stay ahead.
Is your current marketing strategy prepared for a radically different holiday season? Get in the know by downloading the
2020 Holiday Planning Digital Marketing Playbook
now!
GET IT NOW
We've been tracking and analyzing marketing performance from a range of companies, from top retailers and department stores to digitally native brands.
Here are the top 5 holiday marketing 2020 trends we've seen so far in the second half of 2020 (and the beginning of this year's holiday season), and what we expect to see in the months ahead:
1. Amazon Prime Day Remains Primetime
The postponement of Amazon's annual shopping event to October 13–14, from its usual mid-July timeframe, completely disrupted the holiday shopping season.
Brands and retail competitors scrambled to pivot their traditional Q4 marketing strategies and in-store shopping events to compete, with companies such as Walmart, Target, and Best Buy (among others) launching similar shopping promotions during the lead-up to the event in anticipation of increased online search traffic.
The results of Prime Day were record-shattering, with sales reaching $10.4 billion globally over the two-day period, up from $7.16 billion during the 48-hour event in July 2019, according to Digital Commerce 360.
51% of consumers said they viewed Prime Day this year as the kickoff to the 2020 holiday shopping season, according to Feedvisor research. For Amazon brands and sellers, the event was a crucial time to drive sales and discoverability in order to keep the momentum going for the remainder of Q4.
This year also further proved that the Prime Day halo effect is real, with other retail giants seeing big wins over this year's Prime Day period. Traffic was up 51% and conversion rates were up 16% for non-Amazon retail sites in the U.S. Online sales for these sites grew 76% on the first day of Prime Day 2020 compared to last year's event.
Here's how brands can take all the lessons they've learned from Amazon's October Prime Day to stay top-of-mind for shoppers and land under the Christmas tree this holiday season:
Embrace a multi-channel mindset: Through various online and offline channels, Amazon pitched Whole Foods specials for Prime Day several days before the big event, while also offering $10 Prime Day credits for anyone who spent $10 or more in one of the grocery stores. They also partnered with Kohl's and Rite Aid to provide convenient offline returns. To win this holiday season, brands must provide an easy purchase experience that functions across channels—particularly because customers expect order delivery and returns to be as convenient as possible. It's a crucial aspect of acquiring new shoppers and creating loyal ones.
Think beyond the purchase: Considering that it costs six times more to attract new customers than it does to maintain them, marketers should take note of what the retail giant does beyond the sale instead of focusing only on the best deals (and prices) to compete. Make sure you implement other strategies that drive customer experience such as incentivizing free shipping options, extending sales outside of the promotional period, providing a wide range of product choices with enough product availability to meet demand, and delivering a hassle-free in-store experience.
Focus on inventory, win big: The focus on inventory levels prior to Prime Day was paramount to merchant success and directly parallels what brands will face this holiday season. Every brand should evaluate its overall operating processes to ensure a sufficient amount of available inventory to the projected demand, clean up any fulfillment center inefficiencies, and actively manage their catalog listings. If you are selling on Amazon itself, make sure to send inventory to Amazon for fulfillment as early as possible. Important dates to note:

Inventory for Christmas shopping should arrive at Amazon fulfillment centers by December 1, 2020.
Inventory for 2021 should be sent to Amazon fulfillment centers no earlier than December 17, 2020.
2. Presidential Debate Dip & Post-Election Trends
Total online conversions reached an all-time low on the day of the first US presidential debate between President Trump and former Vice President Joe Biden on September 29.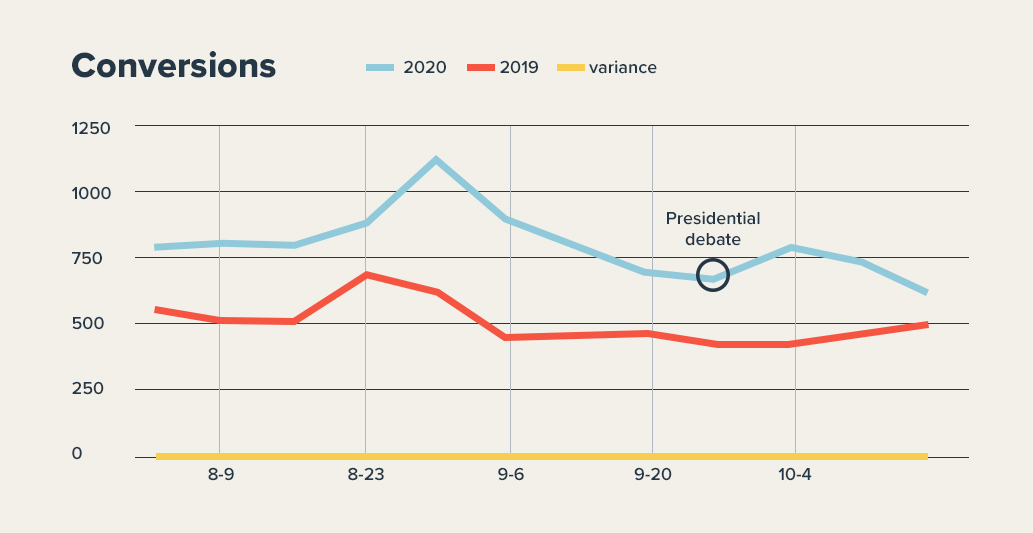 This notably low marker could have been due to a number of factors: negative customer sentiment amidst political unrest, the endless news cycle of candidate coverage, and an uptick in political ad spending
Just take a look back at the contentious 2016 presidential election, which directly resulted in reduced consumer spending. Retailers lost an estimated $800 million in revenue from online sales between November 1–14 of that year. The most significant decline took place immediately after the election on November 8, as total sales growth lowered to 1.3%, versus the forecasted 7.8% growth. In total, the dip marked the slowest growth rate for retail sales the US had seen since 2012.
Political ad saturation can also certainly influence consumer spending by posing distractions for consumers during an election that coincides with the beginning of the holiday shopping season. Campaigns have spent more money on political ads this cycle than ever before—topping $8 billion. Over $12 million was spent on Facebook ad spending alone this year, according to the social media platform.
But after a long wait, the election results have finally come in, but that doesn't mean everything is smooth sailing from here on out. The state of the economy and any hope for a second round of stimulus is still up in the air in advance of the inauguration in January.
However, we're still two months away from the beginning of any major post-election changes, and an eventual reprieve is underway nonetheless. No matter how happy or distraught consumers are in the aftermath of the 2020 election, the holidays remain a key time to offer familiarity and comfort, even (or especially) because of the ongoing pandemic.
Online consumer spending is already rebounding after a brief interruption following the election, according to Adobe Analytics. Based on the current data, Adobe reaffirmed its earlier projection that U.S. consumers will spend a total of $189 billion online from Nov. 1 through Dec. 31, which is a 33% growth from 2019.
Consumers are more than ready to focus on something that feels positive and hopeful (just look at all the early release Christmas movies coming out on Netflix already)—with all of the warm fuzzies that come along with the holiday celebrations despite the fact that the holidays will look different this year. When prioritizing your holiday marketing strategies, brands must take these segments into consideration:
Deep promotions: With all the distressed inventory retailers are being forced to manage, it's going to be a heavily promotional, discounted environment for the rest of this year. Not only are there more industry associations encouraging a near-constant promotions schedule, but many retailers have a big incentive to slash prices.This could cannibalize sales from full-priced products and ramp up price competition this season. Although it will lead to profit drag, the alternative of failing to unload this excess inventory could be much worse.
Search and sponsored product ads: Search may be the old mainstay of digital marketing, but it's as important as ever—a growing e-commerce pie creates more opportunities for retailers to carve out a bigger slice. Being data-informed is critical at a time when consumer habits are in a state of flux. Look into what the trending retail categories are to flex your holiday budgets to the shifts in consumer preferences that have formed. Keeping a pulse on rising searches and what products are of most interest has been invaluable over the past six months but will be even more important this holiday season.
Display ads: Display advertising has traditionally functioned as an upper-funnel tactic for marketers, but it's increasingly being used to drive mid-funnel performance. In this lengthened holiday season, the middle of the funnel is becoming essential to keeping potential customers engaged with brands they're considering. More of these ad buys today are being powered by Amazon compared with any other display advertising platform mainly because of the shopper data. There's so much they know about shoppers (their household, interests, purchasing behavior, what they've researched but not yet purchased). The best ROI ads come from people who have bought before, making it the perfect retargeting campaign.
Social ads: Social remains at the forefront of most retailers' holiday marketing strategies, with Facebook and Instagram commanding big holiday budget portions. Each platform has proven performance marketing chops, helping retailers efficiently find the audiences most ready to convert. They also have the ability to drive discovery and consideration well in advance of any conversion. Brands are also dipping their toe into the new Facebook Shops, a new feature that allows merchants—particularly SMBs and local merchants—to upload product catalogs and reach their target customers with relevant ads. It can also help merchants re-engage either someone who didn't finish their shopping behavior or introduce a new product relevant to previous purchases..
3. The Rise of the Cyber Five
As promotions for Black Friday and Cyber Monday kick off earlier each year, some marketers have labeled these top promotional days as less and less important.
The theory holds that demand gets pulled in early November and eats away from the later biggest days of the season. But that's not what we've observed. On the contrary, there's an ongoing trend toward the Cyber Five promotional period (Thanksgiving Day through Cyber Monday) increasing its share of holiday e-commerce sales.
The combined period is forecasted to increase another 0.5% points this year to 20.5% of US retail e-commerce sales during the holiday season—up from 17.3% in 2017, according to eMarketer.
But what will this traditionally frantic shopping period look like this year? All signs indicate that 2020 might be the end of doorbuster deals and lines out the door for hot-ticket items you can only find in store. Big-box retailers like Walmart, Target, and Best Buy have already announced the closures of their stores on Thanksgiving—breaking a tradition of early-bird markdowns that often attracted big crowds. For health and safety concerns, other retailers are likely to do the same.
Here's what marketers need to do differently this year to come out of Cyber Week on top and head into the pre-holiday prepared:
Focus on driving an effortless mobile experience

People are still using their mobile devices (mainly smartphones and tablets) to shop—even at home. With mobile purchases representing over 44% of all e-commerce sales, Thanksgiving 2020 will emerge as the ultimate day for "couch commerce." Consider ways to optimize your mobile checkout process to reduce any friction, such as enabling mobile commerce to facilitate contactless payment. This could mean offering in-app payment, launching an ecommerce offering, or accepting Apple Pay/Google Pay, etc.

Localization and geo-targeted campaigns are all necessary preparations

This holiday season, stores may be closed, fully open, or somewhere in between—and shoppers' comfort levels may vary. Build trust and confidence by overcommunicating with customers about how you plan to open safely through localized campaigns. If your focus is on e-commerce, clearly set expectations around shipping and fulfillment on product pages, digital storefronts, homepage, and at checkout.

Rethink the role of brick-and-mortar stores

The rise of e-commerce, particularly in this year's Black Friday and Cyber Monday shopping period, doesn't diminish the importance of brick-and-mortar retail. People will still head to stores, either to shop or to pick up their online purchases. To effectively prepare for this during the holiday season, retailers should consider an omnichannel approach—the key to building agility and resilience. This includes optimizing e-commerce, mobile, online marketplace platforms, click-and-collect, fast-fulfillment and, yes, brick-and-mortar store capabilities.
4. Free Shipping Day and Late-Season Shopping
Free Shipping Day is an industry-wide promotion with over 300 retailers offering free shipping deals. This year, it'll occur on Monday, December 14, amid surging demand and volumes for which many retailers' logistics infrastructure haven't been stress-tested.
According to the September 2020 study by CommerceNext/Bizrate Insights, the top ecommerce logistics concern among retailers was that shippers may need to cap deliveries during peak demand (60% of respondents). This could mean not being able to get already-sold products to customers in time for Christmas—the worst customer service nightmare for retailers.
As holiday sales start coming through, be prepared to meet demand and make everybody's wishlists come true by offering shipping solutions that ensure delivery by Christmas.
Here are recommended send-by dates to deliver packages in time for the holidays, but keep in mind that unforeseen shipping challenges are more likely to crop up, so don't make ambitious delivery promises to your customers you can't keep.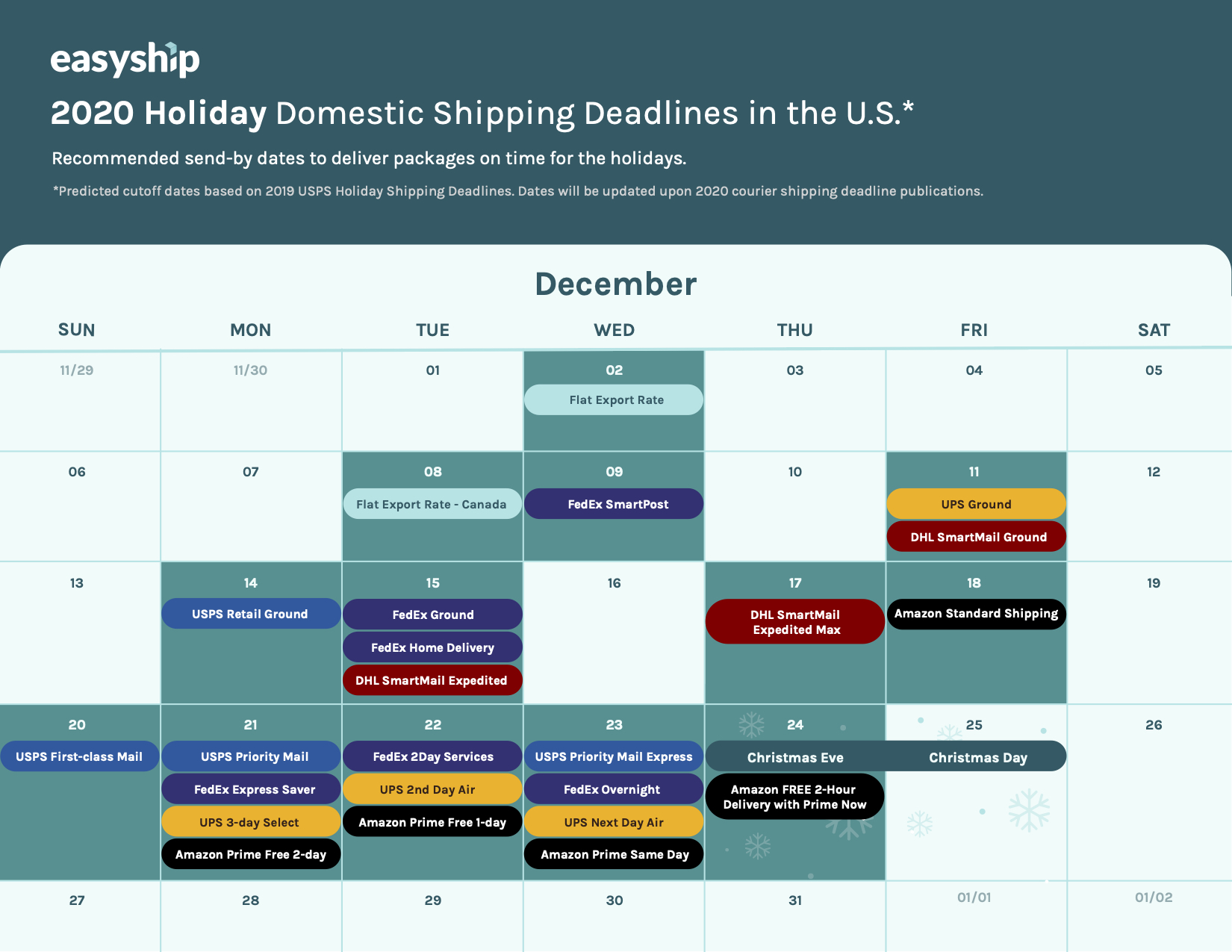 Over the past few months, BOPIS (buy online and pickup in store) and BOPUC (buy online and pickup curbside) have emerged as huge differentiators. Nearly half of holiday shoppers plan to use curbside or contactless pickup during the holiday season according to a survey conducted by BlackFriday.com and Survey Gizmo.
But in practice, curbside pickup has proved more difficult than it seems. A lot needs to go on behind the scenes, in addition to new logistical and training issues. There's even the rising concern over pick-up fraud. Retailers new to curbside pickup have to pay attention to the details if they're going to make good on its key advantage: the ability to pick up an order in an hour or two after purchase. Here's your checklist:
Designate a clearly marked pickup area so that customers driving up know exactly where to go.
Provide specific details on parking-space signs, including the number to text or call and the order information to provide.
Design systems to provide flawless inventory visibility so ordered items are not out of stock.
Arrange the store with dedicated areas for organizing the orders, and make sure you are adequately staffed.
Put procedures in place to help prevent fraudulent online orders, and make sure to verify the customer's identity before handing off the order.
5. E-commerce Sales Will Soar—a Second Time
It's clear that the coronavirus pandemic has shifted consumer shopping patterns and forced retailers to adopt e-commerce (even seniors!), as we saw with the spike in online conversions over Labor Day weekend 2020.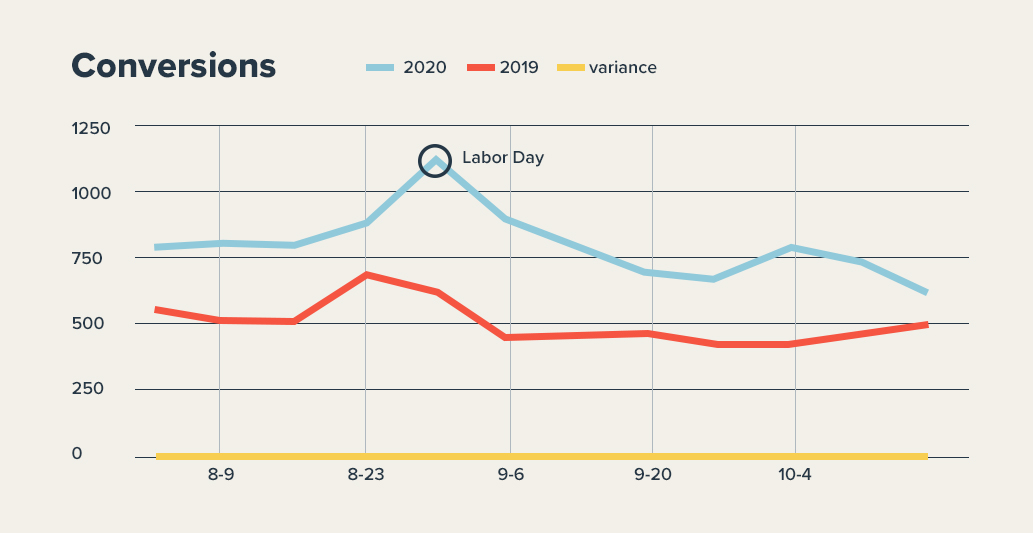 With so many unknowns this holiday season, one certainty is the continued accelerated rise in e-commerce sales with a second surge in online spending expected in Q4, as physical stores close and brands double down on capturing online market share.
2020 holiday e-commerce sales growth is projected to more than double to at least 40%, putting e-commerce's share of total retail sales in November and December at 39%, according to CBRE.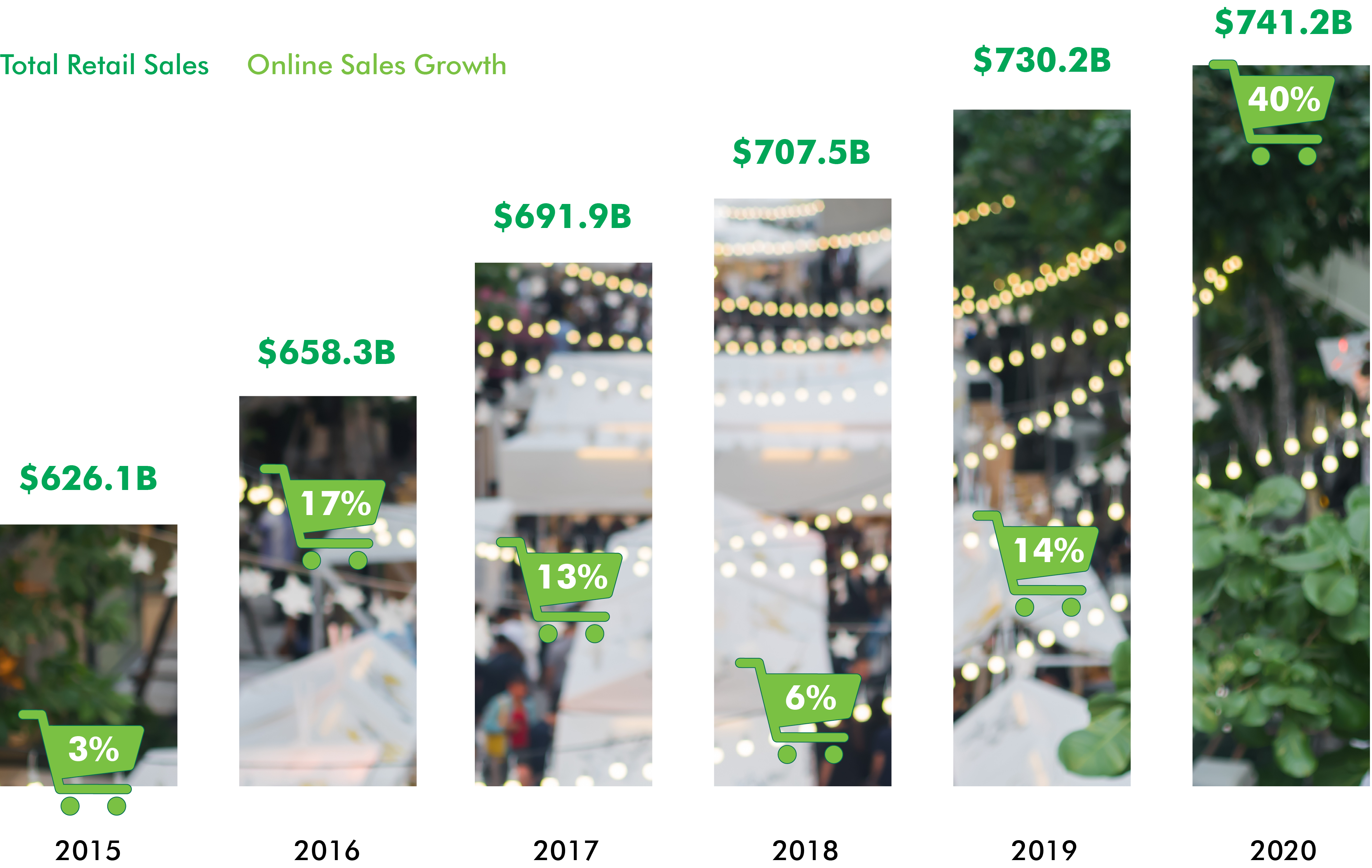 Having already experienced a surge in e-commerce traffic and sales volumes during the Q2 and Q3 period—which retailers weren't fully prepared for—brands must work more diligently now than ever to prepare for the second wave of e-commerce growth.
Marketers have had it rough this year, with the pandemic, protests, a decrease in consumer confidence, rising unemployment, a crazy stock market, supply chain challenges, lock-downs, a contentious election—oh, and murder hornets.
Despite all the mayhem, 58% of consumers expect to spend the same amount or more than recent years this holiday season, and nearly half of all marketers plan to add money back into their budget in Q4, according to a new study by The Harris Poll.
Of those marketers that will add money back into the budget, 80% say it will be equal to or larger than their budget pre-pandemic. This holiday season 2020 is a key period for brands to get in front of and connect with a whole new customer cohort, in more ways than ever before.