Since QR codes were invented way back in 1994, they've been touted as the next big thing and then gradually faded from relevance. But the pandemic ignited an incredible resurgence—and your brand should jump on the opportunity.
Restaurant menus are probably the most visible example of the QR code comeback: after all, who wants to touch a physical menu during a pandemic? But it didn't stop there: even if you haven't been dining out, there's a strong possibility that you've seen or heard about Coinbase's website-crashing QR code Super Bowl commercial.
As the boundaries between IRL and the digital world continue to blur, QR codes have emerged as a versatile solution for marketers. Not only can QR codes store more information than normal barcodes, but they also offer a quick and effective way for consumers to engage with your business.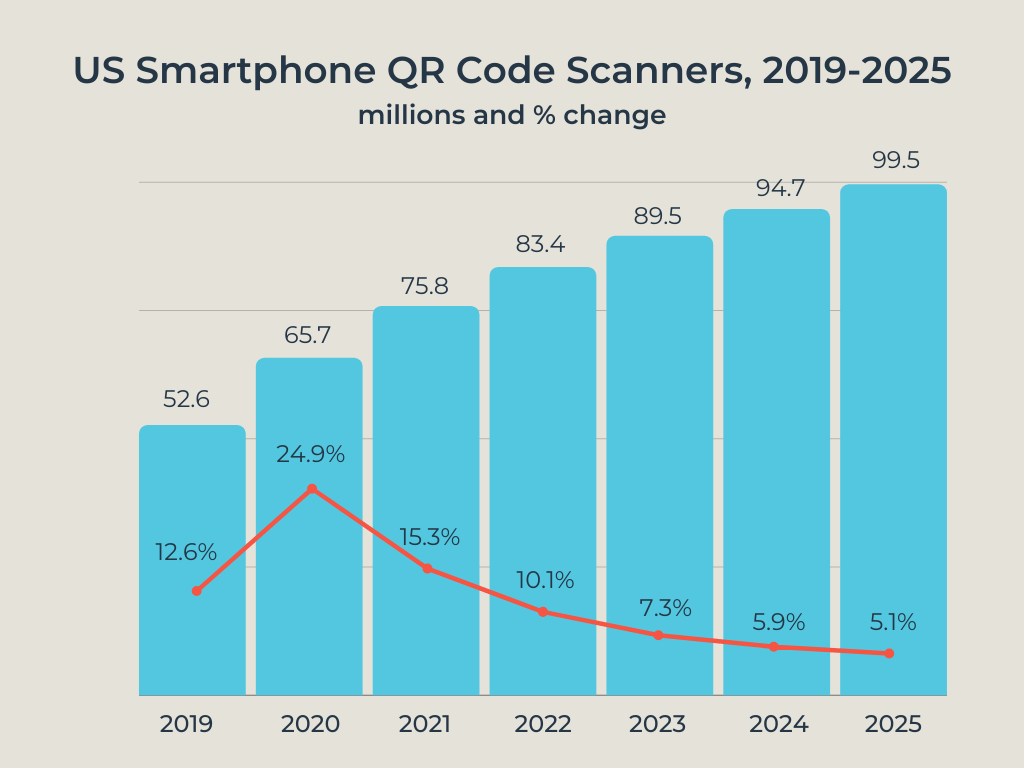 SOURCE: eMarketer
According to eMarketer, the number of US smartphone users scanning QR codes will increase from 83.4 million in 2022 to a projected 99.5 million by 2025. Consumers have fully embraced the return of the QR code, and you need to follow their lead.
Let's start with the basics.
What is a QR code, and how does it work?
QR, or quick response, codes are a type of matrix barcode originally invented by DENSO WAVE to help create efficiencies in their manufacturing process. They're actually a type of advanced barcode, typically featuring a series of squares that involve two-dimensional (horizontal and vertical) scanning.
QR codes really came into the public eye in the early 2010s, but it shouldn't be surprising that they didn't really stick. Many people didn't know what they actually were, and smartphone adoption was still ramping up. Cell data was expensive, and most phones required a separate app download to even scan a QR code. The barriers to entry were high.
The seeds for the current QR code mania were planted in 2017, when wireless carriers started offering cheaper unlimited data plans and Apple's iOS 11 update rolled out with a native QR code reader in the camera.
All you need to do to scan a QR code today is point your phone's camera at the code then click the link. It's easier than it's ever been to use, and consumers are now much more familiar and comfortable with QR codes than ever before.
Why it's time to embrace QR code marketing
You need to think about QR codes as an amplification channel that will help reduce friction between in-person marketing and digital channels and encourage consumers to engage with your brand's digital content in new ways.
By bringing offline customers into the digital sphere, you can drive brand awareness and bring them into your brand's wider sphere of influence, especially as potential audiences for remarketing.
A common behavior flow goes something like this: a consumer scans the code, arrives at a landing page, and can be directed to various additional pages or presented with an offer or information.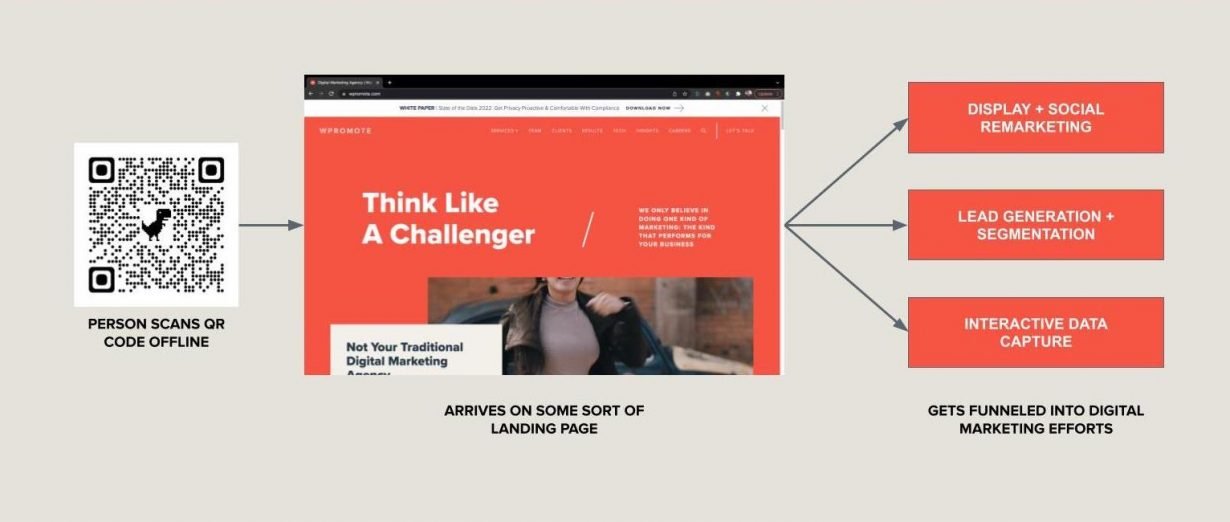 Consider adding a QR code to in-store signage or your product packaging for customers to learn more. Go up the funnel by using a QR code to take them to a piece of interactive content, like a quiz, that can help build a deeper relationship through an engaging brand experience that provides other useful information, like finding the best product for their needs.
From there, you can segment your users based on their responses and focus your marketing on the products they've indicated they're interested in.
If your product involves a user guide, app, or warranty program, a QR code can set up a much more seamless user experience, efficiently piloting users directly to their desired destination. An additional bonus? You'll use less paper, a win for both the environment and your shipping costs.
You can also use QR codes to connect customer profiles to your CRM and loyalty programs. For example, companies like Chipotle use QR codes that customers can scan in-store to link their purchase data to their points program.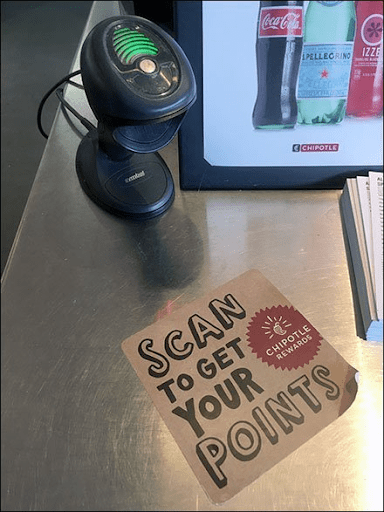 SOURCE: fixturescloseup
This not only encourages customers to come back but makes the customer journey frictionless. Gone are the days of keeping track of punch cards in order to get your 11th burrito or whatever else free—so long as your QR code is functional.
Making an efficient and effective QR code: tactical tips
QR code generators are easy to find and most are free. Most let you customize the final code and get creative by adding your company logo or changing the QR code's color.
If generators seem too complicated, you can just click the share icon in the URL bar on Google Chrome then choose "QR Code" to download a Google-branded option.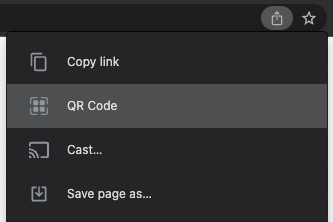 When creating a QR code, treat it like tracking for any other marketing channel and add UTM tracking before you generate your code. That way, you can ensure proper campaign attribution and collect more accurate usage data and performance reports.
You don't have to create a brand new QR code and landing page every time you do something new. Think about how some restaurants update their drink menu every week with the latest specialty cocktails. It would be inefficient for them to create a new landing page and QR code every single time, rather than reusing the same QR code and updating the content on the destination URL.
The same goes for your marketing campaigns. If you're not already creating QR codes for evergreen content, consider repurposing campaign-specific landing pages and QR codes vs. starting from scratch every time.
Don't use QR codes in online activations… unless you're making a connection
Avoid using QR codes on your website unless the majority of your traffic is from desktop and you expect the person to dual-screen with their phone. If they're already on your site, a simple hyperlink will do the trick.
If you have a supporting asset that you want people to look at during a webinar, consider including a QR code and call-to-action on a closing slide to keep the conversation going. You can offer attendees access to additional, valuable assets like a whitepaper or ebook or even a promotional offer by scanning the code with their phone from the image on their laptop.
Ready to get on board the QR code train? Start with the following questions:
Do you have print or on-site assets that could incorporate a QR code?
What relevant destination can you drive people to when they scan?
How will you make the value exchange for scanning the QR code clear?
Why will this make a positive impact on their overall experience with your brand?