The European Parliament has given final approval to the EU Copyright Directive, which will be passed on to the EU member states who will have 24 months to translate into law. The Copyright Directive is intended to create a "single digital market." The opposition of the proposed law argues there will be unintended consequences that will limit innovation, reduce choices for consumers, and impact the ability of news websites to find audiences.
The most controversial clauses of the Copyright Directive remained largely intact through the long process.

Article 11 'Link Tax': requires search engines and news aggregators to pay licensing fees when snippets of content are presented on their sites. However, text links 'accompanied by individual words' can be shared without a licensing agreement.
Article 13 'Upload Filter': requires platforms such as YouTube and Facebook to monitor content uploads and filter potentially infringing material before it's published. Parodies and memes are exempt from copyright claims.

Google ran a SERP experiment to understand the impact and the test resulted in incomplete stories and site titles without context.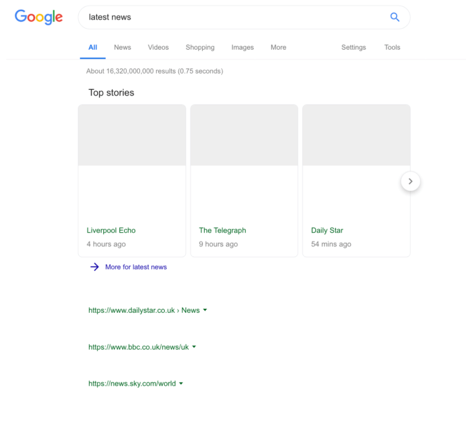 The EU isn't the first group to pass a copyright law restriction on Google. In 2015, Spain passed a strict copyright rule similar to Article 11 in the EU's recent directive. What was the result? The new law hurt smaller companies, reducing the number of visitors to their websites, and ultimately resulted in the end of Google News in Spain.
Similarly, an opt-in law was passed in Germany in 2013, and Google reacted by dropping sites who wouldn't let content be shared for free. Ultimately, the publishers gave in and allowed Google to publish their content.
What does this mean? As we saw with GDPR, European laws can influence US policy. The policy ultimately places stricter licensing requirements that demonstrate copyright ownership along with other directives that could effectively slow down the implementation of new content campaigns.
Google Guarantee is a consumer protection program that protects a user who hires a covered business provider. Google Guaranteed local listings are signified with a Google Guarantee icon: 
Local Services ads have been associated with Google Guarantee due to the initial setup process. When you sign up for Local Services ads, you automatically apply for Google Guarantee. Despite misconceptions, the two programs are technically distinct.
Local Services ads currently operate in desktop and mobile results.
When you use audio search, such as through Google Home, voice search results are based solely on organic relevancy with no ad placements. For services, Google Home offers up only Google Guaranteed providers.
Why does this matter? As there is an increasing trend towards voice search, it is reasonable to anticipate that advertisers might ultimately make their way into Google Home results.
"In addition to serving relevant local results, Google may be watching the impact of the Google Guarantee badge on CTRs and call-through rates. That may lead to a determination about whether and how to monetize local search on Google Home."
eMarketer performed a study to evaluate the worldwide Ecommerce markets. The study found that within this year, global retail Ecommerce will reach roughly $3.563 trillion.
The top five countries ranked by Ecommerce sales are: China, US, UK, Japan, and South Korea. These five countries will account for more than 82% of total Ecommerce sales.
Retail Ecommerce growth is still very robust globally, growing at roughly four times the rate of overall retail sales.
China's Ecommerce sales will grow more than 30% to nearly 2 trillion.
The US will reach $600.63 billion in sales, growing nearly 15% year-over-year.
Why does this matter? All in all, the rise in income across the globe continues to:
"Fuel online shoppers' appetite for not only a greater variety of goods, but also more expensive goods online. This will push retail ecommerce to represent a higher and higher share of retail spending."