After a year of testing, Google has introduced AMP to email, allowing email marketers to create a dynamic and interactive email experience.
With more than 270 billion emails sent every day, this change opens up a lot more possibilities for increased content engagement.
AMP empowers senders to create captivating emails with app functionality that provokes users to engage and accomplish tasks without ever leaving the email. These emails can keep content up to date in real-time and allow users to perform similar actions as in an app or web browser.

Pinterest lets users browse and add Pins directly to their boards from within the Gmail platform.

Why does this matter? This is a major update in email marketing and will ultimately transform the way content is presented to users. This is a powerful technology that should be taken advantage of and incorporated into your email marketing strategy.
Bing has announced large updates around voice and visual search capabilities.
Bing improved its AI by leveraging deep learning models. Intelligent answers can now provide answers to more complex questions and respond in a nearly indistinguishable human-like speech.

Example: Instead of the relatively simple answer to 'what is the capital of Bangladesh,' Bing can now provide answers to more complex questions such as, "what are different types of lighting for a living room," quicker than before.

Bing has also added the ability to perform a search using an image.

If you see an image of an accent light you like, Bing can show visually-similar decor and even show purchase options at different price points if the item is available online. To save you time, visual search also automatically detects and places clickable hotspots over important objects you may want to search for next.

Why does this matter? This exhibits the growing power of AI coupled with the growing dependence on voice search and frankly lazy searching. Search engines are constantly evolving to present users with the desired information and minimal user effort. Continue to incorporate voice and visual search into your SEO strategy.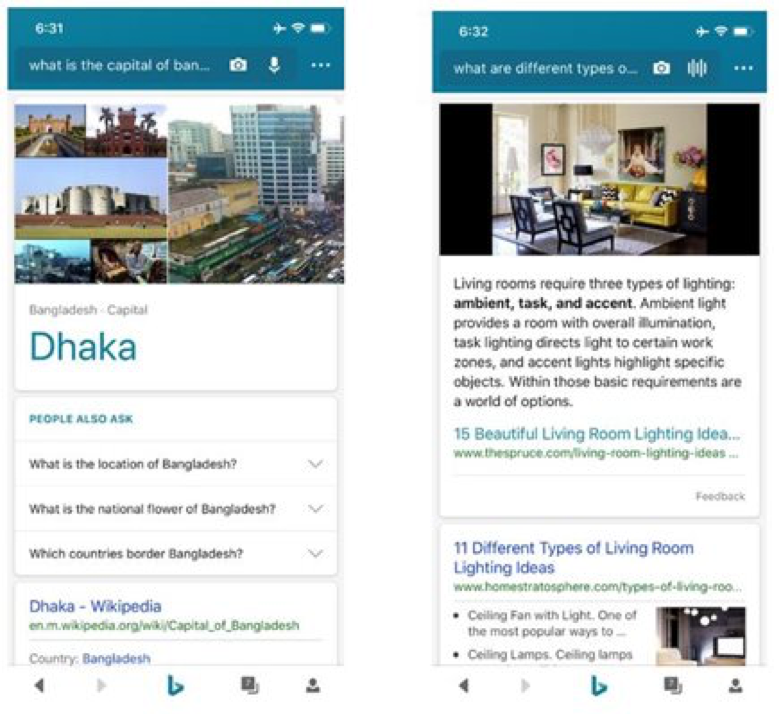 Ahrefs, known for its SEO tools and resources, announced that they plan to build their own search engine.
Why would Ahrefs want to do this? Privacy and profit sharing.

The DuckDuckGo reason, to provide a search engine that values your privacy and doesn't use private data to benefit them.
To share 90% of the profit they make directly with the publishers whose content they show and use in their index. Now that sounds cool!

Ahrefs is built on understanding how search and crawling the web works. Regardless, this is an aggressive goal. Google is the prominent search engine and continues to maintain its dominance over any company that has attempted to compete-including the well-funded, backed by Microsoft, Bing.
Stay tuned for how this plays out and if Ahrefs can actually compete with Google.