How Google's Updated Standards May Affect Financial Services Content
In an effort to protect its users from low-quality content, Google recently updated its quality standards for what it considers "Your Money or Your Life" (YMYL) pages. Google describes YMYL pages as those that feature content which "could potentially impact the future happiness, health, financial stability or safety of users."
A white paper by Google confirmed what many SEO experts had already suspected—that when a user makes a YMYL query, more weight in the search results is given to content that reflects expertise, authoritativeness, or trustworthiness (EAT). Content that does not demonstrate EAT is considered "low quality" and is being penalized by the search engine.
What does that mean for bank and credit union websites?
Financial services content falls under the YMYL umbrella. In fact, on page 9 of Google's Search Quality Evaluator Guidelines, the document used by Search Quality evaluators, it specifically calls out financial information pages, defining them as webpages that provide advice or information about investments, taxes, retirement planning, home purchase, paying for college or buying health insurance. If you have trouble financing any of these, especially insurance, then you should consider getting a few Insurance Quotes to make sure which plan you choose a plan you can afford.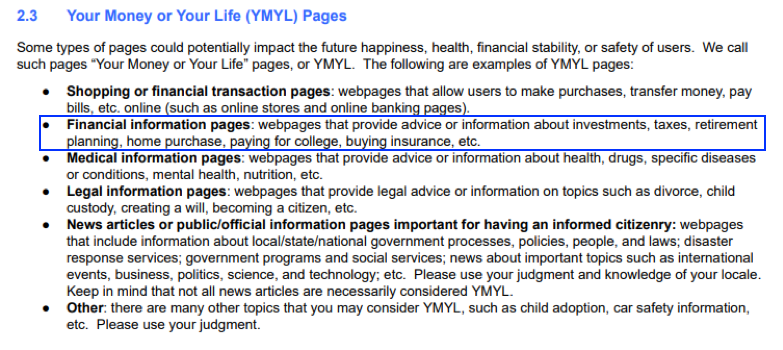 What this means is that it is critical for banks, credit unions, credit card companies and other finserv businesses and organizations to consider this update when creating content. Here are some things you can do to help ensure that your content meets Google's standards.
Steps To Improve Your YMYL Content
Make your content credible & include author name & bio
Google gives greater weight to YMYL content it deems as trustworthy, credible, and accurate. One of the ways it evaluates that criteria is to look at who wrote the content.
YMYL articles should include the author's name and job title, as well as a link to the author's bio page. The bio page should have information that highlights the writer's credentials in that particular area of financial services.
It is also important to note that life experience counts as "everyday expertise." For example, let's say a blogger who does not have a formal education in finance wrote a story about how she overcame deep credit card debt. Google may consider that article valuable due to the writer's personal experience and knowledge.
If the writers are not financial services experts, make sure that the content is well researched and that any information sources are cited and contain a link to the source. Whenever possible, link to a primary source, rather than a third-party one.
Review your reviews
Google search quality guidelines stress the importance of user reviews and feedback in determining a company's reputation.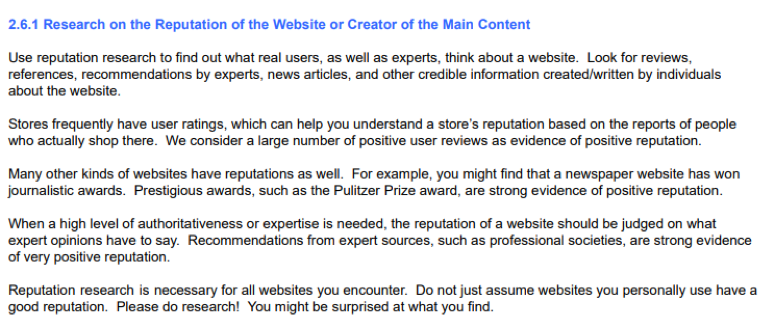 A low reputation can negatively impact a site's rating, so it is important for you to monitor what is being said about your financial institution on social media, forums, Wikipedia and news sites. On the flip side you'll also want to showcase any awards, certifications, or acknowledgments you have received.  Highlight anything that signals your leadership and good standing in the industry.
Don't bury your contact info
Make sure that your contact and customer/member service information is clear and easy to find.  Google Search Quality Evaluator Guidelines state, "Contact information and customer service information are extremely important for websites that handle money, such as stores, banks, credit card companies, etc. Users need a way to ask questions or get help when a problem occurs."
If your financial services company has been doing these things all along—great! Keep up the good work. If you've identified some areas that could use improvement, now is the time to take action. The repercussions of being penalized by Google can be detrimental to your business. And keep in mind that these tips are just a fraction of what is covered in the Search Quality Evaluator Guidelines. Read the document in its entirety to learn more about the criteria Google uses to evaluate page quality.
As always, Wpromote stays on top of the latest Google updates as we help our clients navigate the complex world of SEO. Contact us today to see how our digital marketing experts can help your financial services business thrive.