"Users now watch over 1 billion hours of videos a day."
Video ads offer businesses the opportunity to connect with the viewer on an intuitive level by understanding their needs and offering solutions. YouTube has been crowned as the world's second largest search engine and most visited website after Google and Facebook. More and more companies are shifting their advertising dollars to the YouTube ad space and by 2021, mobile ad spending in the US is estimated to reach $102 billion.  
The rise of digital assistants allows the consumer to conveniently search for anything they need through simple sayings such as, "Hey Google, find me the nearest coffee shop that serves oat milk." By 2020, it's estimated that 50% of all searches will be voice searches, and with 1 in 6 families in the U.S. owning a smart speaker, that number doesn't seem too far off.
"Just weeks after hitting the $1 trillion in market cap, Amazon has reached another milestone; It has jumped to third place among US digital ad platforms surpassing Oath and Microsoft for the first time."
With more and more people shopping via smartphones, consumers are likely to go straight to Amazon for the convenience of one-day delivery. According to eMarketer.com, "We estimate that US advertisers will spend $4.61 billion using Amazon's platform this year, a 144.5% increase from last year …"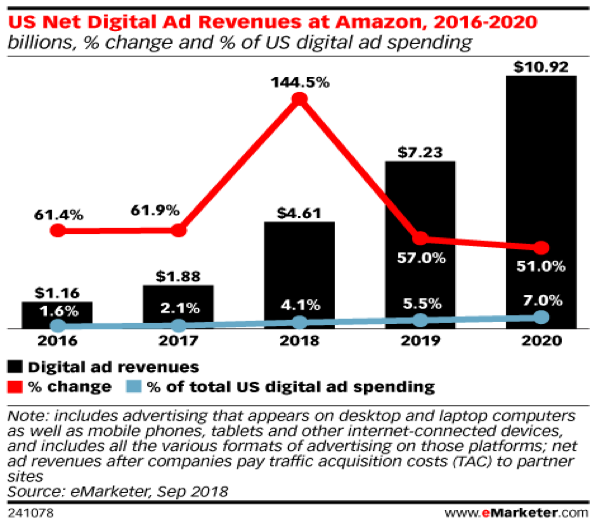 Want to learn more about how you can start advertising with Amazon? Reach out to our Amazon Marketplace experts.
"Responsive search ads are a text ads that allow advertisers to enter multiple headlines and descriptions which Google's machine learning will then test, learn, and optimize for the best performing combination according to search query." – Source
Google's responsive search ads allow you to write up to 15 different headlines and up to 4 different descriptions. With this tool, Google will show the most relevant combinations based on the searcher's intent, and over time will learn the best combinations for advertisers to use.
"Google says Smart Bidding can offer better performance because it takes into account more contextual signals "to optimize bids for each and every auction." – Source
Using machine learning technologies, Smart Bidding will assist advertisers in reaching their marketing goals by uncovering new information and using it to gain a competitive edge.