Google rolled out a new and improved version of Editor and we can't get enough of it. The old editor contained a few limitations, but luckily for us Google was already one step ahead. Below is a list of the new features Google released to the public in regard to Google Ads Editor version 1.0. You can also check out Google's complete write-up.
Full cross-account management: For the first time, Editor now supports full, cross-account management. This means you'll be able to use Editor seamlessly across your Google Ads accounts, all from a single window.
Improved design and usability: Google has also improved the interface allowing managers the ability to navigate through features and execute tasks a lot faster than before. With the new editor, you can find a right-hand Edit panel that improves the ability to scan and includes a search functionality.
Improved Workflow

Additional custom rules
Full support for non-skippable Video ads
Additional CTAs and headline fields for all Video campaigns
Positive and negative audience lists audience for Smart Display campaigns
Options to manage App campaigns

Recommended Bids & Budgets

Recommended daily budgets
Better smart bidding

Calls & Messaging

Account level call reporting
Account headlines for call-only ads
Full support for message extensions
Starting on May 1st, all attribution reports will include cross-device activity and conversions, giving you valuable insight into how people interact with your ads on multiple devices, and consistency across reports. Cross-device reporting will limit the amount of inconsistent conversion counts across different reports, allowing the user to see more consistent conversion counts without data being altered.
One thing to keep in mind is that data prior to May 1st will contain different sets of calculations.
"If your active date range extends before and after May 1, 2019, your conversion metrics will be based on two different calculations – one calculations for the days prior to May 1, 2019, and another calculation for subsequent days beginning with May 1, 2019."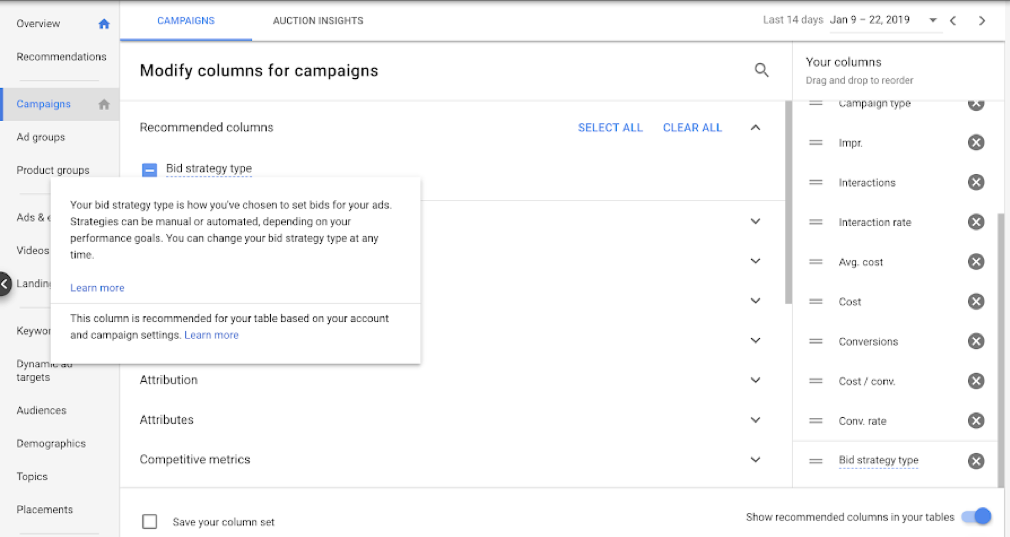 Google's new recommended columns feature suggests new reporting columns that are primarily based on your campaign and account settings. The only time Google will recommend the column is when it's relevant to you. Google will also provide you with the option to add them as permanent columns, or allow you to opt out of further Google columns recommendations.
We suggest you keep the setting on, so that we can recommend columns that will be important to your account. You can also discover new columns that had not previously surfaced through recommendations.
Stay tuned for more Google updates later this month!