At Wpromote, we are also constantly looking for opportunities to grow our clients' digital footprint, as well as to improve efficiencies among what we already do on Google, Bing and other partners. Since we are a Google Premier Partner, we also get early access to new products and betas before many other agencies and advertisers.
When there's a new product, new beta, or new idea, we first conduct each test with a small group of clients and then expand to other clients only if initial testing is successful. Overall, by testing in a phased approach, we ensure that we are strategically considering which clients are the best fit for the test. Additionally, we do not believe every test or every idea is applicable across our client portfolio so some tests are limited to certain verticals or business types.
Our Approach to Paid Media Testing
Because we have hundreds of clients of varying sizes and verticals, we believe it's paramount to coordinate testing across our full PPC team and learn from each other to scale our wins. Coordinated testing also ensures we don't repeat unsuccessful tests or continue testing ideas that we know don't work. Overall, our approach enables Wpromote to create and clarify our own best practices based on the latest and greatest from our partners such as Google and others.
The Importance of Testing
Most importantly, sharing our learnings helps our clients grow their businesses and/or achieve higher efficiency. Each client has unique goals–we tailor our strategy and testing/learning agendas to each client's objectives.
Testing drives a symbiotic relationship with our Google agency team. By at least testing new products or betas, we can provide Google feedback and help Google improve its products, which benefits our clients in the long run. By partnering with Google on testing new products and betas, we continue to receive early access to these exciting new additions, as well as ongoing support from account strategists and product managers.
Finding the Right Scope of Testing
Wpromote does a TON of testing. We generally categorize our tests into these buckets:
Challenging/Redefining Best Practices
New Products (e.g., Smart Shopping, Discovery Campaigns)
New Platforms
Betas (e.g., automated bidding features, YouTube Bumper Tool)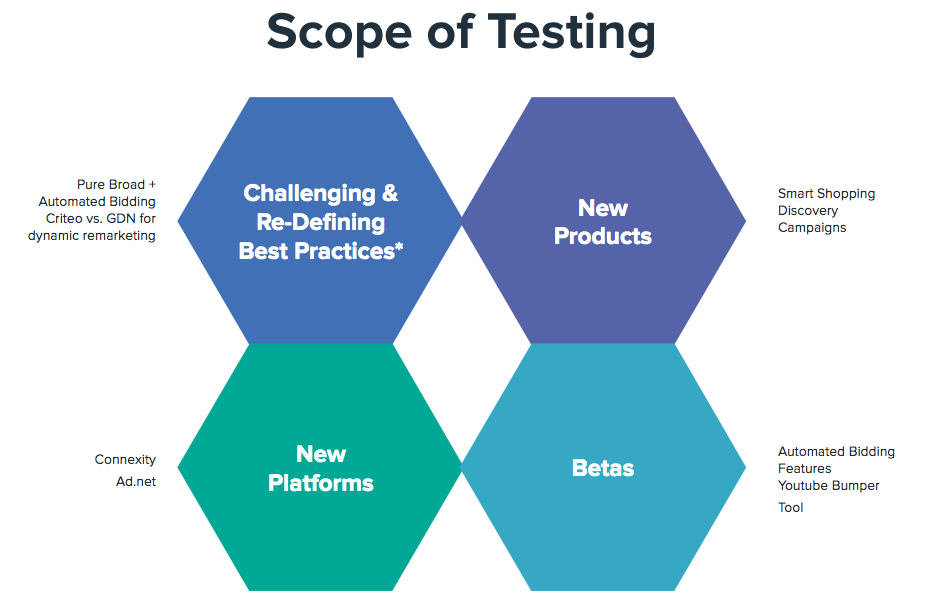 Testing at Scale
While every account is constantly undergoing its own specific tests (e.g., ad copy testing), at Wpromote, we like to take big ideas and test them at scale to see if the idea will actually work across multiple clients. By testing at scale, we can feel more confident bringing new ideas and products to our clients, with initial testing data to back up the proposed idea!
The Queue
At any time, there are at least a dozen tests we want to try. Whether they're new products/betas, an expansion, or a challenge to our best practices, we ensure that we are prioritizing the tests that are the most impactful.
We typically have one "big" test at any one time, as well as several smaller tests. We ensure that each test does not impact the other tests currently being conducted.
The Process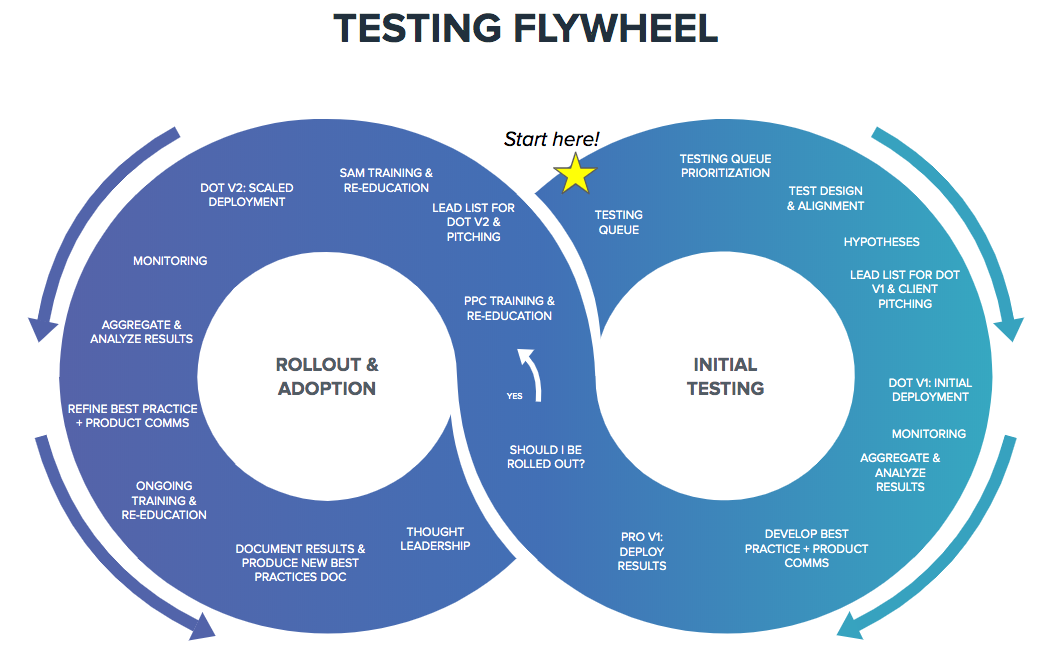 We split testing into three phases:
Phase 0:
Identification & Prioritization: Identify the opportunity and prioritize within the testing Queue. Once it's up in the queue, move to Phase 1.
Phase 1:
Test Design & Alignment: We work with the appropriate teams (often our Google agency team or our internal analytics team) to ensure our testing methodology is solid. We outline our hypothesis, define the intended outcomes, and agree on how to measure performance and impact. We define what success looks like before moving forward with the test and ensure that the test is set up uniformly across accounts so that our results can be compared.
Hypothesis: Develop a best guess on what will happen.
Training: We ensure that all managers participating in the test receive the correct training before moving forward.
Testing & Validation: Execute on the initial test for the agreed-upon testing period and initial testing clients. Aggregate the results and determine how successful the test was.
Team Communication: Regardless of if the test is successful or not, share the results and learnings with our full PPC team and partners. If successful, other managers become excited to test this on their accounts for Phase 2. If unsuccessful, let other managers know that this has been tested and is not ready for additional testing. This reduces unnecessary testing. Additionally, by sharing the "fails" alongside the "wins," our team knows that anything rolled out at scale has been fully proven out, and is not being rolled out for any reason other than improved performance and client success.
If the test is successful, move on to Phase 2!
Phase 2:
Roll-Out: Present to the full PPC team, sharing the opportunity and how we tested/measured the results.
Training: Conduct a full training on the new opportunity for the team. We ensure our internal partners, such as the Strategic Account Management team, receive the training and education as well.
Testing & Validation: Execute the scaled test for the agreed-upon testing period. Aggregate the results and determine how successful the test was.
Team Communication: Just as we do in Phase 1, regardless of if the test is successful or not, share the results and learnings with the full team and our partners. If successful, we consider the test validated and put together a list of accounts that should adopt this new product or strategy. It's often not a fit for all accounts. As an example, when we validated Smart Shopping, we only reached out to ecommerce accounts (as lead gen wouldn't use shopping), and we identified a few caveats for accounts that would likely not see success on Smart Shopping. These accounts were removed from our adoption list.
If the test is still successful, move on to Phase 3!
If the test was unsuccessful, pull together a recap to share with our team and our partners as a learning. If there is a change or tweak to the product or idea, start over at Phase 1.
Phase 3:
Sharing: Present the updated results to the full team and our POV.
Creating A Case: Make our POV clear and include use cases as well as caveats. This might include differences by vertical, goal (e.g., revenue vs. leads), account size, etc.
Resources: Create defined best practices and collateral.
Education: Consider additional training and education on the new opportunity/redefined best practices for the PPC team. Align with strategic account management and analytics teams as appropriate.
Putting A Test & Learn Approach Into Practice For Your Brand
Some clients love testing new ideas or products while other clients are more risk-averse and won't test until they see initial results from other accounts. Regardless, our team helps them all!
Our goal is to balance the opportunity to test new ideas with the ability to scale. We're fortunate to work with Challenger brands who are eager to test and learn, especially from each other.