After removing the right rail ads on search engine results pages, Google doubled down on its vision for a mobile-first world by announcing expanded text ads at its 2016 Performance Summit on May 24. It stressed that the biggest update to the ad creative since AdWords was introduced over 15 years ago would be coming in Q3 of 2016. It promised a new ad format with 50% more ad space that would work harder across all screens and automatically optimize the ad's presentation for desktop, tablet, and mobile devices. This new ad format would briefly co-exist with, and then soon replace, the standard text ads that we had become accustomed to.
On the morning of July 26, Google shared the arrival of expanded text ads by restating "The shift to mobile is no longer happening, or will happen — the shift to mobile has happened." This announcement commenced the rollout of the much anticipated expanded text ad format, and within the next few days expanded text ads phased their way into each account.
Not Just Mobile
While the earliest expanded text ad pilots were focused exclusively for mobile, the official launch of Google's new ad format on July 26, carried just as much relevance for desktop. This change is for everyone and affects all advertisers. Expanded text ads were rolled out across the board and are now running everywhere. Google had re-imagined its text ads based on its mobile research, but redesigned them for a better, more consistent search experience across desktop, tablet, and mobile devices.
Anatomy Of An Expanded Text Ad (ETA)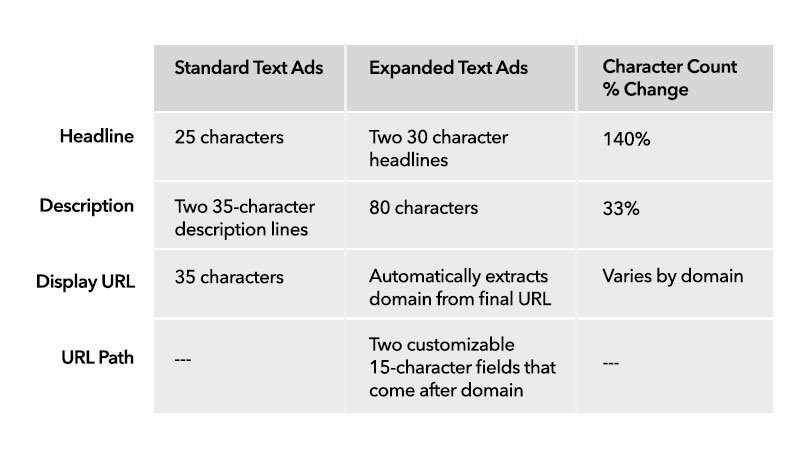 Expanded text ads are made up of two headlines separated by a hyphen, one long description field up to 80 characters, and a redesigned approach to the display URL. Google now takes the domain from your final URL and uses that as the base for your display URL, giving you two customizable fields to add more information. These paths are separated by a forward slash (/), giving the illusion that you are guiding a searcher down a path to a specific page on your website most relevant to their search.

Impact We're Seeing

In almost all of our testing across multiple accounts, expanded text ads have significantly outperformed standard text ads by generating higher click through rates (CTRs). expanded text ads experienced increases of CTR up to 20%, which was in line with claims Google made at its 2016 Performance Summit citing its early beta testing data.
Non-brand campaigns particularly have seen a greater impact in our testing compared to brand campaigns, which is consistent across accounts and in line with the findings other advertisers are sharing. For some campaigns, expanded text ads have resulted in CTR increases over 100% with minimal ad copy changes. The real potential lays in how well the additional ad space can be used to better the ad's messaging and deliver a more descriptive, compelling call-to-action. Therefore, the next step now is not to continue testing standard text ads versus expanded, but to test the limits on redesigning ads around this new preferred ad format by using longer headlines to redraft more compelling call to actions.
Known Issues & Updates
Truncation Of Second Headline
Not long after expanded text ads began rolling out, some advertisers reported that the second headline of their ad was shortened with an ellipsis. Google confirmed this could happen with long headlines within the Google AdWords Community forums, but also said it represented only a small number of cases. The fear of awkward ad truncation caused concern amongst advertisers, some shortening their combined headline count to only 33 characters, which was one of the earliest recommendations provided by Google moderators within their community forums. The more viable solution is Google's Ad Preview tool, which can be used to test potential truncation. Generally, if an ad doesn't truncate within the tool, it should serve the same way. This encourages longer ad headlines compared to the overly-conservative 33 combined characters.
There is industry speculation that a full resolution of this issue is coming prior to full standard text ad phase out, which makes sense as expanded text ads will be not only the preferred, but only text ad format. In that case, advertisers will have less tolerance for altercations of our accepted ad copy, and brands in sensitive industries will need the assurance that their ad will display exactly as approved by their internal compliance teams.
Prolonging Of Standard Text Ad Phase Out
On September 13, Google posted an update "Expanded Text Ads: More time to test and iterate," extending the deadline to create and edit standard text ads to January 31, 2017. This will give slower adapting advertisers additional time for testing, companies with extensive review processes time to work through new copy changes, and ultimately rewards opportunistic advertisers with a competitive advantage for adapting sooner. It seems clear that Google is confident that this will be beneficial for all its advertisers and there's no looking back.
Bing & Gemini Adoption
Both Microsoft Bing and Yahoo Gemini have adopted Google's expanded text ad format into their platforms as of late September. Just like in Google, this ad format gives advertisers the ability to craft longer ad copy and appear more seamlessly on all devices.